WE SHIP WORLD-WIDE
SAME DAY SHIPPING
(On orders received by 2pm CST)
Customize Your Ride!
At DK Custom we're Dedicated to
Enhancing Your Riding Experience.
Stay Up-to-Date w/ the latest News & Savings Coupon Codes!
Click HERE to get updates!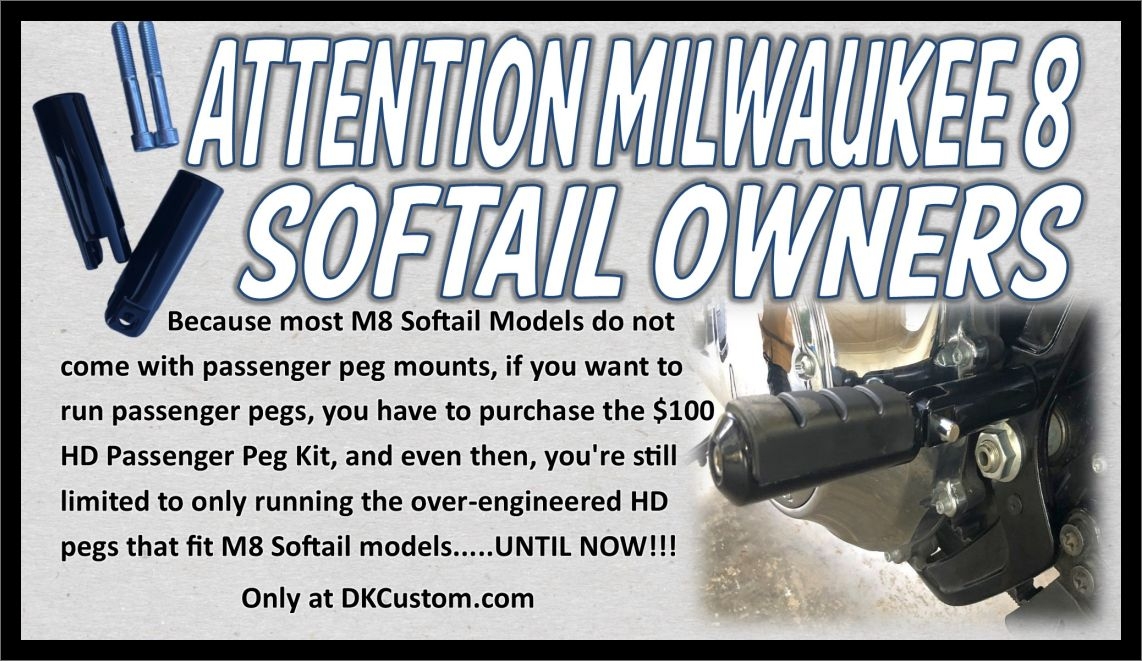 NOW YOU HAVE OPTIONS!
NO More Limits on M8 Softail Passenger Pegs!
"Kudo's to you guys-
Hands down one of best companies I have ever dealt with! I bought the coil relocation, 2" tank lift, and F-6 ignition relocation and the fitment, quality, and customer service are unsurpassed. They were there for any and all questions I have and I would recommend this company and products to everyone!" -Thanks DK Customs
"Hi Natalie,
My husband has put in the new shockers and lift brackets that we purchase from you. All I can say is - Awesome ride. Absolutely love them, so much better than the Legend Air I have had on for over a year now.
Thanks again for your help with my order."
Cheers,
Debra
"What a pleasurable purchase experience". I don't believe I have ever talked with a person, initially answering the phone, that maintains as much product knowledge as Natalie conveyed during our conversation. "KUDOS", "GREAT JOB" and "BEST WISHES" to Natalie."
Keep Up The Good Work,
Allen
"Just wanted to take a minute and let you guys know how pleased I am with the W258 TTIs (Thunder Torque Inserts).
I'll be honest, when I first read about these things I figured it was somewhat gimicky so I didn't expect much. But, after removing the baffles from my Wild Pig slip ons and installing the W258's I was blown away by both sound and performance!
It has the potato potato sound at idle (noticeably louder than before) and also sounds great at cruising RPMs. It actually reminds me of the way my old shovel head sounded.
What really surprised me though was the very nice torque gain that you can really feel. After installing true duels and the wild pigs, I noticed a loss in torque. The TTIs brought all of that back, and maybe then some!
Best money I've spent on my exhaust system for sure. Thanks!" -Dewayne
Save
Save
Save
Save
Save
Save
Save
Save
Save
Save
Save
Save
Save
Save
Save
Save
Save
Save