Home

/

2 Inch Handlebar Riser Extensions Harley-Davidson ..More Details
ONE PAIR of 2 inch

STEALTH RISER EXTENSIONS

For

Harley-Davidson

Increase the Height of your Handlebars by 2 inches
~ Increase Comfort ~ Improved Look ~

MADE in The USA!
by
DK Custom Products

FEATURES & SPECS:
Durable Black Powder Coat Finish
Cold Rolled DOM Steel Risers

Includes Grade 8 Bolts 4.5" x 1/2" (other lengths available-see below)

FITS most Sportster, many Dyna and Softail Models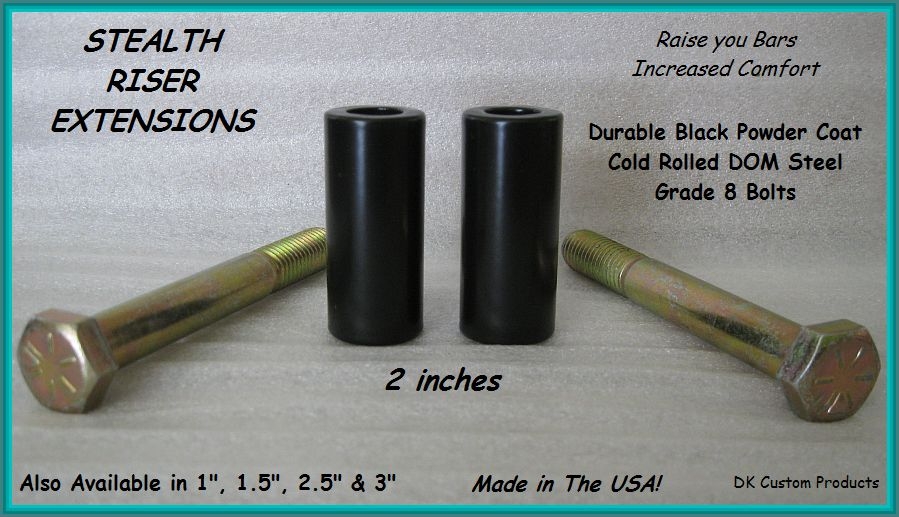 Raising your bars and tilting them back slightly can relieve the strain in your shoulders and back from the forward leaning position.
Whether you're wanting a taller look, needing more clearance, or wanting more comfort in the shoulders and back, these Stealth Riser Extensions are Easy & Economical!
These STEALTH RISER EXTENSIONS will raise your handlebars up an additional 2 Inches.


They are .890 in diameter, so they will fit most Sportsters & Many Dyna's and Softail's.


Simply measure the outside diameter of the riser below your handlebar clamp, if it is 7/8" (or a fraction larger) these will fit.
The Stealth Riser Extensions are also available in 1", 1.5", 2.5" and 3" heights.
FITMENT NOTES:

The 2" Stealth Riser Extensions come with 4.5" long Grade 8 Bolts, however, you can request 3.5", 4", 5", or 5.5" long bolts if needed.
NOTE: If you have a 2016-Up Roadster, it has zero rise risers and will need shorter bolts. This is something you will need to get at your local hardware store.
Most stock bikes can be raised at least 1.5" without needing to replace cables, brake lines & wiring...HOWEVER some can go higher. Check how much slack you have.


A small change can make a BIG Difference!!!
Customer Reviews
Just what I needed

Review by

Justin


I was running biltwell H bars on my sporty. I'm 6'3 and found they had me leaned over to much for comfort. I had these tossed in with another order I placed. Once they were on the bars finally fit me. My back was straitened up and I was able to get a good extra hour or so before I needed a brake. Now I only stopped when my butt was sore instead of having to stop to stretch my back. (Posted on 10/7/2017)
Product Tags
Use spaces to separate tags. Use single quotes (') for phrases.