Home

/

Cooling Deflector Wings for Touring / Trike Models
COOLING DEFLECTOR WINGS

FITS HARLEY-DAVIDSON TOURING &
TRIKE MODELS 1999-UP
MADE IN THE USA!
By
DK Custom Products
FEATURES:
Made from American Steel
Durable Black Powder Coat Finish
Reduces Rider & Passenger Buffeting
Re-Directs air on to the engine for better Cooling
E-Z BOLT-ON INSTALL - DOES NOT REQUIRE REMOVAL OF TANK
E-Z Install, Step-by-Step Instructions included
Made in The USA
The functions of the Cooling Deflector Wings are:
1. Reduce the air coming over the top of the tank, around the sides of the tank, And between the upper & lower fairings.
2. This results in a reduction of air hitting the rider and passenger chest, which reduces buffeting/helmet & glasses bobble.
3. Redirect that air to flow over the engine for better cooling.
We have consistently seen engine temperatures reduced by 8-15 degrees with the CDW's.

These mount up easily at the front tank/frame mounting point on each side. They are adjustable to get the best redirection of air for you.
When ordering, use the drop-down to let us know whether you have a Harley Trike or a Harley 2-Wheel Touring Model. This way we can send you the correct CDW for your Ride.
Most baffles and deflectors that reduce rider and passenger buffeting also reduce air flow over the engine, making it run hotter. 2007-Up Twin Cams already run too hot during the warm weather months.
With some thought, some curves and bends, & many miles of testing various prototypes, we developed the CDW's that -
Reduce Buffeting

Are unobtrusive when installed

Increase air flow, cooling the engine, resulting in better engine performance & longer engine life
This is an EASY install - 10 to 20 minutes!
FITMENT:
All Tri-Glides, Freewheelers and FLHXXX (with or without Tank Lift)
All 1999*-Up 2-wheel Touring Models (with or without Tank Lift)
***Important Fitment Note for 2 Wheel Touring Models:
-Fits 05-Up with Lower Fairings
-Fits 99-up with NO Lower Fairings
Patent D828,252
"Who knew something so small would make such a big improvement, Thank you!" -Anthony
"Hello I am very happy with your air wings, they look much better than Harleys. Oil temp down about 5 to 8 precent.Thanks." -Steve Harshbarger
"I ordered a set about three weeks ago for my '14 Ultra Limited. First, I want to thank you for the extremely fast shipping. Second, the wings cured my buffeting problem.
I have a $650 Shoei helmet that I couldn't wear because my eyeballs were shaking so badly that I couldn't focus on the road, but not any longer. Great product! Thanks!" -Stephen
"Had the stereo coming through the helmet speakers, and I could definitely hear it better, and could hear the wife on the intercom much better.
Much less noise under the shield. I was actually able to knock the VOX back three notches without it kicking in and out off of my mic...
So we're well pleased, noticeably less helmet bobble, I used to get a lot, and an unexpected improvement in using the front intercom." -Nate
There are two different style CDW's-

1. Fits HD Trikes with a tank lift and looks like this-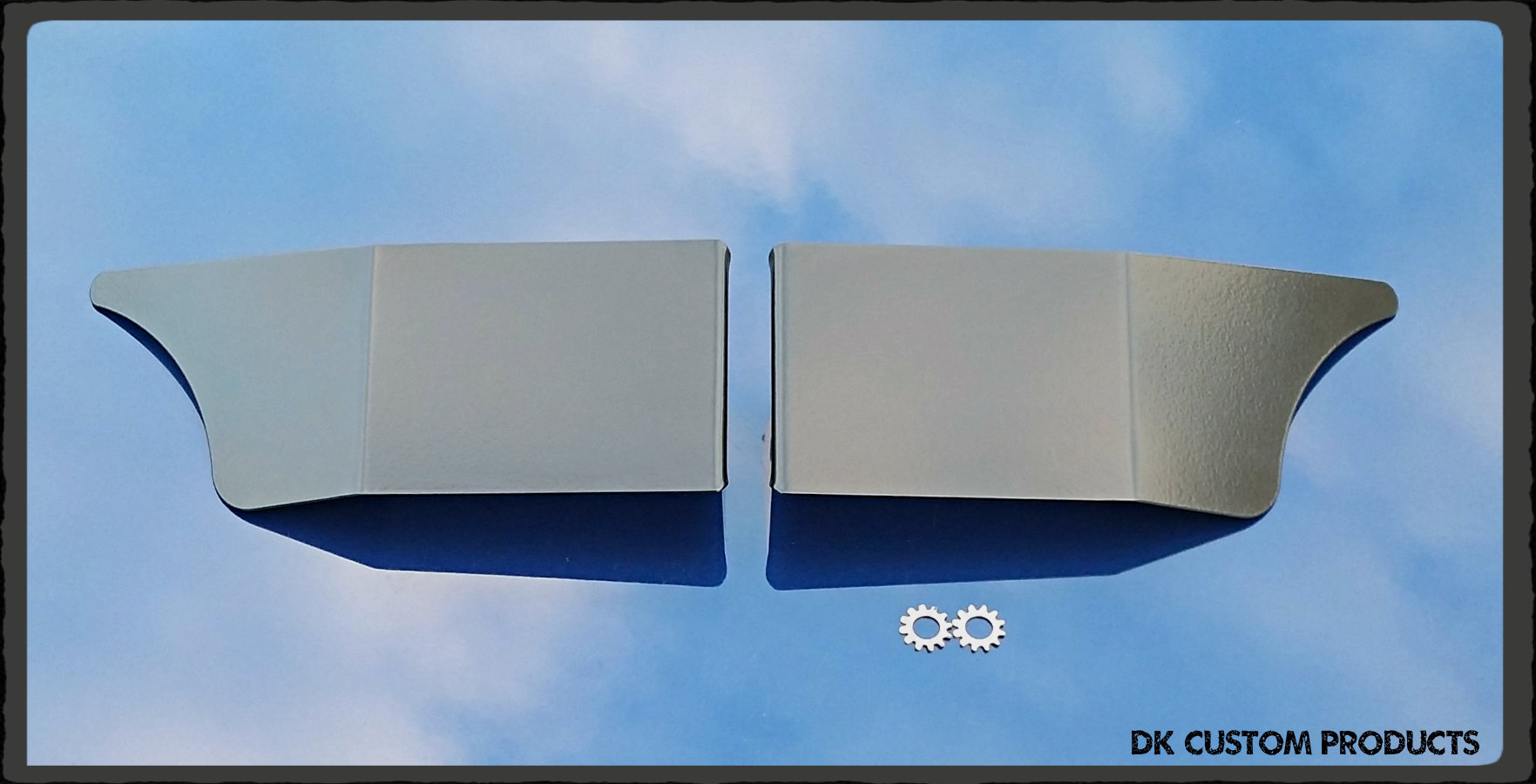 2. Fits Trikes without a tank lift and all 2 wheel Touring models (with or without a tank lift) and looks like this-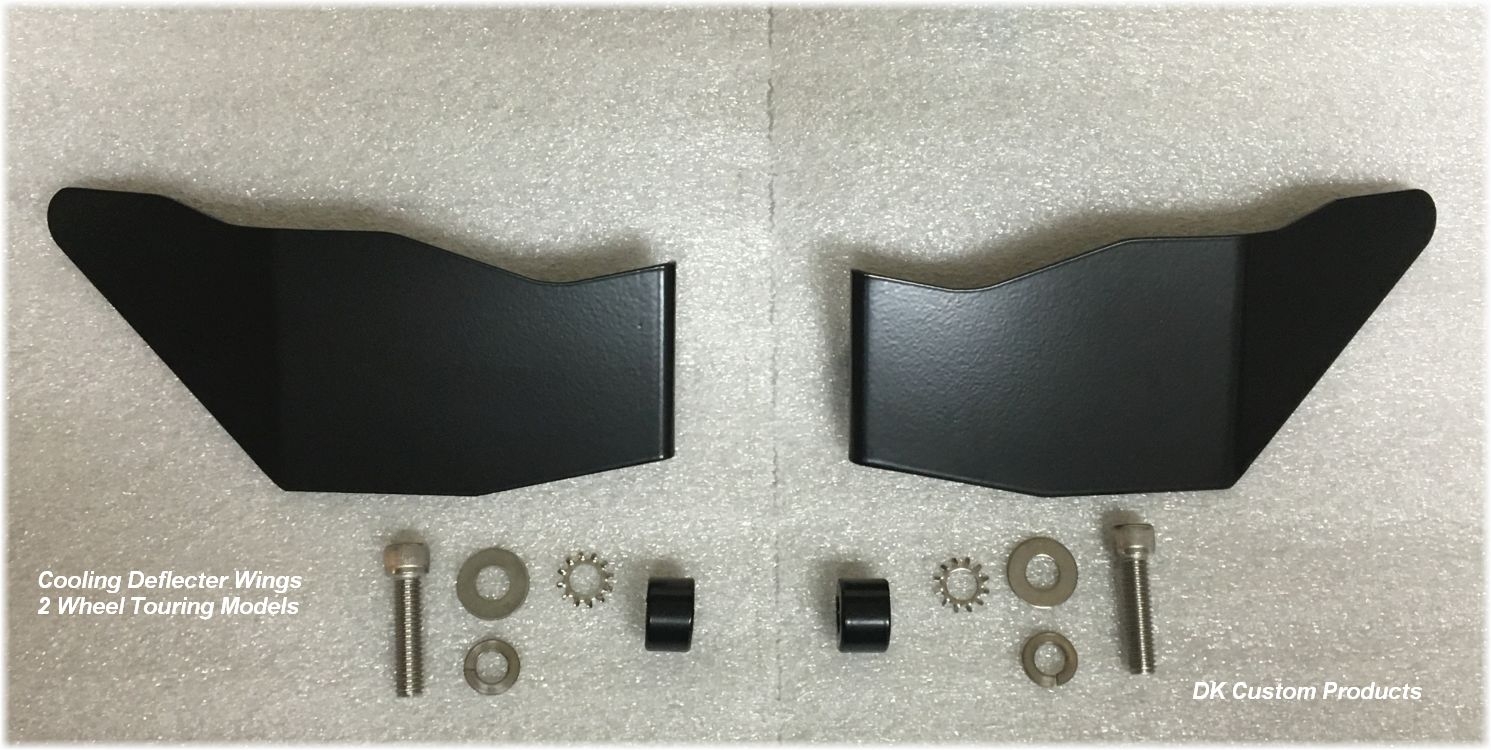 The reason for the different design is that on all two wheelers, and Trikes without a tank lift, there is less clearance room, so the design is a bit different (and smaller) to get everything to fit.

They both have a "wing" to them that extends out past where the air is that would cause buffeting, this wing is to catch extra air and direct it down onto the engine.

The purpose for designing these was two-fold:

1. Redirect air onto the engine to cool it down. This happens 100% of the time and is good for an 8-15* reduction in engine temps (regardless of design).

2. Reduce buffeting. How much it will reduce it is dependent on dozens of factors. How tall you are, what kind of seat you use, how you sit/slouch, foot/leg placement, type of helmet, etc.

Here are a few photos, side by side, for comparision-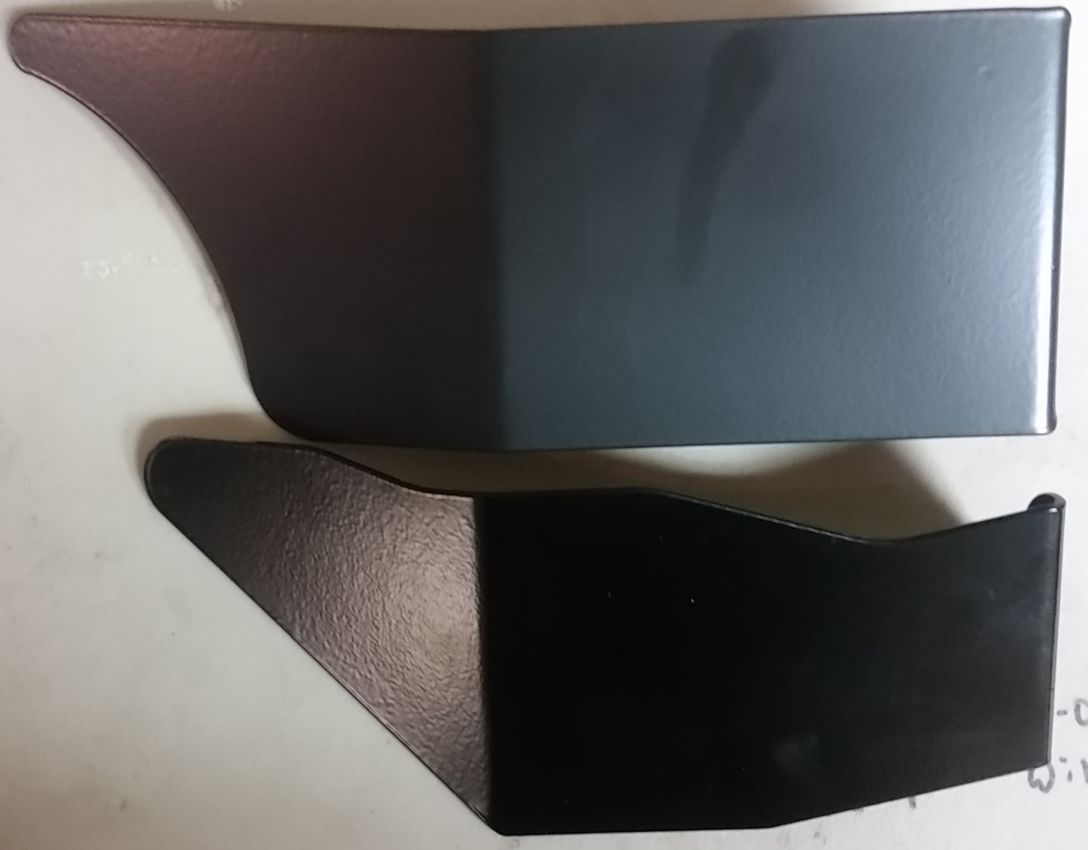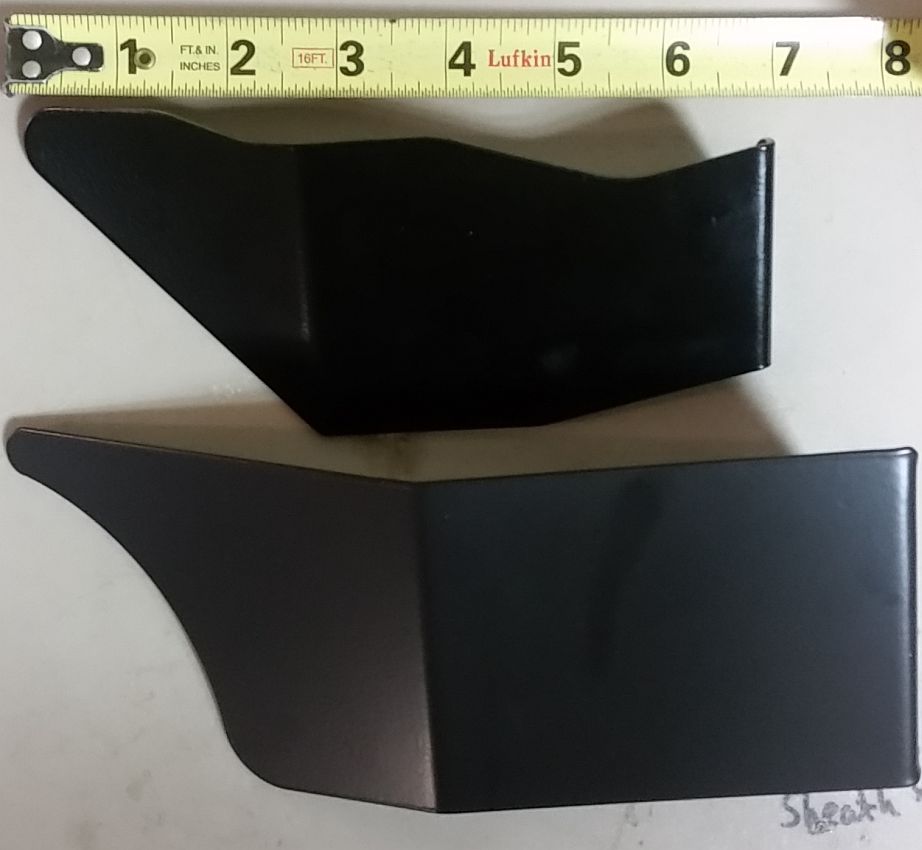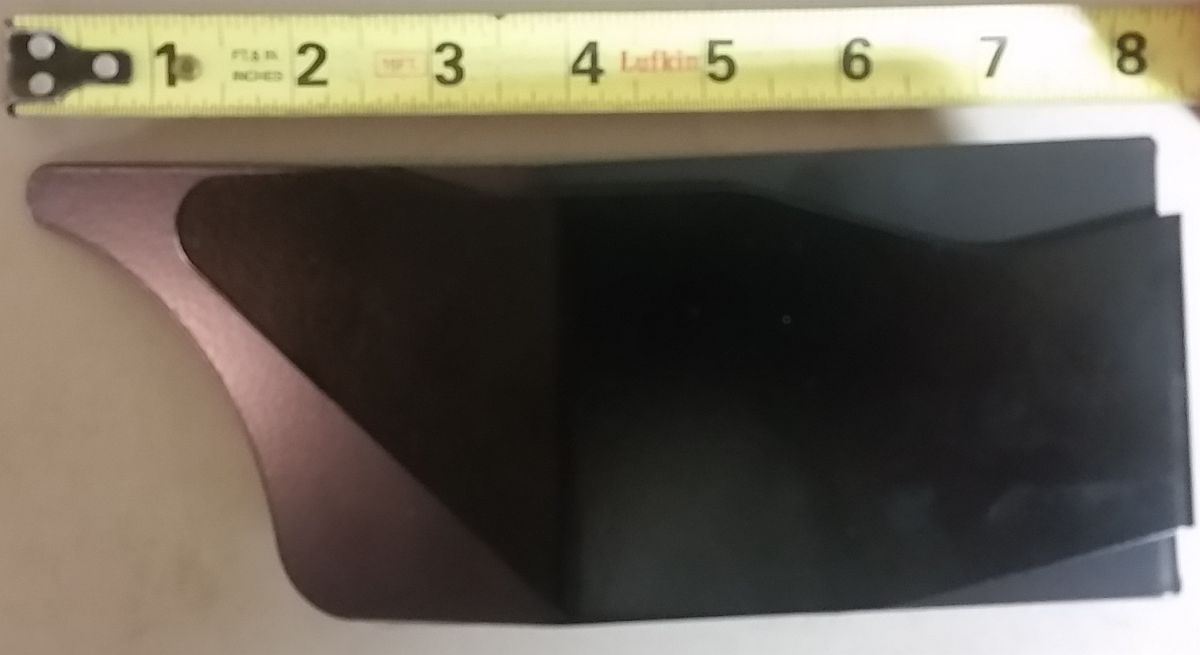 btw, the one made for the two wheelers/trikes with no tank lift, will also fit on the trikes with a tank lift.
They also work well on bikes/trikes with no lower fairings.
Customer Reviews
John

Review by

Smithc221


Thank you! (Posted on 6/21/2018)

Well Made and effective

Review by

Dean


Great idea, that works. Very easy install in my 18 Tri Glide and they helped. I am pleased with products I have purchased from dk and recommend them. (Posted on 5/31/2018)

Great product, glad I bought them.

Review by

Roger


Put them on my 2013 tri glide. Huge improvement in updraft around the tank. Still have a little from the sides of the tank. Considering the tank lift. (Posted on 5/9/2018)

John

Review by

Smithc810


They work! (Posted on 3/12/2018)

sa-WEET!

Review by

-Vince


I have a 2015 FLHTCUL, and added the cooling wings this past spring. They are absolutely THE TITS! Noticeable reduction in head buffeting. At under fifty bucks and a 5 minute install, they are the most cost effective comfort mod I've made.
(Posted on 1/9/2018)

Good for airflow

Review by

Red


Sharp product, good fit and finish. Helps to redirect wind down to the engine where it belongs, not up in your face. I run without fairing lowers, and these don't get in the way or look out of place. (Posted on 7/25/2017)
Product Tags
Use spaces to separate tags. Use single quotes (') for phrases.