Home

/

Deluxe Option Harley-Davidson Touring & Softail Models ...More
DELUXE OPTION
For

PREMIUM TANK LIFT KITS
FITS HARLEY-DAVIDSON
TOURING 1999-UP & SOFTAIL MODELS 1999-2017

MADE IN THE USA!
By
DK Custom Products
FEATURES & SPECS:
Made from American Cold Rolled Steel
All Stainless Steel Hardware
Durable Black Powder Coat Finish
E-Z BOLT-ON INSTALL - DOES NOT REQUIRE REMOVAL OF TANK
Instruction Sheet Included
This is meant to be used with one of the Premium Tank Lift Kits for your Touring or Softail motorcycle.
This Deluxe Option lifts the rear of the tank AND, on the Touring Models, allows you to move the tank back up to 1/2".
Benefits:

Even MORE Air-Flow = Cooler Engine

Rocker Covers are MORE Visible

Additional Handlebar Clearance

Easier to Clean

Levels out Tank
The DELUXE Option is ESPECIALLY useful for 2008+ batwing bikes because moving the tank back & lifting the rear of it gives more inner fairing clearance.

This is an EASY install - 5-10 minutes!

Fits 1999-Up Touring & Softail Models 1999-2017!
Here is a picture of a stock RG with both rockers partial hidden and all kinds of heat getting trapped.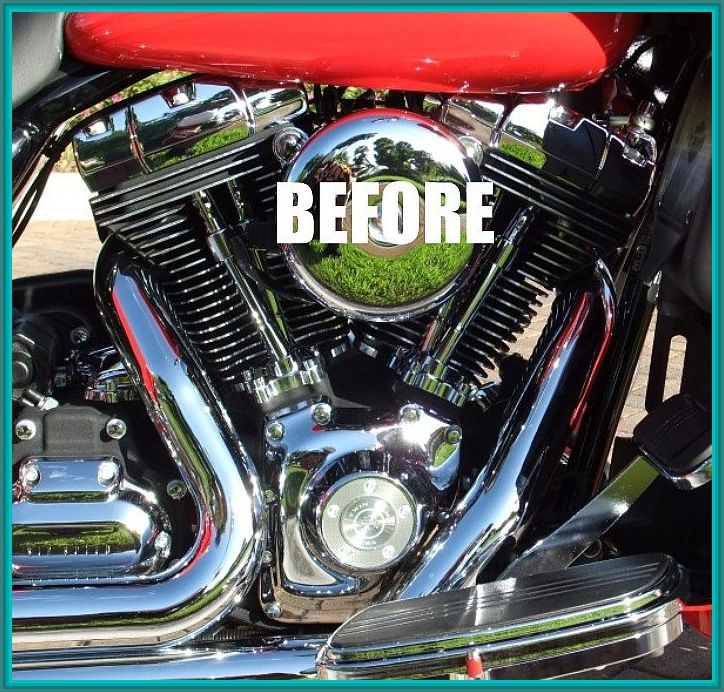 Here is the same bike with a Premium Tank Lift Kit AND a Deluxe Option. Notice the tank is OFF the top of the engine!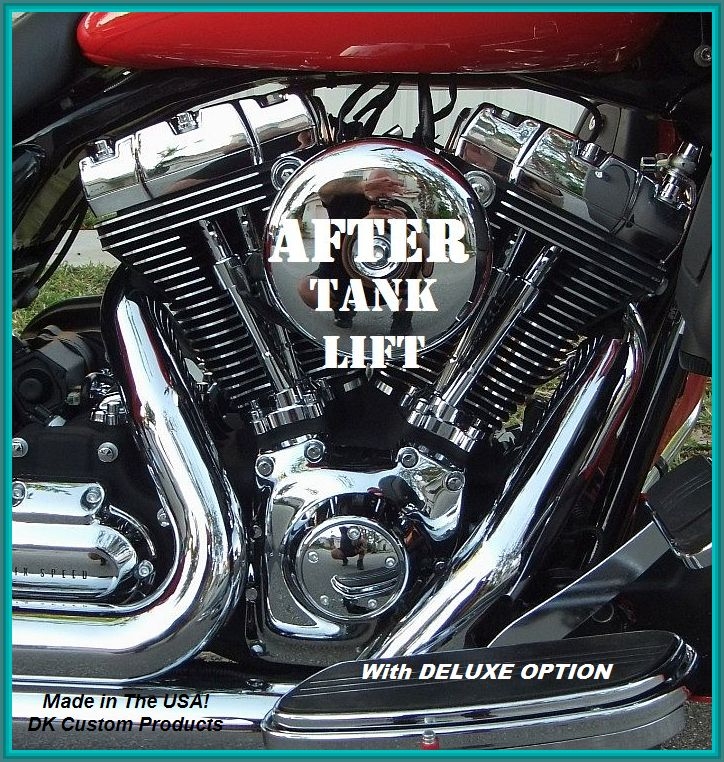 "I've been running a DK Tank Lift for several years, and it was great. Recently I added the Deluxe option and now it is even better! Both rockers are now completely visible. Thanks!" -Jason

Click on the link below for an article on everything you need to know about Lifting your Tank.
-Will if fit?
-Will I lose fuel capacity?
-What is the purpose of a Tank Lift?
-Does it reduce Wind Buffeting?
Customer Reviews
Good

Review by

Bubba


Haven't installed kit yet. Everything looks great and extremely satisfied with shipping. I've just been to busy times install kit (Posted on 12/13/2018)

Installed w/Tank Lift Kit

Review by

Wes


For a much cleaner look, I installed both the Deluxe Lift Kit Option and 1.5" Tank Lift Kits together. Lifting both front and rear of tank gives a more seemless look to the tanks profile, plus increases air flow across both big twins. The instructions were great and I was able to easily complete both front and back kit installs quickly by myself. (Posted on 10/9/2018)

Great product

Review by

Red


Excellent quality, both fit and finish. Easy to install, a helper can be good but you can do it yourself with patience and care. Instructions clear and to the point. Definitely helps with access to the engine for cleaning, and also with airflow. Looks sharper too in my opinion with the tank off the heads. (Posted on 7/25/2017)
Product Tags
Use spaces to separate tags. Use single quotes (') for phrases.