Home

/

Relocation kit for Tour-Pak Harley Baggers 97-08 ...More Details
TOUR-PAK RELOCATION KIT

FITS 97-08 HARLEY-DAVIDSON RIGID & DETACHABLE TOUR-PAKS*!
MADE IN THE USA!
By
DK Custom Products
SCROLL DOWN PAGE FOR MORE PICTURES!
FEATURES & SPECS:
Made from American Polished Stainless Steel
Stainless Steel Relocation Plate is delivered to you with a protective film which you can remove

Includes ALL Stainless Steel Hardware
Moves Tour-Pak back approximately 2.5 inches making things much more comfortable for the passenger!
Fits both the Rigid Mount and Detachable Mount Tour-Paks on 97-08 HD Touring Models*
E-Z INSTALL
Instruction Sheet & Template Included
Patent Pending
* Does not fit Tour Paks that have Amplifier attached to bottom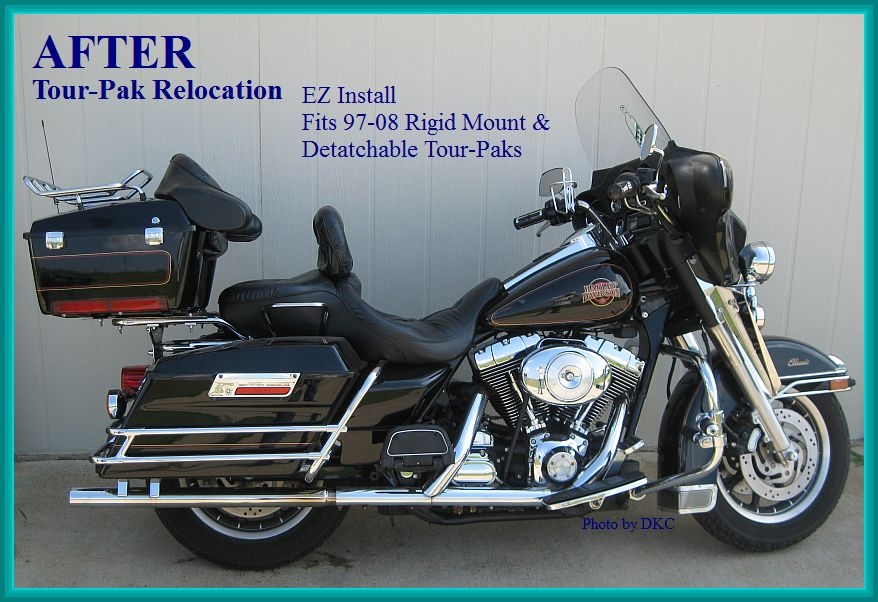 Get More Comfortable Miles with those extra few inches...it makes All the Difference in your Passengers Comfort!
Makes it much easier for the passenger to climb on & off the bike, especially if there is a drivers backrest!
This works with both the Rigid Mount Tour-Pak and the Detachable Mount Tour-Pak.
97-08 mounting racks from the factory have an inherent design flaw resulting in a rack that is prone to breaking. This simple, but effective low profile relocation kit is rated at over 10,000 PSI and greatly enhances the strength and durability of your rack AND Tour-Pak.

If you have a Road King, Road Glide, Street Glide, or any Model of the Electra-Glides w/ a Tour-Pak....

Your Passenger WILL Thank YOU for the Comfort these extra few inches gives them!!!
A template is included with the instructions for holes you may have to drill in the Pak. Over the years The MoCo has had a variety of different hole patterns in the Tour-Pak bottom plate. Some models of the Tour-Pak have as many as 14 holes, some as few as 5 holes. When using the template you may find that you already have some, or all of the needed holes.

*Does not fit Tour Paks that have an amplifier attached to the bottom, such as the CVO's.
IMPORTANT NOTE: If you are looking for a kit with "Bling", or something that is overly complicated, this is NOT the kit for you. This Relocation is amazingly simple in design, and once installed it is not visible.
There are other kits on the market that put the Tour-Pak up higher on the rack, moving the Center of Gravity Higher, they also are quite visible and cost more.
With this kit, there is no chrome, it simply relocates the Tour-Pak back for Passenger Comfort. It gets the job done, and the only person who will know it is there is your passenger

This is an EASY install - 30-45 minutes!

If Mama's happy, everybody's happy!
"Got it fast...installed it...what a difference it makes!!!"
-Brian
Customer Reviews
Had issues, but company found solution!

Review by

Bambam


I ordered this extender for my 1997 electraglide Classic, it showed up on time and the price is good for the time it would save you to buy a pieces of metal and figure out where to drill the holes, comes with all necessary hardware and instructions. That's where I ran into troubles! Lol my 1997 stick Harley came from the factory with a different mounting bracket that the ultras used, mine is secured with just three holes and the Dk plate is meant for the five hole Harley bracket. I called and spoke with dk personnel, can't remember their names but the man said he never seen that bracket on a stock bike, after investigating we did indeed figure out it is a stock bracket , because the bike was special ordered that year, that might have been the reason. Anyways, we got it figured out, I used the original mounting holes and original bolts which bolt right into bracket and don't go all the way through ultra bracket, I had to drill only three holes and get another bolt to match the original. Overall, the product works and looks good, abit of a pain in the ass figuring it out but no fault of DK customs, great customer service in helping me figure out another of Harley Davidsons oddities. (Posted on 2/4/2019)
Product Tags
Use spaces to separate tags. Use single quotes (') for phrases.