Home

/

Thunder Torque Inserts 158 For Increased HP & Torque
THUNDER TORQUE INSERTS™

Increases Low & Mid Range Torque
Adjustable Sound Volume & Tone

For Your
Slip-on Mufflers & Full Exhaust Systems

MADE in The USA!
by
DK Custom Products

FEATURES & SPECS:
High-Temp Powder Coat Finish
Stainless Steel Studs (5/16" diameter)

Includes All Hardware

FITS 2" diameter & larger Slip-ons (other sizes available)
Increases Low & Mid Range Torque
Increased Exhaust Gas Velocity

Increased Inertial Scavenging

Adjustable Sound Volume & Tone
Option for only 1 TTI for 2-1 exhaust systems
E-Z Installation Bolts into the end of the slip-on muffler (using the baffle bolt hole)

Patented Technology
Made in The USA!
Watch these videos on how to get a better sound AND increase torque!
Take a listen to the following sound clips of 5 Different Bikes that all have an increased amount of Power from Thunder Torque Inserts™ Being Installed.
***The Video Below shows how to Remove Baffles from stock OEM Mufflers that do NOT have a Catalytic Converter in them. This process does NOT work on Mufflers that have Catalytic Converters in them.***
Do you want Louder Exhaust?
Quieter Exhaust?
A Deeper Tone?
A More Aggressive Bark?
Do you want More Torque?
The Video Below shows how to Remove Baffles from stock OEM Mufflers that DO have a Catalytic Converter in them.

Another Video showing how good the stock exhaust can sound, and how much power they can have, with the baffles removed and replaced by Thunder Torque Inserts™.
All the Vance & Hines Systems and Slip-ons we've tested produce more power, and a bit deeper tone with TTI's Installed. The V&H's respond particularly well to TTI's, with or without the baffles!
Without getting too technical, we've spent thousands of hours testing shape, size, thickness, & surface coatings to find the optimum combination that increases power across a wide RPM band, AND gives maximun flexibility to deliver different sounds.
The Increase in Torque is accomplished by reducing engine pumping losses, increasing exhaust gas velocity and increasing inertial scavenging.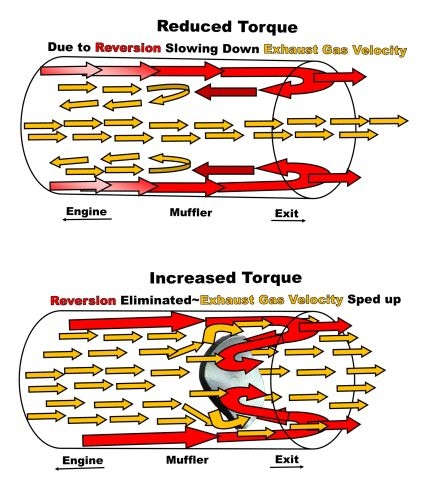 More about how exhaust works at this LINK
Thunder Torque Inserts™ are designed to perform well when used on slip-ons with and without baffles, drag pipes, shortys and 2-1 Systems.
The Patented design will produce a bit deeper sound/rumble all the way through the RPM and Throttle range.
If you feel that your current exhaust is too loud, the Thunder Torque Inserts™ will noticeably reduce the decible levels.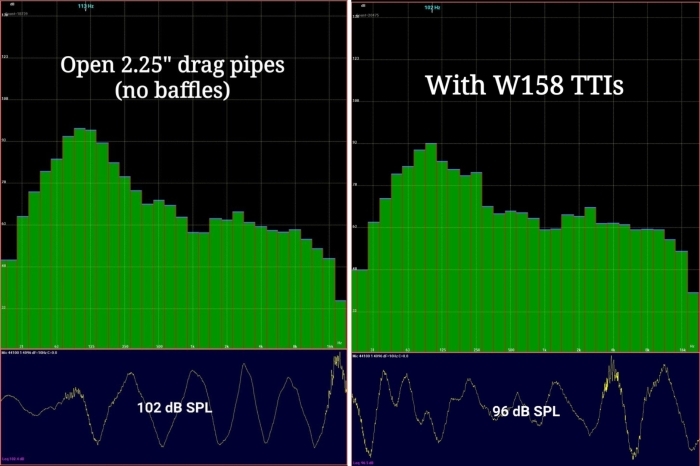 The comparison may seem subtle but decible measurements are not linear.
For Example, 90 decibels is four times as loud as 70 decibels and 110 decibels is about 16 times as loud.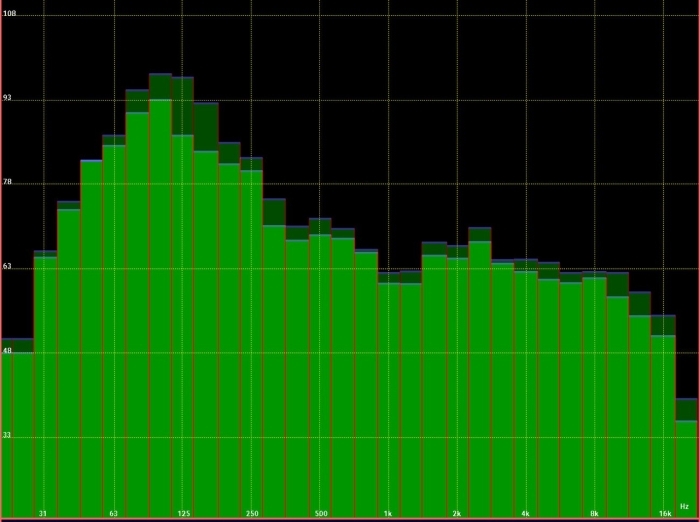 These particular results belong to a customer that had this to say...
"My impression of the sound is that it lost some higher pitched bark at roll-on and there was a reduction in low pitch reversion "echo" (kind of a flabby chuffing sound). To my ear, with these pipes, the tone isn't significantly lower but it is a bit cleaner or more refined sounding"
(Twin Cam at Full operating temp, mixture corrected, and idling at 1000 RPM.)
FITMENT NOTES:

When ordering you have an option of getting just ONE TTI if you have a 2-1 exhaust system that has only One slip-on, or to choose TWO TTI's for exhausts that have Two Slip-ons.

The "Q" model is no longer being manufactured.
Click this LINK to see Pictures & Fitment Information, to Choose the Correct Size for your Exhaust
A small change can make a BIG Difference!!!
THE MOST TORQUE & HORSEPOWER GAIN PER DOLLAR SPENT!!!
YOU CAN'T DO BETTER
Check out the Dyno Charts Above!
"We just installed the Thunder Torque Inserts. The change is very noticeable. ..using Screaming Eagle II Slipons without baffles. Metallic sound disappeared with the inserts!
...always a drop in power from 2,700 to 3,200 RPMS in any gear. Now the power delivery is very linear and smooth in the whole powerband.
It's amazing to feel that something so small, simple and easy to install made so much difference on the bike !!
Thanks so much for all!!!" -Concha
"Just wanted to take a minute and let you guys know how pleased I am with the W258 TTIs.
I'll be honest, when I first read about these things I figured it was somewhat gimicky so I didn't expect much. But, after removing the baffles from my Wild Pig slip ons and installing the W258's I was blown away by both sound and performance!
It has the potato potato sound at idle (noticeably louder than before) and also sounds great at cruising RPMs. It actually reminds me of the way my old shovel head sounded.
What really surprised me though was the very nice torque gain that you can really feel. After installing true duels and the wild pigs, I noticed a loss in torque. The TTIs brought all of that back, and maybe then some!
Best money I've spent on my exhaust system for sure. Thanks!" -Dewayne
Save
Save
Customer Reviews
V&H Eliminator 300 no baffle or end caps

Review by

DD


Thanks DK, i recieved the TTI 258 and they made all the difference. I got the low end back and they sound great. Thank you for the great service and im very happy with the end results.
Dennis (Posted on 5/8/2019)

Great product for the money

Review by

Gazza


After fitting V&H slip on's my bike wasn't running the same. These have transformed the performance and virtually eliminated popping.
Great value, they do what they say they do! (Posted on 5/3/2019)

TTI 158

Review by

DD


With no baffles, pretty sure those are 3" diameter and need the 258's. Since you have the 158's give them a try with the baffles, you should feel a nice bump in the torque. DK Support Team.

I only went with what was recommended by DK. I was told if i was going with the baffles and end caps 118 would work best, But was suggested 158'S with no baffles or end caps would be my better option.
Best Regards


Hey, I just tracked down the advice given you. My apologies, it was incorrect. Running with no baffles and no end caps (which is the best for power/torque) the 258's are best. If you want to run the end caps, then you could run the 158's or the 258's, but for power, the end caps are a real power robber. They really interrupt the flow, slowing down the exhaust gas velocity. Here is a link to our sizing for TTI's.

http://www.dkcustomproducts.com/choosing-the-right-size-thunder-torque-inserts.htm

If you are good to run no end caps or baffles, please email or call us and we will send you the 258's at no charge to make up for our error in advice given.

(Posted on 5/2/2019)

TTI 158

Review by

DD


I purchased TTI 158 for vance & Hines Eliminator 300 Exhaust. I Tried them without baffles and without baffles and end caps on. They definately made the sound deeper. With end caps on they felt restrictive with end caps off they sounded good but didnt feel any difference in seat of the pants torque compared to the baffles without wrapping and end caps on.

With no baffles, pretty sure those are 3" diameter and need the 258's. Since you have the 158's give them a try with the baffles, you should feel a nice bump in the torque. DK Support Team

(Posted on 5/2/2019)

V&H Short Shots

Review by

NoSlackPatriot


I installed these in my V&H Short Shots on a 2017 XL1200X. Install requires removal of pipes from the headers. I was able to use a bit slightly smaller than the 3/8in size without any issues. I recommend using a tool with a rubber handle wedges between the pipe and the insert to prevent rotation of the insert for tightening down the lock nut. These do provide a very noticeable increase in power, torque, and deeper sound. VERY PLEASED! (Posted on 4/22/2019)

Really

Review by

Cal rider


I think they work. Feels better on the freeway stronger midrange. Sounds different. Rinehart tracker pipes. 2009 883L. Satisfied my curiosity (Posted on 4/15/2019)

Great update on classic design

Review by

Fasttrack


Great quality and awesome design. Helped with backpressure issues I was having on a short exhuast and gave me the added benefit reduced decibels. Fast shipping and great service by DK custom. (Posted on 4/3/2019)

These work

Review by

Pablo


I installed the 158 TTI's on 07 STC with V&H long shots hoping to quiet the bang some. I could tell a difference and I like the slightly lower tone but not much quieter, (I have really close neighbors). It might be just my wishful thinking but I did seem to feel and increase in torque by seat of pants test :-)
Overall, this works as stated and install was a breeze including drilling the holes larger.
I also ordered one 258 for my buds Fat Boy with a header but hes OOT and will update after install. (Posted on 3/29/2019)

Good Quality

Review by

Oakie


Installed TT-158's in Hi Roller baffles. Still snowing here off and on so have not had a chance to ride. I was delighted when the nice lady at DK took the time to go take photos of Kevin's mufflers and sent to me so I could see how he installed. That is customer service above and beyond. (Posted on 3/21/2019)

Sweeeeeeeet!

Review by

Buck Bang


Installed 158's in V&H short shots, removed baffles, on 2015 Dyna Wide Glide. This bike is so much fun to ride. (Posted on 12/13/2018)

Helps true duals setup

Review by

Livewire


I recently purchased as I am running the V&H dresser duals. My low end torque definitely suffered. I installed the 158 model into the V&H oversized 450 Raiders. The oversized from V&H has a 2.5" baffle. I removed the tip and baffle. Was able to drill the very back of the baffle and install the tti. Slipped them back together and ready to go. About 30 minutes total. Great thing was I did not have to drill through the outer part of my slip on. I run the fp3 and did live sensor data before and after. I don't know if there torque reading is accurate, but it showed a 14 ft/lbs increase. I can definitely feel the difference. (Posted on 10/29/2018)

They really work!!

Review by

Q


Just installed W158's on my 04 sportster and these do exactly what they say. With the videos available, removing the baffles from my stock mufflers (w/cat) and installing the TTi's was so easy it took about an hour from start to finish. I was shocked at how much more aggressive they sound now. Exactly what a Harley should sound like. Also felt an instant increase in low-mid range torque and a much smoother ride all round. I was so happy with these little bad Larry's that I just ordered the W258 for my 1200 and can't wait to put them in. A serious bang for your buck!!!
Thanks DK! (Posted on 5/2/2018)

WOW!

Review by

Dirt


I pulled the baffles out of the Vance & Hines slip ons on my 2014 Iron 883 and installed the W158 Thunder Torque Inserts over a year ago and all I can say is WOW! The exhaust on this little 883 sounds wicked, very deep and throaty. The low and mid range torque is linear and pulls MUCH better. I constantly have people tell me how much they like the sound. If you are thinking about getting these DO IT! They sound AMAZING and you'll be blown away by the improved low and mid range torque. The sound when I crack the throttle is SICK. Don't wait, get a pair. (Posted on 4/15/2018)

Great sound and power for cheap!!!

Review by

JMC87


I recently put these on my 48 and finally have my bike sounding and performing to where I won't mess with it EVER again.

I originally bought the bike new at Republic HD in Stafford, TX with the typical stage one upgrades. Heavy breather, Vance and Hines Short Shots and a Screaming Eagle Pro Race Tuner with dyno time. I rode it this way for two years before I got tired of the tinny/rough sound the stock baffles made with the Short Shots. I tried the quiet baffles for a while and enjoyed the deeper tone they gave me but still felt that the sound wasn't what I wanted.

Finally I gave these TTIs a shot and couldn't believe the difference. The low end power has improved, they are loud but deep and powerful sounding. I removed the quiet baffles (with a slide hammer) and enlarged the V&H baffles set screw hole with a drill. Super easy install and the bike sounds AMAZING. No pops or backfire off throttle in higher rpms... just pure power and sound.

Thank you DK!!! (Posted on 4/13/2018)

TTi 158s in upswept fishtails

Review by

Bob


Installed Paughco upswept fishtsils on my 48. They are one piece pipes w/o baffles. Very loud and the bike would hardly run. No low end torque at all.
Modified the 158s (ovalized) to fit and installed and adjusted. Now the pipes sound like upswept fishtails should and the low end is back. These inserts are the best. (Posted on 12/17/2017)

Great!! No more popping when deccelerating

Review by

YeyO


Amazing! These little budies seem inofensive, they seem so simple...but once installed in my FXDC they really, really do their job! I was really struggling with FI due to a lot of decceleration explosions (V&H Twins Slash slipons w/o baffles). The TTI not only eliminated Completely the popping, my bike now has a lower deeper tone, no more metallic sound and recovered a lot of torque in the lows. (Posted on 11/11/2017)

Best money I've ever spent.

Review by

Brad


I put the W158's on my '02 Shadow VT1100 in about 30 minutes (had to drill holes), and I IMMEDIATELY felt a difference. The previous owner had taken a holesaw to the baffles and I've been trying to get the engine dialed in since I bought it. The bike sounds a lot better, it got rid of the hollow, twangy, metallic sound and now has a deep, warm grumble. I can feel a HUGE difference in torque all the way up the rev range and I actually get pushed into the seat now. All in all these are a great buy. (Posted on 8/27/2017)
Product Tags
Use spaces to separate tags. Use single quotes (') for phrases.