Home

/

Thunder Torque Inserts 258 for Increased HP & Torque
THUNDER TORQUE INSERTS™

Increases Low & Mid Range Torque
Adjustable Sound Volume & Tone

For Your Exhaust
MADE in The USA!
by
DK Custom Products

FEATURES & SPECS:
High-Temp Powder Coat Finish
Stainless Steel Studs (5/16" diameter)

Includes All Hardware

FITS 3" diameter & larger Slip-ons (other sizes available)
Increases Low & Mid Range Torque
Increased Exhaust Gas Velocity

Increased Inertial Scavenging

Adjustable Sound Volume & Tone
Option for only 1 TTI for 2-1 exhaust systems
E-Z Installation Bolts into the end of the slip-on muffler (using the baffle bolt hole)

Patented Technology
Made in The USA!
Watch these videos on how to get a better sound AND increase torque!
Take a listen to the following sound clips of 5 Different Bikes that all have an increased amount of Power from Thunder Torque Inserts™ Being Installed.
***The Video Below shows how to Remove Baffles from stock OEM Mufflers that do NOT have a Catalytic Converter in them. This process does NOT work on Mufflers that have Catalytic Converters in them.***
Do you want Louder Exhaust?
Quieter Exhaust?
A Deeper Tone?
A More Aggressive Bark?
Do you want More Torque?
The Video Below shows how to Remove Baffles from stock OEM Mufflers that DO have a Catalytic Converter in them.

Another Video showing how good the stock exhaust can sound, and how much power they can have, with the baffles removed and replaced by Thunder Torque Inserts™.
All the Vance & Hines Systems and Slip-ons we've tested produce more power, and a bit deeper tone with TTI's Installed. The V&H's respond particularly well to TTI's, with or without the baffles!

Without getting too technical, we've spent thousands of hours testing shape, size, thickness, & surface coatings to find the optimum combination that increases power across a wide RPM band, AND gives maximun flexibility to deliver different sounds.
The Increase in Torque is accomplished by reducing engine pumping losses, increasing exhaust gas velocity and increasing inertial scavenging.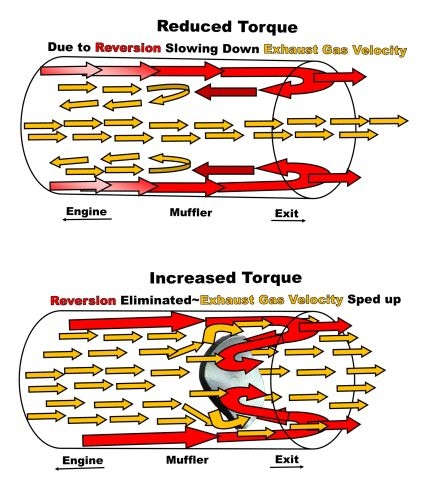 More about how exhaust works at this LINK
Thunder Torque Inserts™ are designed to perform well when used on slip-ons with and without baffles, drag pipes, shortys and 2-1 Systems.

The Patented design will produce a bit deeper sound/rumble all the way through the RPM and Throttle range.
If you feel that your current exhaust is too loud, the Thunder Torque Inserts™ will noticeably reduce the decible levels.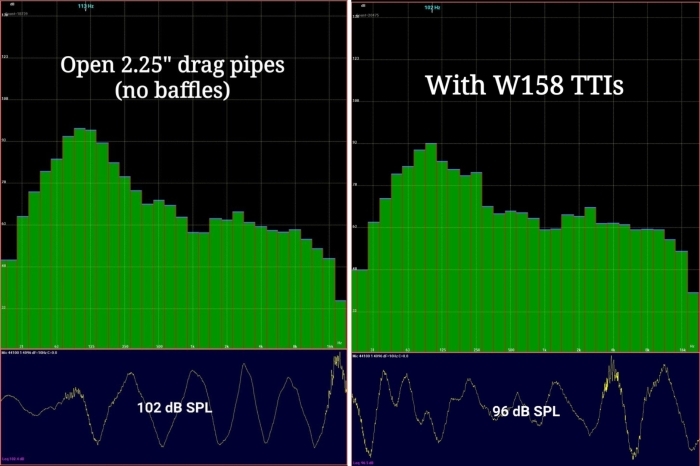 The comparison may seem subtle but decible measurements are not linear.
For Example, 90 decibels is four times as loud as 70 decibels and 110 decibels is about 16 times as loud.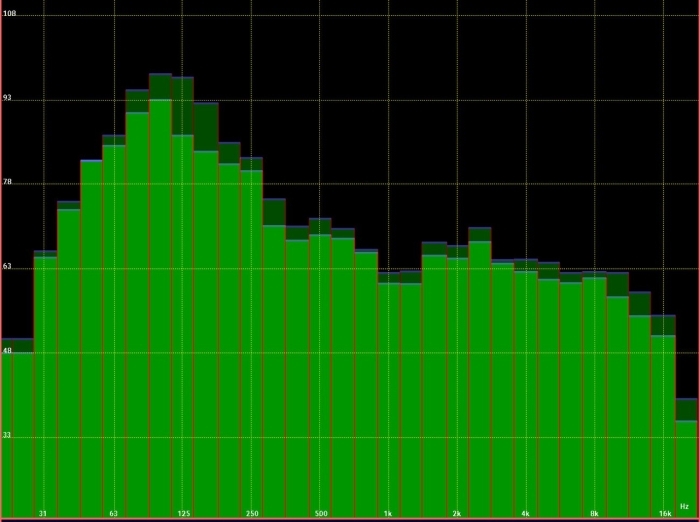 These particular results belong to a customer that had this to say...
"My impression of the sound is that it lost some higher pitched bark at roll-on and there was a reduction in low pitch reversion "echo" (kind of a flabby chuffing sound). To my ear, with these pipes, the tone isn't significantly lower but it is a bit cleaner or more refined sounding"
(Twin Cam at Full operating temp, mixture corrected, and idling at 1000 RPM.)
FITMENT NOTES:
When ordering you have an option of getting just ONE TTI if you have a 2-1 exhaust system that has only One slip-on, or to choose TWO TTI's for exhausts that have Two Slip-ons.
The "Q" model is no longer being manufactured.
Click this LINK to see Pictures & Fitment Information, to Choose the Correct Size TTI for your Exhaust

A small change can make a BIG Difference!!!
THE MOST TORQUE & HORSEPOWER GAIN PER DOLLAR SPENT!!!
"Amazing how much more power these gave my 103 down low. The sound is raw power too." -Phil
"Just wanted to take a minute and let you guys know how pleased I am with the W258 TTIs.
I'll be honest, when I first read about these things I figured it was somewhat gimicky so I didn't expect much. But, after removing the baffles from my Wild Pig slip ons and installing the W258's I was blown away by both sound and performance!
It has the potato potato sound at idle (noticeably louder than before) and also sounds great at cruising RPMs. It actually reminds me of the way my old shovel head sounded.
What really surprised me though was the very nice torque gain that you can really feel. After installing true duels and the wild pigs, I noticed a loss in torque. The TTIs brought all of that back, and maybe then some!
Best money I've spent on my exhaust system for sure. Thanks!" -Dewayne
Save
Save
Save
Customer Reviews
WOW game changer

Review by

pojobe


After many upgrades and age my E-Glide with cobra head pipes and DNA 4 in exhaust had lost it sound and became too loud for me, installed 258 and got back so much more, torque you can feel and see, the old Harley sound we love, and not to loud, this is a must have product if you have true duals, it will put in the back pressure in the engine. (Posted on 3/14/2019)

Sound and Performance

Review by

Johnny Bravo


I have a RGU w/ 4" slash cut Vance & Hines performance slip-ons. I removed the baffles to increase the sound and my safety. I lost torque and the sound was super loud. My buddy recommended the Torque Inserts and what an amazing difference in low and mid torque!!! I tried 3 different angles for the sound and decided to leave the inserts flat against the diameter of the pipes. Strong Sound! Deep and throaty. (Posted on 12/13/2018)

Good sound

Review by

Gray Biker


Removed the cat and installed 4" mufflers, removed the packing.. I knew my back pressure was going to be screwed up. So I bought the inserts. It has a lower tone to it now. More of the old HD sound. Dont know about any more power... Its to cold and sloppy on 1.5 miles of gravel to try it out. Easy install removed the bolt for the baffle and installed in the same hole. (Posted on 12/13/2018)

Nice product

Review by

Jim


I took a set of stock 09 dyna slip ons, cut 3 inches off the back, yanked the baffles out and installed these. Results were pretty spectacular. I ran it for a few days without the inserts and my bike was super loud but sounded like crap, excessive decel pop among other annoyances. Bike already had open intake and ViED's. After TTI installation this bike runs great and sounds awesome! Deeper tone and decel pop was lessened. Perfect to my ear since I like loud bikes with a little deceleration noise. Bike runs cooler. One of the best inexpensive upgrades available! (Posted on 8/17/2018)

TTI W258 On Full System

Review by

Dave Fox


Hi DK,

Just wanted to drop you a note to let you know that I am on my second set of Thunder Torques on two different bikes and the results have been incredible. My first set of TTI's were used with V&H slip ons and they worked great. My second set are on Samson true duals with 4×30 inch mufflers. Results are fantastic, raw power. The young lady who helped out in customer service was great too. Thanks Dave (Posted on 8/13/2018)

W258s in stock 2015 Street Glide slip-ons

Review by

JMC87


After installing a set on my Sportster 48, I decided to try these on my stock take-off slip on mufflers. I originally had Screaming Eagle Street Cannons, but after I removed the cat from the stock headpipe the sound was terrible. Raspy, loud and blubbery sounding. I orginally got the W258s to try in the Street Cannons but they were a 4 inch inside with no packing or filler, so the TTIs were way too loud and lost a lot of the deep rumble I wanted. This is a design flaw of Harley's in my mind - and that's on top of the end cap design which was a nightmare to work around.

I put my stock slip-ons back on for a few months and it sounded okay with the de-catted head but I wanted more. I watched countless YouTube videos to see if I could get a deep rumble without too much volume and finally decided to try these on. Cutting out the stock cone baffles was straight forward. I used a cutting wheel with a power drill and cut right behind the weld inside the muffler. Once cut, a bit of wiggling and pulling took the cones right out. The next part was critical in getting the sound I wanted - leave the inners with the fiberglass wrap in the muffler! Mount the W258s as close to the end of the fiberglass packing as possible for the deepest sound.

I love the way my bike sounds FINALLY. It is deep and powerful without being too loud for a touring bike. It sounds like a hot rod to me. The only downside to this whole thing is a feel like an idiot for wasting time and money on Street Cannons.

Decat your stock header, use these to replace your stock slip-on cone baffles and ENJOY. (Posted on 4/13/2018)

Thunder torque inserts

Review by

Poolman


I just removed my baffles on my 2014 Harley Davidson Sportster xl1200 and inserted the TTI's and when I turned on the bike my jaw instantly dropped. The bike is loud (Posted on 1/20/2018)

Thunder torque inserts

Review by

Doug


Ordered a set of the 258 inserts expected delivery in 4-5 days recived them in 2 days install was easy enough. The sound is a really nice rumble, torque increase for the buck is fantastic.
Bang for the buck best thing I've every found! (Posted on 11/8/2017)
Product Tags
Use spaces to separate tags. Use single quotes (') for phrases.