Home

/

07-Up Coil and Ignition (key) Relocation
NEW PREMIUM COIL AND IGNITION RELOCATION KIT
With Options For Tank Lift, Plug Wires and More


FITS SPORTSTERS 2007-UP

MADE IN THE USA!
By
DK Custom Products

FEATURES & SPECS:
Made from American Cold Rolled Steel
Optional

Screamin'

Eagle

or

Pro Race

Plug Wires
HIGH TEMP RUBBER SEAT FOR COIL AND IGNITION SWITCH
Durable Black POWDER COAT Finish
E-Z BOLT-ON INSTALL
Two Add On Options
Instruction Sheet Included
Purpose-Made & Patented

You can get rid of that ugly mess covering the top of your front rocker!
OPTIONAL IS A PREMIUM TANK LIFT KIT
The Tank Lift gives you extra room to tuck your wires and clearance for the coil & ignition relocation....really cleans up above the front rocker cover!

BETTER LOOK ~ BETTER AIR-FLOW ~ BETTER ACCESS TO KEY

This is an EASY install - 20-30 minutes!
No more leaning forward just to see your key to turn it off and on.

This simple to install kit, relocates your coil and your ignition (key) switch to the left side of your engine, opening up the space above your engine!

Includes High Temperature Silicone Rubber Seats to reduce vibration and insulate your coil & ignition switch from heat.

Look at all the pictures...you will be very pleased with how this gives your Bike a Radical New Look!

Helps clean up the jumbled mess sitting right above the engine.
Two Add-On Options
1. Push-Button LED Ignition Switch. See video below, and see full details at this LINK.
(Now fits 2014-Up with optional CANbus adapter)
2. Key Tag...choose the one you like best! See pics below, and full details at this LINK.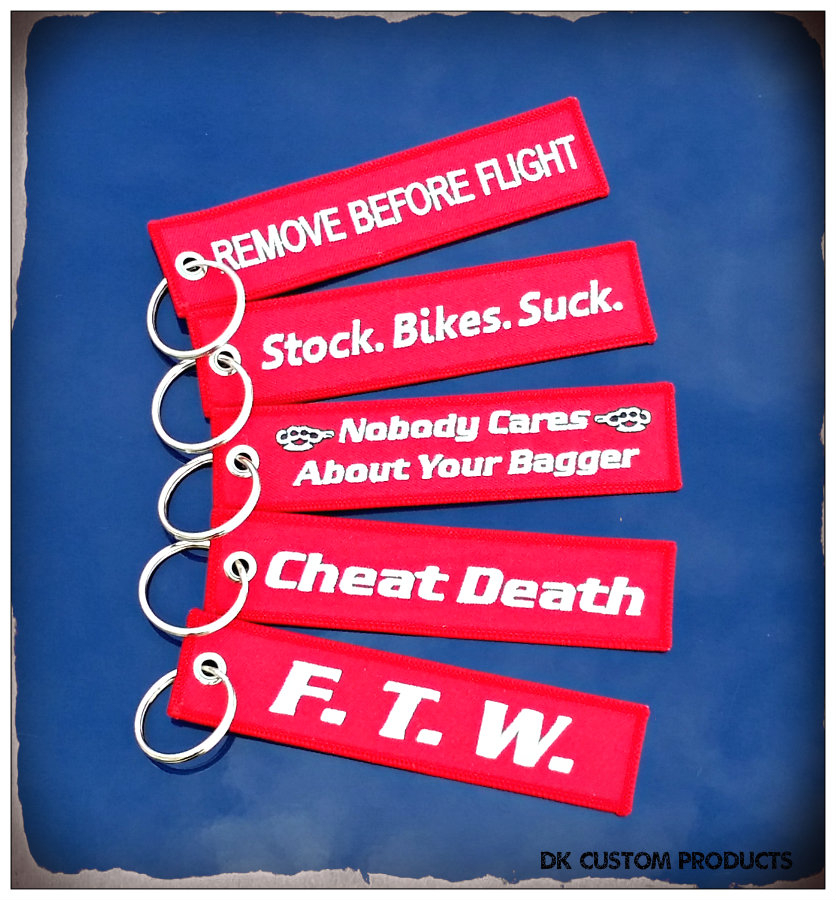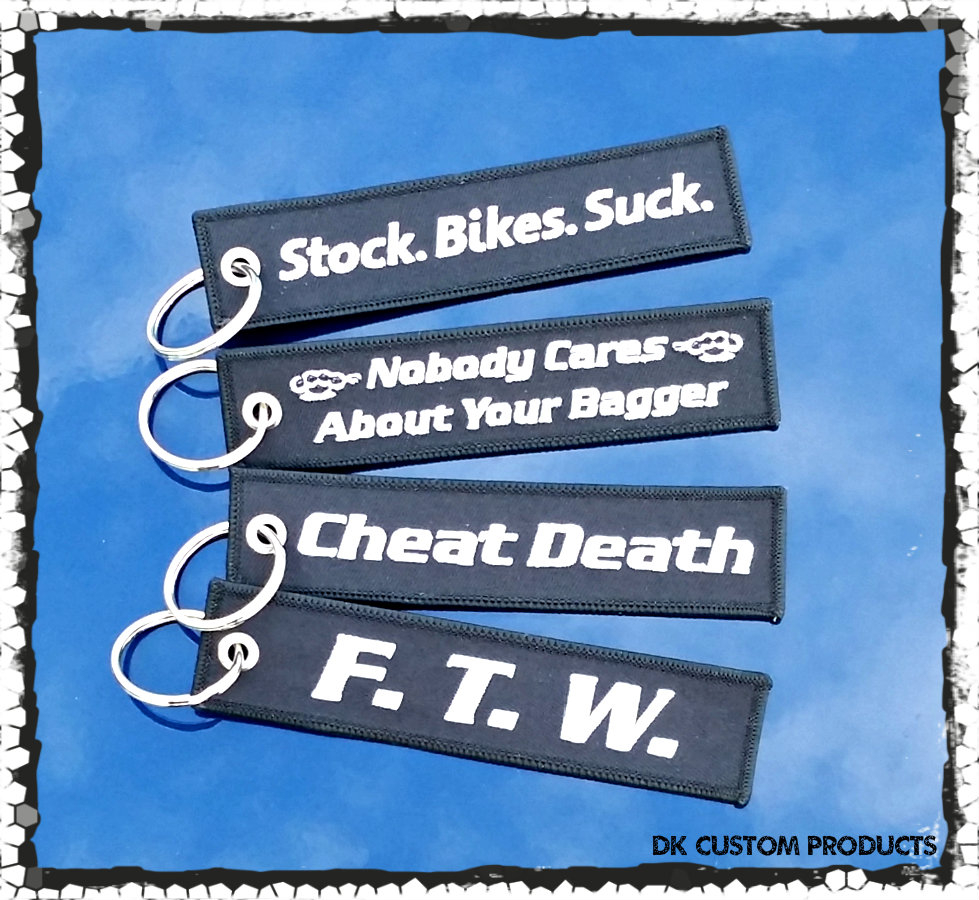 Fits 2007-UP Sportster Models (except XR1200)
**We also have this kit for 2004-2006 Sportster Models**

FITMENT NOTES:

The Flex-Six (F-6) ignition relocation is a nice Option. Instead of having the ignition key right above the relocated coil, it puts it between the rear cylinder and the battery cover for an even Cleaner Look!
For Custom Sportsters that have the cowbell horn on the side, look at our Horn Kits! You can relocate your Coil AND have a horn!
The quick-release for the fuel valve on some Sportsters will touch the plastic housing of the relocated key switch without a tank lift, if you do not want to do a Tank Lift (or can't, like on a Custom), this can be alleviated by choosing the Flex-Six option, or by cutting a small portion of the plastic housing.
Because the coil is now sitting closer to the rear spark plug, you may want to modify the length of your existing rear plug wire. Or better yet, get some Screamin' Eagle or PRO RACE Plug Wires that will compliment your Coil Relocation.
Note for Push-Button LED Ignition Switch Option --If you have a CANbus bike (2014-Up Sportster or 2012-Up Dyna) choose the CANbus option to get the additional circuitry that enables the Push-Button LED Switch to work with your CANbus equipped bike.
"Cool deal." -Spider
U.S. Patent D668,984 S

Customer Reviews
Pretty straight forward; clean look

Review by

hhernandez1230


I love the look. My only complaint is that the gasket/rubber piece that goes into between the plates and screws is red. Now, it works for me because I went with the red spark plug cables but wish it was just black or at least an option. Also it is very soft so the harder you screw it, looks like it is smushing it out from the sides. Maybe if it is a bit harder but provide the same function. Other than that...pretty straight forward. Instructions were clear but did not really use it much. (Posted on 8/13/2020)

Couldn't be easier.

Review by

Adam


Top notch quality, super easy install and fast shipping. There's a ton of these kits online but none of the other ones I've seen match the quality of this kit. The option of Screamin Eagle wires is an added plus. Since installing ive gotten a ton of compliments on my forty eight. Aside from the looks, I run high flow exhaust, high flow air cleaner and a tuner, so my engine is already running hotter than normal. Lifting my tank has added more airflow to the engine which keeps it cooler. (Posted on 7/22/2020)

Great product

Review by

Tommi


Very easy to install and it made my bike so cool. (Posted on 7/18/2020)

Easy install, nice improvement

Review by

Bronco


Really easy install, instructions are clear and easy to follow. If you are more of a visual person, or are apprehensive, there are plenty of how-to videos online. Great kit. Took me about 90 mins to do along with a tank lift and wire tuck...wire tuck took the majority of the time.
I forgot to order the plugs with it. Placed a call to DK and they took the extra order over the phone and I had it here a few days later. Great service from them, and a solid product. (Posted on 7/13/2020)

This will blow your nips off!

Review by

Paul


Best modification to my sporty aside from new bars and exhaust. This is an essential, and it make the greatest aesthetic improvement. Hardware quality and fitment is top notch. (Posted on 7/3/2020)

Bad ass is what it is!

Review by

GurtSquirt


I've done a lot of work to my little sporty, but this relocation kit gets the most attention. Like everything DK makes, the hardware is excellent and fitting is perfect. (Posted on 7/3/2020)

Coil and ignition relocation

Review by

Reggie


Great product and fit was spot on! Fast shipping thanks DK! (Posted on 6/29/2020)

Amazing quality!

Review by

Opie


Super easy to install, looks fuckin' awesome, Detailed instructions and it came within a few days. I ordered some parts from Harley the same day I ordered this stuff and I'm still waiting for the stuff from Harley... (Posted on 6/25/2020)

Awesome customer service and a great quality product!

Review by

Coil and Ignition Relo


I will be dealing more with these guys in the future! Made the order and received it within days. Mind you I placed the order with Covid 19 delays everywhere. Great quality product made in America!# (Posted on 6/4/2020)

2" tank lift, coil & key relocation, Pro Race Ready wires

Review by

Banjo


I did a 2" tank lift, wire tuck and coil & key relocation to my 2013 HD Forty Eight. The folks at DK got the kits out to me quickly and answered some questions I had via email fast. The kits are quality product and you couldn't ask for better customer service. I couldn't be happier with my experience dealing with DK. (Posted on 5/22/2020)

1.5 inch Lift with Coil Relocation

Review by

Nickles


I purchased the 1.5 inch take lift with the coil relocation for my 2012 Nightster. Installation was pretty easy. I opted to follow youtube videos instead of the paper instructions as they served better as a visual aid. I would recommend at least a 1.5 inch tank lift if you're planning to tuck the wires between the frame rail and the tank. There are a number of large connectors that need enough space near the forks. I went with 4 stars on the value because at the end of the day this is really just a bracket with a couple of bolts. (Posted on 5/12/2020)

Perfect

Review by

Uwe


This coil-ignition relocation bracket is top quality and fits perfect on my 2018 iron 883. clear instructions and easy install. Wouldn't hesitate to buy again from D.K. Customs (Posted on 4/15/2020)

Great Product, Easy Install

Review by

Metalkount


Bought this off the recommendation of a YouTuber and I can say I am happy I did. Installed it on my 2019 Iron, and paired it with a 2" tank lift. Looks Amazing!! Would recommend to anyone that wants a cleaner look to their bike. Easy install, took roughly an hour or so. (Posted on 4/14/2020)

Fantástico, Great and Terrific

Review by

Oscar Crespo Gutierrez


It was easy to install and I appreciate so much your work and of course the style in these items. Many thanks for your work (Posted on 4/5/2020)

Great products that you want to put on your ride

Review by

KT


Man, DK customs coil and ignition relocation kit really made my sporty look like a whole new bike after the tank lift and wire tuck. I did it all in one day, maybe 2 hours and that was me taking my sweet time. I recommend a MUST for all sporty lifers ✊ (Posted on 4/3/2020)

Great Equipment, Great Value

Review by

Coach G


Performed a 1.5" tank lift, wire tuck, ignition (f-6 option) and coil relocation. Products were shipped and received quickly. The entire job took me a few hours, probably longer than most but that is because I was taking my time, being meticulous and enjoying myself. Love the way it turned out. Looks clean and call me crazy but while idling my bike sounds louder. (Posted on 3/19/2020)

Does the job!

Review by

John


Ordered this coil and ignition relocation switch and it came quickly. It only took about an hour to install in total. Not terribly complicated. It did help that I already had the tank lift kit sold by DK Customs for clearance and relocation of some wires. The most difficult part was attaching the ignition to its new location. It's just a super tight spot. No issues with the product. It does exactly what you want it to do. (Posted on 12/27/2019)

Great product but read this!

Review by

2010 XL1200L


The product itself is great quality and its really not terribly difficult to install. However if you have a 4.5 gallon tank as I do, the tank lift is mandatory in order to clear the ignition. Extremely happy customer!

Added: (or you can use an F6 Ignition relocation with no tank lift) (Posted on 12/27/2019)

F***ING AWESOME!!!

Review by

2014 IRON 883


So I did everything the instructions said, I did all 3 at once, Tank lift, Relocate Ignition, and the Relocate coil. At certain points, I would switch back and forth between the ignition and coil just to make sure the wires were where I wanted them and clear of hitting anything and not to close to engine. But, I had the awesome tape, Fusing tape!!! first time using it and its nothing short of incredible. I ended up using 2 and half rolls of the stuff because I covered every wire and wrapped all the wires to the frame with it. But get it, its amazing!

After everything was said and done, it looks great! I even got their wires because my screaming eagles were long, the ready to install cables look a lot better. (Posted on 12/27/2019)

As Advertized

Review by

Danny


One of my first mods along with a wire tuck. Awesome product, does just what you want along with a wire tuck on your Sportster Cleans everything up to make great air flow and a great look. (Posted on 12/27/2019)

Perfect

Review by

Brett


Quality of product is great and install is easy. The bike looks great (Posted on 12/27/2019)

Ignition and coil relocation kit

Review by

Fego


Great kit for my 17 iron 883, easy installation and looks good (Posted on 12/27/2019)

Fitment, quality, and customer service are unsurpassed

Review by

Dan


Hands down one of best companies I have ever dealt with! I bought the coil relocation, 2" tank lift, and F-6 ignition relocation and the fitment, quality, and customer service are unsurpassed. Right after I placed my order I came to realize I had ticked off the wrong option of what I wanted and I email the company right away and they emailed back within minutes and changed it right away. They were there for any and all questions I had and I would recommend this company and products to everyone! Will be definitely be promoting these guys, thanks DK Customs. (Posted on 12/27/2019)

Tank lift, ignition relocation and wire tuck.

Review by

Money Pit


Install was easy, it really cleans up the appearance of the bike when lifting tank giving access to a wiring route above the frame spline. I keep forgetting my coil is on the left side now! (Posted on 12/27/2019)

Perfect Product

Review by

John


2017 Iron 883. Easy to install. All parts were packaged well and showed up in great condition. DK points you in the right direction. Would recommend. (Posted on 12/27/2019)

Great product

Review by

Tycen


I got the 2" tank lift and the coil/ignition relocation kit. The product was an easy install and looks great. (Posted on 12/27/2019)

No Regrets!

Review by

Justin M.


Coil and ignition relocation kit installs super easy and makes the aesthetics of the bike much cleaner. Highly recommend. Great customer service as well! (Posted on 12/27/2019)

Grade A Service

Review by

Mcorley


Great customer service and faster than expected delivery. I ordered a tank lift kit as well as a coil and ignition relocation kit..both worked out great with proper fit in all aspects of installation. (Posted on 12/27/2019)

Amazing Product and instructions

Review by

Matthew


2010 Iron 883. Just got my 1.5" tank lift, wire tuck, and coil/key relocation finished up yesterday and love the look of it. Instructions were well thought out. Everything arrived quickly and perfectly (Posted on 12/27/2019)

Coil/Ignition relocation

Review by

Mosephus


This company is a class act. First i ordered wrong part and they returned it with no problem. Second, when i got the part i needed it was quality and shipping was fast. During my email exchanges for the return, they were absolutely great. Highly recommend (Posted on 12/27/2019)

Inexpensive Mod. Looks Great!

Review by

Dan


Very happy with this product. Well made, fits perfectly, clear and easy to follow instructions. Service and communication were excellent. Wouldn't hesitate to buy again from D.K. Customs! (Posted on 12/27/2019)

Great Product at a Good price

Review by

Terry


Definitely happy with my purchase. Easy to install. Quality is amazing! Looks great on my Forty Eight! Plus DK Customs ships very fast (Posted on 12/27/2019)
Product Tags
Use spaces to separate tags. Use single quotes (') for phrases.