Home

/

1995-2003 Coil Relocation Kit
NEW PREMIUM COIL RELOCATION KIT
With options for F6 Ignition Relocation, Tank Lift, & Plug Wires

FITS SPORTSTERS 1995-2003

MADE IN THE USA!
By
DK Custom Products

FEATURES & SPECS:
Made from American Cold Rolled Steel
Optional Performance Plug Wires
Durable Black POWDER COAT Finish
E-Z BOLT-ON INSTALL
Includes all needed Hardware

Step-by-Step Instructions Included
Purpose-Made & Patented

You can get rid of that ugly mess covering the top of your front rocker!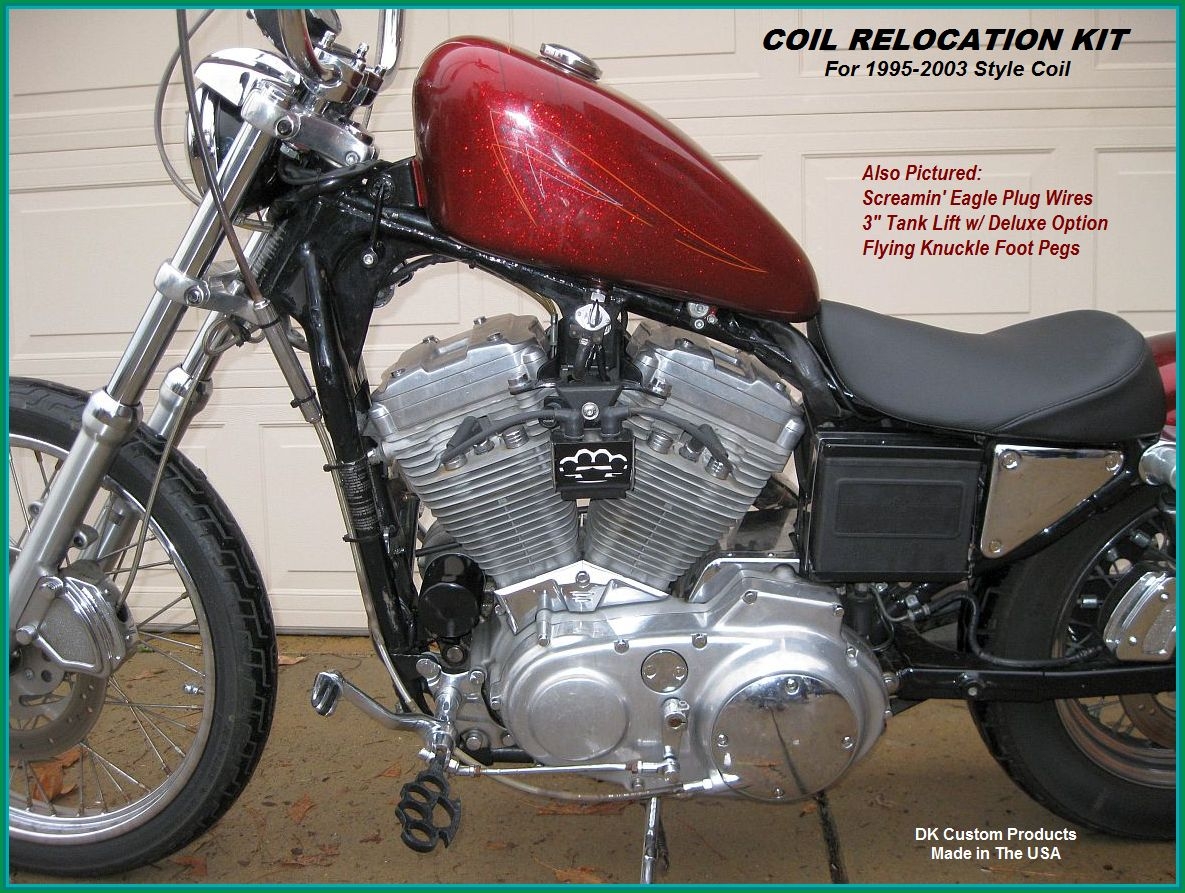 Optional is A Premium Tank Lift Kit
The Tank Lift gives you extra room to tuck your wires....really cleans up above the front rocker cover!
BETTER LOOK ~ BETTER AIR-FLOW

This is an EASY install - 20-30 minutes!
This simple to install kit, relocates your coil to the left side of your engine, opening up the space above your engine!

Look at all the pictures...you will be very pleased with how this gives your Bike a Radical New Look!

Helps clean up the jumbled mess sitting right above the engine.

Because '03 and earlier Sportsters use dual-fire coils, there is no "front" & "rear" cylinder on the coil. You can run the plug wires straight or crossed!

Included is a wire extension for the wires running to the coil. These wires are long enough on your Sportster, however, sometimes it is easier to use the extension rather than un-bundling them from the harness.



Fits 1995-2003 Sportster Models!

**We also have kits for 2004-UP Sportster Models**

FITMENT NOTES:
Click the underlined items below for more details on each.
For Custom Sportsters that have the cowbell horn on the side, look at our Horn Kits! You can relocate your Coil AND have a horn!
Because the coil is now sitting closer to the rear spark plug, you may want to modify the length of your existing rear plug wire. Or better yet, get the High Performance Plug Wires that will compliment your Coil Relocation.
If you are looking at adding a Tank Lift Kit, look at the Deluxe Option, it can really make a difference on '03 and earlier Sportsters.

The Flex-Six Ignition Key Relocation Kit is an option that really makes a difference!
If your Sportster has 4 Spark plugs, it has a different coil that will Not work with this kit.

"I can't believe how much better my bike looks!" -Eric
U.S. Patent D668,984 S

Customer Reviews
So easy on my bike

Review by

Easyyyyy


Had no issues with moving the coil and where it sits looks like it belongs there. Like that's how it was made to be. Took no time to move it! (Posted on 7/1/2020)

Coil relocation on 883C

Review by

Steve S.


The product and instructions were great. Easy to follow and easy to install. Great compliment to the tank lift. (Posted on 6/16/2020)

Great Product

Review by

David


Perfect fit for my '03 XL883 sporty.

Very durable and sturdy. Very Very easy to install. Assuming you have already done the grunt work of removing your coil from under your gas tank.

Thank you DK for your thoughtfulness on older sportsters. (Posted on 1/14/2020)

Excellent product

Review by

Lowpt


Ordered this for my son's bike. We had already done a tank lift and this was the next necessary part to pen up the view of the engine and enhance the look of the bike. Great quality and fit like EVERY DK part!! (Posted on 10/22/2017)

Does the business

Review by

Justin


It does what it's supposed to. You don't realize how warm the coil gets, I can only imagine how warm it gets stuffed up under the tank, and all that heat transfers to the head and the fuel.

Fits great as you would expect with anything from DK. Also has a spot for the choke cable which was a nice surprise!

New location didn't affect leg comfort and it looks awesome. Buy one, do it now! (Posted on 10/7/2017)
Product Tags
Use spaces to separate tags. Use single quotes (') for phrases.