Home

/

3 Inch Handlebar Riser Extensions Harley-Davidson ..More Details
ONE PAIR of 3 inch

STEALTH RISER EXTENSIONS

For

Harley-Davidson

Increase the Height of your Handlebars by 3 inches
~ Increase Comfort ~ Improved Look ~

MADE in The USA!
by
DK Custom Products

FEATURES & SPECS:
Durable Black Powder Coat Finish
Cold Rolled DOM Steel Risers

Includes Grade 8 Bolts 5.5" x 1/2" (other lengths available-see below)

FITS most Sportster, many Dyna and Softail Models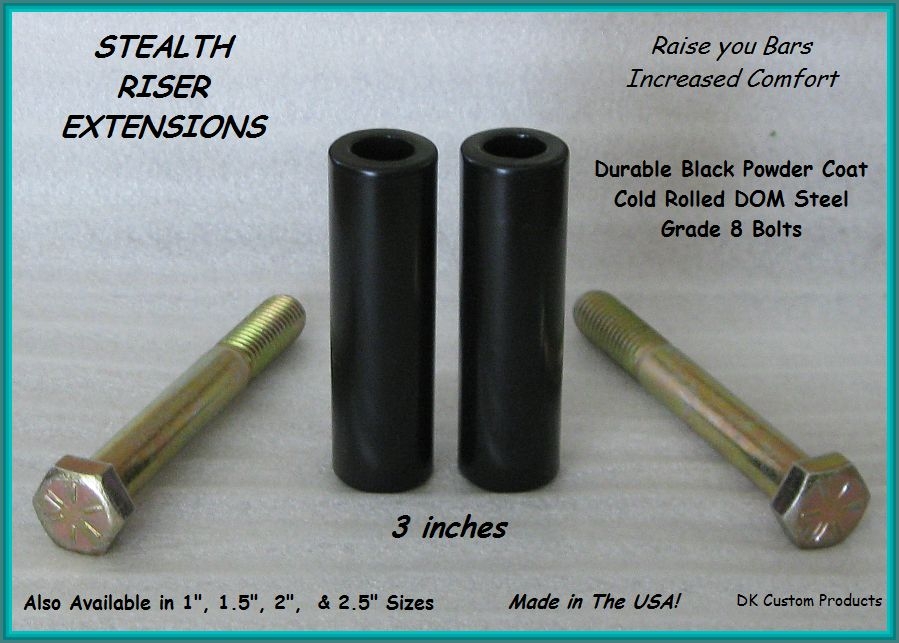 Raising your bars and tilting them back slightly can relieve the strain in your shoulders and back from the forward leaning position.
Whether you're wanting a taller look, needing more clearance, or wanting more comfort in the shoulders and back, these Stealth Riser Extensions are Easy & Economical!
These STEALTH RISER EXTENSIONS will raise your handlebars up an additional 3 Inches.


They are .890 in diameter, so they will fit most Sportsters & Many Dyna's and Softail's.


Simply measure the outside diameter of the riser below your handlebar clamp, if it is 7/8" (or a fraction larger) these will fit.
The Stealth Riser Extensions are also available in 1", 1.5", 2" and 2.5" heights.
FITMENT NOTES:

The 3" Stealth Riser Extensions come with 5.5" long Grade 8 Bolts
NOTE: If you have a 2016-Up Roadster, it has zero rise risers and will need shorter bolts. This is something you will need to get at your local hardware store.
Most stock bikes can be raised at least 1.5" without needing to replace cables, brake lines & wiring...HOWEVER some can go higher. Check how much slack you have.


A small change can make a BIG Difference!!!
Customer Reviews
Early days, but so far so good...

Review by

Tailgater Richie


Received a set of these riser extensions in the United Kingdom one week from ordering...nice and quick via UPS with tracking.
The extensions themselves seem well manufactured, and the supplied bots were as described.
I've only had them on the bike for a few days, and not be subject to hard riding, or bad weather yet, so hard to give them a fully subjective review, but on the whole they look great on my '23 FXLRST Low Rider ST, and have raised the bars to a very comfortable position for me. I'm 6' 4" and now my back is a little straighter when riding.
They took very little time to fit, but i have to admit that i had an experienced Harley Tech to the work whilst working on my bike doing a few items of custom work.
An exertion of the brake-line was the only item i needed to add as a result of fitting these...instrument wiring & clutch-line are still stock.
I'd add a picture to this review if I could, but i can't, so you'll just have to take my word for it (Posted on 3/20/2023)

Great upgrade!

Review by

Martin


Easy to install. I upgraded my 2017 Iron Black Denim Sportster with these DK 3 inch risers. I feel better handling and fewer vibrations transferred from the front suspensions. The black finish is excellent and perfectly matches the bike's black frame finish. I recommend this to everyone who wants the raise the handlebars. (Posted on 5/10/2021)

Great Option

Review by

JCameron


I recently purchased a set of the 3" riser extension for my 2013 Sportster. I recommend purchasing a longer brake line along side this part.

Pros:
Price
Comfort
Ease of install (Posted on 6/9/2019)
Product Tags
Use spaces to separate tags. Use single quotes (') for phrases.