Home

/

409 PRO RACE Plug Wires Universal Fit RED...More Details
"409" PRO RACE WIRES
by Taylor Cable

High Performance
RED Spark Plug Wires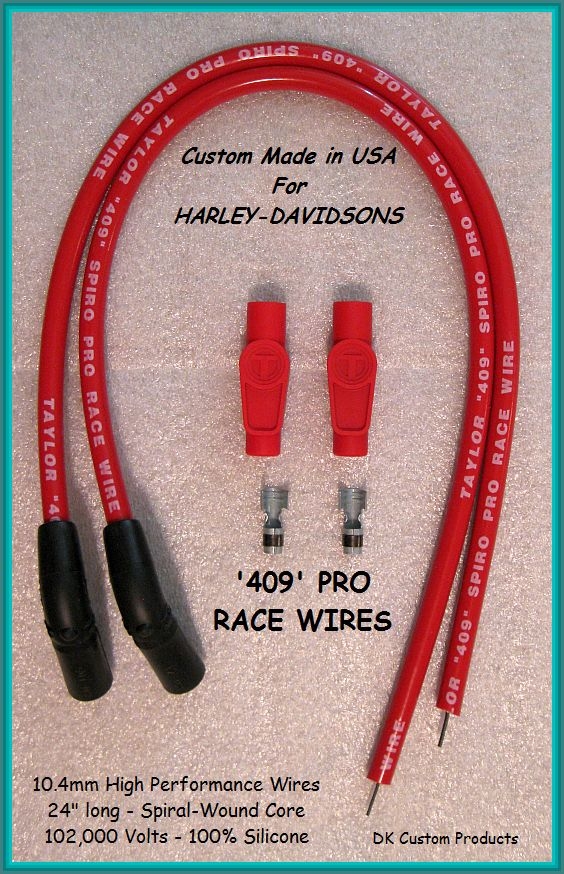 "409" PRO RACE wires provide continuous heat protection up to 600 degrees Farenheit.

The 10.4mm wires deliver 102,000 volts dielectric strength.

Spiral-Wound core with 350 ohms per foot resistance for EMI and RFI suppression delivers the Maximum Fire Power without radio interference.
Designed for use with electronic ignition systemsfound on Harley-Davidsons. They are 100% compatible with the Ion Sensing Knock Retard System used by Harley-Davidson.

Low Profile 100% silicone PRO BOOTS feature vibration proof double spring locking spark plug terminals.

Also available in Black see that option HERE.


Perfect for DK Custom Coil & Coil Key Relocation Kits.

***These will NOT fit 1995-2003 Sportster Coils*** These will, click HERE.
This Premium Universal Wire Set has 24 inch wires so it will fit almost any possible configuration. Determine how long you want the wires to be, the coil terminal & boot are ready to go, install the plug terminal & boot and you have the exact length wires for your bike.
Easy install-comes with step-by-step instructions.
You Won't Find a Better Wire For Your HARLEY
I just installed these yesterday and went for a ride. It may be my imagination, but my "seat of the pants dyno" said I had MORE power! They look good too! Thanks! -Jimmy

"409" ignition wires provide continuous heat protection up to 600-degrees Fahrenheit
Customer Reviews
Nice look

Review by

Gabe


I just swapped the wires on mine seemed to make it run a little better I think they did. I got the red ones for a roadster. You need to be careful cutting these. But you do get plenty of wire. Do the short one first. (Posted on 9/25/2023)

great purchase

Review by

chip


Easy install look great and increased power for my 2010 Sportster 48
Thanks DK Customs team (Posted on 7/27/2023)

Love the look

Review by

Billy


I did the coil relo and decided to upgrade the wires while I was at it. Frankly it's an unbeatable look and I can't wait to ride it and show them off! (Posted on 12/17/2021)

Great product

Review by

Slimer


Great product, reasonable price, and easy assembly / install. I'd recommend these wires to anyone looking for stock wire replacements. (Posted on 5/26/2020)

Great product for a great price

Review by

FRANK


Nice fat wires to get the spark from the coil to the plug. A little battle to put the ends on but nothing that cant be handled. Just remember...lube it up and drive the wire in like it was prom night. My suggestion is to slide the ends on first, BEFORE you cut them to length. Measure twice, cut once. (Posted on 4/8/2020)

high quality product

Review by

desmond


very good item, good communication (Posted on 11/8/2019)
Product Tags
Use spaces to separate tags. Use single quotes (') for phrases.