Dawson Creek to Fort Nelson
This is a day we will remember. It was Mary's birthday, and we had quite an interesting ride. lol

We left out of Dawson Creek, it was cold but dry.




Within the first 30 minutes we came to a bridge that was down to one lane.

Took us about 30 minutes to get across.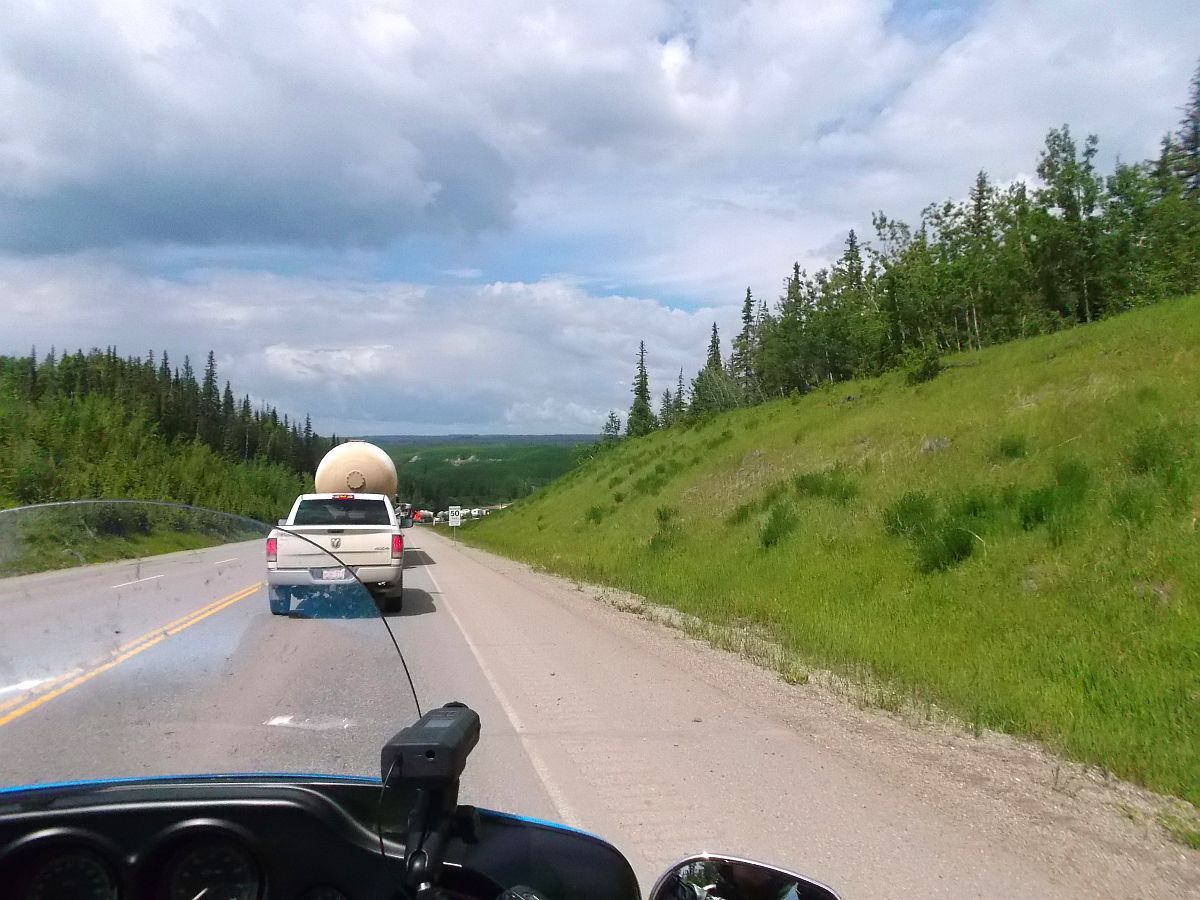 I don't know anything about concrete or bridges, but I found it interesting that they were watering the concrete that had recently been put down.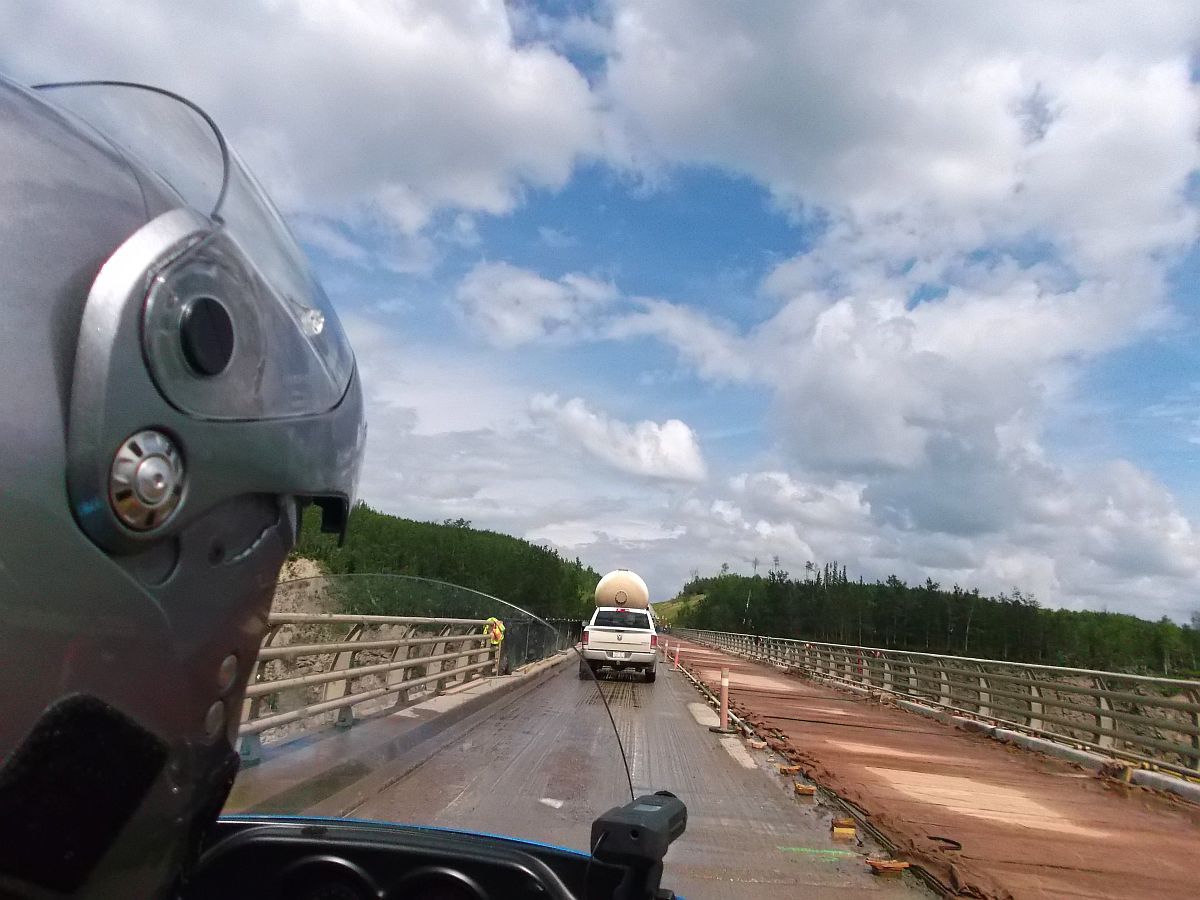 Once we got across, this is the line going the other way that was waiting their turn.




Today was different, not much in the way of mountains. Beautiful country, rolling hills and a great road.




We stopped in Wonowon for gas and some sandwiches.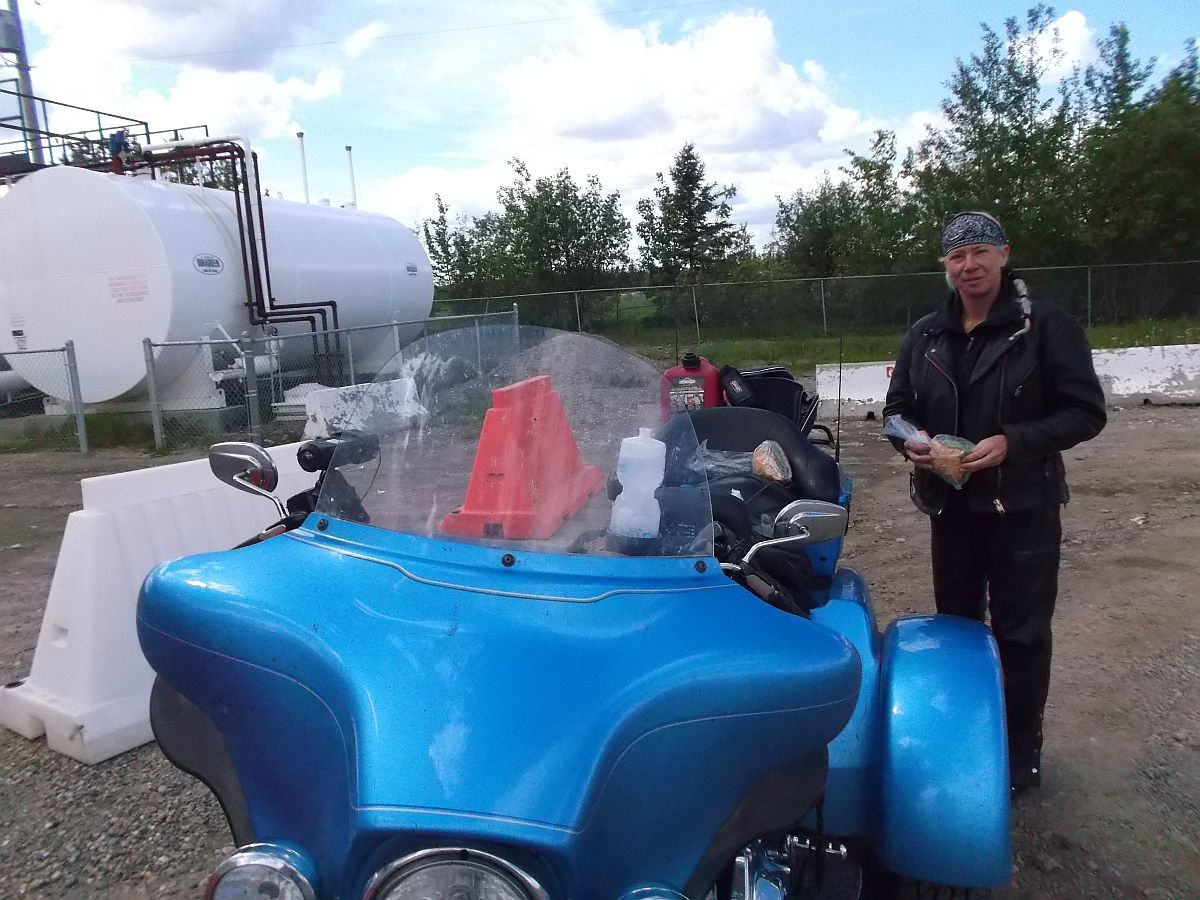 There is not much there. A gas station, convenience store, and across the street there are dorm trailers for the oil/gas workers.




Getting ready to head out.




There was a lot more to come, but before we get to that...first a Kawa cruiser and a Goldwing pulling a trailer came into the parking lot. The Kawa rider went to slow down in the gravel lot for a pothole...using his front brakes. You know what happened.

Ran over to help him. He was fine and we got the bike upright. Bent the front engine guard, not much else. Took a few minutes to start up, but it did after a bit.


Right after that Brad pulled in on his KLR. He is headed back home to Washington State. He has been on the road for 2 months, been up to Prudhoe Bay, over to Inuvik, he has had quite a ride...and he left when it was still snowing!


We get back on the road and it is just amazing.

Long straight aways.


Long Sweepers.




Lots of elevation changes.




Even though the speed limit is 100 km (62 mph), almost everyone is running 75-90 mph out here. I set in at a comfortable pace of 75-80. Was getting 29 mpg, (even with all the mountains/hills, when I stay between 60-70 we are getting 35-39 mpg)BUT, I was not worried about 29 mpg because there were two more gas stops between Wonowon and Fort Nelson. I only needed one of them.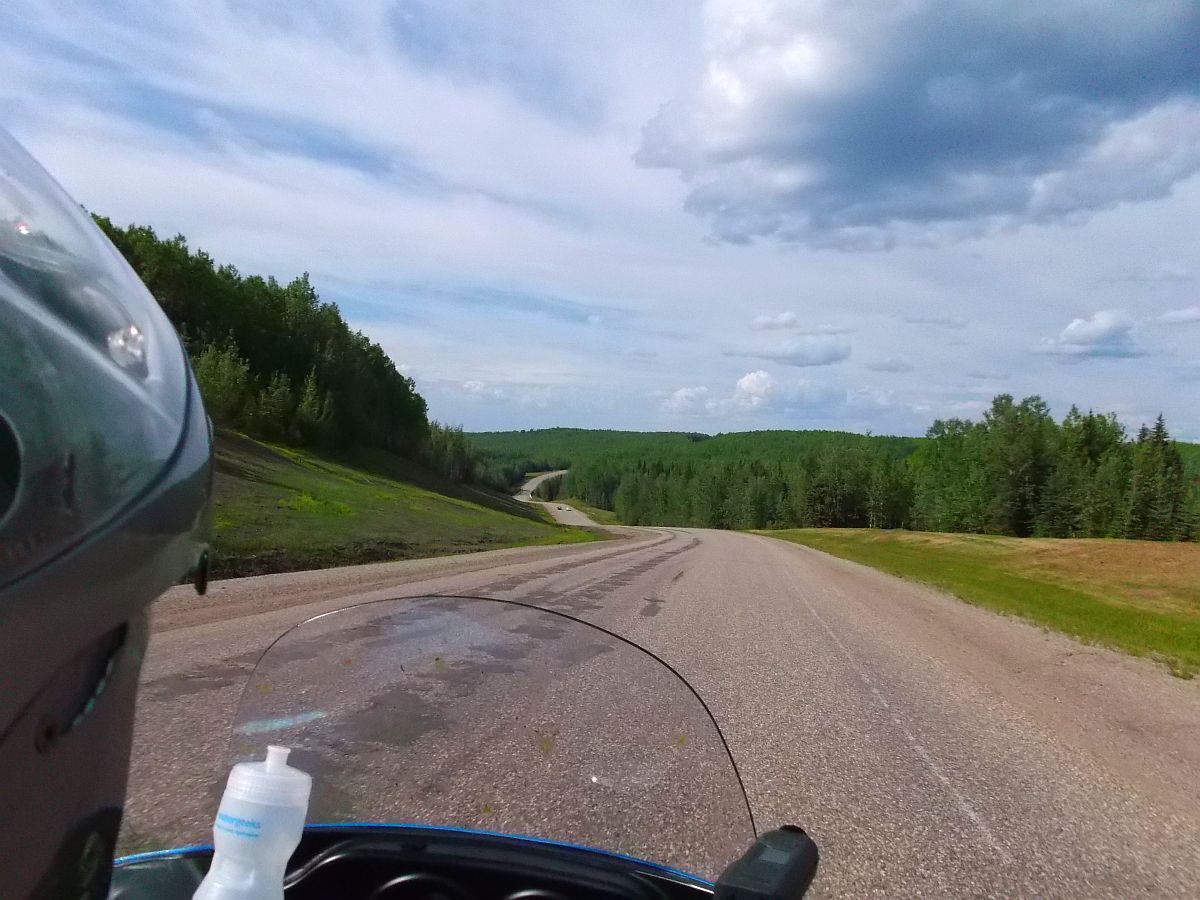 We came to the first one...NO GAS...talked to a local and he said the next stop was closed up also, and there was no more gas until Fort Nelson!

Uh-Oh. That was over 80 km away and I had about 1 gallon left (My low fuel light was on...so it was a little less than a gallon).

Some quick math let me know that even at 40 mpg, less than a gallon was not going to get me 80 km (50 miles). Plus, having never traveled this road, I did not know if it was going to continue to be rolling hills, or if we would be climbing a mountain pass.

The Power Vision came in very handy! I did a quick fuel tweak, leaning out the map by 14%. Another useful feature is that the screen can display both your throttle position and the real-time MPG you are getting.

Within a few miles I found that 9% throttle yielded the best MPG whether going uphill or downhill, no matter what gear I was in.

So off we went at speeds varying between 45 and as slow as 11 mph. Most of the 50 miles was between 30 and 35 mph. lol I just kept the throttle at 9% and used whatever gear I needed to keep it from lugging.

This last hill is steeper than this picture looks-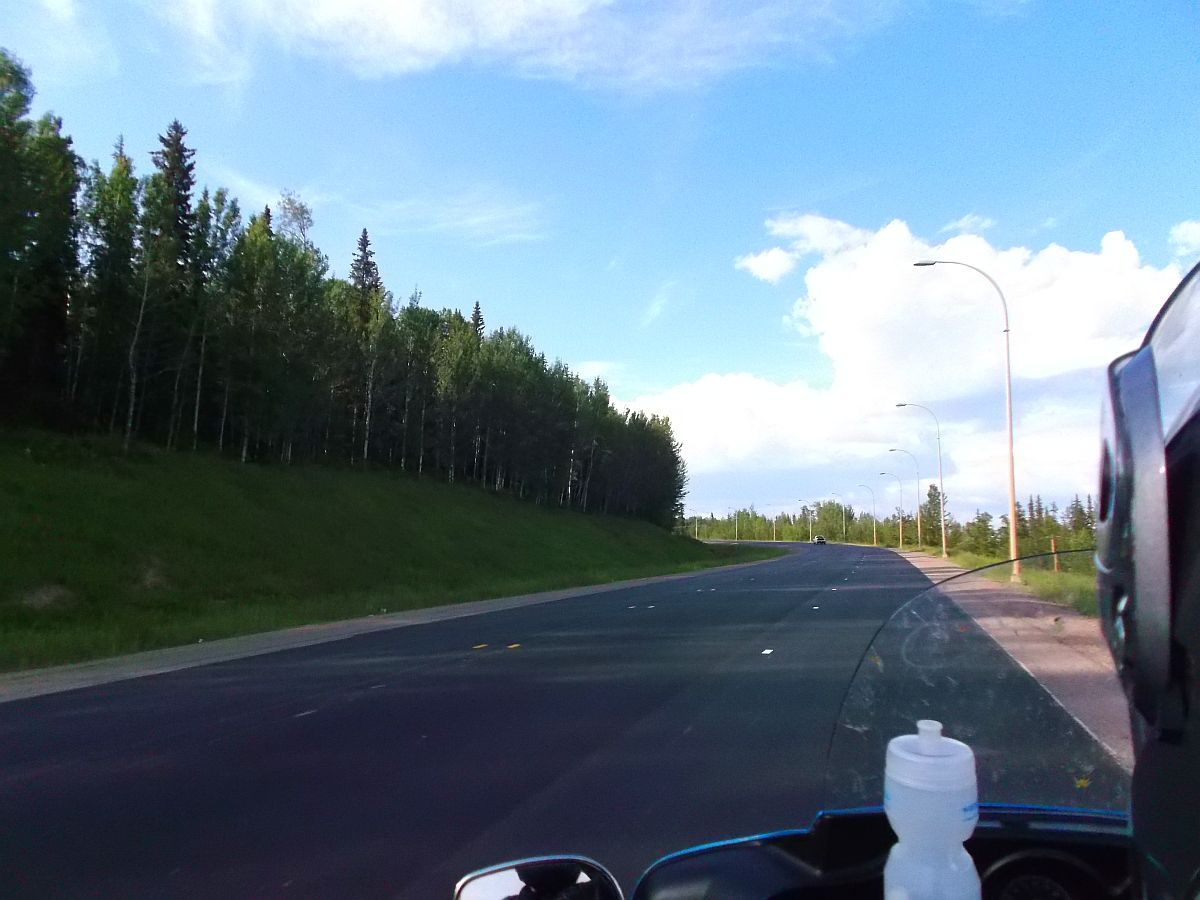 As you can see I was going about 11 mph at 9% throttle (in first gear) up this hill for over a mile.




We were never happier to see a gas station!

We filled up and the 6 gallon tank took 5.95 gallons! That was close!




Got a motel, unloaded, went to eat a Birthday dinner, came back and parked on the walkway right outside the room.

This pic was taken about 11:30 pm, notice how light it still is.




A day to remember!