Day 2
Day 2
We left out of Malvern with the plan to go as far as Abilene, TX.
It was sprinkling a bit the first hour or so. Nice, keeping us cool.
Traveled for a while beside this guy on a Road Glide. There's a crazy amount of pollen in the air.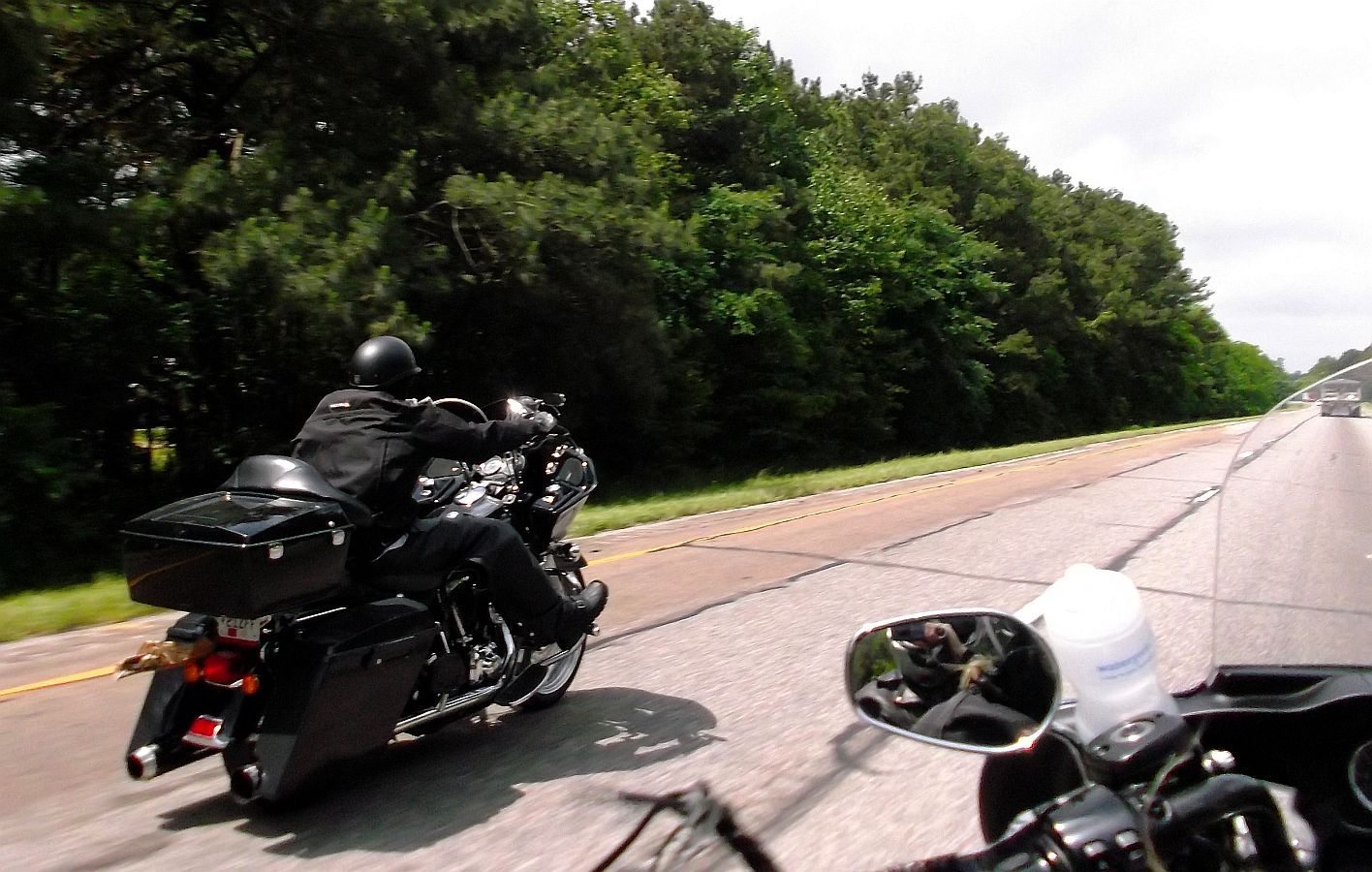 Yesterday our plan was to stay in Texarkana. It's a town that is 1/2 in Arkansas and 1/2 in Texas. My dad was born there, on the Arkansas side. As kids, my brothers and I always wanted him to have been born in Texas...just something cool about being from Texas.
Anyway, as we entered Texas, took a pic going from the Arkansas side of the city to the Texas side.
I never have enjoyed stopping for gas. Stopping at a lake, a river, or somewhere for Mary to get a pic...no problem, but stopping to get gas, especially when we're doing interstate to get to the west coast, just seems like a waste of time.
Well, unlike previous year models, the gas gauge on the '14 is dead on accurate. (I'm used to a little "wiggle room" when the needle is at the bottom of the "E".) Pulling off the interstate, on an uphill left turn, it started sputtering.
At the top of the hill, after completing the left turn it died, but still coasting. Flashers on, I took 1 second to hit the front brakes and wiggle the bike a bit. This sloshed what remaining little gas was left, back over to the left side of the tank and it started right up.
The gas station was at the bottom of the hill, on the RIGHT hand side and we pulled in and filled up.
Even with the 1.5" tank lift w/ the Deluxe Option, you can see that it takes a full 6 gallons of fuel.
I've promised Mary we won't be walking, and I'll do better at getting gas. (we have not picked up a gas can yet...will be doing that before we get into Canada). I'll just be stopping for gas when I still have 1/2 to 1 gallon left in the tank.
As we approached Dallas...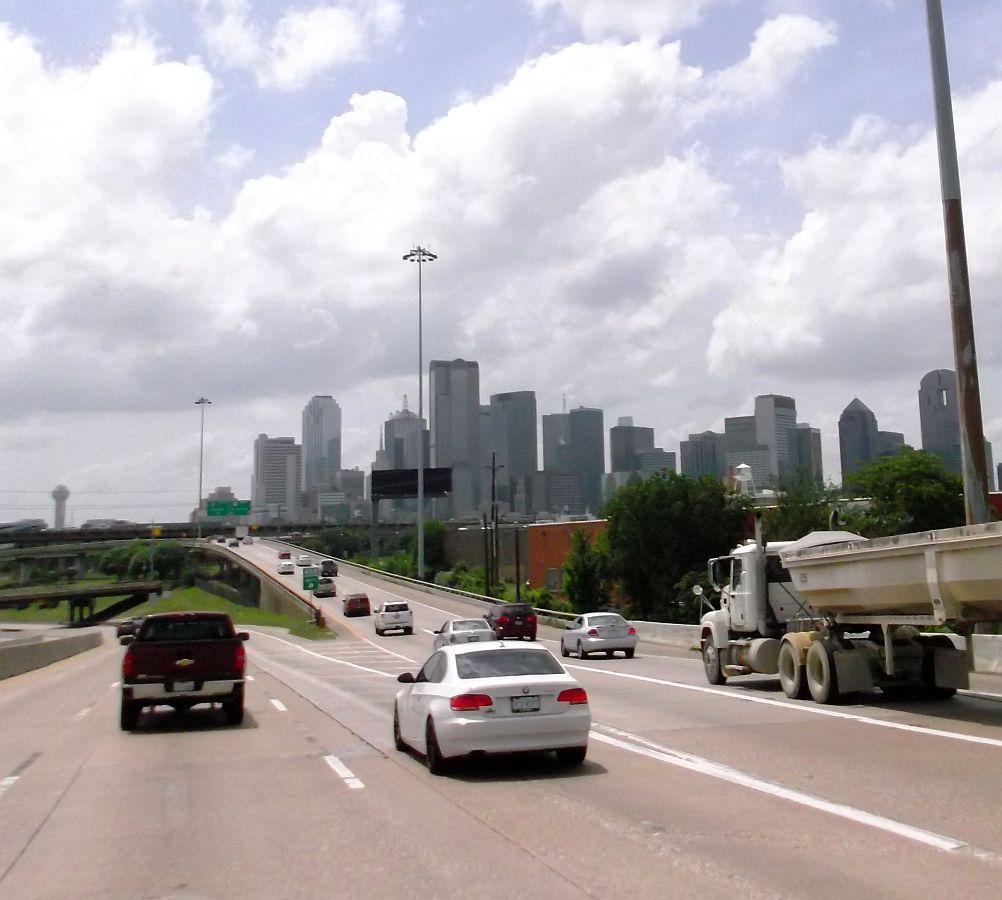 ....even though it was mid afternoon, we started hitting some traffic....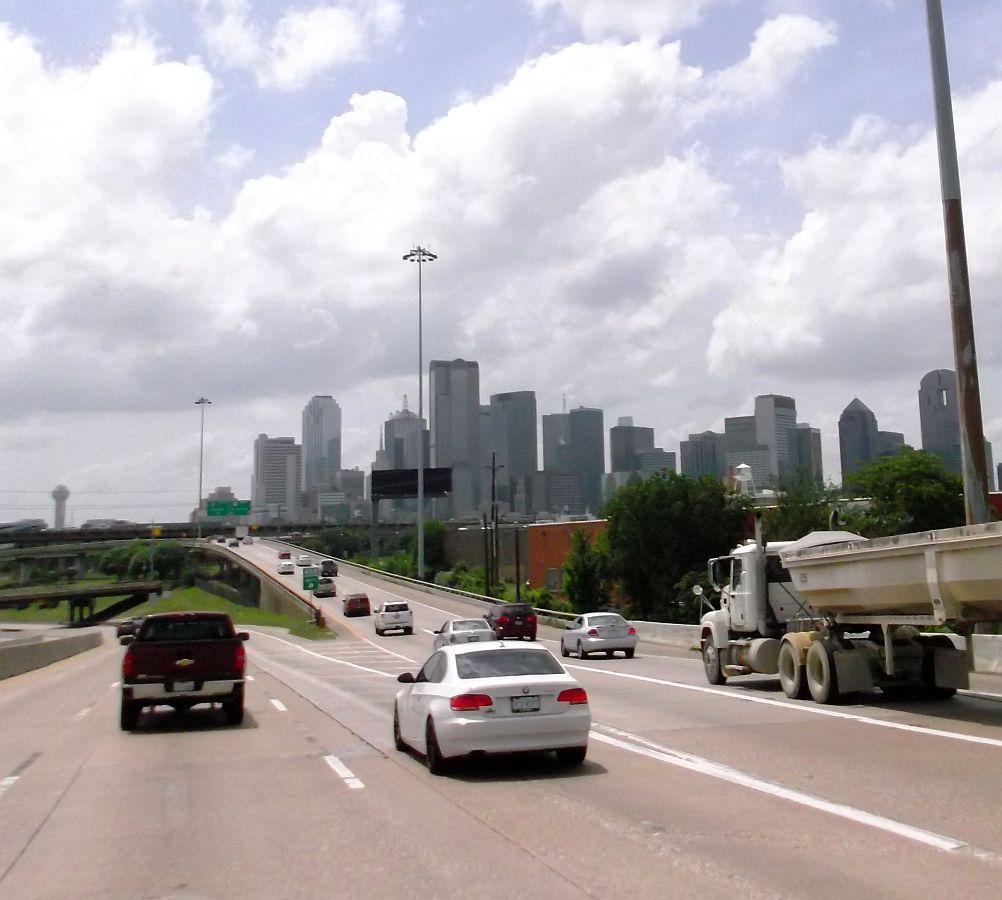 ....Lots of construction going on.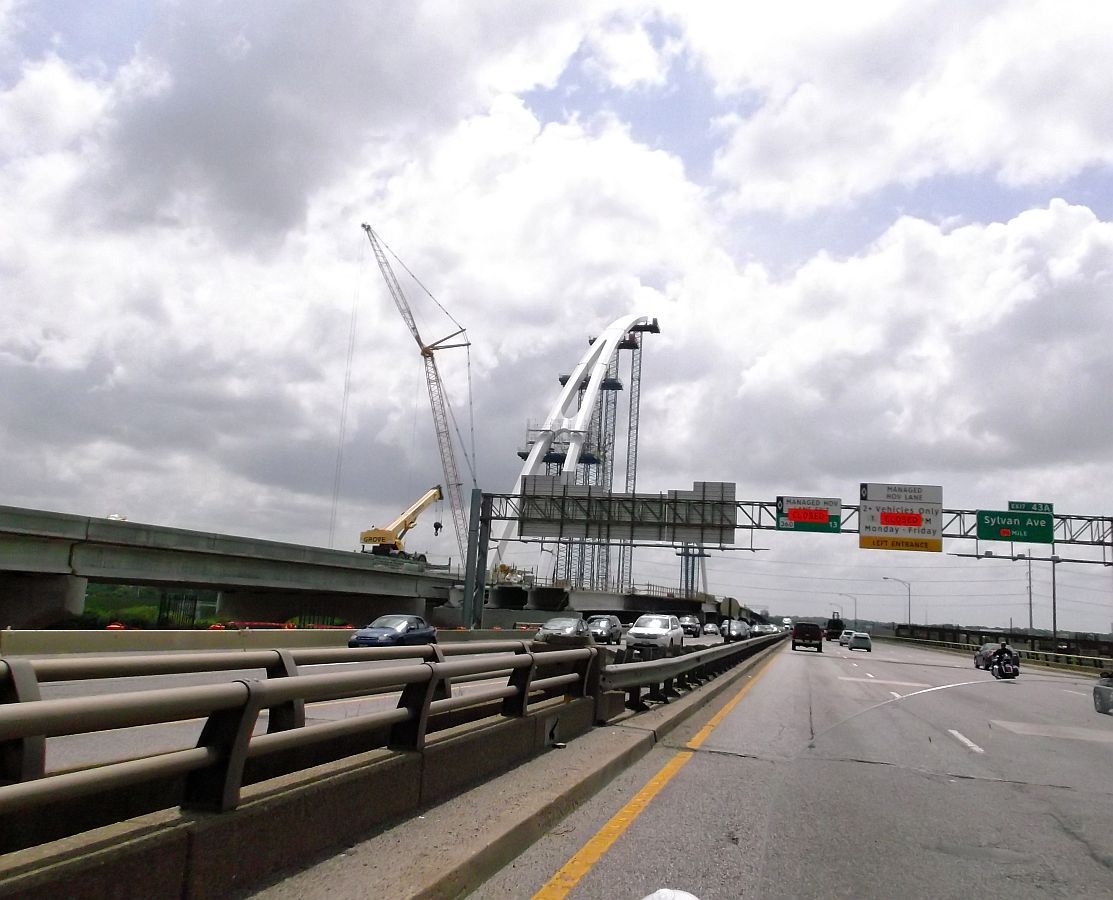 The speed limit had gone to 75 mph when we entered Texas, and I'd been rolling with the flow at 75-80 mph. It' didn't take long to get thru the traffic and we were back rolling again.
We're on the 20 now, and somewhere outside of Dallas this gal had started following us. When we pulled off to get gas (we still had a gallon left
) she did the same. Beautiful bike, very nice paint. I especially liked the marble treatment. She's headed to Waco.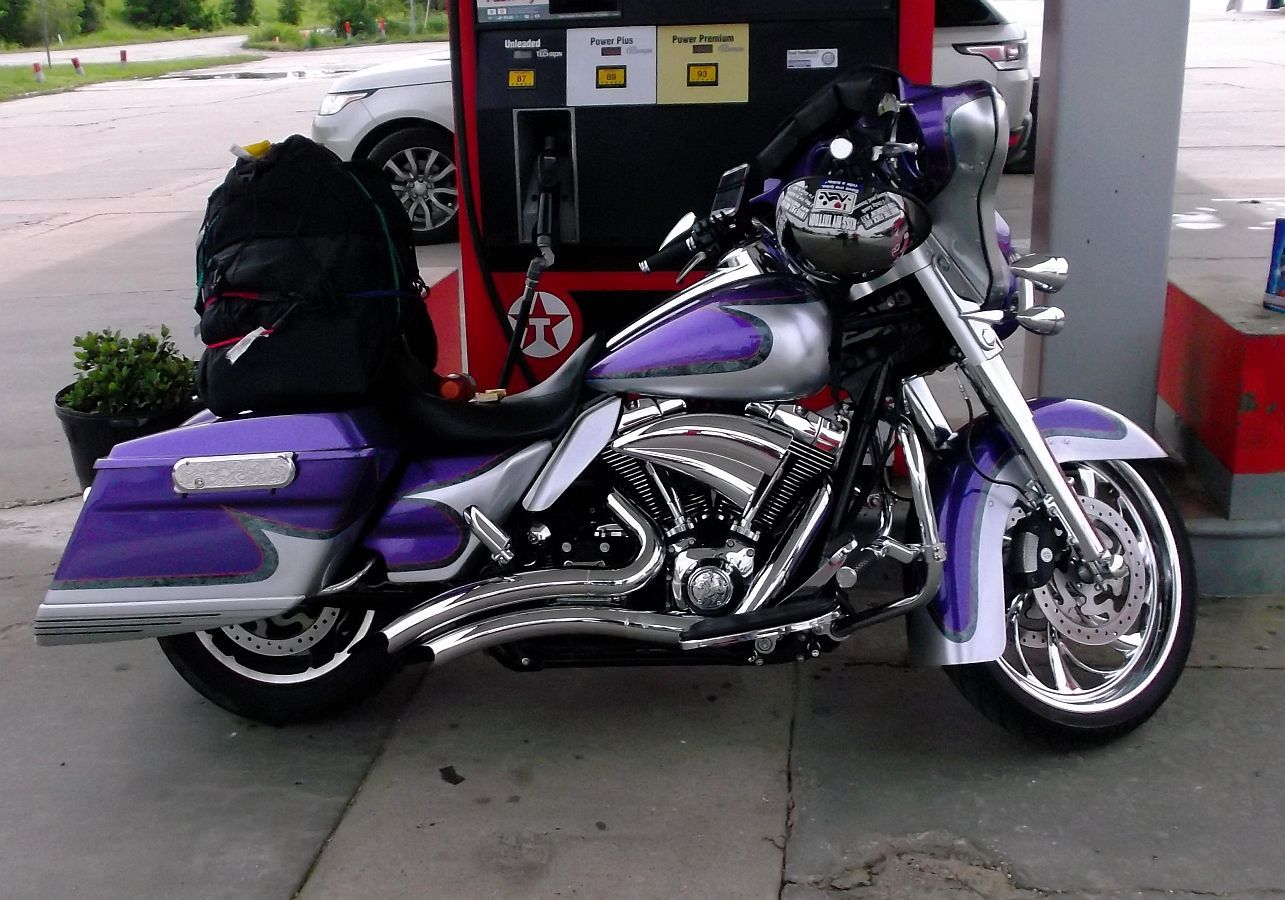 Back on the road, we're chewing up the miles. Had a little rain here and there, but it was nice, keeping it cool.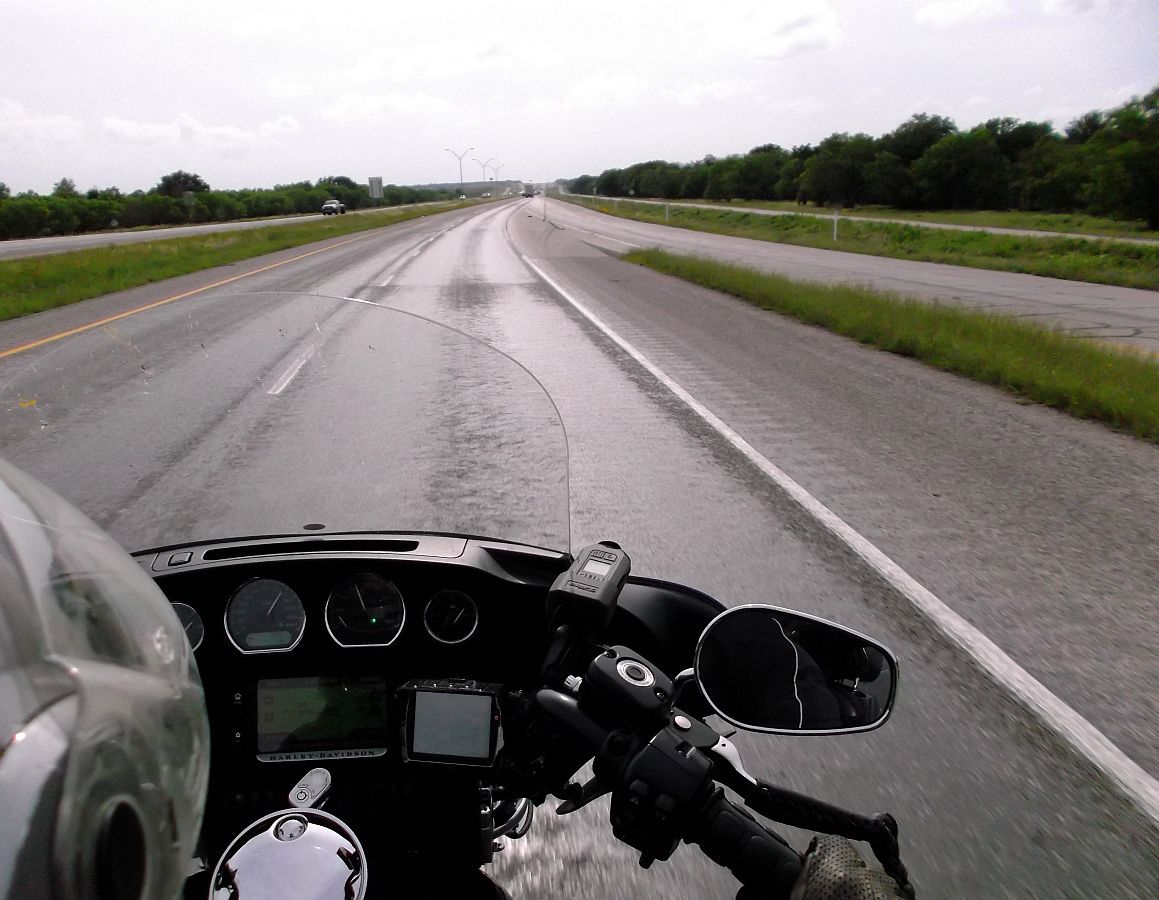 We had planned on stopping in Abilene, but the weather is nice, the road is good, the bike is running well, so we headed on to Big Spring, TX. Just under 600 miles for the day. If ya gotta do interstate miles, we could not have picked much better of a day!