Day 5- Bettandorf, IA
Tuesday Morning 8:00 am in the Hilton "No Parking-Unloading Only" zone. Bikes are where we left them last night.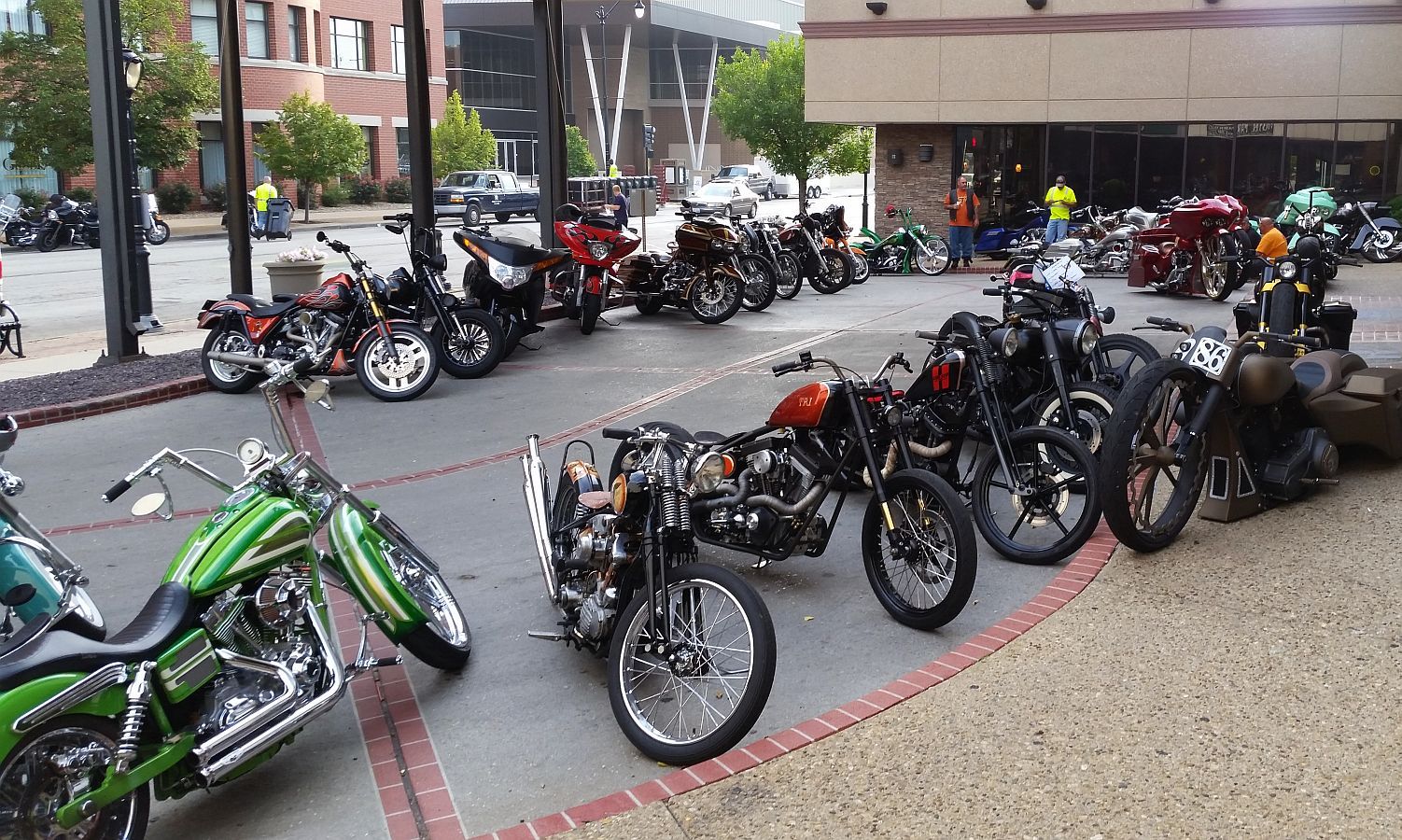 Besides the 380 or so of us riders that are on this tour, there are 12 Bagger builders and 12 Hot Bike Builders.
These 24 builders all have support vehicles...you notice my Softail is loaded up with what Mary and I need for our trip from Mississippi to Wisconsin and back.
Pretty much all the other bikes in the pic are "builders" bikes...they're not carrying what they need on their bikes...it's in their support vehicles.
The blue one to the left is Zach Ness's bike, representing Arlen Ness Bikes.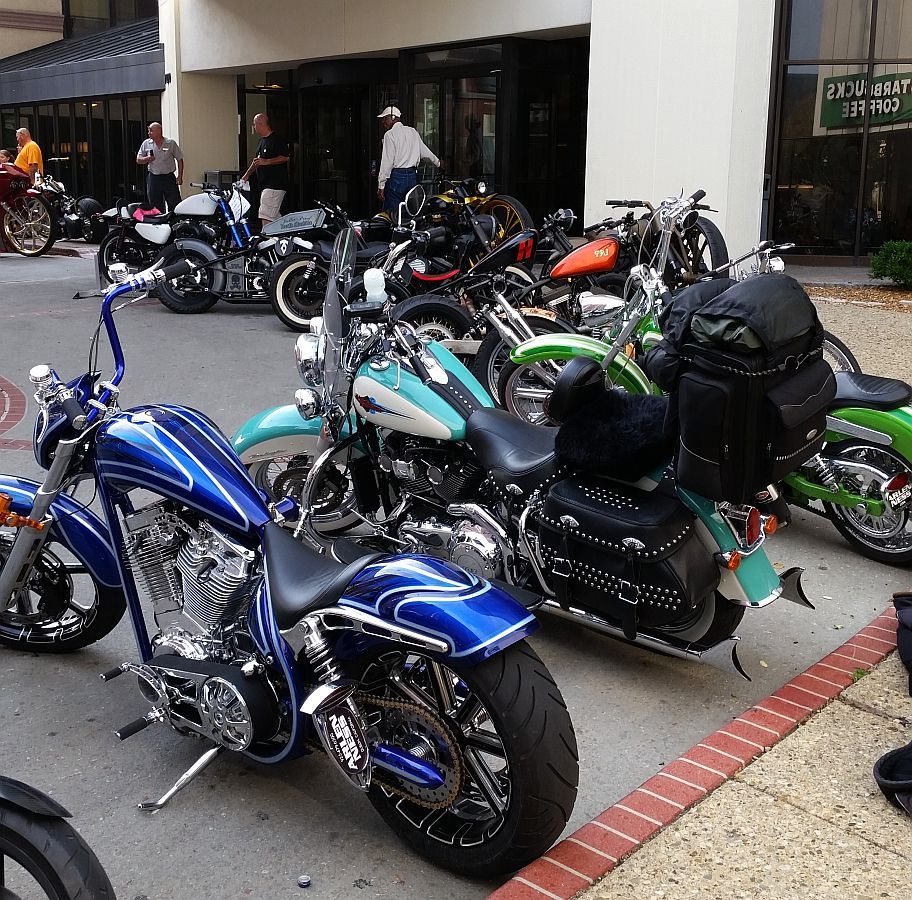 Here are the Big Wheel bikes-
This morning everyone left in smaller groups. We left with about 10 other bikes. Making our way out of the city-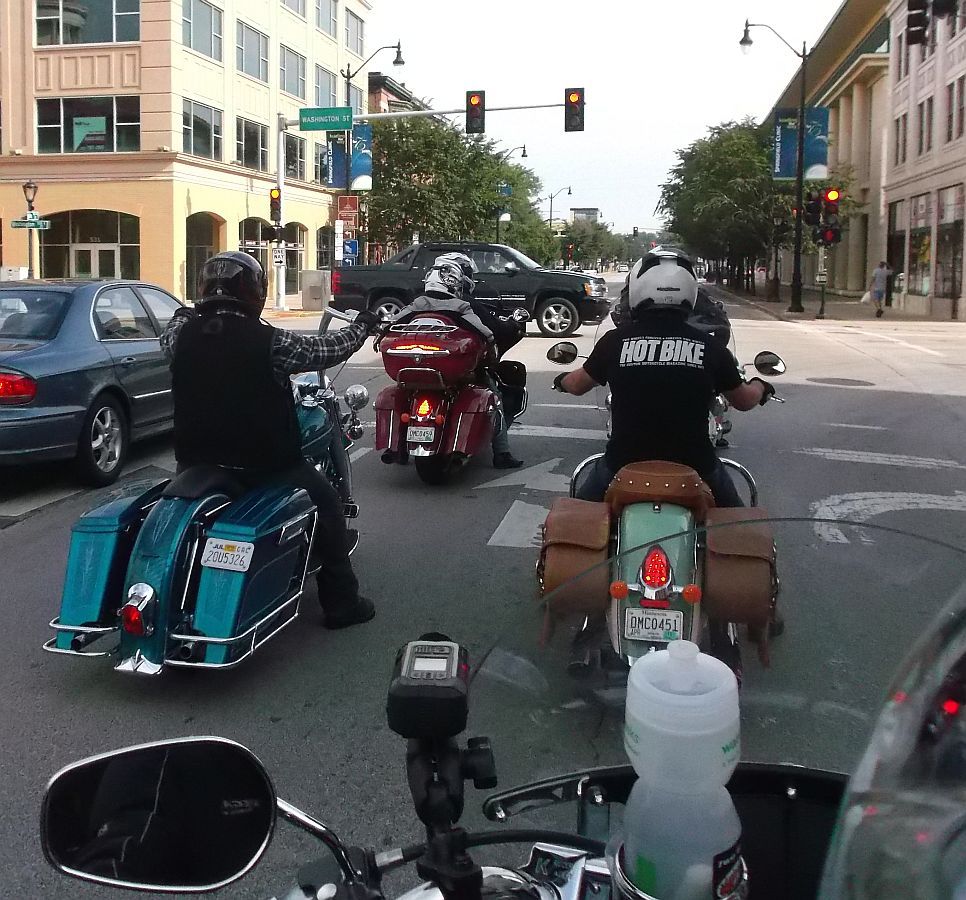 After getting out of the city we had about 30 minutes of nice riding. Mary got this nice pic at about 70 mph on some county road.......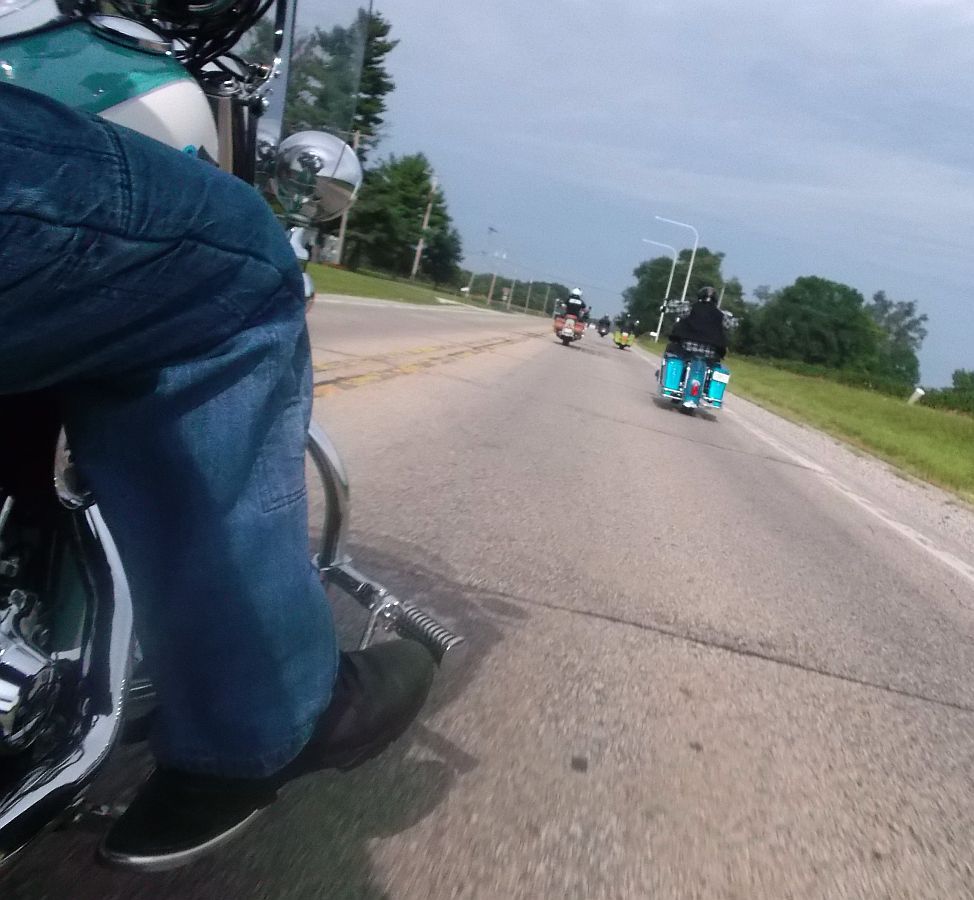 .....then it started raining...and getting darker up ahead. Pulling over to put rain suits on....someone looked at the weather on their phone.....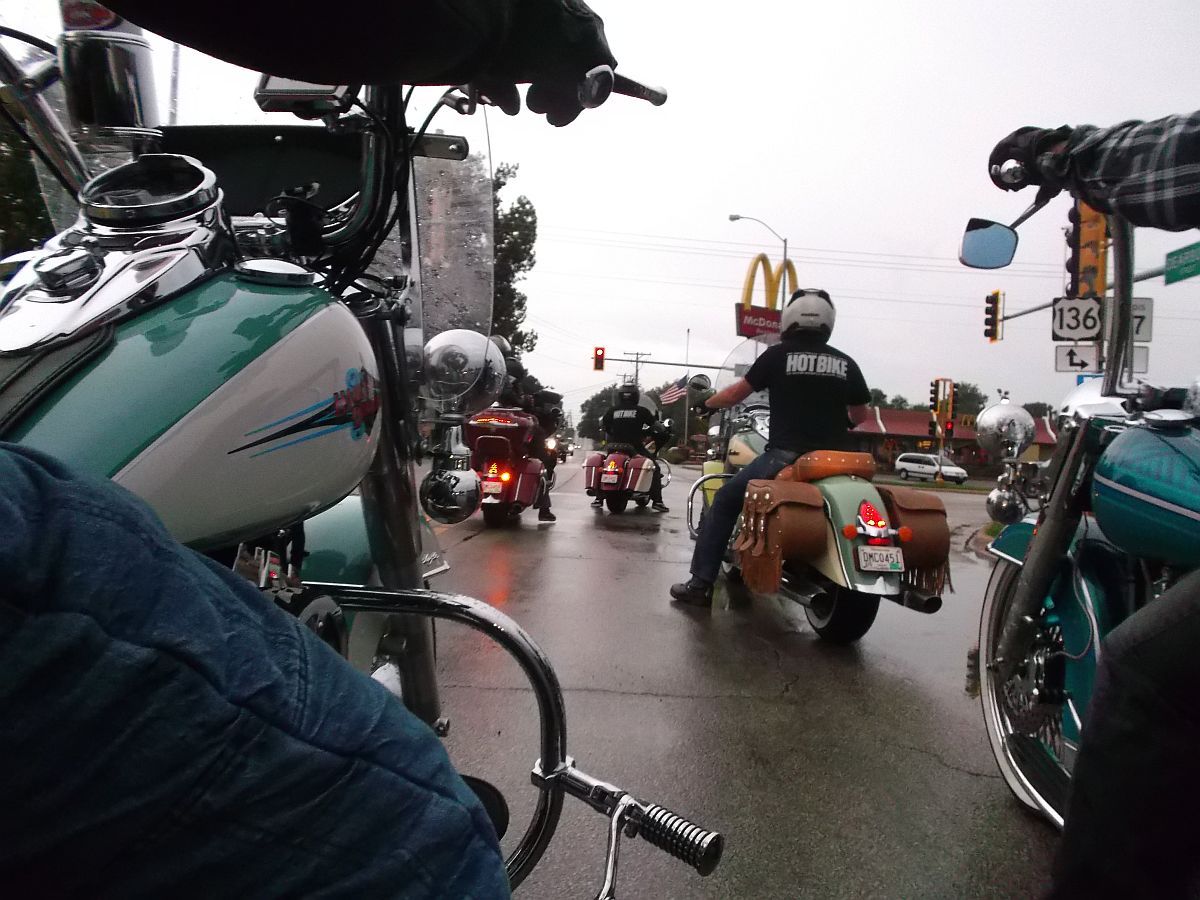 While putting rain jackets on everyone except myself and Mary decided to go to a restaurant to wait out the line of thunderstorms the radar was showing. (I think most of these riders were from Cali and not used to a storm now and then)
Anyway, to me it looked like the route was going to get some rain, but that the red on the radar was above and below where we were going.
So we took off. Yep, we got a lot of rain (and we got video, but the camera was tucked away). But we saw no lightning. About half way to Nees HD we caught up with a group that was booking and we had a great ride with them.
Right before we got to Nees HD it turned sunny and warm. We had just worn our rain jackets, so it was nice to have the pants start drying out.
We stopped at Nees HD, had a nice lunch and visited with some of the other riders, and then took off for a 45 minute ride to Bettendorf.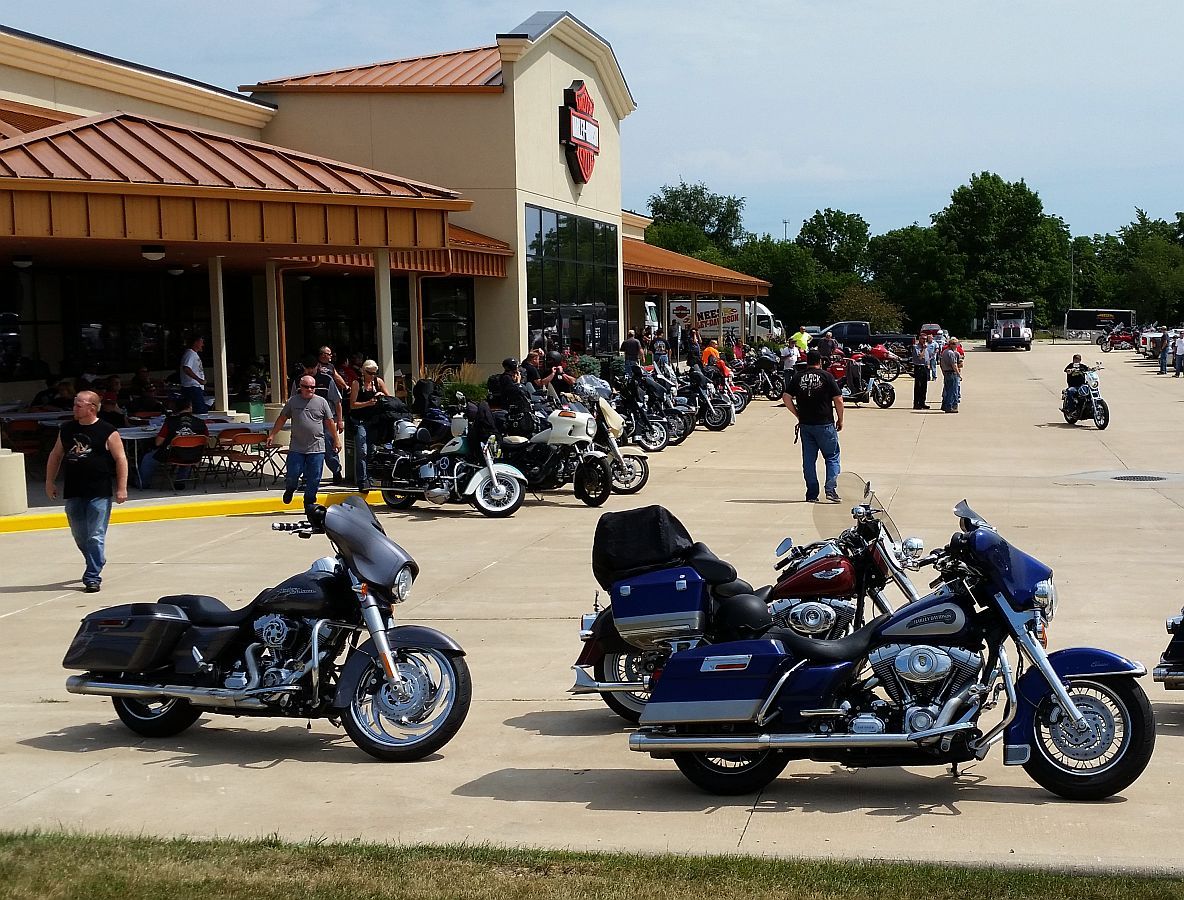 Got checked in, had a shower, and went down to the "event" and looked at all the local bikes...met some cool people, and had some good pizza!
Couple of local V8 Trikes! Gnarly back tires on the left one.
One of the Hot Bike builds-
Tomorrow it is an hour earlier start...gonna be up at 6am. Looking forward to the tour of the S&S facilities!