Day 7- Saying our goodbye's, then North to Fuel Moto
Before Thursdays report...for almost a year, Ryan aka madchemist24 and I have been talking about meeting up on the road somewhere...Well, Tuesday night in Bettendorf we finally saw each other, and not just our bikes on the street. lol
Got to talk bikes for awhile. Great guy! Here's a pic near midnight-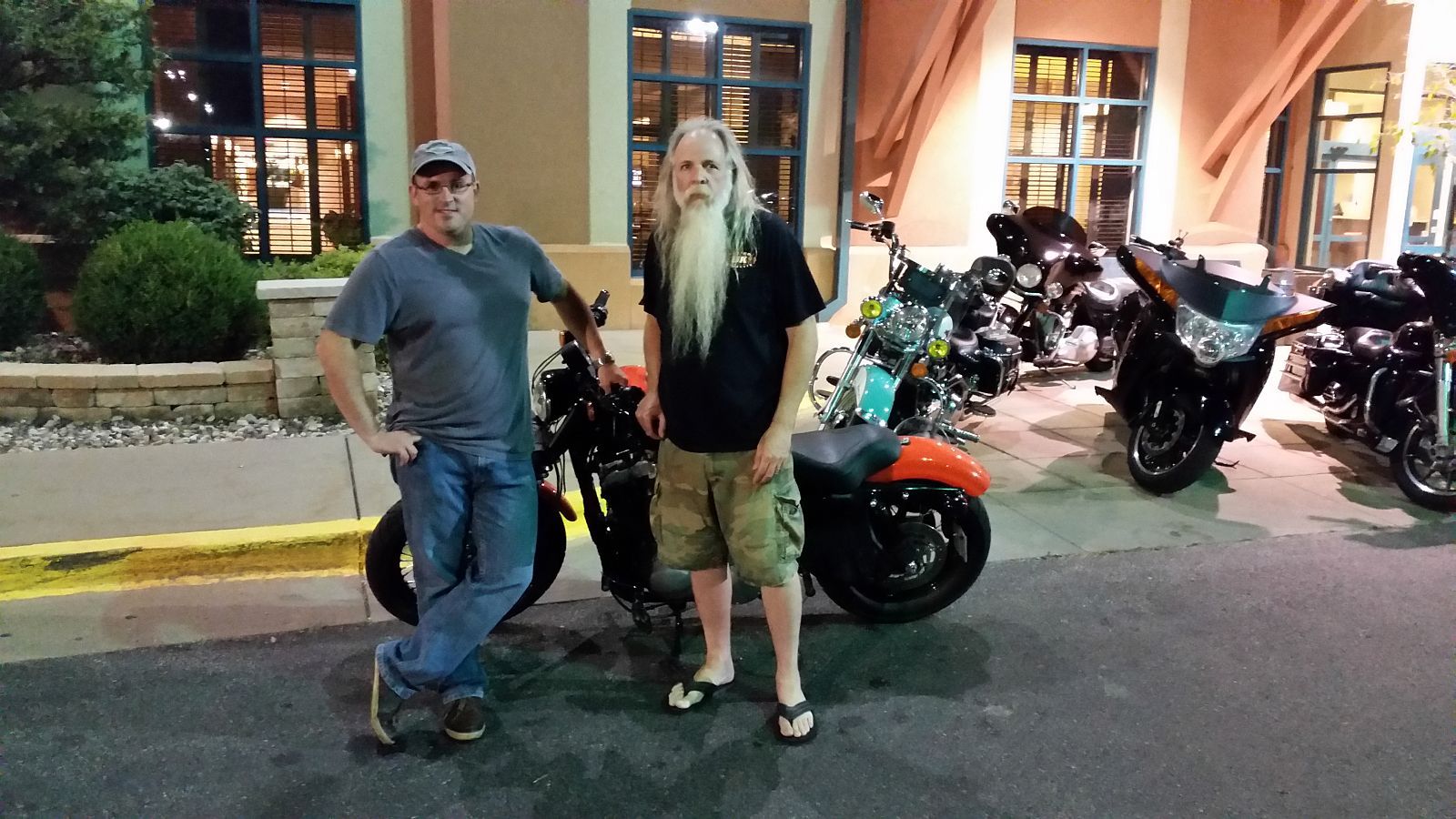 Thursday morning everyone that rode the entire route each day, starting in Joplin, and ending up in Wisconsin Dells, got together for goodbye's'...til next year.
It was a fun ride, lot of friends from last year, and a bunch of new ones this year. Had a great time riding, seeing all the bikes on the trip, PLUS some very cool bikes at each of the "rallies".
Here's Mary & the Softail, Thursday morning, as everyone starts gathering.
btw, I have been Super Happy with how well the bike has been running on this trip.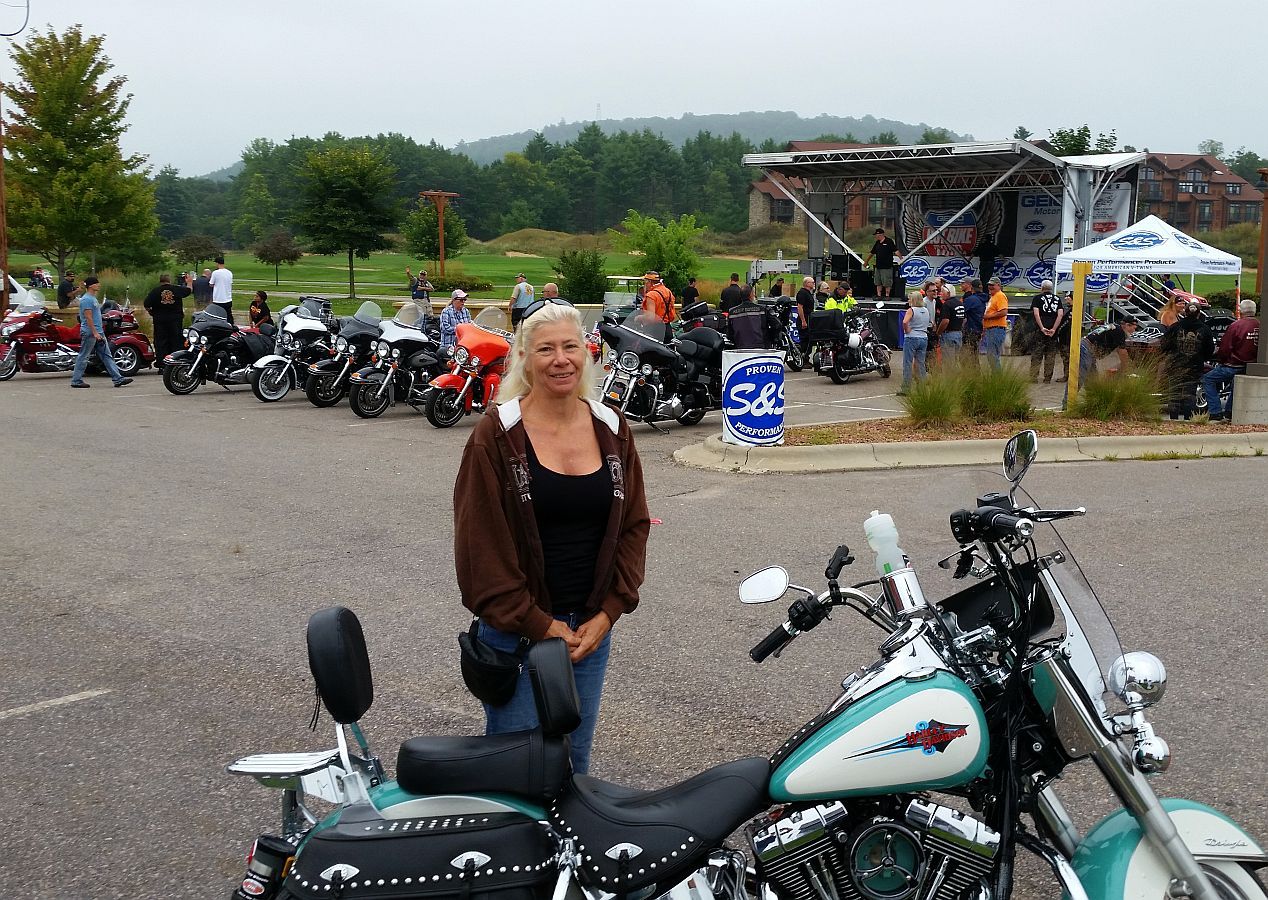 Here's a group shot! Have not gotten the final #'s, but somewhere near 300 rode start to finish.
Well....we went the entire trip with very little rain....just a storm one afternoon, and not a bad one.
Below is a pic of the bike right before we loaded it up to take off and meet up with Greg, aka, Misbehaven, and the ride with him up to Fuel Moto. As you can see the asphalt is dry. roflmao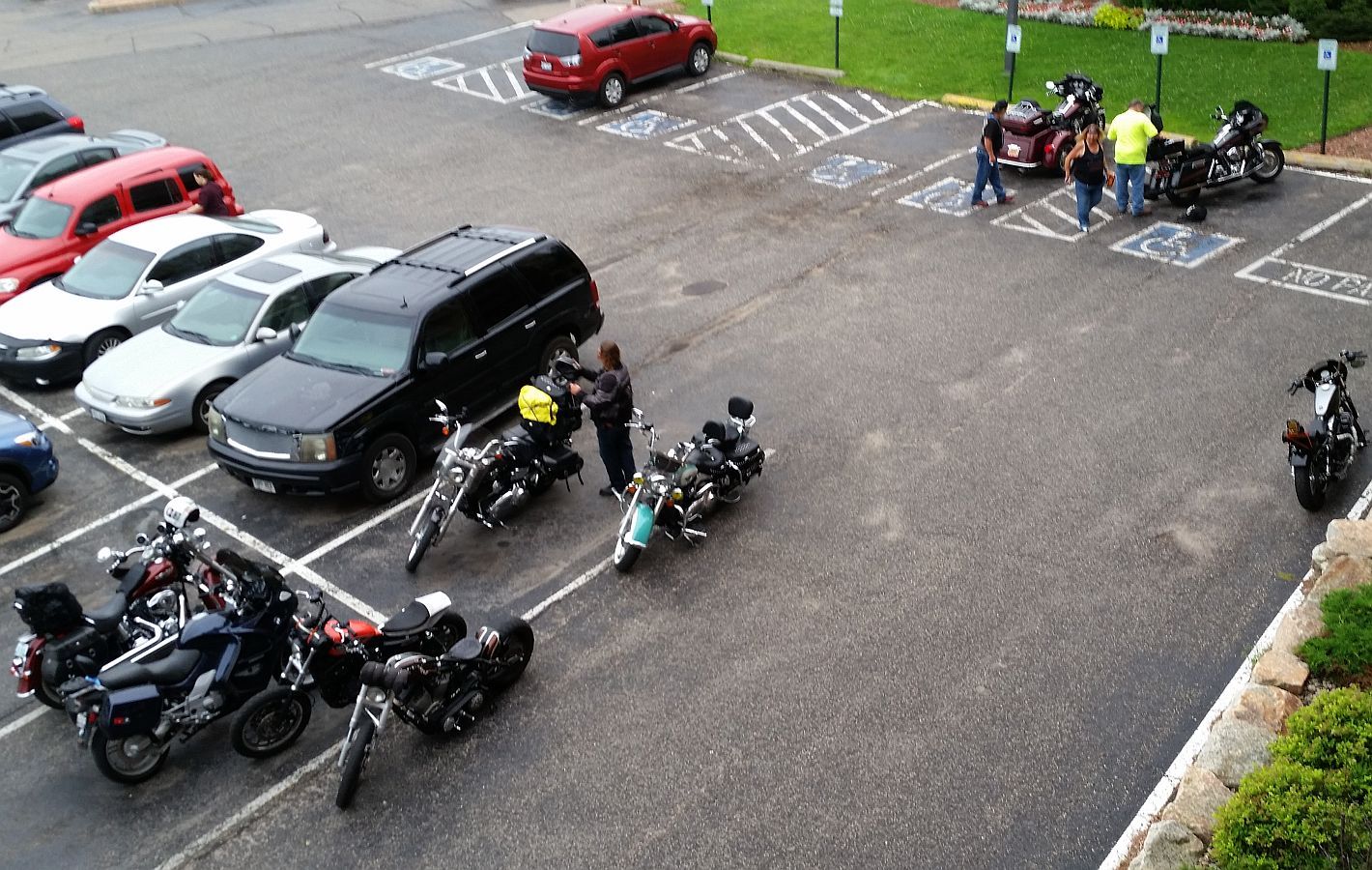 By the time we got down to the bike there was a steady rain going. After loading up, we took off for what should have been a 45 minute ride to meet up with Greg.
Well...it took a bit over 1.5 hours. 10 minutes in, it was the heaviest rain we've ridden in in quite a while. We were on a two lane road that was not draining well either, throw in some random lightning too. Happy to say we did arrive safely, albeit late. By the time we arrived it was just a light rain. Got no pics of the ride over...but we do have video that we'll be posting later.
Spent some time talking waiting for the rain to pass, then had a nice putt up to Fuel Moto to see Jamie, Brian and the FM Crew.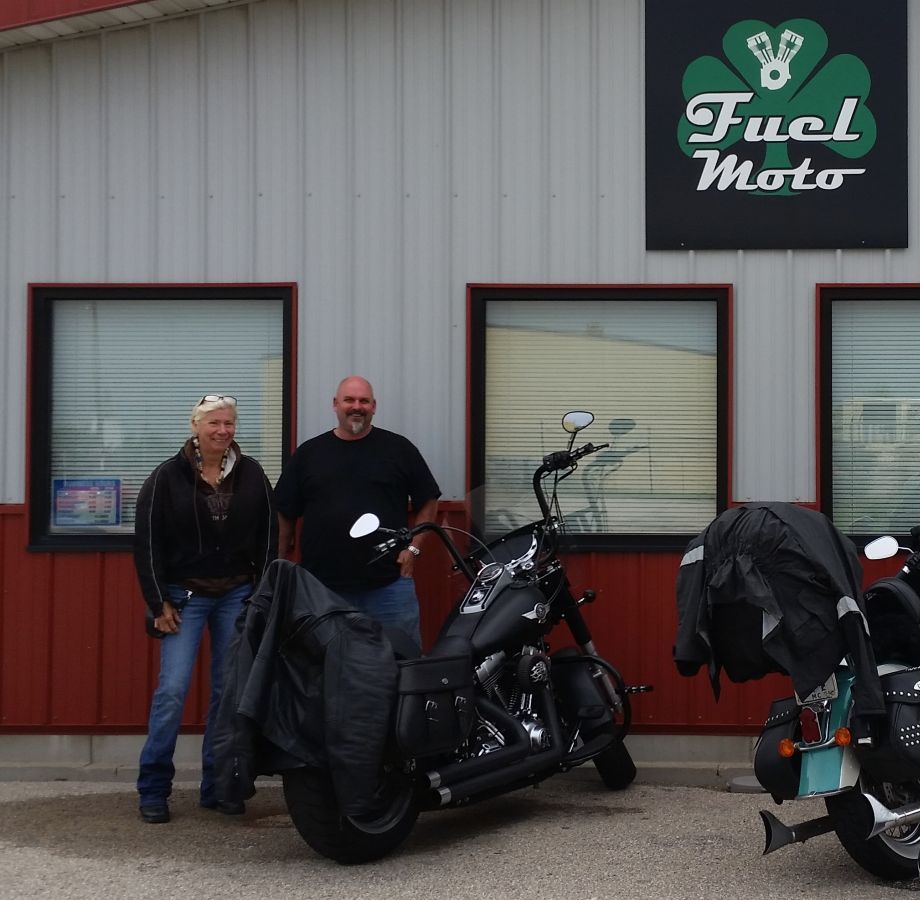 Brian gave us a look around the facility. Talked with Jamie some. Took a few pics.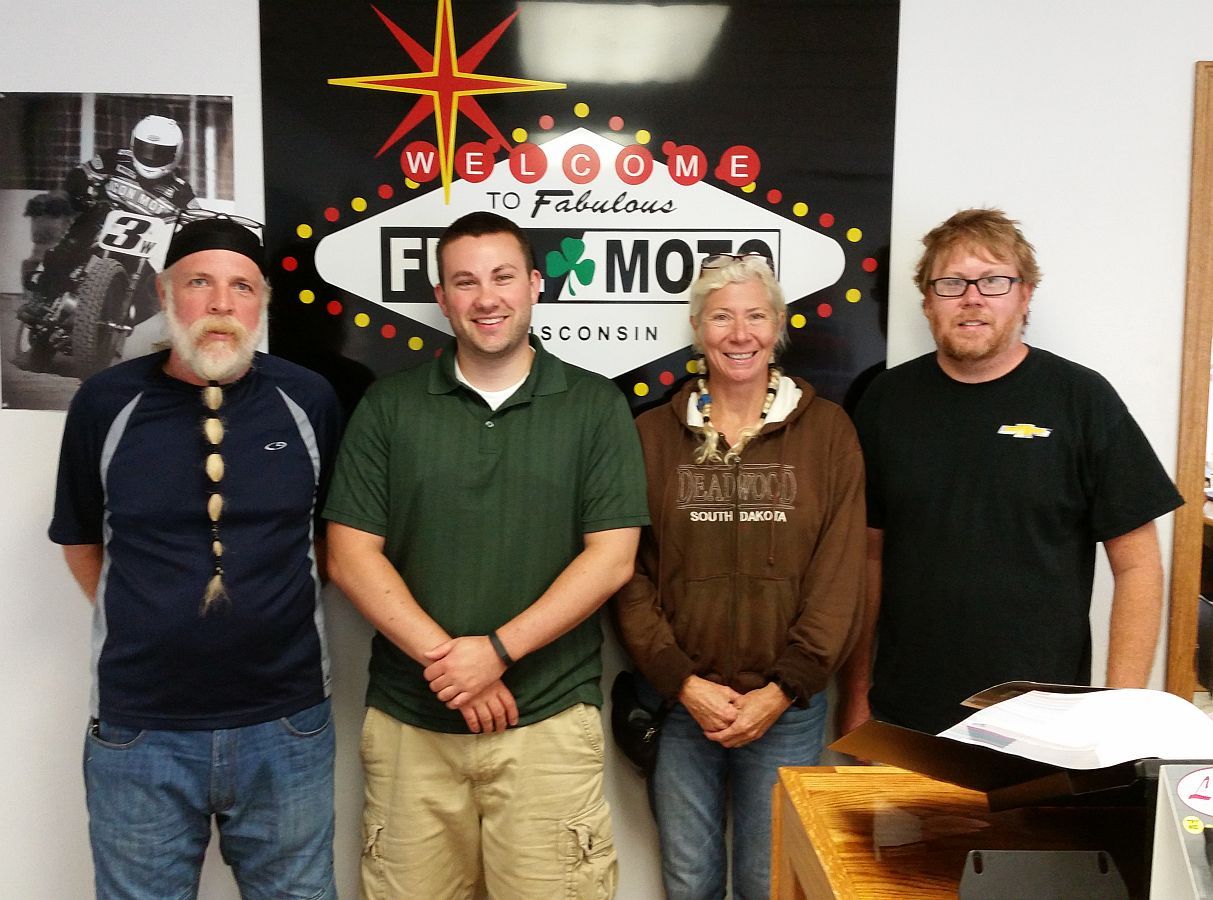 Everyone is just as nice in person as when talking with them on the phone. I think the first time I bought something from FM was 8+ years ago...a set of Rush Slip-ons. For the last couple of years DK has been doing business with FM and as many have experienced, they are a great company to do biz with.
Part of the FM Crew.
After meeting with them, Greg, Mary and I went outside and had a good time solving all the worlds problems. Greg is good people and we're really happy to have met him.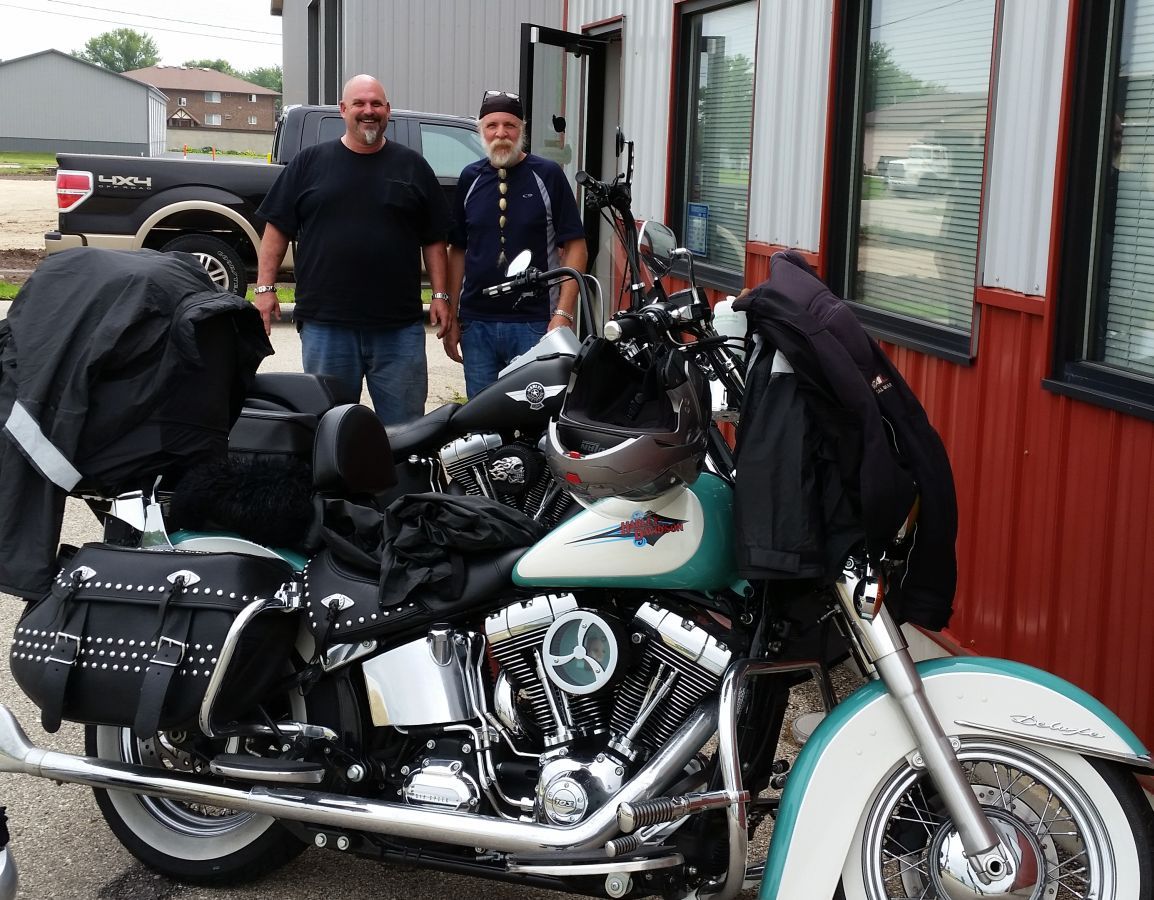 While we were out front, took a pic of Jamie on one of his test rides he was making.
This was the furthest north we're headed on this trip...about 1500 miles covered from Red Banks, MS to Little Chute, WI. Time to turn around and start heading back. Greg took off back home to Sheboygan and we started south.