Fort Nelson for Watson Lake Continued-
As soon as we left we saw this buffalo.





Not long after we slowed down for this bear crossing the road.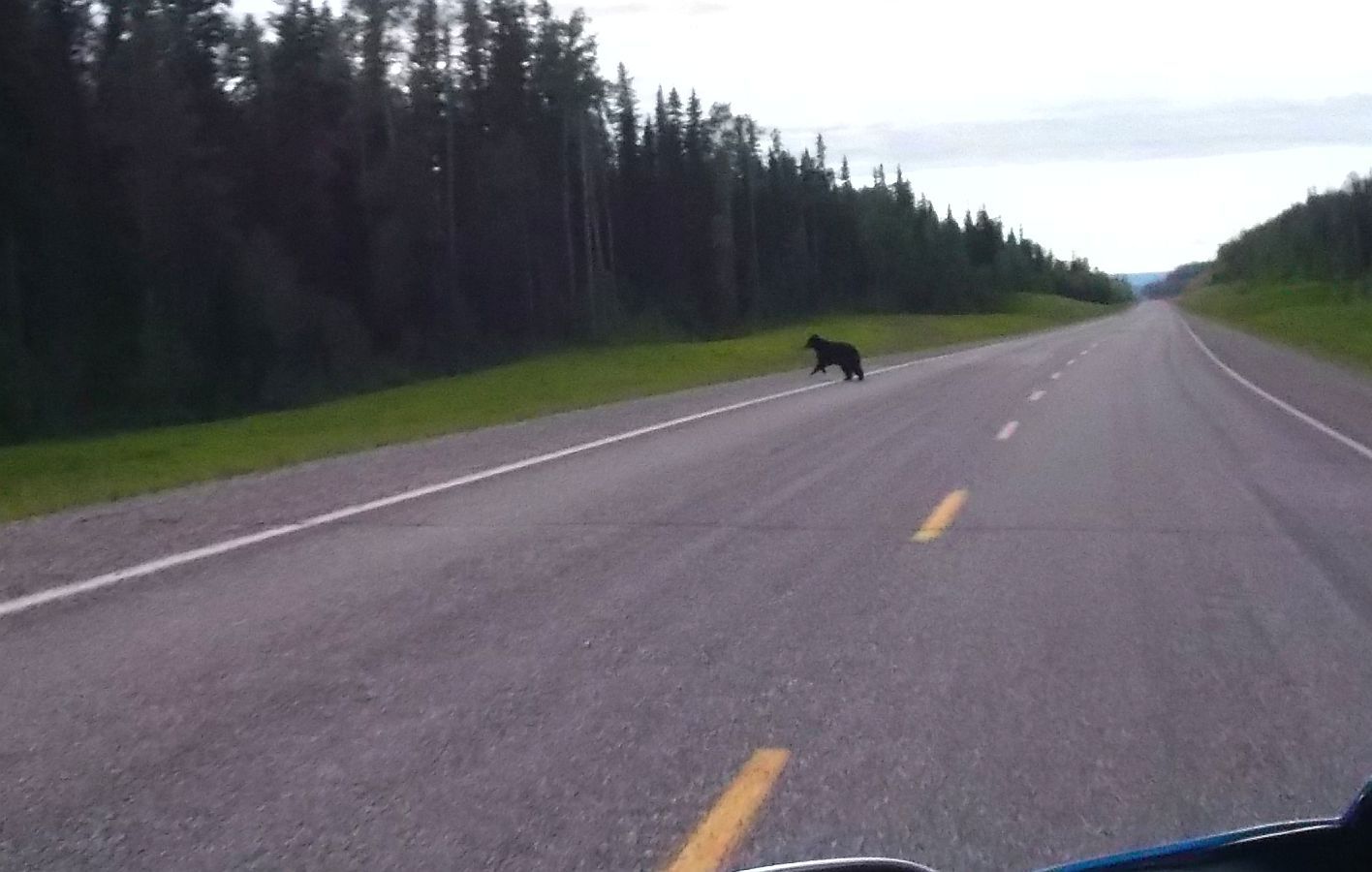 This was our first experience with the huge amount of road work going on in the Yukon right now. It is smooth gravel for the most part, but they keep it wetted down with water and calcium chloride, aka Glop. It drys like a cement type powder on the bike..corrosive and not easy to clean off.

You can see a truck down the road that has kicked up quite a bit of dust on a section of the road that had not been wetted down. It is either eat a lot of dust, or clean glop off the vehicles.




Couple of cool shadow pics.




We slowly passed a line of these that were walking the edge of the road. This one in front turned and looked at us with a little body language that he was going to head our way... lol We went ahead and moved along.




Saw a grizzly, he was a good 60 yards down the hill. Never got any closer, even though we waited. He looked up at us a couple of times. Mary asked me to start the bike everytime he looked our way...guess she doesn't trust the bear spray she bought. lol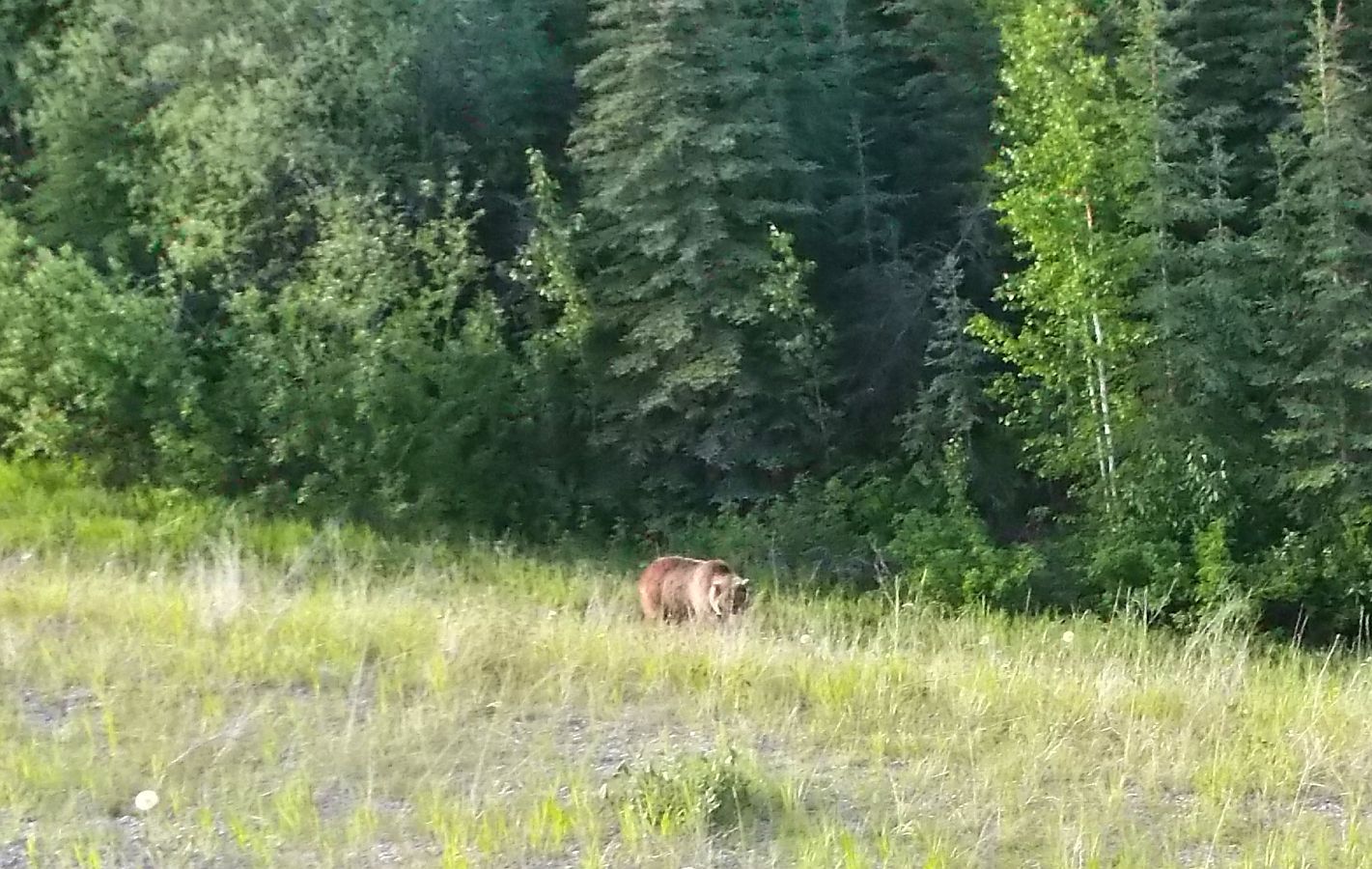 Welcome to the Yukon!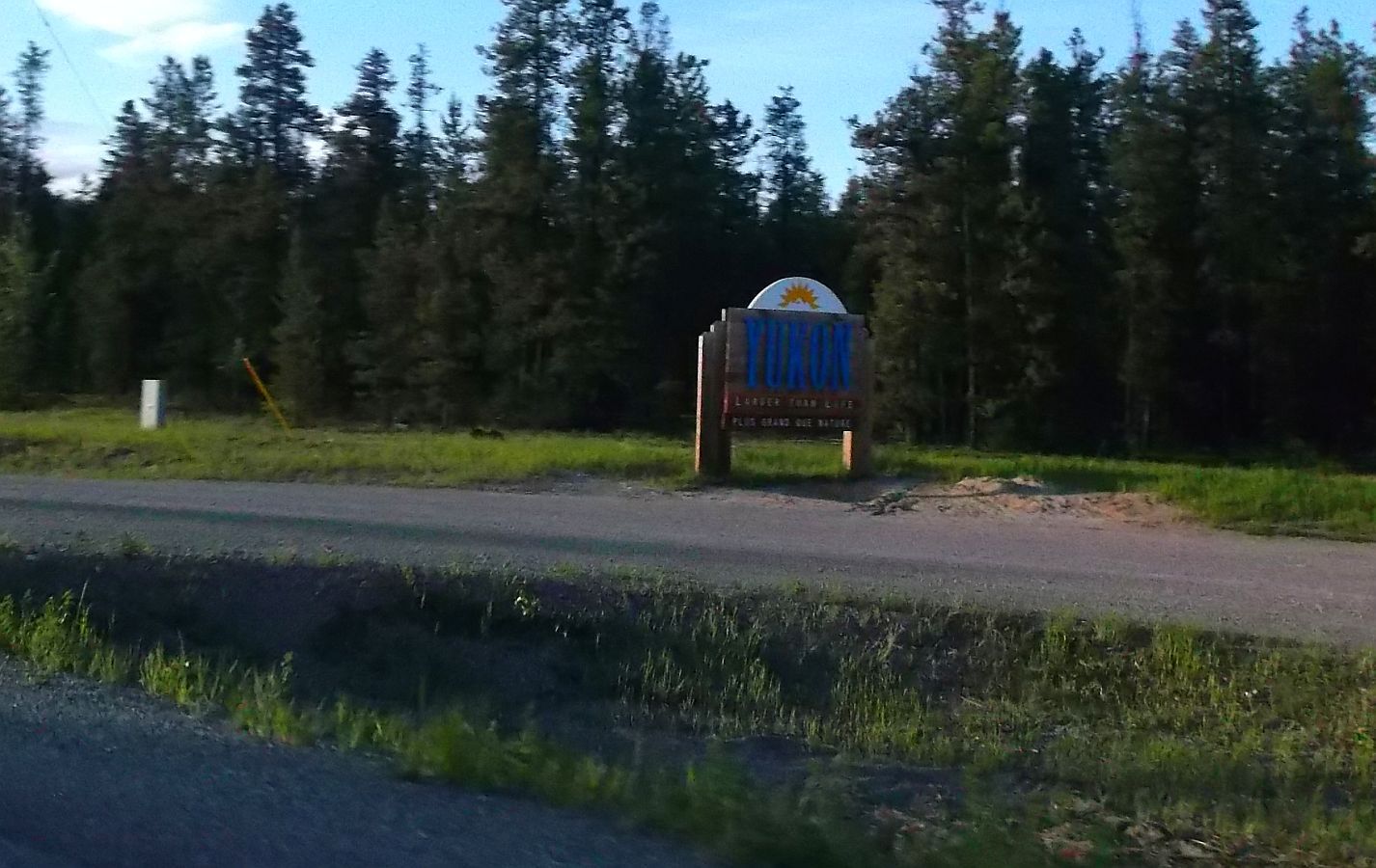 Soon after we arrived at Watson Lake.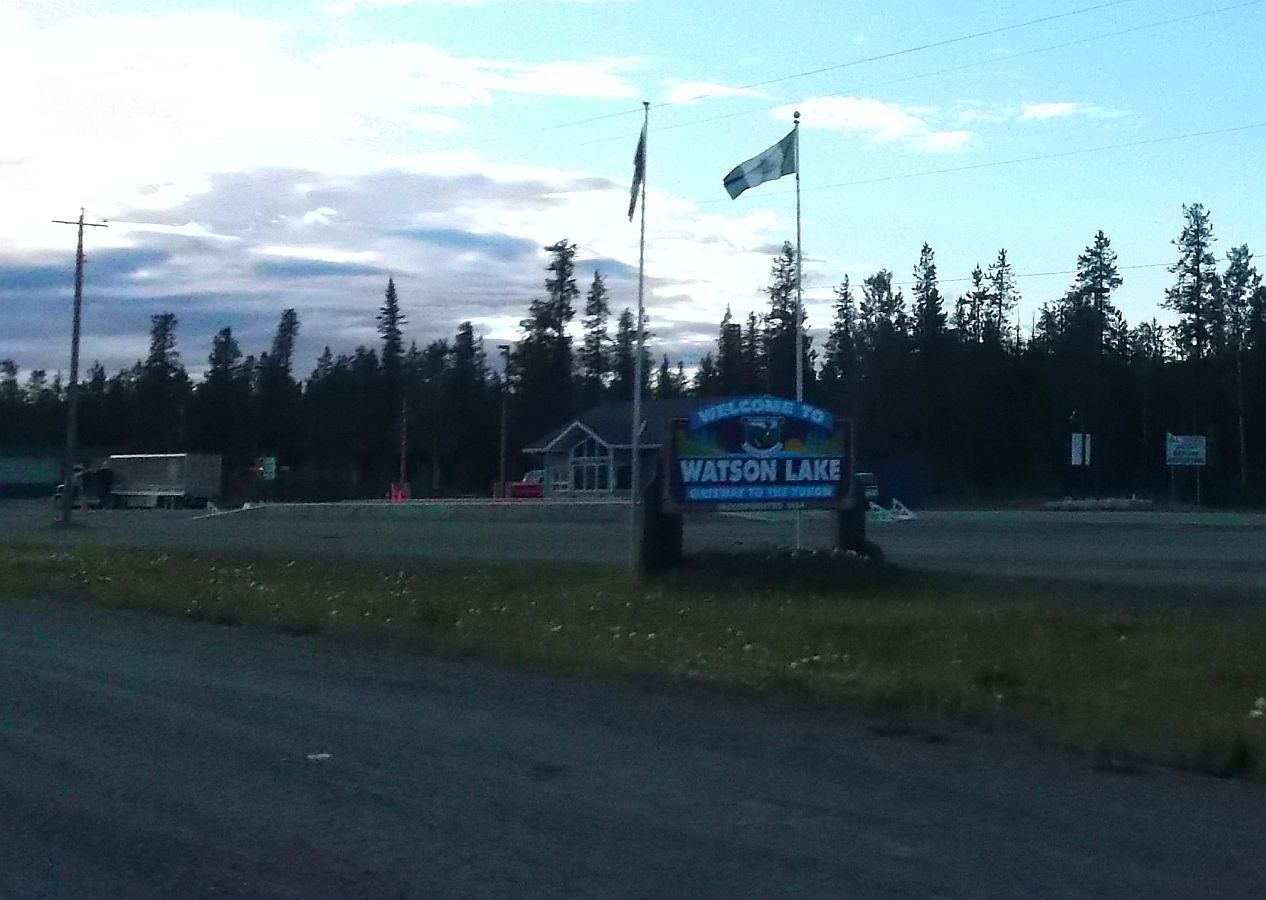 We stayed at the "Historic Air Force Lodge", it is more like a hostel, but not hostel prices.

Met up with Evangeline for the 3rd time in 4 days. She's from Australia, riding a BMW up to Fairbanks also.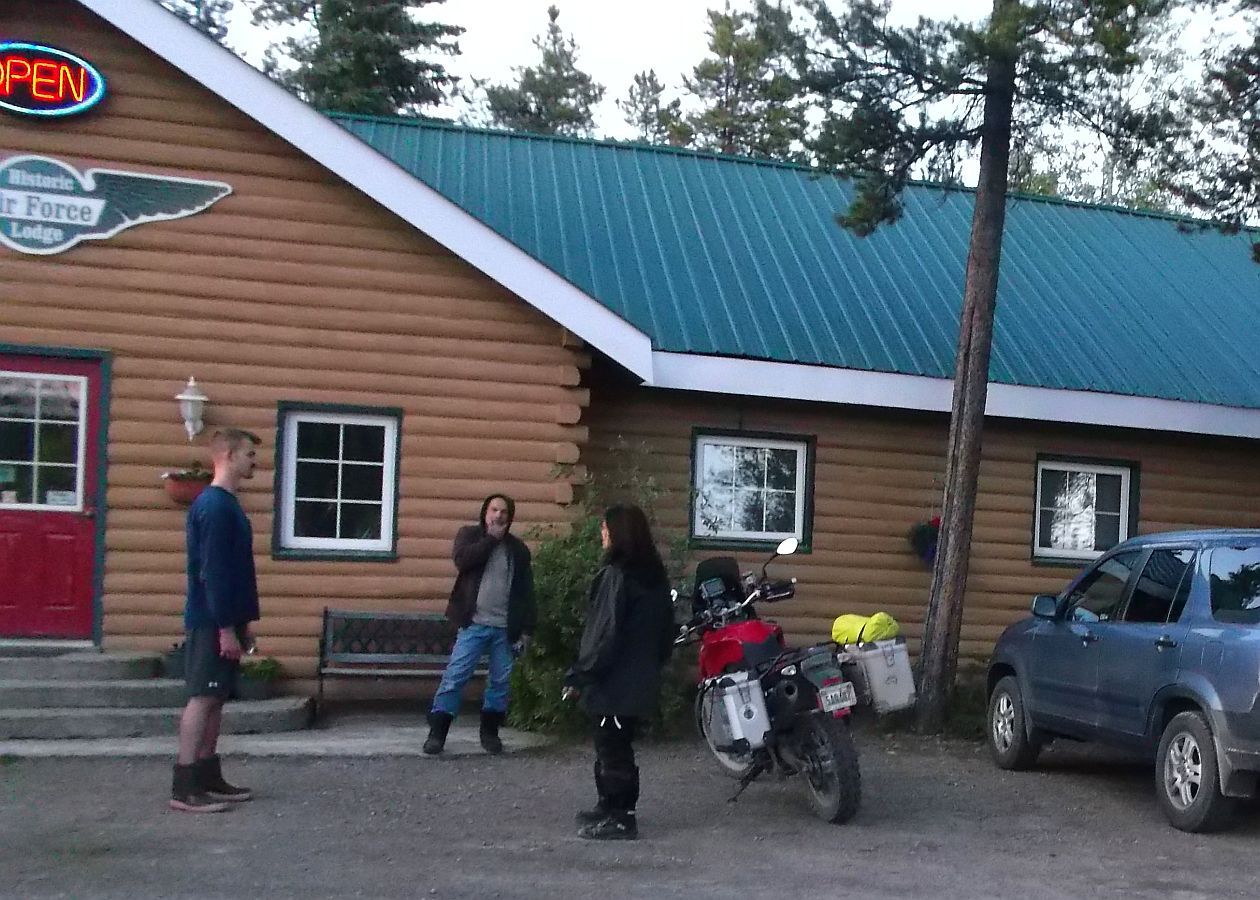 The room in Watson Lake was small.

Here's one side of it-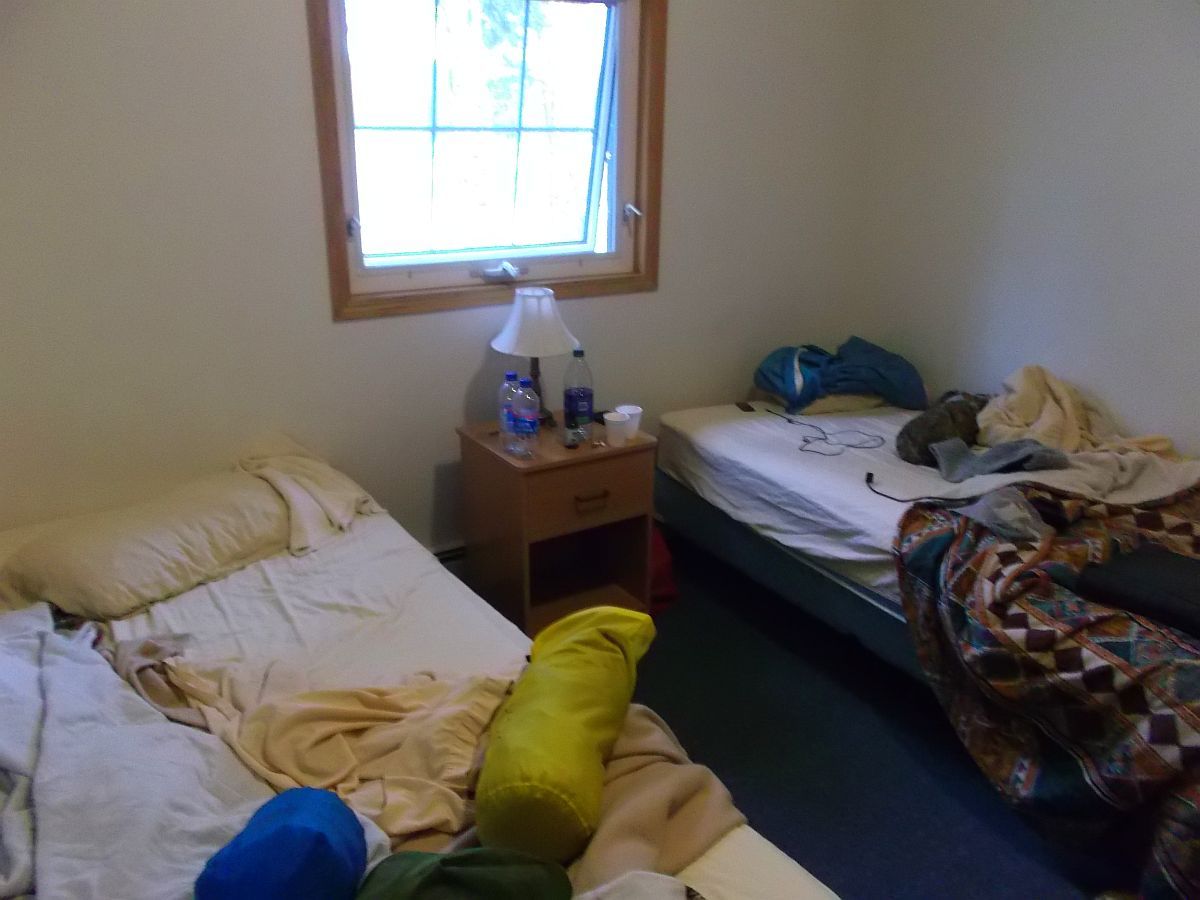 And here's the other side- lol




I did not get a picture of it, but the lobby was filled with all the guests' boots.

The calcium chloride that they use on the roads, that turns to a cement like substance on the bikes, well the owner did not want that on the hallway and room carpets, so all shoes are left in the lobby.

Ours were still there when we left out in the morning. lol

Mary doing her bungee cord art.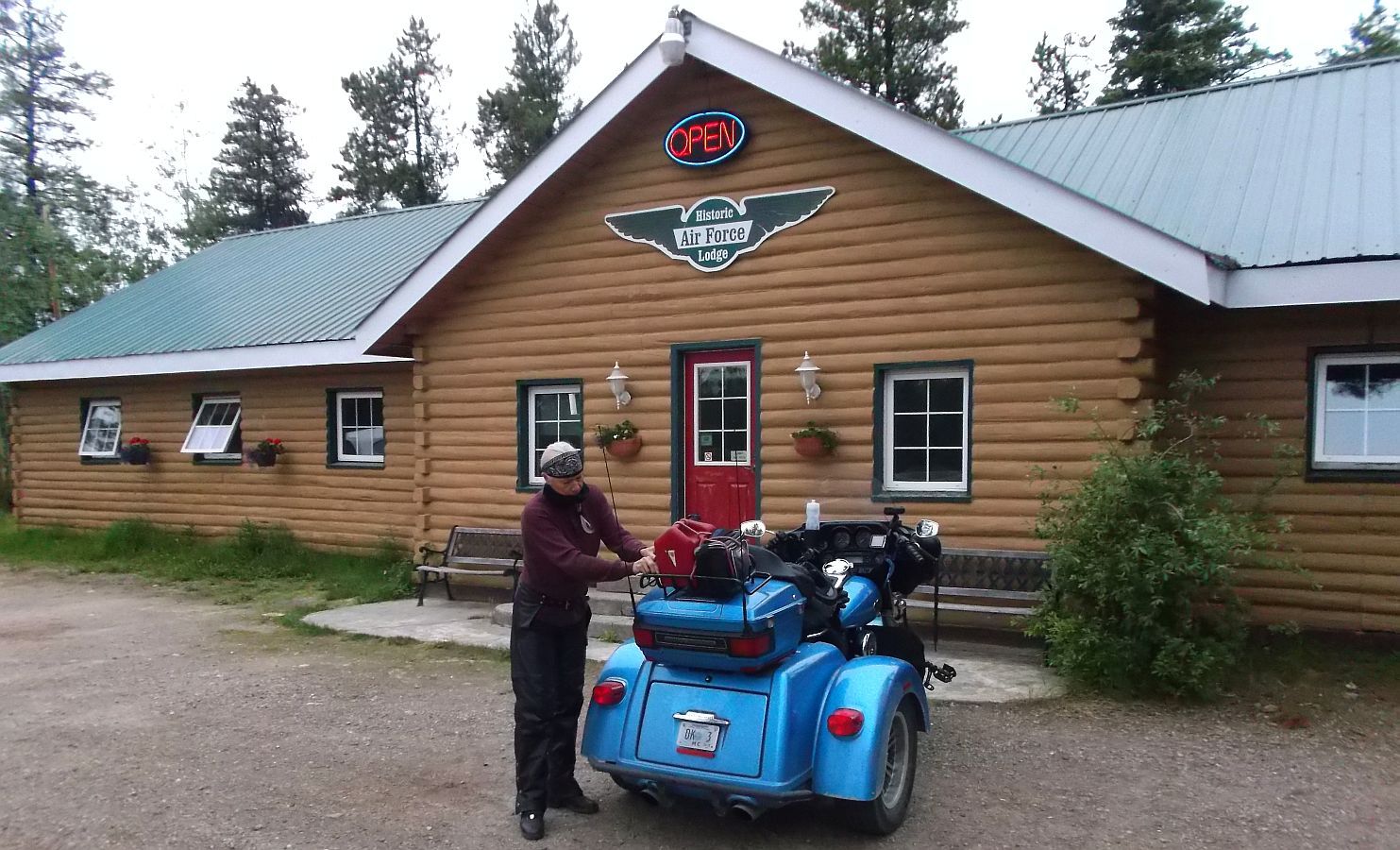 Before leaving Watson Lake we visited the Signpost Forest, it is on the north side of town.

We took a lot of pics, there is really no way to get one picture (from the ground) that shows how big it is.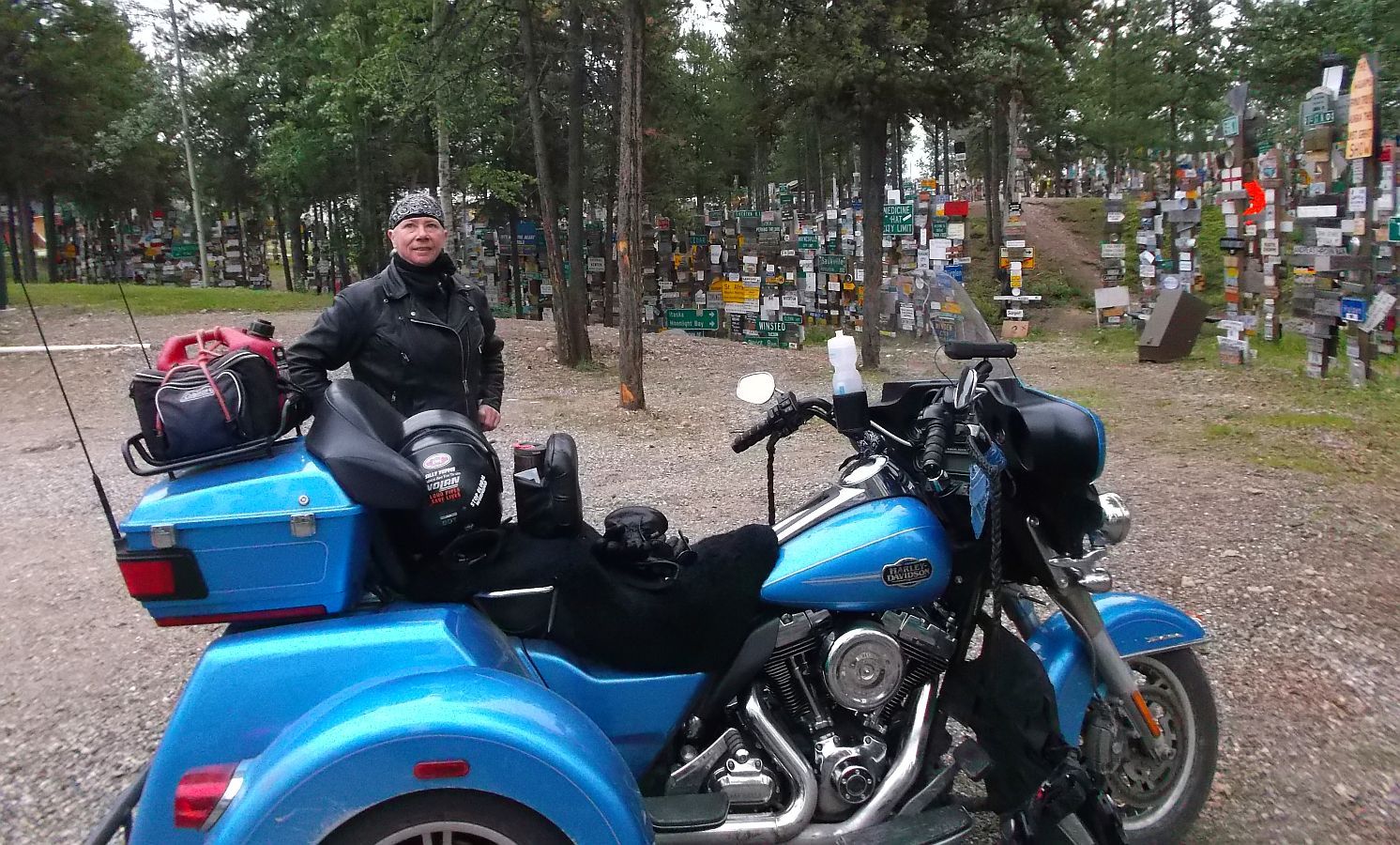 There are over 100,000 signs there. I was going to bring an old Mississippi license plate to add to the collection, but forgot to pack it.

Mary wrote on the back of a sign and I added a DK Custom Products sticker.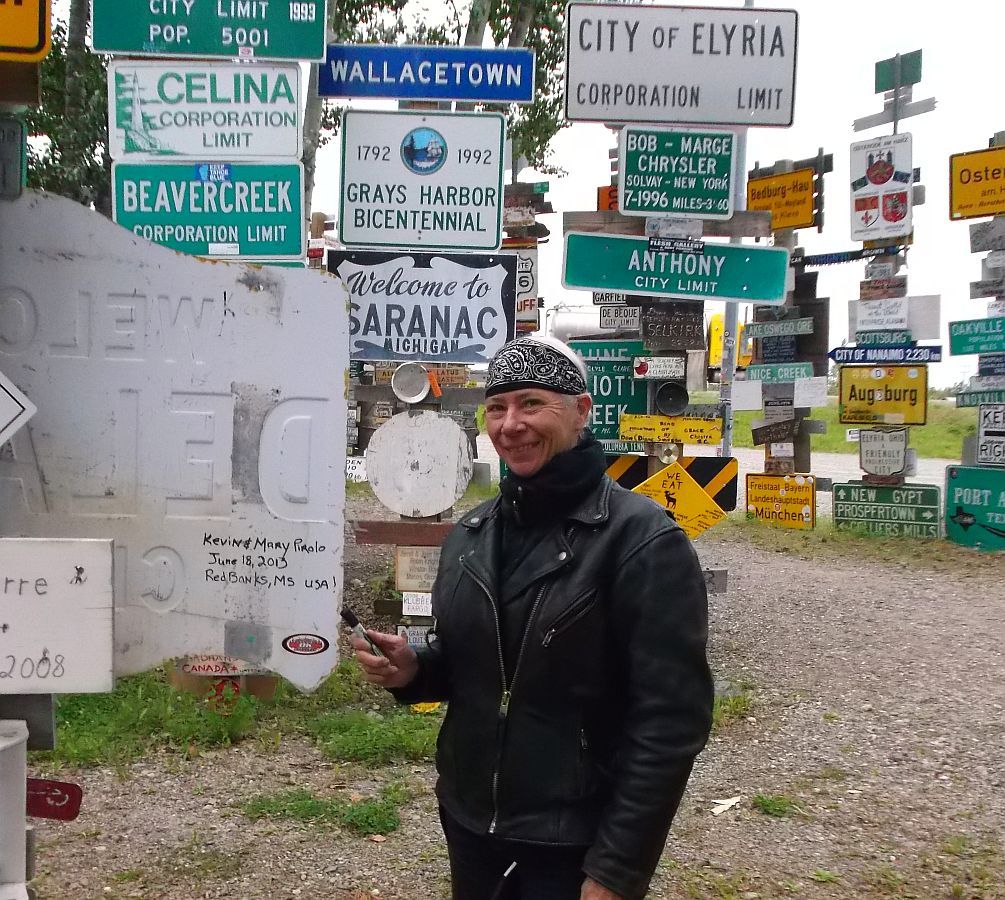 One final pic as we rode away-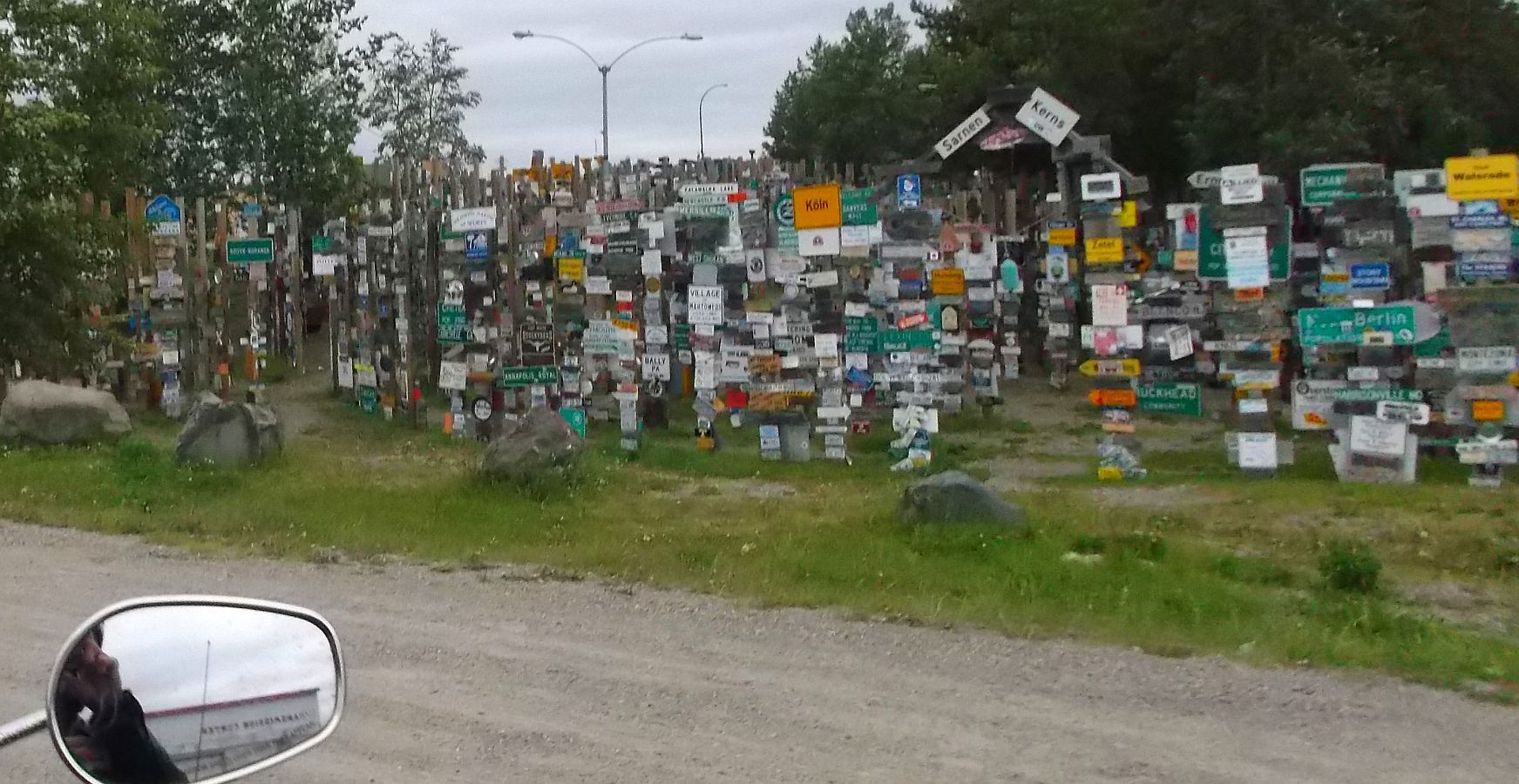 Not far out of town we hit another one way bridge. They had not poured the cement yet. Lot's of metal going in there.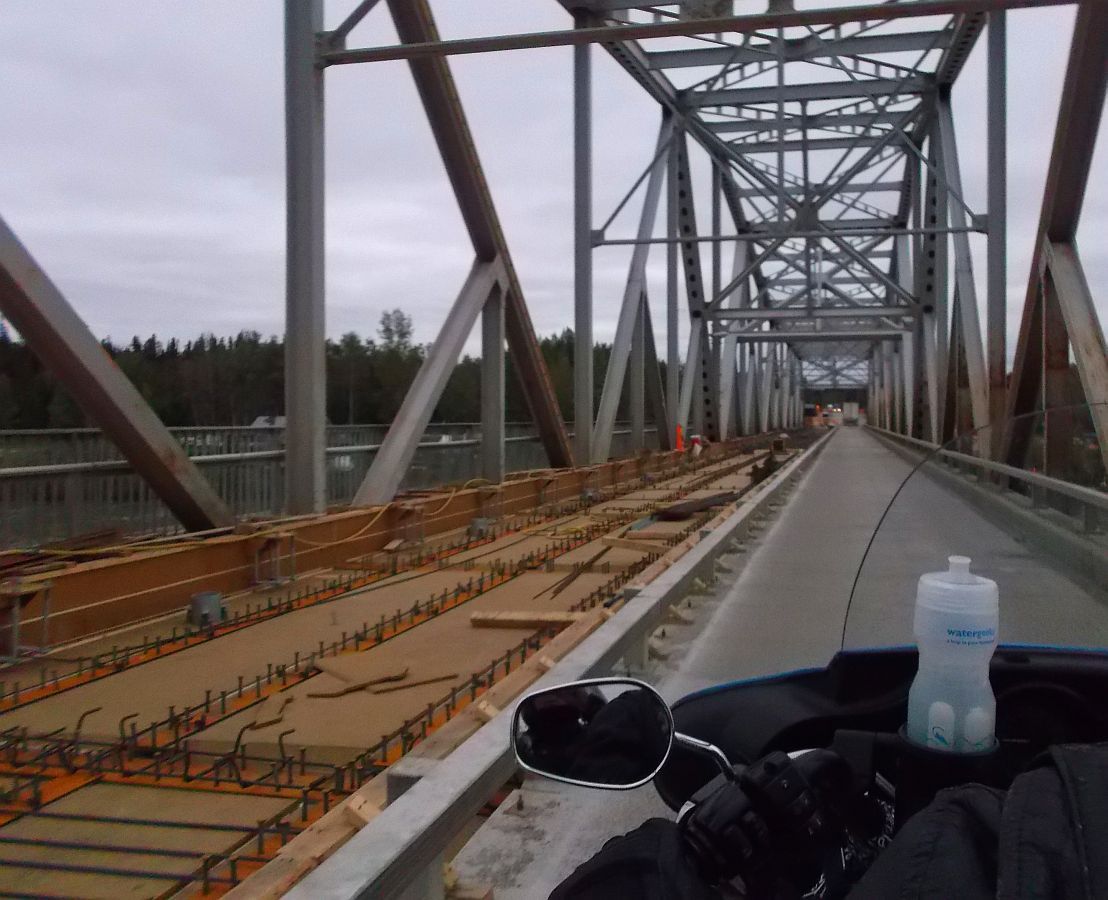 More in next post.