Headed Out of Teslin
Getting ready to head out of Teslin toward Watson Lake. But before getting there we will turn South on Highway 37 (Cassiar Hwy) that we have been warned about...we can always turn around. lol





Teslin is little more than a gas stop from what I can tell. There is no gas for quite a ways in either direction.

You can see the line of everyone wanting gas (or Diesel).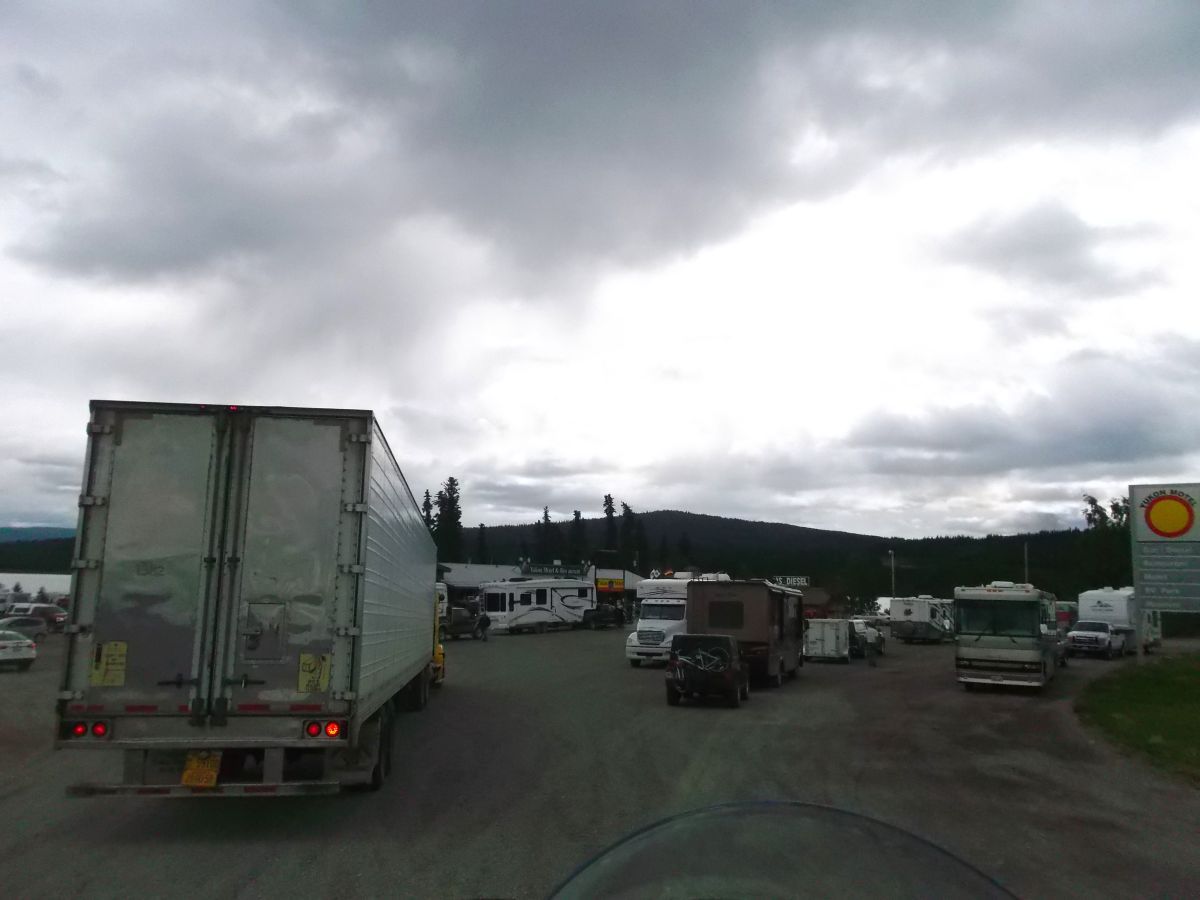 On our way. Long bridge directly out of Teslin. Lots of 2 wheelers don't like these, with 3 wheels, no problem.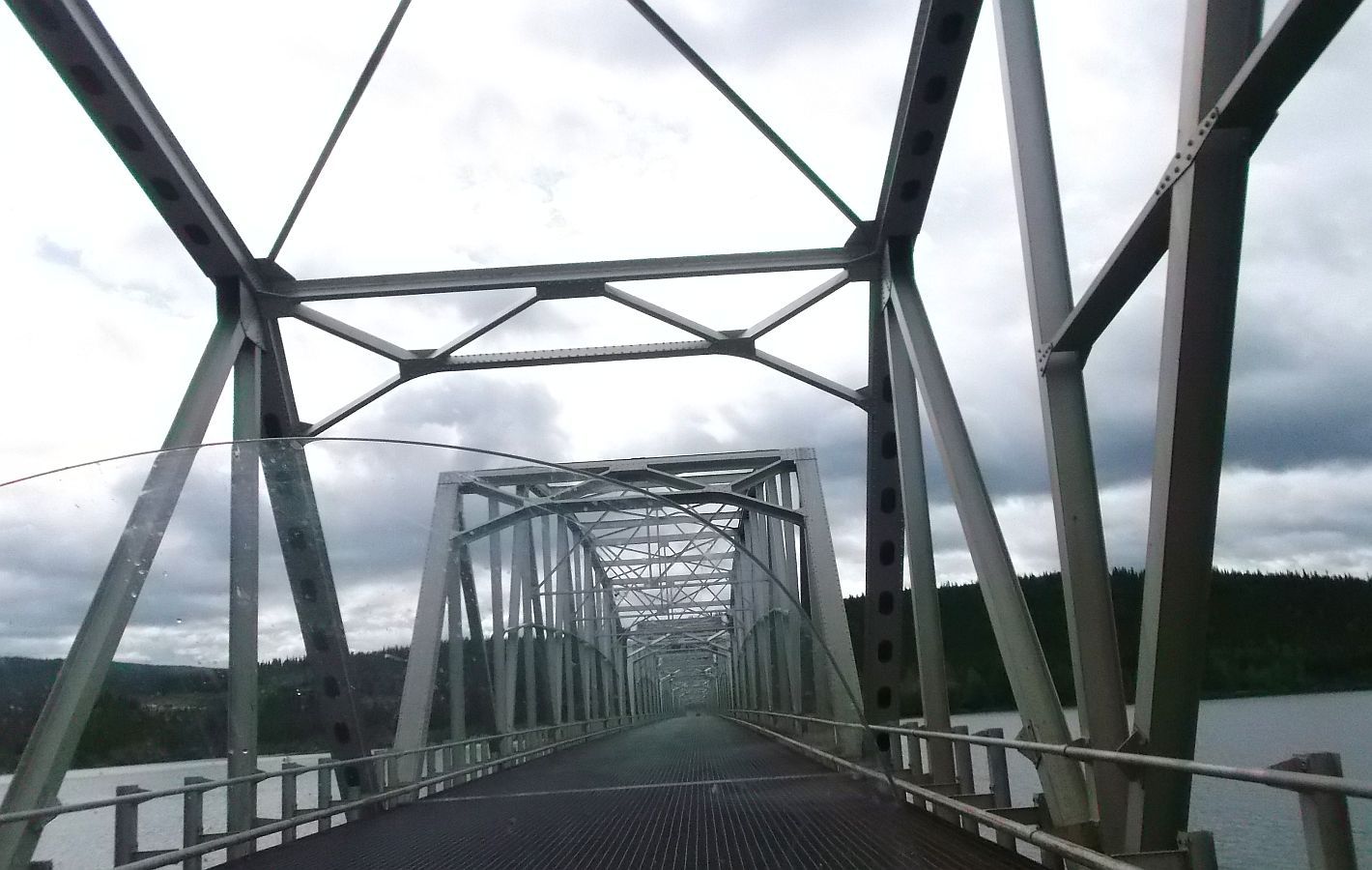 Oh yeah! What a way to start the day, 8 gallons of gas and lots of good road!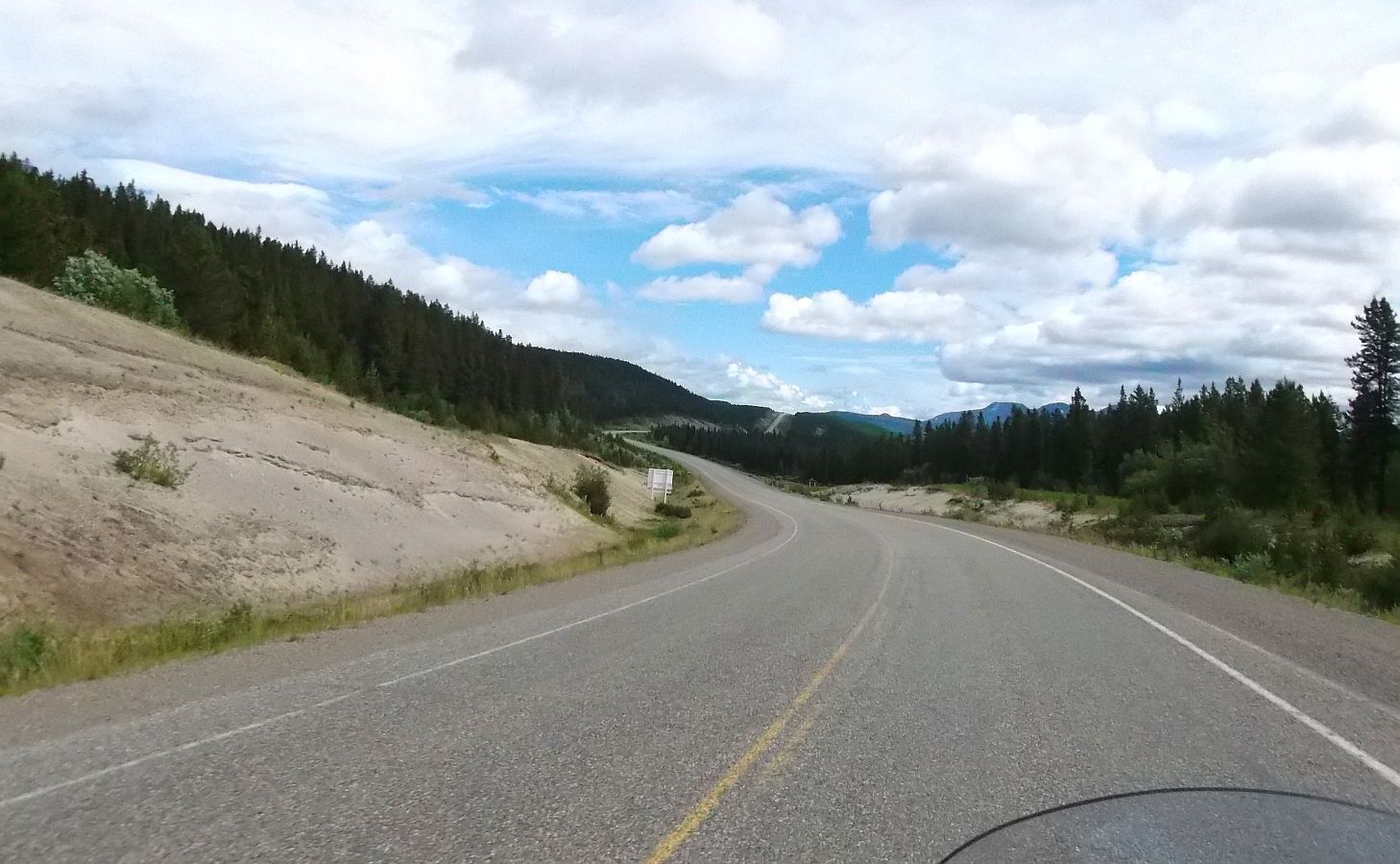 Mary starts getting more creative with her shots.

btw, while looking at my boot, I should mention these are not the boots I started this trip with.

Having had 9 bones broken in my right foot by a F250, I have been wearing a comfortable pair of cowboy boots for a couple of years.

I knew when it rained my feet would get wet, but I thought it was coming in the top off my pants. When we left out of Pigeon Forge, Tn in the deluge, we were wearing our rain suits and my feet still ended up in a puddle of water in the bottom of the boots.

Sooo, the boots were leaking around the seam at the sole. I knew before we got to where it was cold I would need a new pair of boots.

When in Missoula (where we traded our mesh for our leather) I picked up a pair of guaranteed waterproof boots and left my other boots with our mesh.

These new boots have been warm and dry in the cold and rain, and I have walked in creeks up above my ankles...no leaks!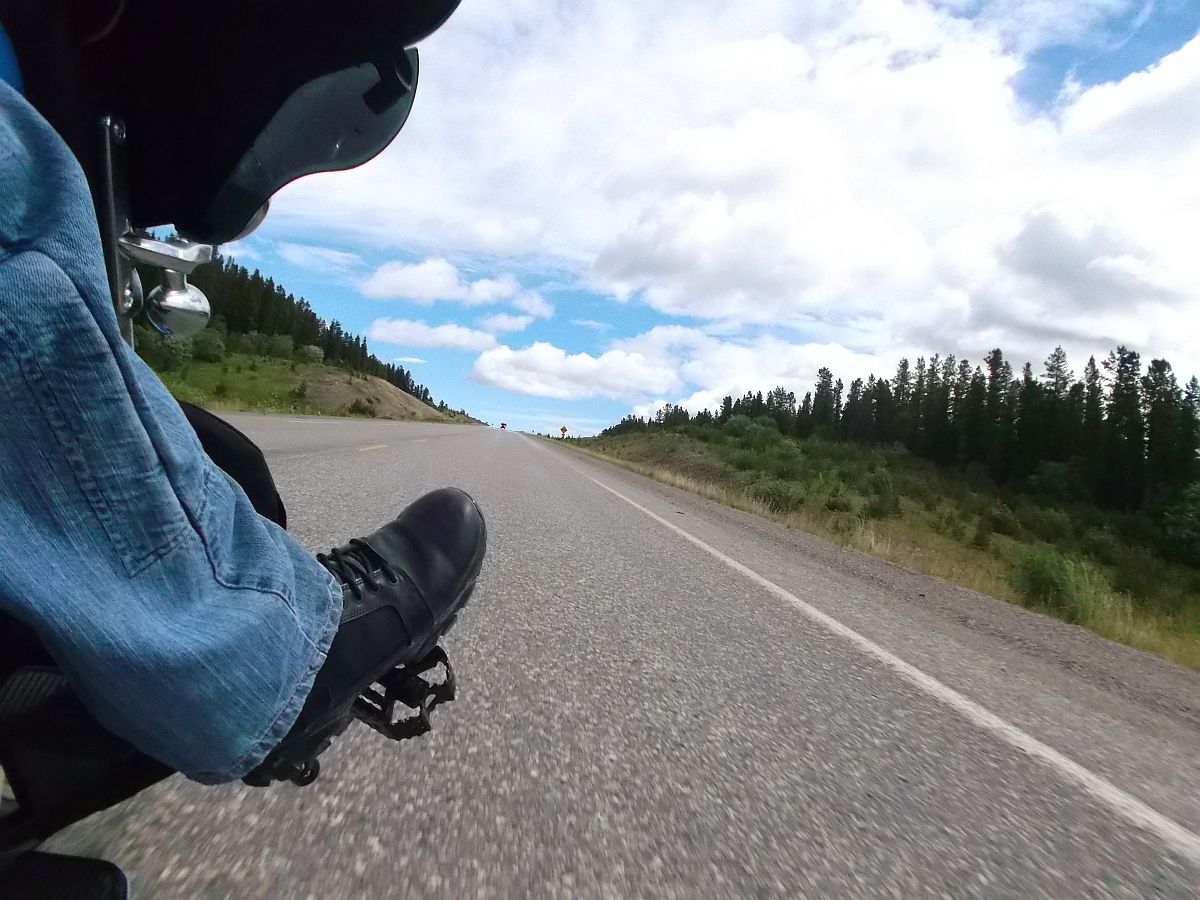 Wow, fun road! (this is still the Alcan)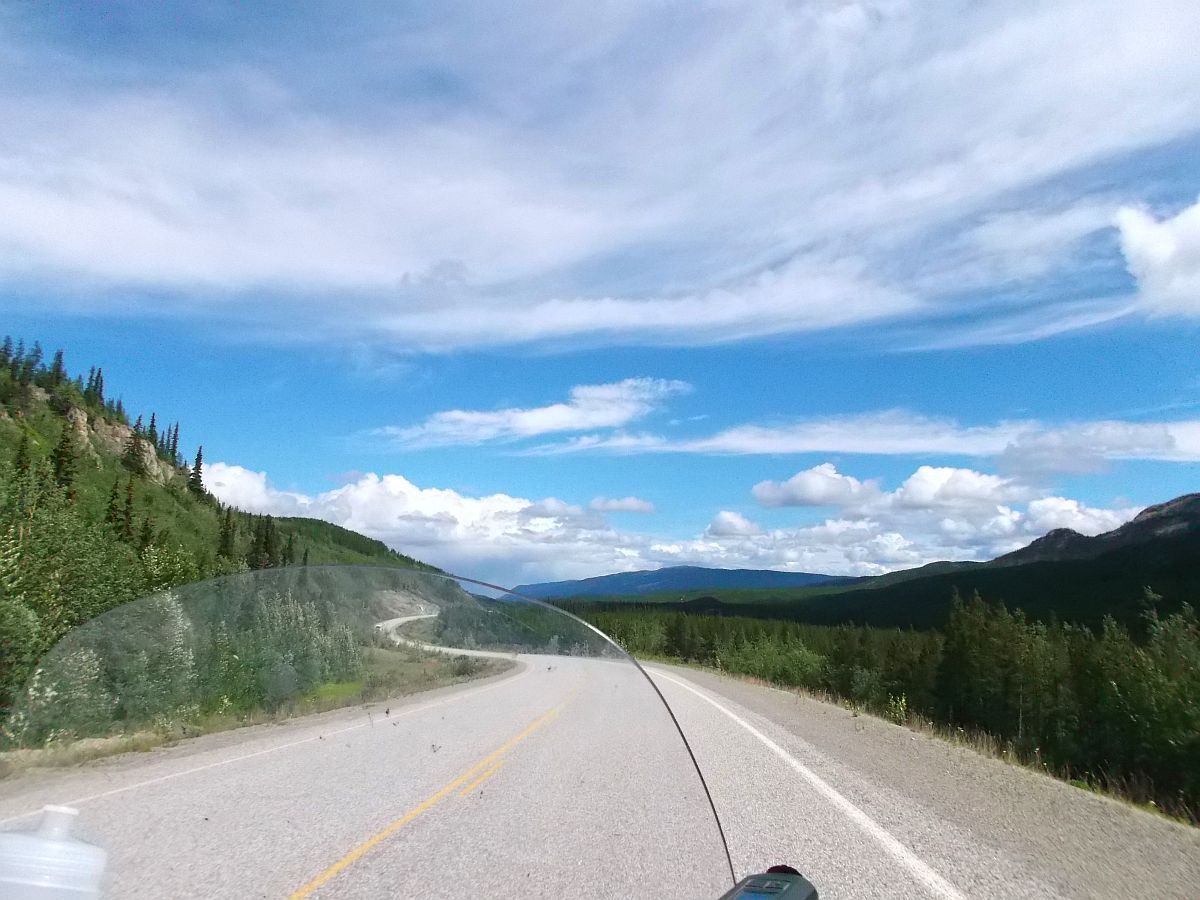 Pic of one of the hundreds of rivers we have seen along the side of the road.




Great riding on the Alcan, has me replaying all the warnings we have had about the Cassiar Hwy.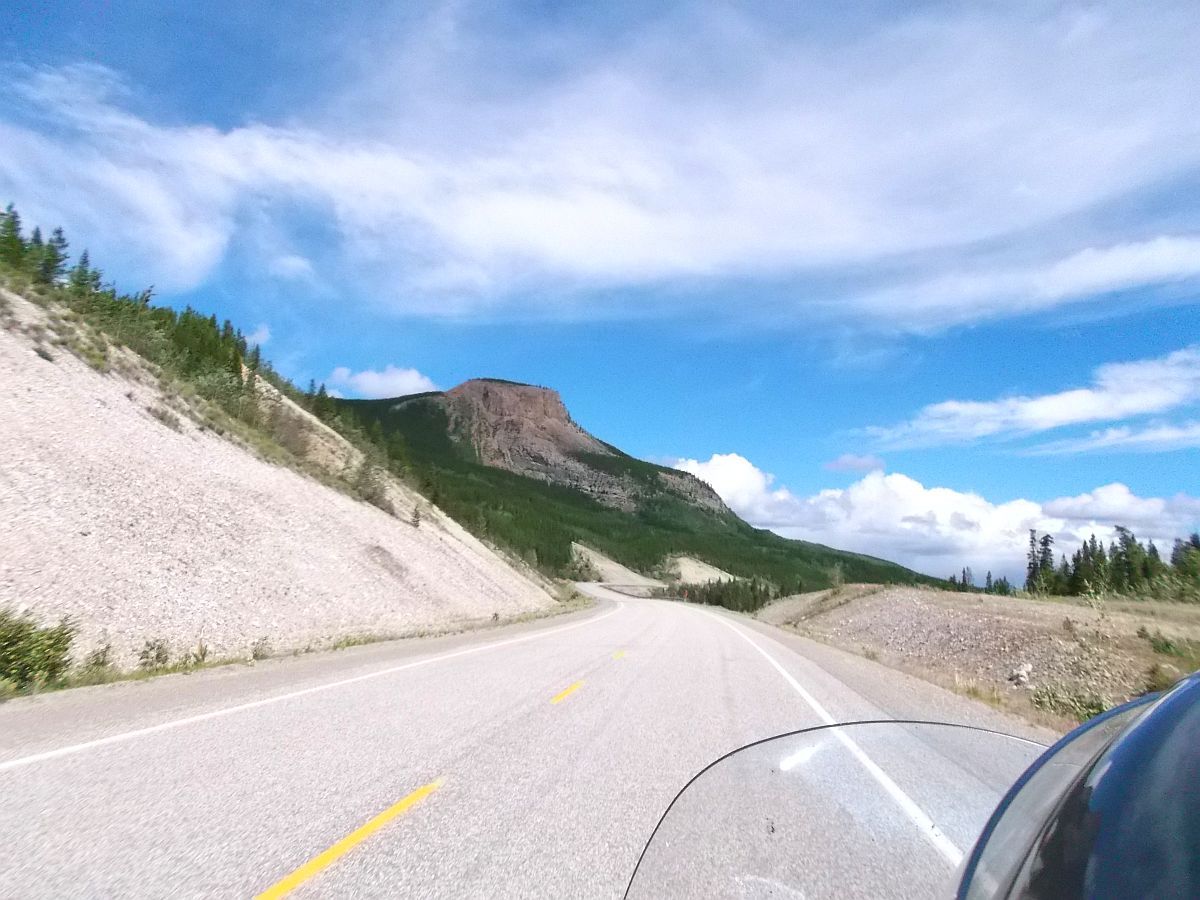 Ok, here we are. Turning onto Hwy 37.




From what we have been told, plus what we read in the milepost, there is very little gas on Hwy 37, AND very little lodging.

We have already made reservations at a motel in Dease Lake.

This equals out to about 145 miles. This is no problem with the 6 gallon tank, but we have an extra 2 gallons on the rack. I learned my lesson about stations being closed up or out of gas.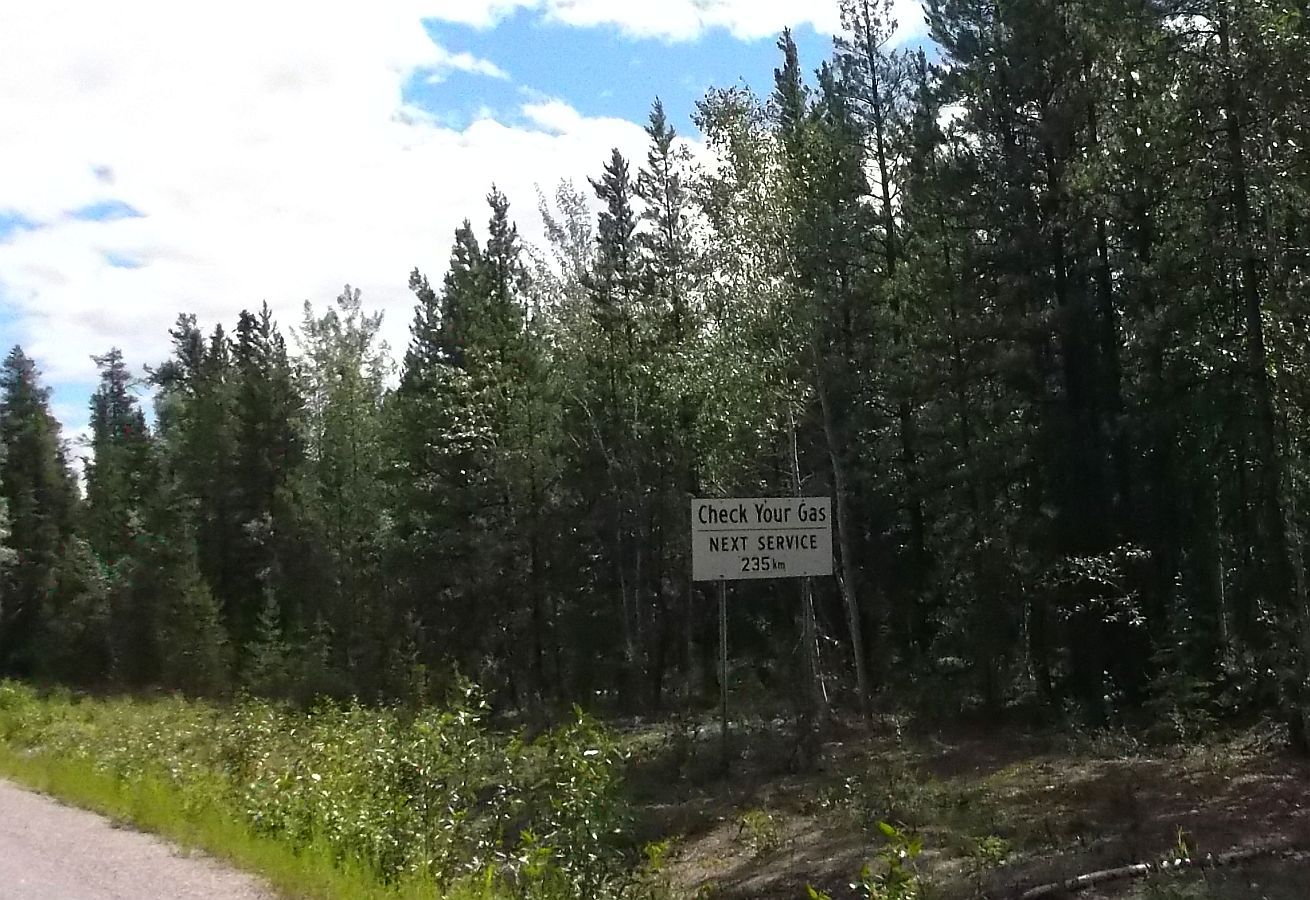 We are on the Cassiar, looks pretty good at first. A bit narrow, and no lines, but not the rough torn up logging road so many warned us of.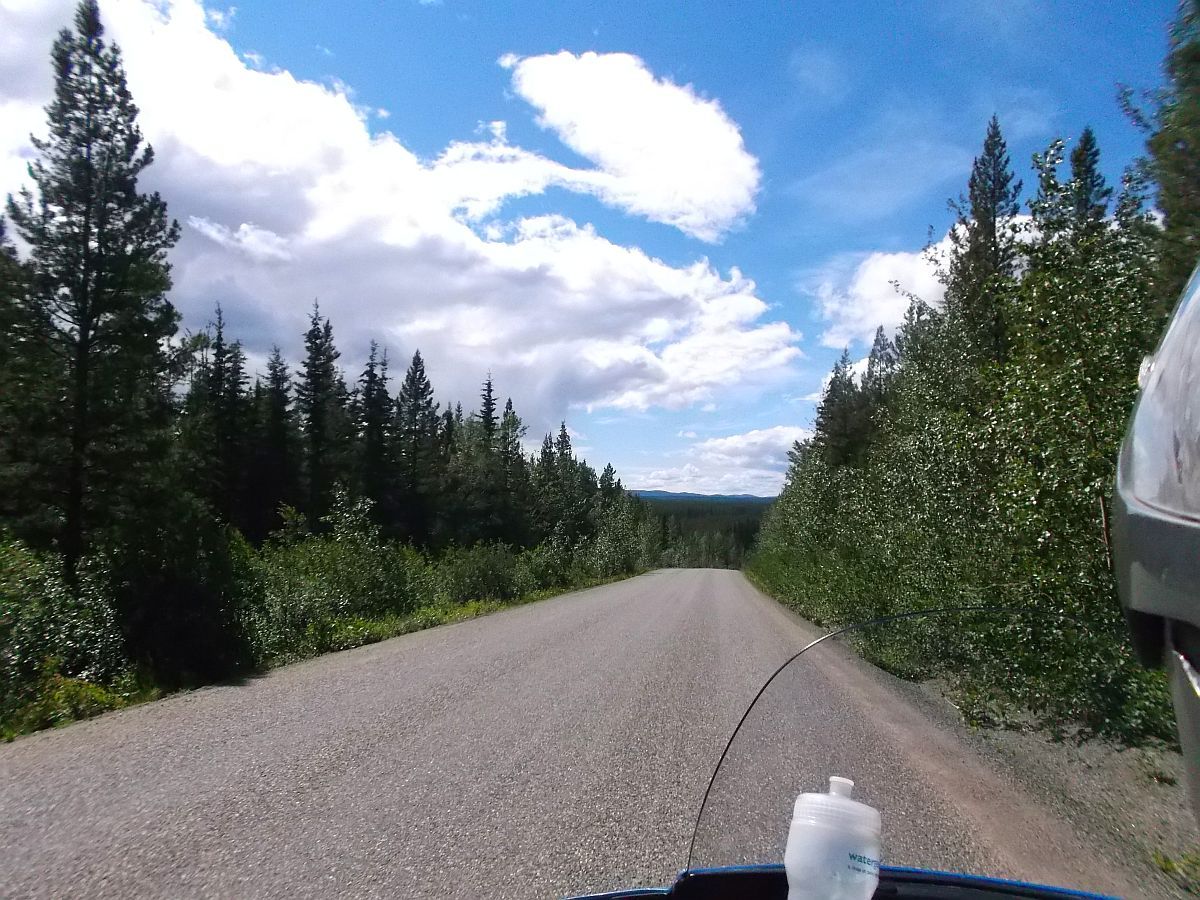 Then it turned to this. I am on the wrong side of the road because on the right side there are 8-12 inch variations in road height side by side.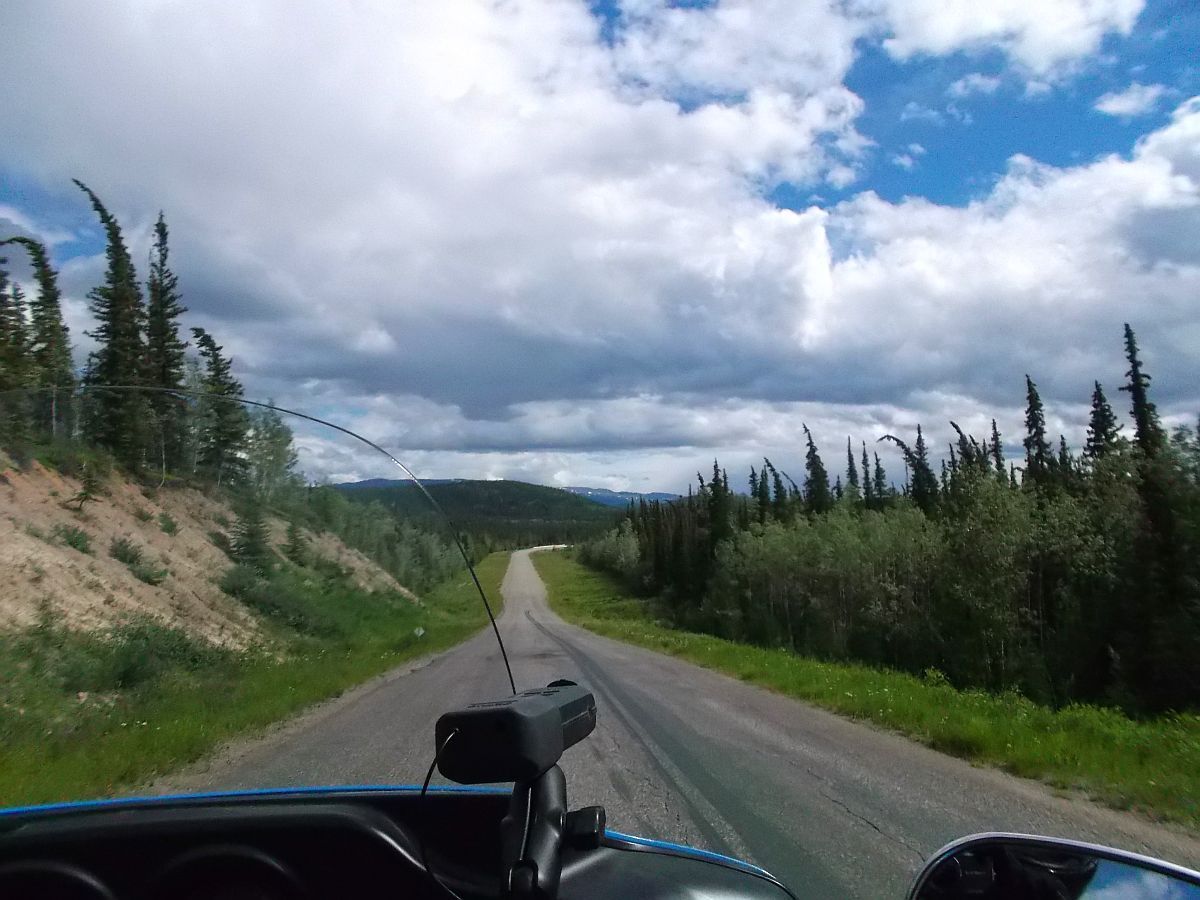 This, along with potholes and gravel for the first 40 miles had us resigned to a long, slow and bumpy ride to Dease Lake.

But after the first 40 miles it smoothed out and there were only a couple of gravel spots! YEAH!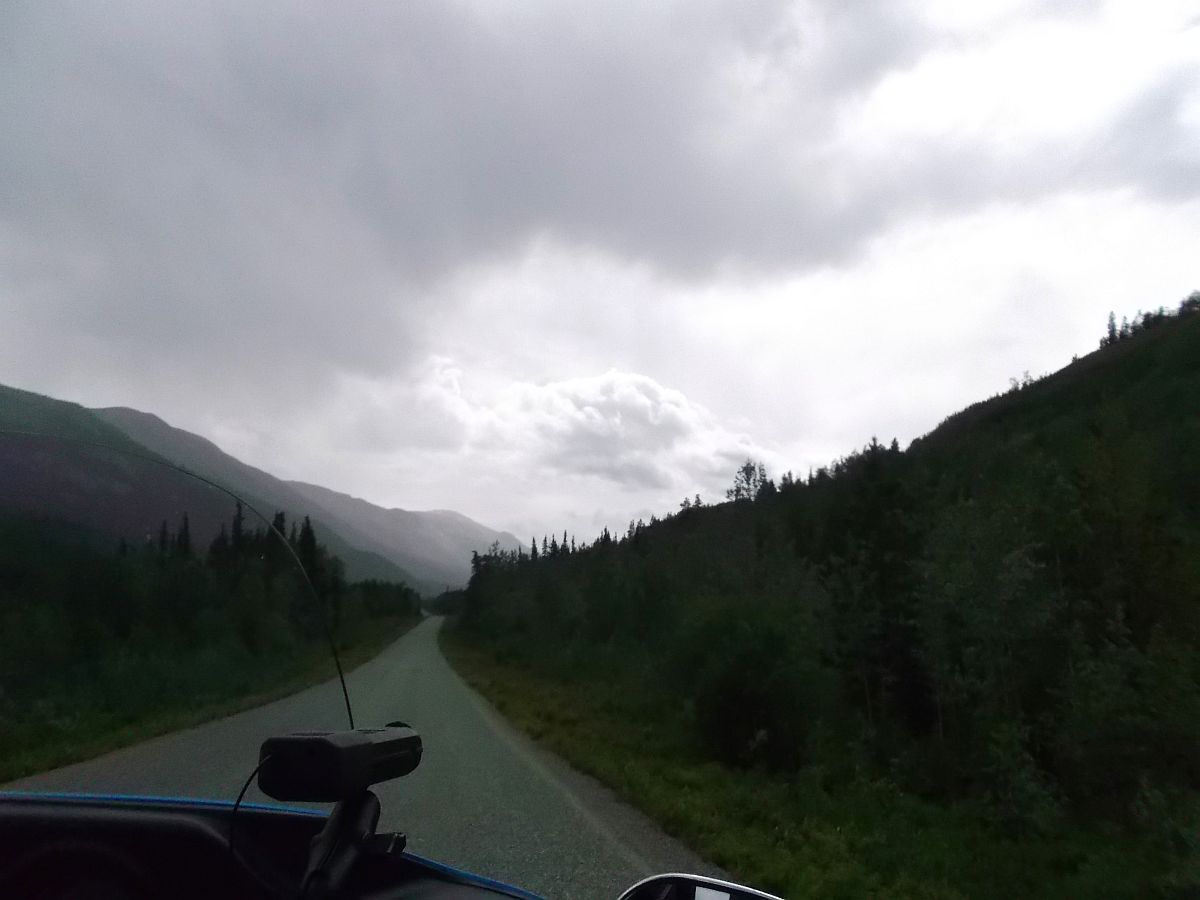 We have been climbing steady for awhile now. Got some rain, not real heavy, but enough for Mary to tuck the camera away.




One of the hundreds of waterfalls we have seen along the road.




I do not know the elevation, but it is getting pretty cold. Mary has here electric jacket cranked up all the way, I am about 3/4.

We decide to stop at the Jade Store.




Interesting place (and warm inside!). These mountains are full of jade. They pull it out and do a little work with it here, but most of the stuff they ship off to China to have cut & polished into all kinds of designs.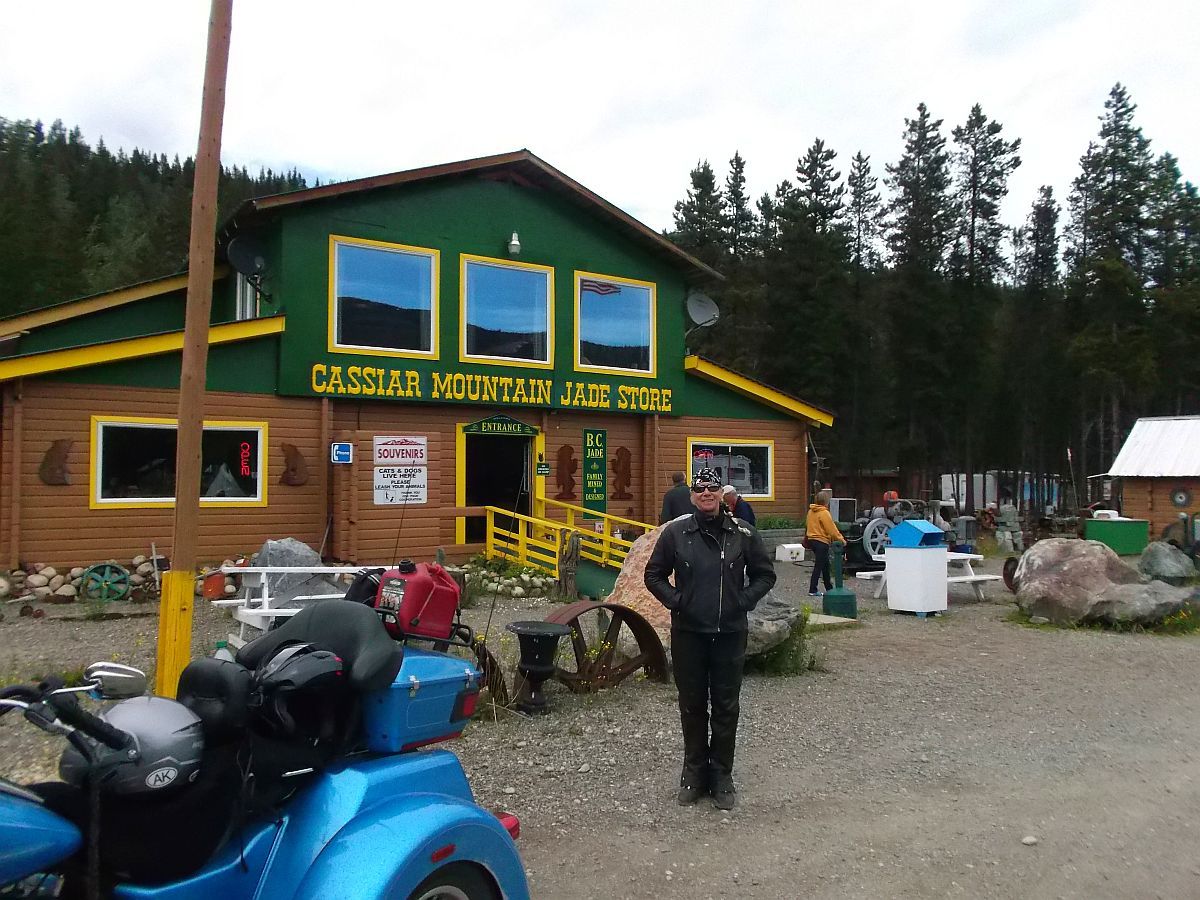 More in next post.