I got the Sporty done at 11pm on Thursday nite.
Full Ride Report on the Hot Bike Power Tour- Pic Heavy
---
I got the Sporty done at 11pm on Thursday nite. Left out on the Hot Bike Power Tour the next day.
I figured it was going to be a little over 2000 miles, ended up being 2143 miles in 7 days of riding.
First day was to Little Rock, AR
Here's a pic leaving out. Only 250 miles into the 500 mile break-in.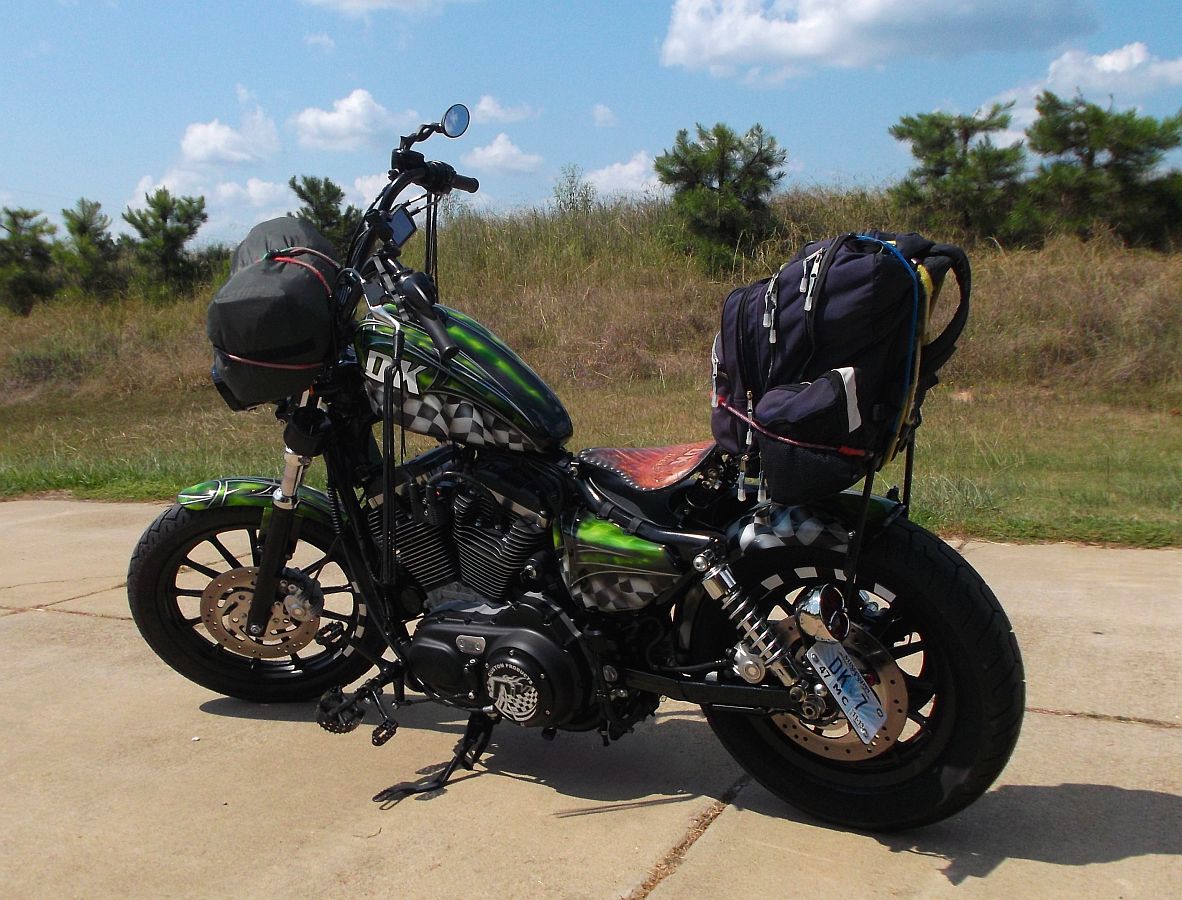 First gas stop was a bit west of West Memphis, AR. Everything seems to be holding together.
I did make two concessions for the long days of riding. I replaced the struts with the stock shocks and also used my Airhawk on the seat.
This gave me 1.5" rear shock travel and 1" seat shock travel, plus the Airhawk. It was comfortable for my 55 year old bones, except on the big bumps, and even then it was not too bad.
The first check in was at Landers HD in Little Rock. I was pre-registered, so I picked up my package, got my card punched showing I was at the beginning leg.
On the way over I had noticed that when I went over 20% throttle in 4th or 5th the clutch was slipping. I was pretty sure I had adjusted it properly, but I went ahead and had them check...yep it was dead-on, just not strong enough for the 1250 conversion...and they did not have a heavier spring or clutch.
Lots of folks arrived Friday like myself. The first leg did not leave until Sunday, so on Saturday I looked around town a bit, picked up some oil and found a corner of a parking lot. Changed the oil and cleaned the oil filter. No pics, did not think about it...it was 95* and 90& humidity...just wanted to get it done.
Oh, I also met all the editors and writers of Hot Bike Magazine and Baggers Magazine and dropped off some DK Custom parts that were given away during the Tour.
Sunday morning at 7:45 everyone gathered up at the meeting point to leave for the first leg.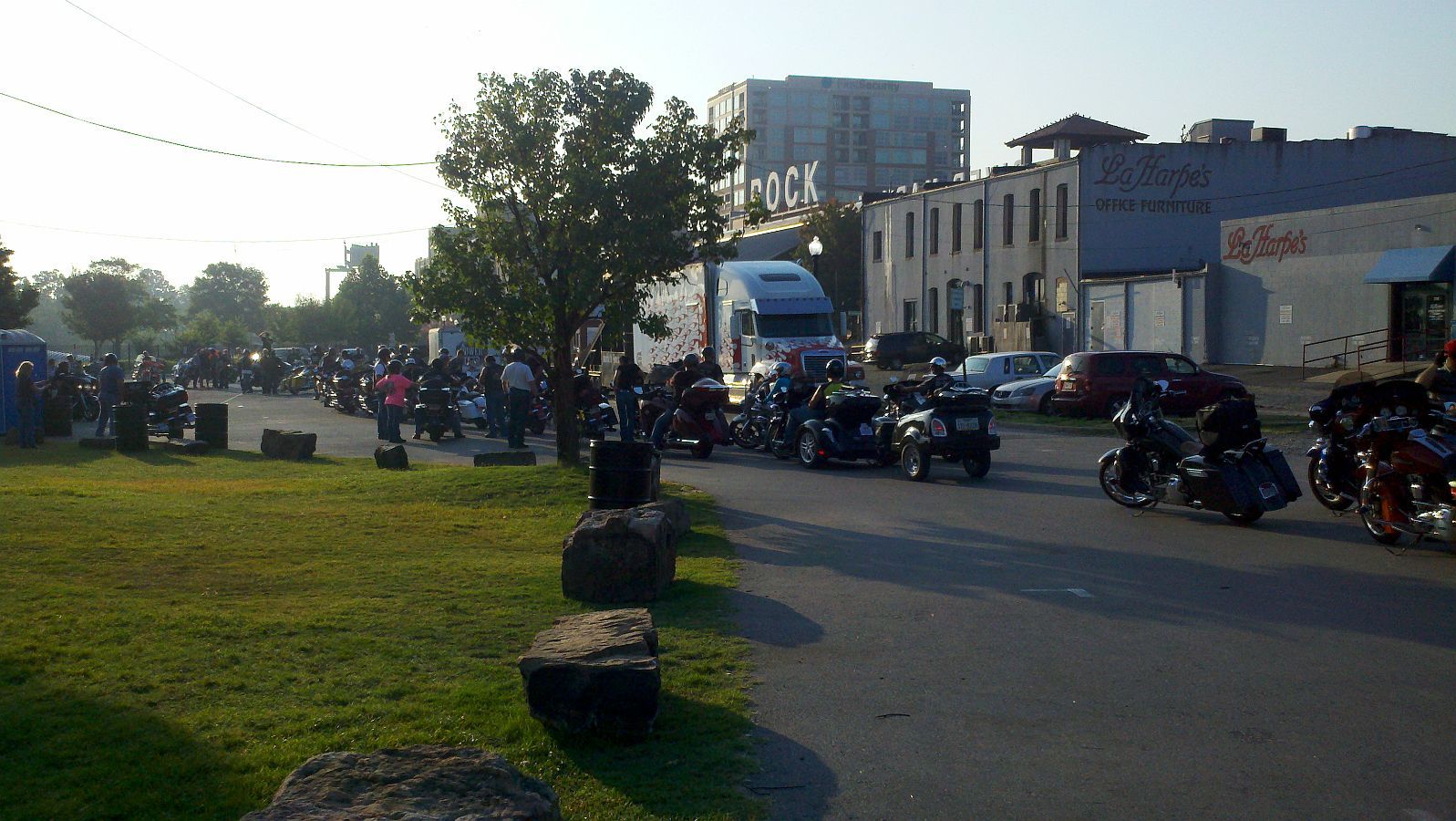 This first morning, and the last morning were the only times when pretty much everyone was together at the same time.
It was not required to leave together, or to travel the suggested route. Only requirement was to check in each day at the new city and get your card punched by 6pm.
The gold bike is an 89 FLH owned by John Zamora, editor of Hot Bike Magazine. It had only 30 miles on the rebuilt engine when we left Little Rock.
This first day I opted to Not ride the suggested "scenic" route...it went thru a lot of roads I ride regularly, and also some pretty straight, flat parts of the delta.
Instead I ran up the interstate to the next city, Jackson, TN. Here's a pic at a gas station a bit northeast of Memphis, TN.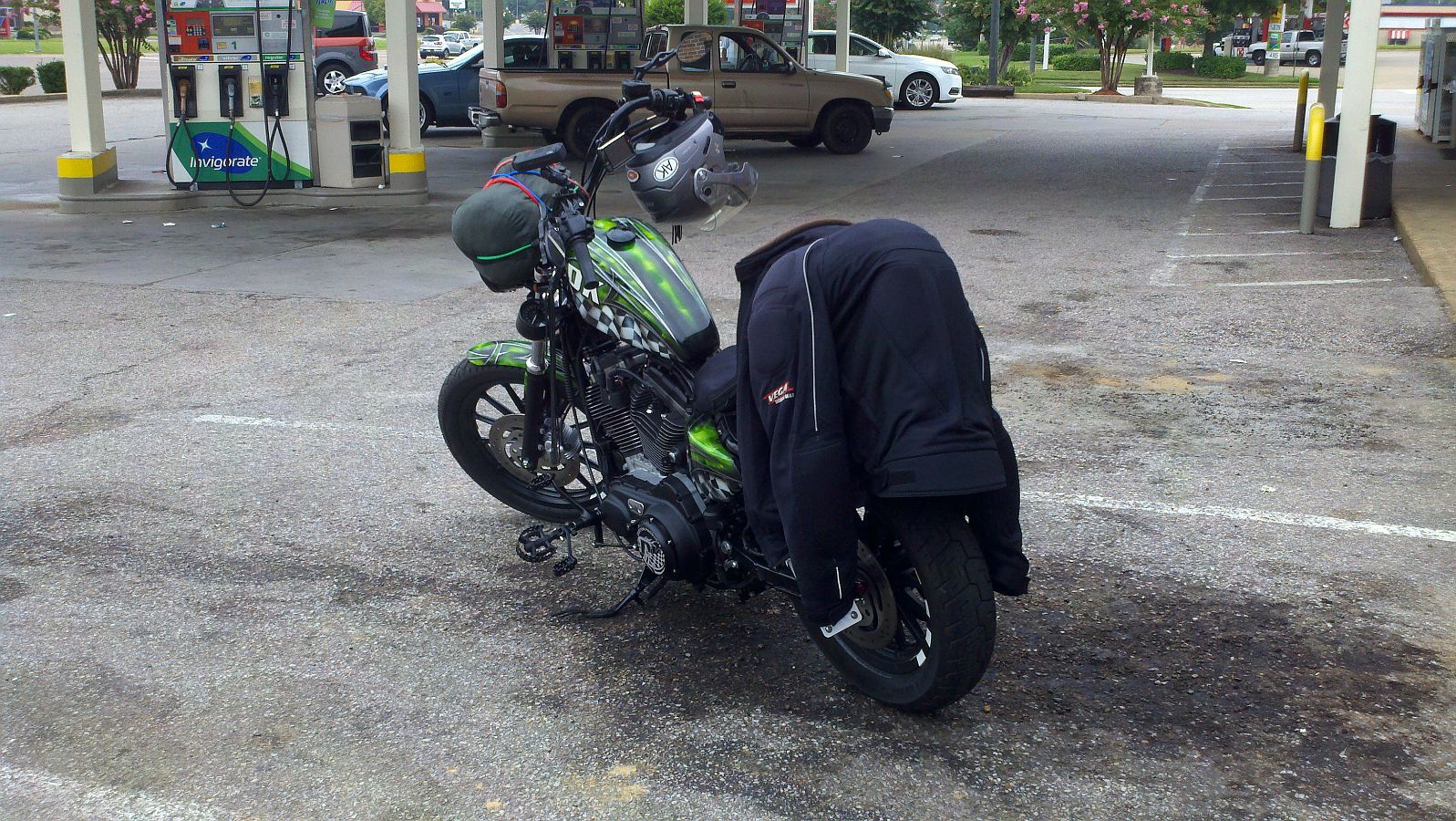 An hour later I was at Bumpus HD in Jackson. Got my card punched, looked around a bit.
Lot is starting to fill up with local bikes, and riders on the Power Tour.
I headed over to the motel and got checked in, then back to Bumpus HD. There were a LOT of baggers.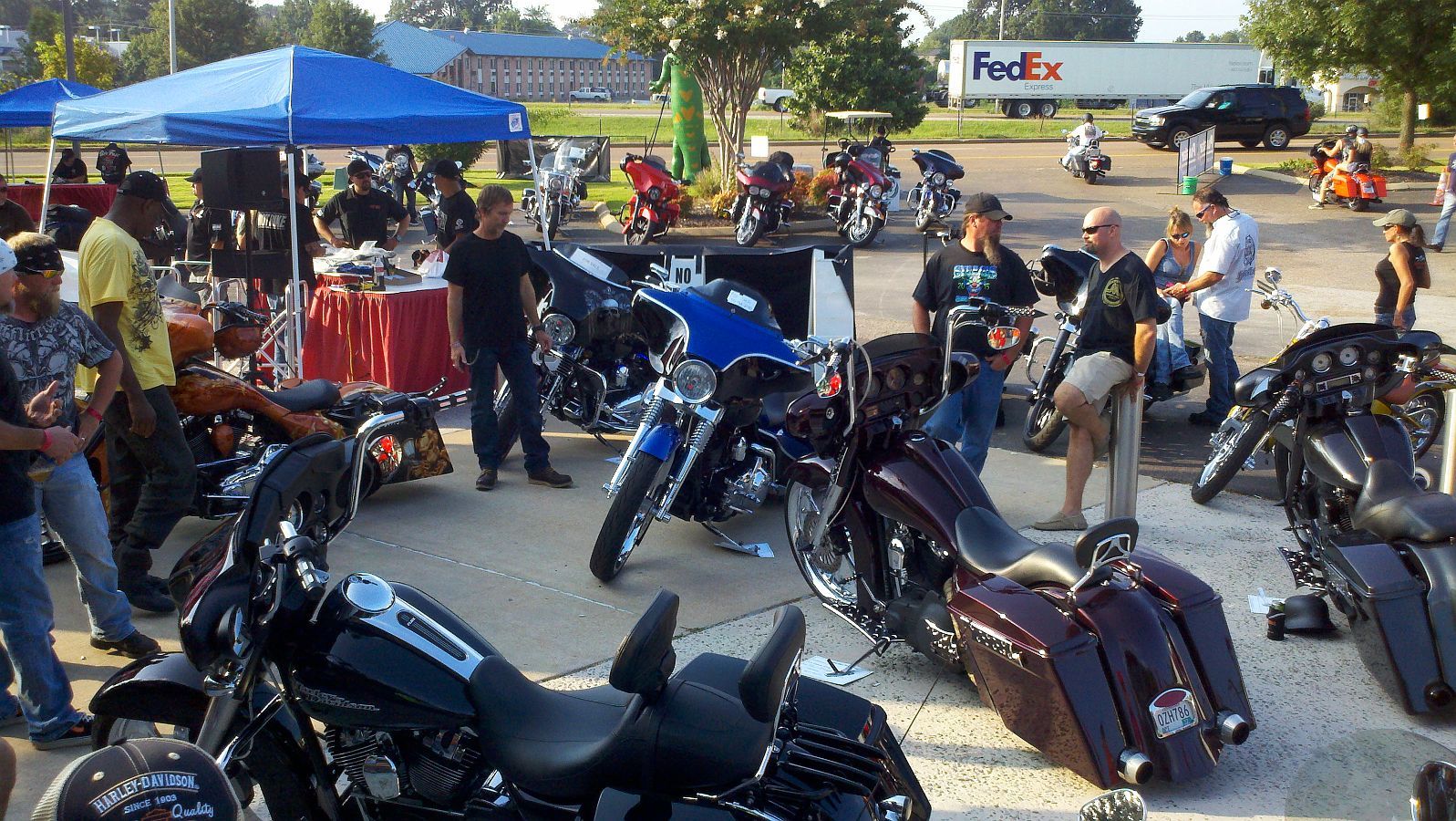 More in next post.