Interview with Dan W.
NAME:
Dan W.
BIKE YEAR & MODEL:
2020 Street Glide Trike Conversion
LOCATION:
Missouri, USA
Describe yourself in 3 words:
Fun Lovin Guy
How long have you been riding motorcycles?
10 years early in life, and now for the last 8 or so
What do you ride?
Street Glide w/trike conversion
What was your first bike?
50cc Honda trail bike
What is your favorite bike?
HD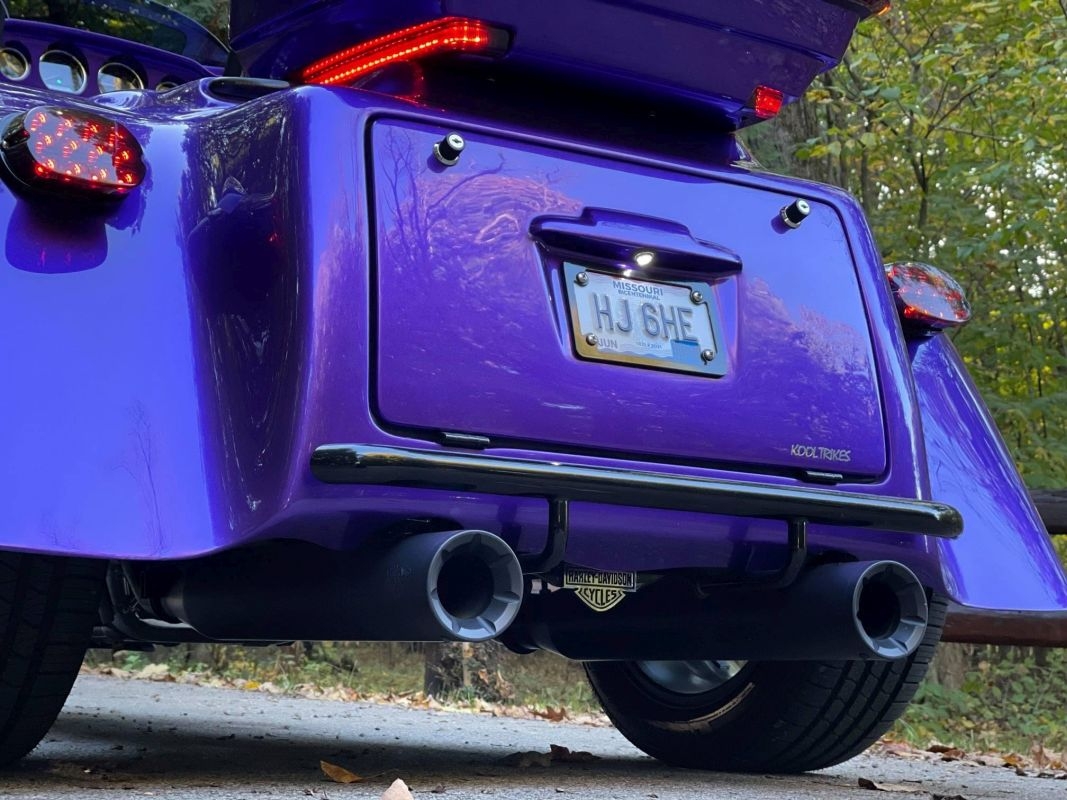 Have you named your motorcycle?
no
You have quite a customized Trike. What did it start life as?
Give us some details on what you did to get it to where it is.
2020 Street Glide Special with:
Kool Trikes conversion with Wilwood brakes
HHI fat front tire kit
DK Customs oil filter relocate
DK Custom cooling deflector wings
DK Custom gas tank lift
DK Custom transformer EBS
DK Custom 828 air cleaner and cover
V&H headers and eliminator mufflers
Custom Dynamics lighting
KonTour seat
Dirty bird chin spoiler
Wild 1's Bagger Apes
Hog Tunes sound
...Many other small things.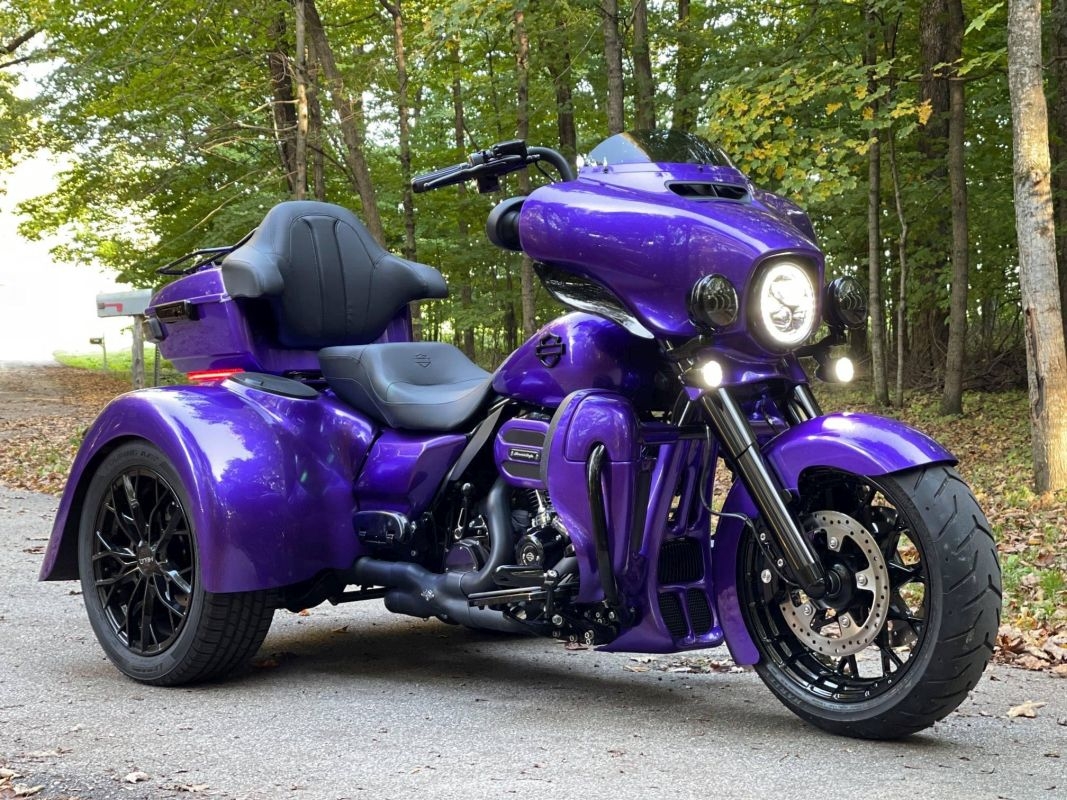 Do you get to ride a lot? (if not, why?)
Every chance I can, wish it was more but gotta work before play! "A lot" has varying connotations!
What do you see in the future for the motorcycle industry in general?
My initial thought is it depends on people in vehicles and their lack of attention, they're liable to kill us all. But we as bikers need to pay close attention, sometimes more than we should have to, but its our lives on the line.
What is your greatest life achievement so far?
Damn, that's a hard one, First would be my wife, second is 2 great children and 3rd is 2 grandchildren. Sounds like I'm bragging but reaching the point in life I owe no one anything is, a point of pride for me personally.
What has been your biggest regret to date?
Probably not riding in my middle years but I wanted to protect my greatest achievements so chose to hang it up for a while, so I was sure to provide for them.
What or who inspires you?
That is a multi-faceted question. My family – mother, wife, and some days my children. My masonic brothers.
Music also inspires me a lot!!! I always listen to music while riding or driving. The lyrics hit me and make me think about all situations in mine and other peoples lives.
How would you describe the motorcycle community in your area?
Laid back fun people.
How has your life changed from motorcycles?
Friends, and going to and seeing things I'd never see or go to in a car, seems were always in a hurry unless were on the scooter.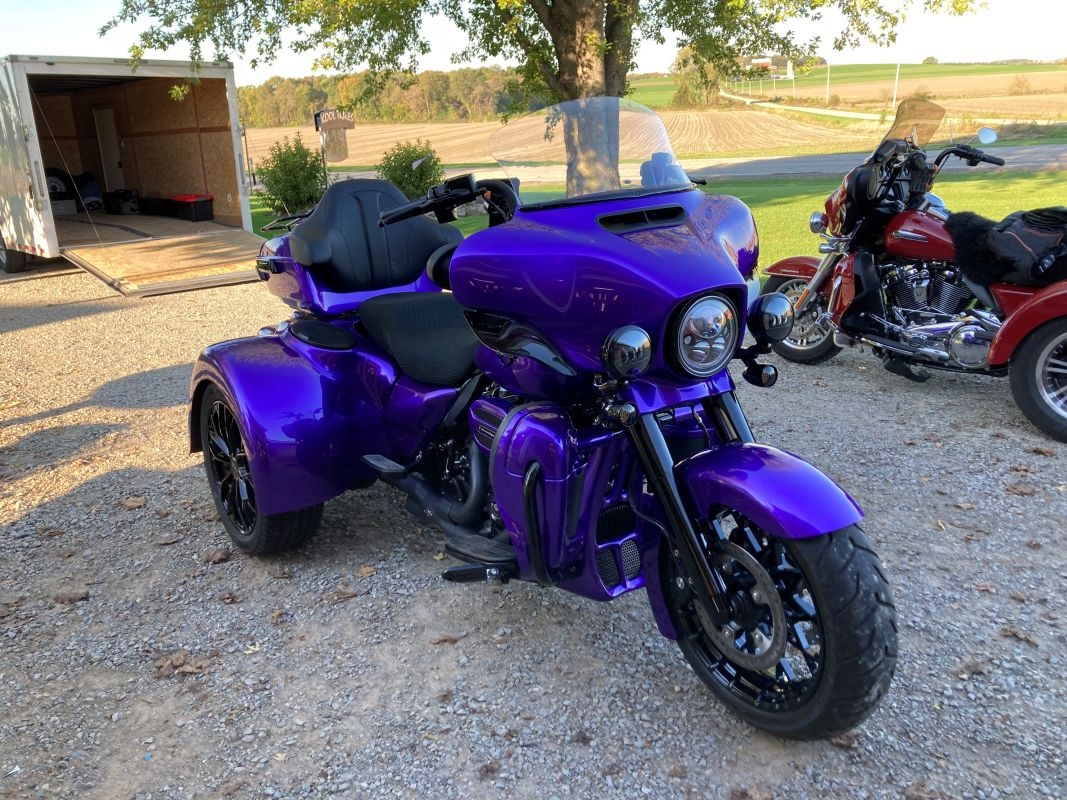 Where/what is your dream motorcycle adventure?
Riding the Swiss alps.
What's your first memory connected to a motorcycle?
Christmas morning 1967
What is your best memory ever regarding Motorcycles?
Getting out first tri-glide and the look on my wife's face when we got it home and climbed off after her first ride!
Worst?
Seeing people, I love hurt in an accident while riding
What do you like about riding a motorcycle?
Solitude, comradery with other riders
How many miles have you put on your bike in the last year?
5000 or so
Favorite road you've ridden?
Needles highway
Do you prefer riding by yourself or in a group?
HaHa, depends on who!!!
How would you describe your riding style?
Kinda aggressive – speed wise on a winding road but usually laid back
Why do you ride?
Why not???
Do you have any advice for others that are thinking about getting a bike and learning to ride?
Do it, do not be afraid to ask questions, you may get a bit of friendly flack but ask! Knowledge is important.
5 things you can't live without?
Water, food, my family and friends but there is a hell of lot more than 5 of them!
Any last words?
Be safe and have fun