Starting to roll on this project again.
Tins arrived back from Time Warp today. Unwrapped them, took some pics, and set them aside. I am leaving in 30 hours for a road trip and the Sporty is going to have to wait until I return.

I am extremely pleased with how they turned out.
If you are looking for a Custom Paint Job, I highly recommend Adam at http://timewarpcustompaint.com/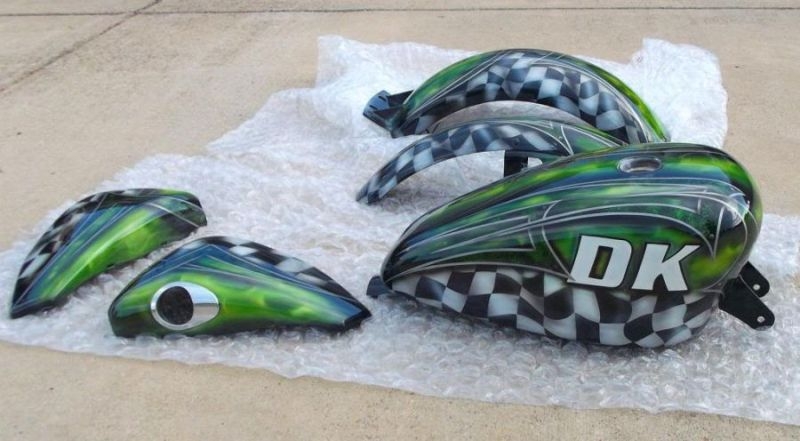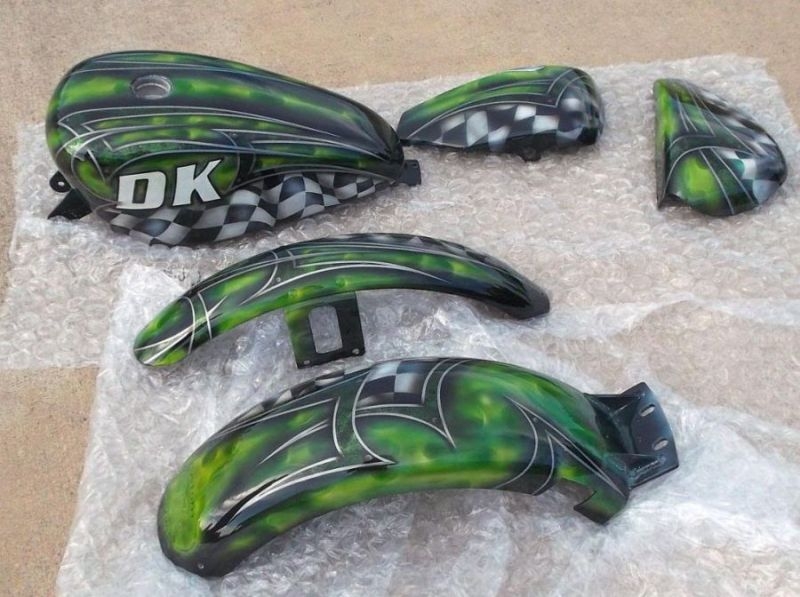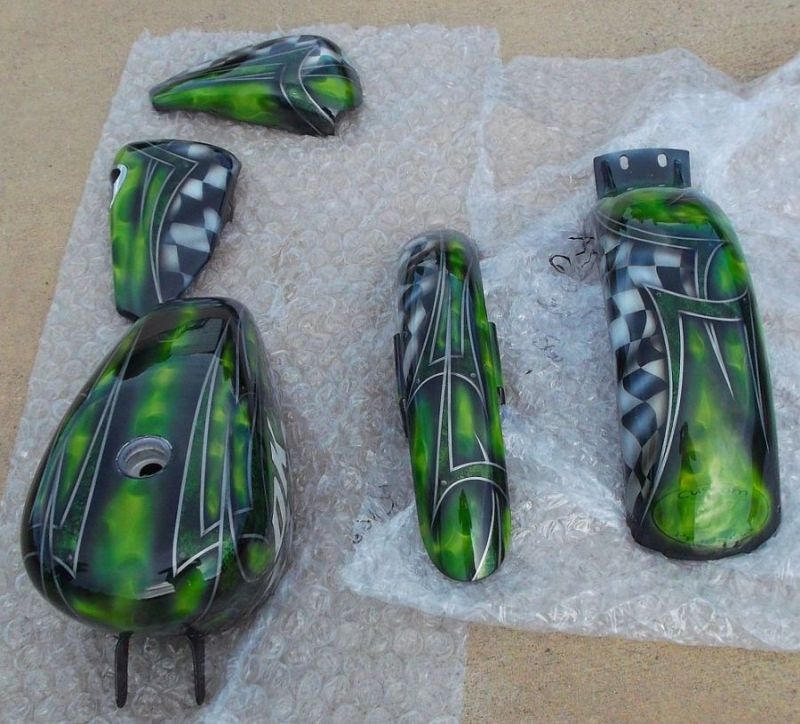 Rocker covers were the plain aluminum that easily stains. Black now.

This is high heat primer and then high heat paint (Dupli-Color low gloss black)





Picked up the wheels, brake lever and rear pulley from powdercoat.




Forgot to get this powdered, taking it by there tomorrow.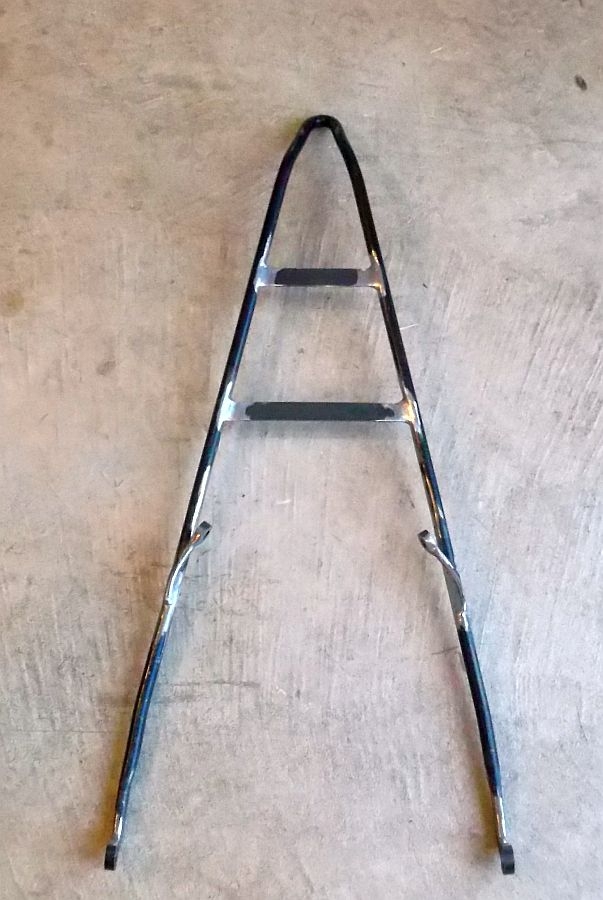 Almost finished with the NRHS 1250 conversion.

Front cyl on-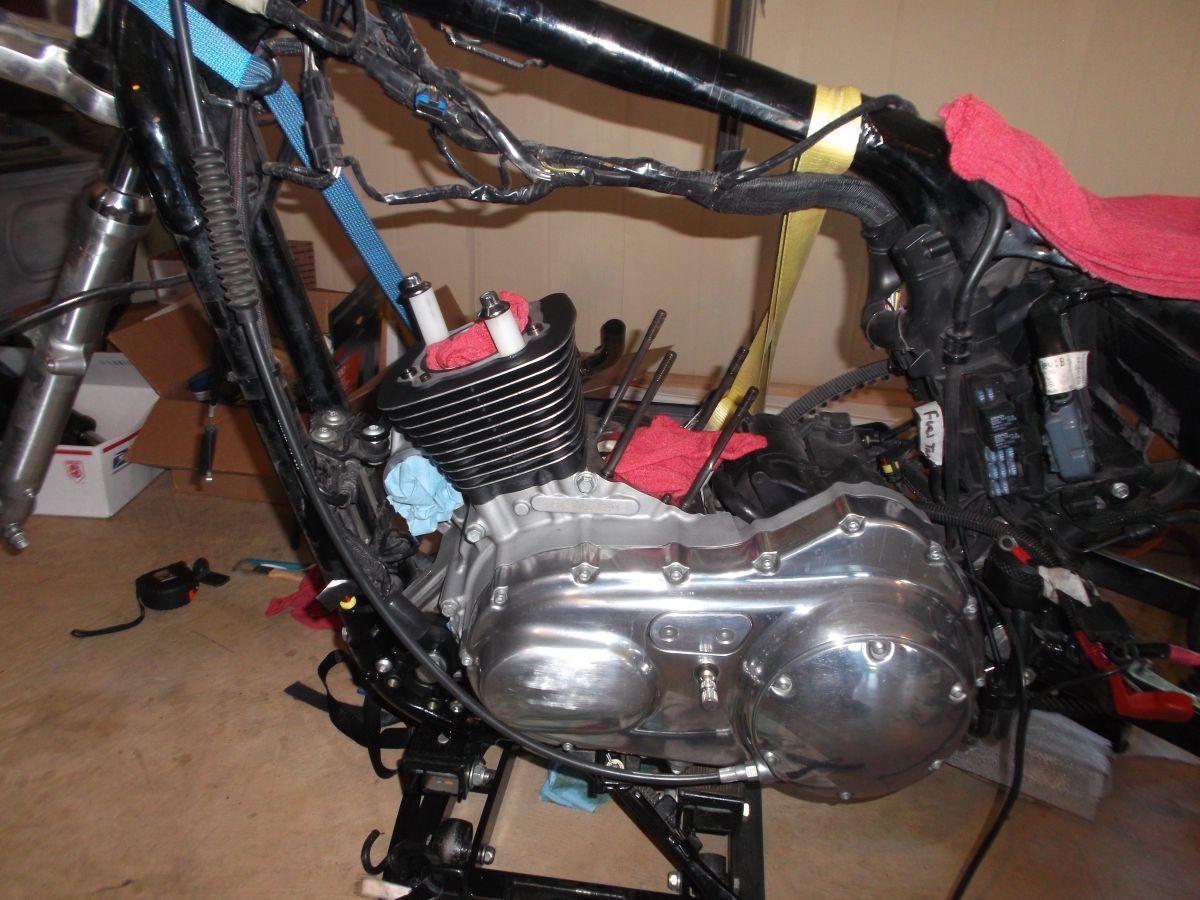 Ever wonder why each bike performs a bit differently?

This is a pic of the intake on one of my factory heads. That is a pretty significant casting anomaly.





A little dremel work got rid of it.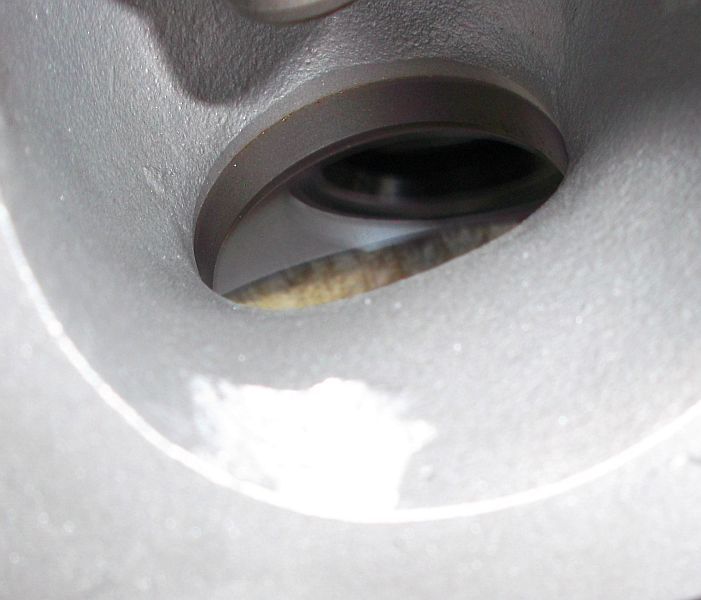 This is the stock head, however, I disassembled them and had them powdered, and then I polished the fins to match the cylinder.

I really like that look, but will probably never do it again. lol

Also, if you ever get you heads powdered, remember to clean out the threads and all the oil passages of any debris that may be in there from the powder prep work.

Reused the valves, springs, and keepers. The valves and valve seats were in good condition, but I lapped them anyway.




Ready to install wrist pin in rear cylinder.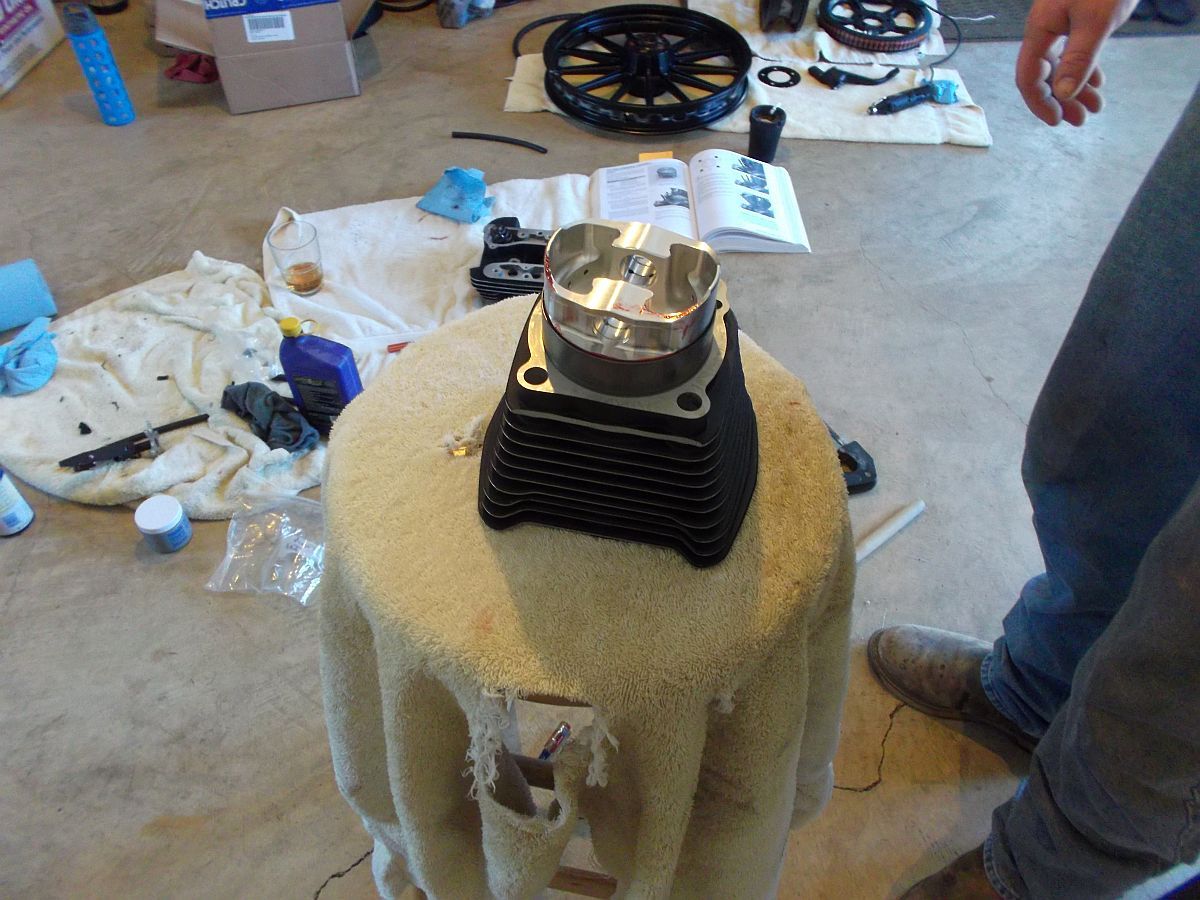 This is where I stopped. Will finish up tomorrow.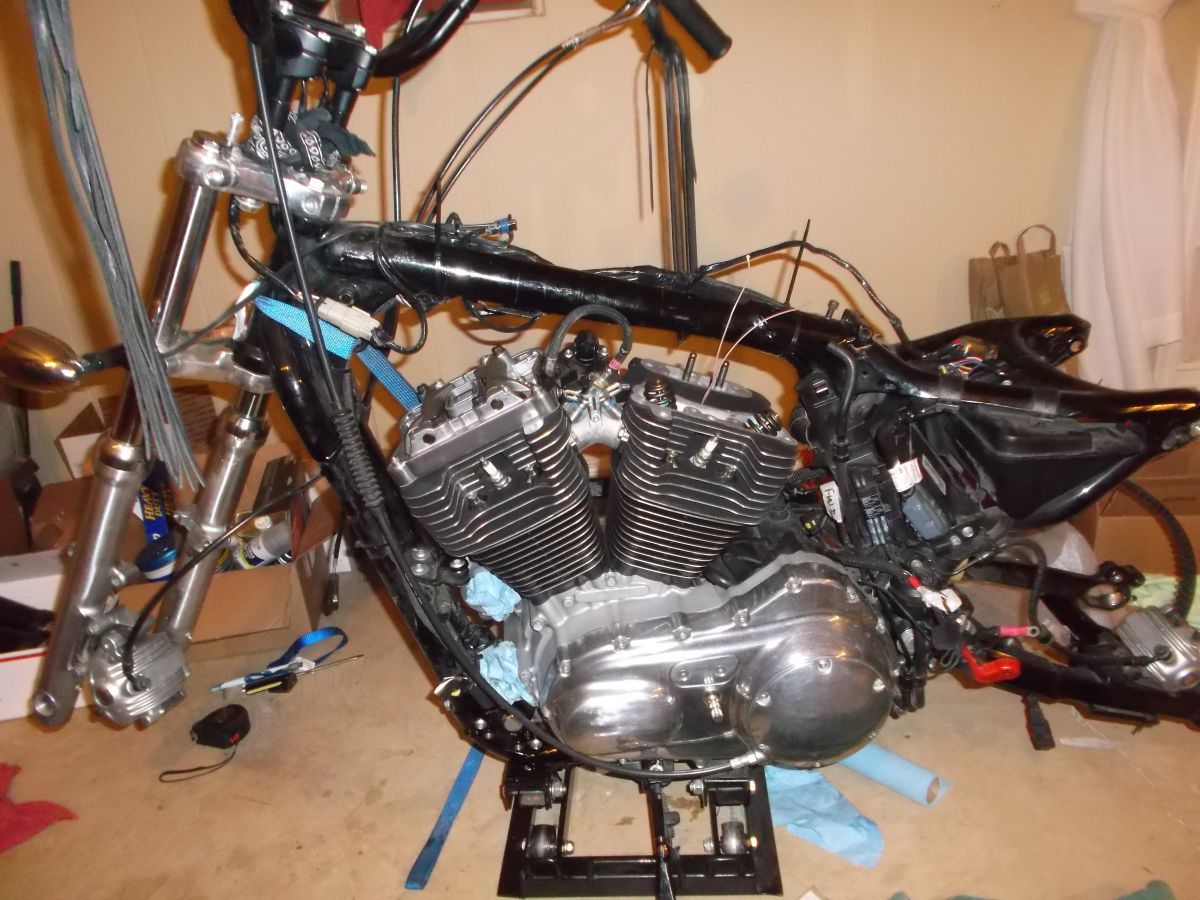 My umbrella valves were working fine, however, since I am in here anyway I ordered front and rear umbrella valves.

I made a rookie mistake...I trusted the dealer, and did not notice until just now that they gave me two FRONT umbrella valves.

They do not have any in stock. Will check with another dealer and see if they have them. If not, I will swap the filter from the new one and reinstall the original rear one.




Finished up the NRHS 1250 conversion yesterday.





Cleaned and scuffed up the primary cover, lower forks, cam chest cover and front pulley.

Will be painting them tomorrow.

Then doing all the wiring after that.

Then I will be able to do my heat cycles on the new top end.
So with the NRHS conversion done, today I got the paint done.

The surfaces being painted were cleaned, scotchbrited, cleaned again. Then taped up and cleaned again, and then a tack cloth used.

Always in the past I have used tape and paper to cover the parts not being painted. This time I used tin foil. Worked MUCH easier.

I did cover the top end with paper under the foil to keep it from marring the fresh powder.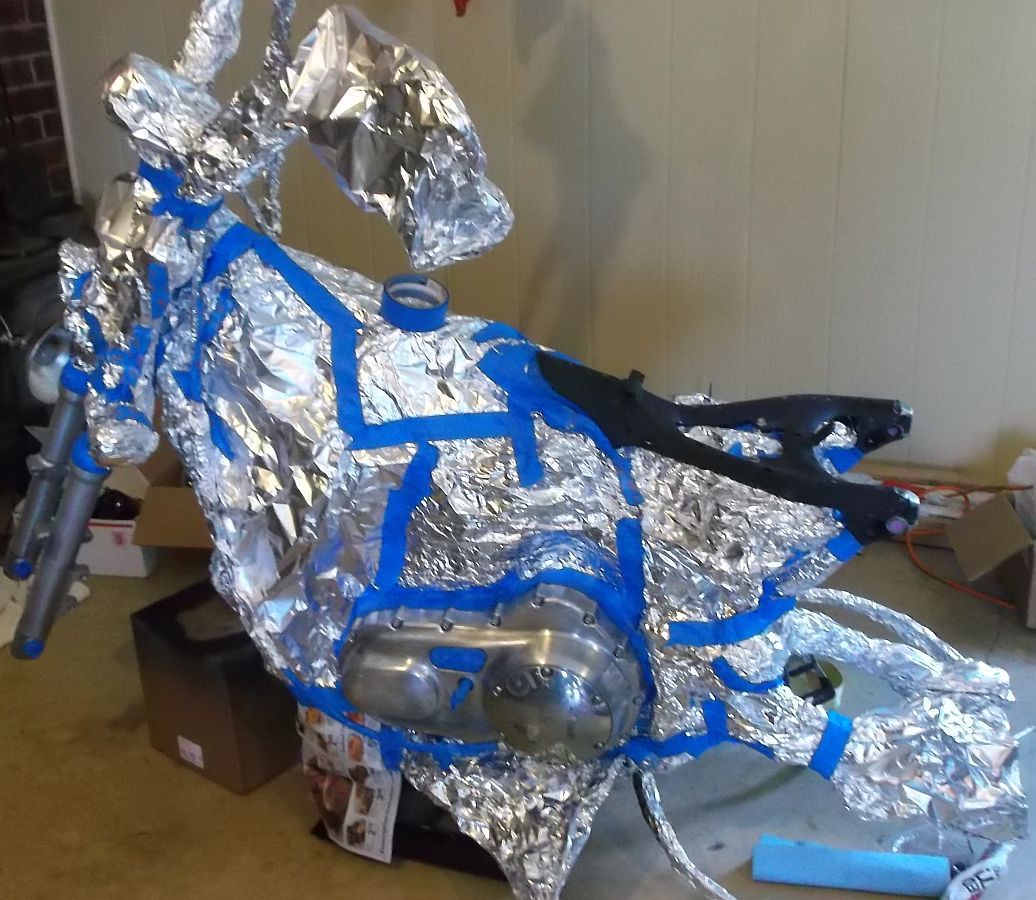 The forks, frame and pulley were primered with normal primer. The two engine cases with high heat primer.





Forks got low gloss black, frame got high gloss black, pulley got flaked silver, and cases got high heat low gloss black.

The Derby cover is being replaced with one already engraved for us by Mark.

The pulley shaft and retainer will be painted black.