Today I Am Taking a Break...
So today I am taking a break from posting pics to answer a couple of questions that I have had.

1. What mods did I make to the bike for this trip, and how have they worked out.


In 2012 we took a 11,000 mile trip through 16 States and 1 Canadian Province. There were a few things during that trip that I knew I wanted to change prior to the next big trip.


A. Get the heat under better control.

Last year we spent some time in traffic and the EITMS would kick in.

Also, on long runs interstate runs at 75-85 mph, in high ambient temps (90+*), the oil temp would start creeping above 230*, which is not acceptable to me.

I did two things to address this-

Traded out the PCV for a Power Vision

Installed the CVS fan from Wards Parts Werks


The Power Vision is an amazing tool that has worked well for me. Before leaving I did a bunch of auto-tuning (with the narrow band sensors) and got it running better than ever, and better MPG too. This was in 80* temps.

That is the map I used the entire time. However, as noted in an earlier post, I was able to use the "Tweak" tuning and the realtime MPG and Throttle position readings to get me better MPG when we needed to make it to a gas station that actually had gas. lol

ALSO, when we got into some warm temps, I was able to monitor the engine temp on the PV and use the "Tweak" tuning to richen it up a bit so as not to run hotter than I wanted.

Lots of other benefits to the PV. Very pleased with it.


The other thing I did was install the Ward Parts Werks CVS fans. I have known about these for awhile. Just did not want to spend the money, plus the looks of them was not all that appealing to me.

Well, I bit the bullet and installed it. WOW! The fans direct air right over the hottest part of the engine (right over the spark plugs). Works better than a parade fan that pushes the majority of the air between the cylinders, plus I can keep my cowbell in place.

EITMS has not kick in one time. Engine temp, as displayed on the PV, is an average of 20* cooler while running down the road. At an idle, just sitting, the engine temp will actually drop and stabilize around 210-220.

Very happy with the CVS.






B. Prepped for the gravel and dust that turns to cement when wet.


Took a piece of plastic (from an old saddle-bag liner) and make a front fender mud flap. Only 1.5", but that is all it took to keep mud & rocks off the oil cooler. It also never dragged the ground.

Mud Guard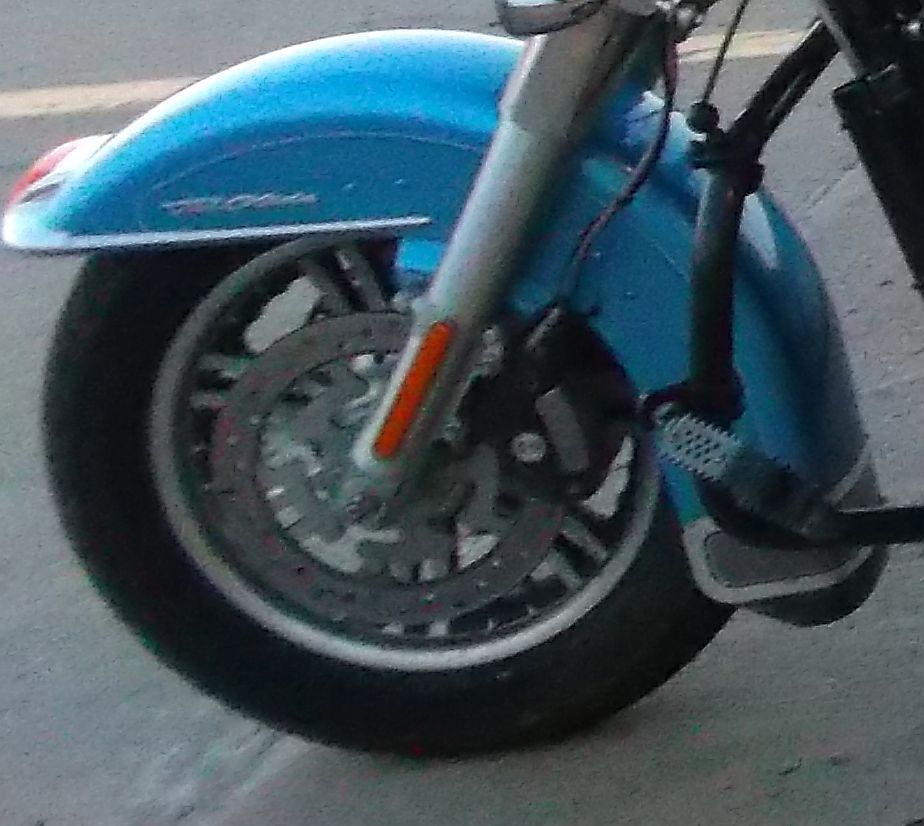 Also, I normally run my Outlaw Air Cleaner with an exposed element. I keep a rain sock with me that I use if I'm in heavy rain for extended periods of time.

However, after reading how the dust turns to a cement like material when it gets wet, I changed my cover from a Cyclone style to a Bobber style. Has worked great!

Cyclone Style Cover



Bobber Style Cover





C. Prepare for the cold up north.


I normally run an 8" recurve windshield during the summer and a TALL Flat-top recurve windshield during the winter.

Since we were going to be doing some of our traveling in some pretty warm weather, and other in some pretty cold, I compromised and put the stock windshield back on. This gave us more air in the hot weather than my flat-top, and better protection in the cold weather than my 8" recurve.

A good compromise.


We already have been using gerbing jackets for a couple years now. We have one power port for a dual controller for the two jackets. Well, we thought it would be cold enough that we would want heated gloves also. So we added the gerbing gloves to our gear, and added a second power port for another dual controller.

Turns out that we wore the gerbing gloves quite a bit, but we never had to actually put any power to them.



C. More electricity!


On our last long trip we took I would spend a LOT of time each night making sure all the batteries were charged.

2 cell phones
MP3 Player
2 camera batteries
3 video camera batteries

Even though all were topped off every morning, sometimes we would run out of camera or video battery before the end of riding.

So I picked up a power-point at wally world and installed it in the tour-pak. Ran a line directly to the battery (with an in-line fuse). With that I added a 4 port USB hub so that we could be charging going down the road.

This is much better, I no longer need to be switching out batteries in the chargers in the middle of the night. Nor do we run out of charge during the days when Mary is snapping hundred of pics.




D. Highway peg heel rests.


Adding heel rests to the highway pegs added several extra positions to how I can stretch out. Huge improvement!


There are lots of other mods to the bike, but I'm pretty sure these were all that we did in prep for this trip.


Next post will be answering the other question we have had many times....What all did we pack? Will get to that one tomorrow.


I have been asked a bunch of times, what all did we pack, how often do we do laundry, etc.

So here goes. We planned for a 45 day trip. We also knew that we would be in both HOT & COLD temps.

Regarding the temps. We cheated a little.

We wore our armoured mesh jackets until we hit Missoula, MT. We shipped our leather jackets and Marys leather chaps to Missoula (where our son and granddaughter are). We left the mesh with them and took the leather up into Canada and Alaska and back. Stop by Missoula on the way home for a short visit, swap the leather for the mesh. Pack up the leather and ship it home.


Almost everything else is in the picture below. Sorry it's fuzzy, I took it, not Mary. lol

We use stuff sacks for a few reasons.

* I can cram them in the trunk, taking up all the space available, that would just not be possible with hard cased containers

* We used magic marker on the stuff sacks, identifying what generally is in each one. That way we only have to open the one we want, instead of sorting thru a large bag to find one little thing.

* There is a lot of room in the trunk in the upper rear corners. Amazing how much you can get in them when you have such a flexible bag.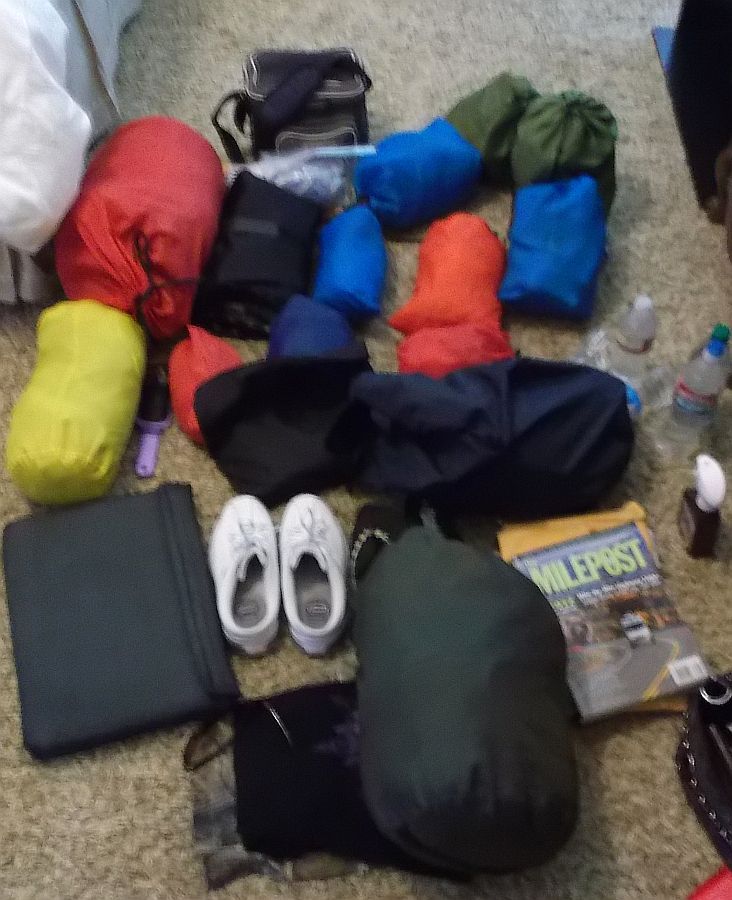 I'm just going to start at the top of the picture and work down.

Small soft cooler. This has one of those hard blue ice things in it that you freeze every night and it stays cold throughout the day. We keep whatever foods that could spoil in there. (sliced turkey, cheese, sandwiches, etc. It stays bungee'd to the rack on the Tour-Pak, along with the 2 gallon gas can.

Upper left-Large Red Stuff Sack- This has a couple of pillows in it and the power cord for the laptop. Yes, we took pillows!
Some motel pillows leave a lot to be desired. Gotta have a good nights rest for tomorrows ride. lol Also, if I'm not wearing them, my longjohns go in there.

To the right of that is a zip lock bag. That has the extra batteries and memory cards for the camera and video camera. It goes in the TP at the top for easy access on the road.

To the right of that is a Blue Stuff Sack- This has some of Marys clothes. 2 under-armor type tank tops, 2 cotton tank tops, 1 dress shirt.

To the right of that is a Green Stuff Sack- More Mary clothes. 1 pair of blue jeans. 2 pairs of thin silk/wool long underwear and a long sleeve shirt.

To the right of that is another Green Stuff Sack- More Mary Clothes. 5 sets of underwear, 4 warm weather pairs of socks, 1 cold weather pair of socks, bathing suit.


Moving back to the left, directly to the right of the large red stuff sack is a black overnight bag.

It rolls up to go in the trunk, and unrolls and hangs up in the motel. Picture below.

It has all our tolietries, first aid kit, shampoo, pretty much everything we use on a daily basis at home, plus some.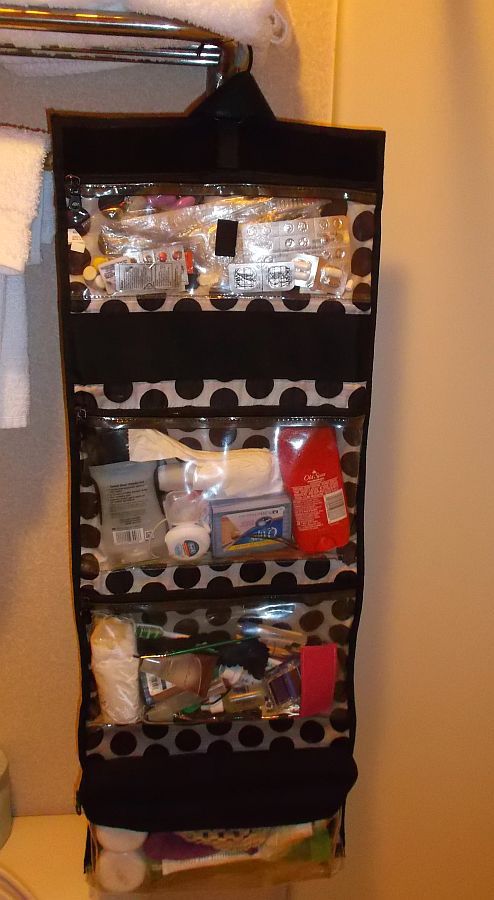 To the right of that is a smaller Blue Stuff Sack- This has some of Marys clothes. 2 pairs of shorts, 1 skirt, and a Perri Ink Flag T-shirt.

To the right of that is a Medium Size Red Stuff Sack- This has non perishable food in it. Bread, nuts, jerky, etc.

To the right of that is a Blue Stuff Sack- this is all our vitamin bottles. Yeah, we take a lot of vitamins.
Since the vitamin companies generally only fill a bottle around half full, and then lots of cotton, before we left we put 2-3 bottles worth in one bottle to save space. Even so, we have had to stop and resupply a couple of times.

On the left is a Yellow Stuff Sack- This is my clothes bag. Pair of blue jeans, 2 pairs of Muck Boot socks, two pair of under-armor type shorts, two under-armor type shirts, pair of short pants and 1 DK Custom cotton shirt with the two portable hard drives wrapped in it.

Hairbrush goes in the TP

To the right of that is a small Red Stuff Sack- this has all my e-cig stuff in it

To the right of that is a Medium Dark Blue Stuff Sack- this has more food stuff in it, can opener, corkscrew, gum, coffee, tea-bags.

To the right of that is a small Red Stuff Sack- this has all the computer wires and battery charges in it...specifically, 8 USB cables, 4 chargers and a mouse for the laptop.

That sort of black looking bag has our passports, receipts, etc. in it. It goes in the TP.

Then there is the large Dark Blue Stuff Sack that does not look full. It has two collapsible fishing poles in it, and all the fishing gear. Sometimes it is in the TP, sometimes it is bungee'd to the rack with the cooler...all depending on what room we have in the TP.

On the left is the gray laptop computer case. It goes in the TP on the bottom.

Then Marys tennis shoes, and we both have a pair of flip-flops.

Then the Milepost book, a regular mapbook, and print-outs of different routes are in the manila envelope.

At the very bottom left is my camo long sleeve shirt and Marys Fireweed long sleeve shirt. Depending on the weather, they are either in the TP or we're wearing them.

Then the Big Black Stuff Sack- This has our cold weather gear:
Scarves, wool neck wraps, quilted flannel shirt, chill blocker gloves and socks. We have not needed this bag. I've worn the flannel shirt a couple of times. Nothing else has been used. Oh, Marys leather chaps go in here when she is not wearing them.

The gerbing jackets have done a great job.


Not pictured/listed above:

What we wear each day, which is in addition to what is listed above.

Also, the following is in the Tour-Pak- Night glasses, CD's, bear spray, sunscreen spray, skin-so-soft, gerbing controllers, two flashlights, Marys brown hoodie, air shock pump, handiwipes. There are always 3-4 water bottles in the TP also.


Also, the following is in the trunk-

Tool bag, which is a overnight bag with two compartments. It is very heavy duty and works much better than the stuff sack I used for years. Marys VERY GOOD idea. Pictured below.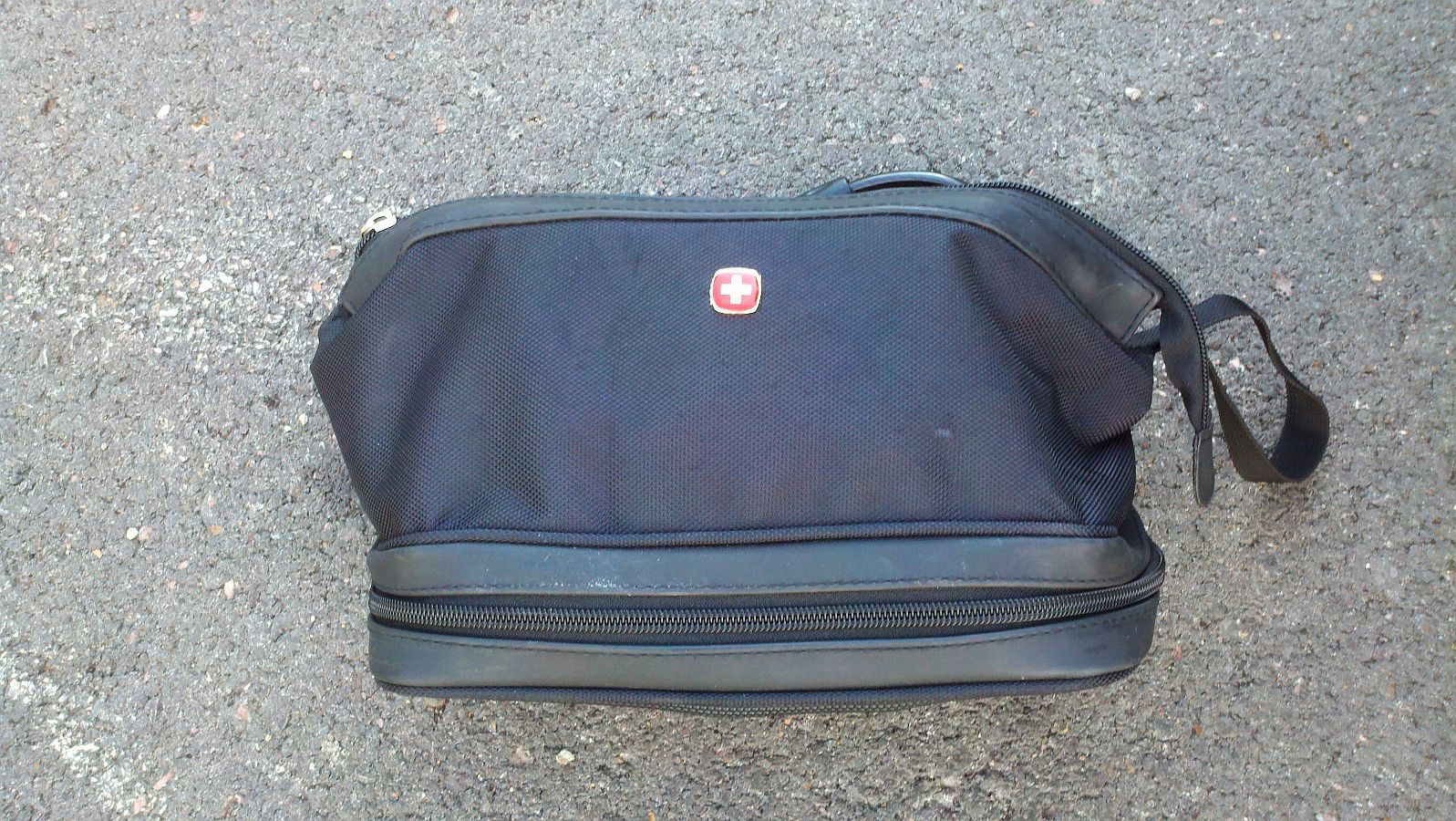 Mini air-compressor, set of sockets and torx, set of lyndal brake pads (front and rear), extra oil line, funnel, octane booster, two cable locks, couple of micro fiber towels, some blue shop towels, trash bag that we use to cover the sheepskin at night, and the soft lowers when not in use.


Also in the trunk are the rain suits when not being worn. These are Dry Bones suits from Pro Sport. They have been working very well for us for quite a few years.


As far as laundry, the muck boot socks and the under-armor shorts and shirts are easily washed in the motel and hung up to dry...they dry quickly. This is done every few days.

We have hit the laundry mat a few times for the jeans and cotton stuff, and Mary has also washed some that in bathtubs a few times. I think we have only been in two motels that had laundry facilities. That was nice.

Oh, we each have our warm weather light weight gloves and our gerbing gloves...so one pair or the other is always in the TP also.


The TP is relocated 2.5" back from stock and Mary has a pocket in the back of my backrest. She keeps the camera in there, sunscreen, water or coffee, tic-tacs, jerky, chap stick. Actually holds quite a bit.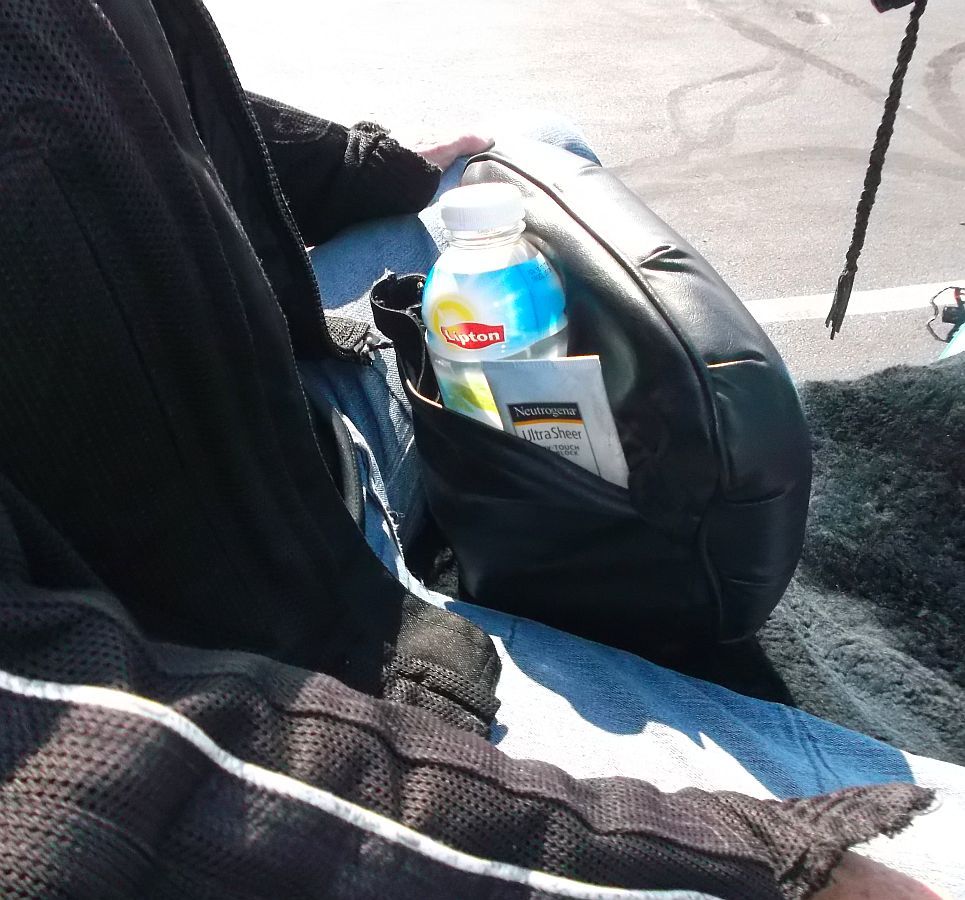 I think that about covers it.

If I think of anything else, I will add it in.