Home

/

Adjustable Passenger Pegs for Touring & Tri-Glide Harley
ADUSTABLE PASSENGER PEGS
FOR TOURING MODELS
Fits Most Touring & Trike Models 2010-Up*
FEATURES & SPECS:
Classic Styling - Ultimate in Passenger Comfort

Durable Chrome Finish w/ ISO Pegs

Adjust the peg arms easily, in any one of Three Positions

Feet, Toes or Calves can rest on the Cushioned Pegs


Works with stock HD Passenger Boards

Sold in Pairs


E-Z INSTALL- Comes w/ Step-by-Step instructions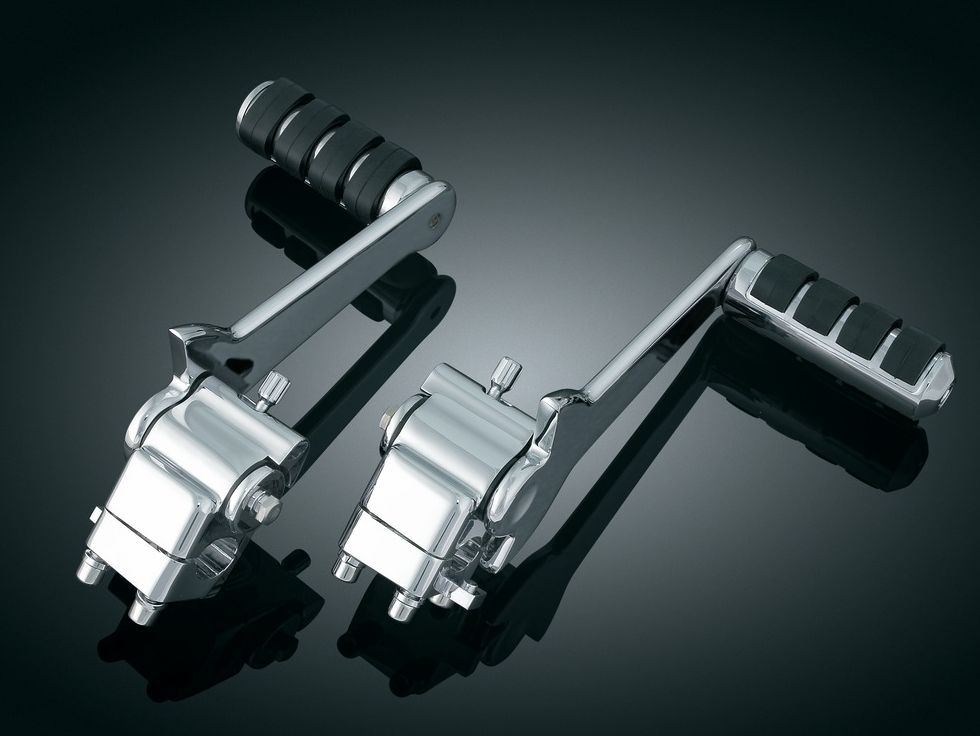 For the Rider who wants the Ultimate in Comfort & Style for their Passenger. These Adjustable Passenger Pegs work in conjunction with the passenger floor boards to give many different positions for the passenger to be comfortable, hour after hour!
Installation takes less than 30 minutes and does Not require removal of floorboards, nor do they interfere with floorboard operation.
Check out all the pictures above!
FITMENT:
2010-Up Electra Glides (including Ultra's)
2011-2013 Road Glide Ultras
2010-Up Road Kings
2010-Up Trikes (Tri-Glides, XXX, & Freewheelers, except CVO Tri Glide)
Also fits motorcycles equipped with H-D Accessory Board Mounts, P/N's 50378-07A/B, 
50379-07A/B & 53070-00A/B.
Does Not Fit the following exceptions- '10-'13 FLHTCUSE, '14-'15 FLHTKSE, '15 FLHTKL, '15 FLHTCUL,
 '11 FLTRUSE, '13-'14 FLHRSE 
If Mama's Happy, Everyone's Happy!!!
"I can put my feet in multiple positions so I don't get fatiqued on long rides. They make everything more comfortable." -Mary
Customer Reviews
Wife Loves the Pegs

Review by

Gorilla


Easy install, well made, a little expensive but worth it to please the wife. (Posted on 9/29/2023)

Greatest thing since coffee

Review by

UtAh Paul


These are the greatest thing for your passenger. They are easy to install and work fantastically. (Posted on 9/26/2023)

Happy Wife

Review by

Ivey


Easy install. Wife likes different positions so she can get feet and ankles away from heat and different legs positions. Great product. (Posted on 9/25/2023)

Love em

Review by

wimpy


Work out really good for long trips. Takes the pressure off of the lower back. (Posted on 8/1/2023)

Product is as advertised.

Review by

Keith


Wife loves the different positions that she can put her legs in. Helps with back fatigue and she can change them as we ride. She doesn't have to put her legs up on my legs to put herself in a different position. (Posted on 7/13/2023)

Wife loves these.

Review by

JB


Bought these for my wife. She is 5'3" and was never really comfortable on the back of our Tri Glide 2017. These pegs offer her more stability and less fatigue during riding. She also has less back pain due to multiple foot/leg postions. Happy wife, Happy husband. A must have accessory!! (Posted on 5/22/2023)

Awesome !!

Review by

Boatman


They fit and look GREAT !! Super well made and the wife loves them. She loves that she can put her feet up and that doing so makes her much more comfortable. (Posted on 10/11/2022)

Great Product

Review by

BouseBill


Happy Wife, Happy Life :) A great product for passenger comfort on the trike. Takes their thighs off the grab handles for a more pleasant ride. Works REALLY great for short people:) (Posted on 9/13/2022)

Great product

Review by

awesome


Ordered this for my wife's comfort. Was easy to install and my wife loves them. Happy wife happy life. (Posted on 8/2/2022)

Excellent Product

Review by

Dan


Bought these so that my wife could have different leg positions when we are on long rides. She loves them. (Posted on 7/12/2022)

Adjustable Passenger Pegs

Review by

Desperadobiker


Easy to install, just follow directions. Awesome product that allows my woman to keep her thighs off the passenger grab bars since she is on the shorter side. Also product looks good and don't take away the looks of my trike. Highly recommend if you ride with a passenger for their comfort. (Posted on 4/6/2022)

Great product for your passenger

Review by

Rob


I picked up these adjustable pegs for my 2018 tri glide because on long trips my brides legs where sitting on the grips. Saw these pegs on DK Customs and I must say they are well made. So easy to install, took only minutes and now the bride can lift her legs up off those grips for a better ride. I would highly recommend this product if you have passengers. Best thing when they aren't in use you can just put them all the way back and out of the way. Perfect. (Posted on 4/1/2022)

Great product

Review by

ericr_27030


Easy install, works and looks great. Would highly recommend. (Posted on 9/9/2021)

Awesome felt improvement

Review by

CAM


Quality product, heavy duty and nice styling. Riding partner is about 5'1" and is not the most comfortable due to not reaching the foot boards. More comfortable now with the adjustable pegs. Easily adjustable and lock in place. Nice (Posted on 4/23/2020)
Product Tags
Use spaces to separate tags. Use single quotes (') for phrases.