Home

/

Aluminum Outlaw V-Stack Intake Twin Cam Complete System
OUTLAW V-STACK
Natural Aluminum Finish
Velocity Stack
Air Intake
COMPLETE SYSTEM
Harley-Davidson
Dyna-Softail-Touring* 1999-UP
~Optional Screen~
~Optional Filter~
~Optional Rain Sock~

~Fits EFI & Carbureted~
MADE in The USA!
DK Custom Products

FEATURES & SPECS:
Stack is Cut from a Solid Aluminum Block

Natural Aluminum Finish

Your choice of a 1.5" Stack or a 3" Stack

Your Choice of External Breathers (NO oily air in engine)

Support Bracket - Powder Coat Black Finish

Optional Screen & Optional Screen with Filter
Optional Rain Sock

Moutning Bolts & Gasket Included

E-Z Install

Made in The USA!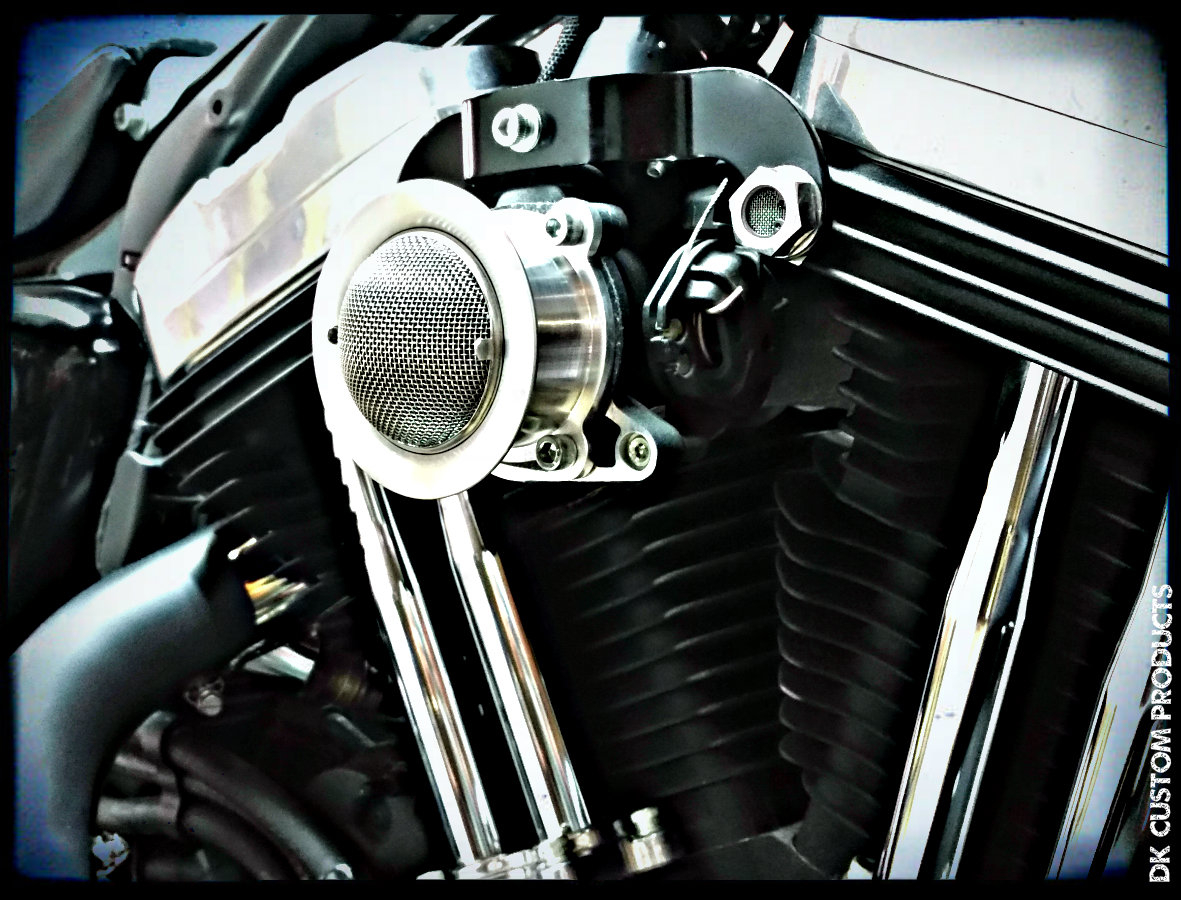 Please see All the Photo's above
This intake is as Free Flowing as you can get! You have a Choice of a 1.5" V-Stack or a 3" V-Stack.
There is an Optional Screen that fits into the end of the stack, or for everyday riding, Choose the Optional Screen with a Foam Filter in it!
The screen and screen filter are removable for cleaning, or for running naked.
There is also an Optional Rain Sock for running in heavy rain.
This System is TURN-KEY. It comes with everything you need to replace the restrictive stock air cleaner.

Included: Your Choice of Brass, Black or Polished Aluminum Breathers. Or you can choose one of the Hose & Filter Breather Systems for venting- The Traditional or the Discrete. To see full details on ALL these choices Click HERE.
When choosing between the 6 Breather systems, it is helpful to know-
1. All three Breather Bolt function the same, it is just a matter of which color you prefer.
2. All three of the Hose and Filter Breathers function the same with the Outlaw Air Cleaners, it is a matter of which system you like the looks of the best.
These are also available in Black Powdered Steel, Raw Steel, or Polished Aluminum. Click HERE to see them.
E-Z Installation
Fits ALL Dyna, Softail & Touring Models with Twin Cam Engines
Except Touring Models with Throttle by Wire (2008-UP)
You can upgrade to the Outlaw V-Stack Air Intake without doing any dyno work or adding tuners IF you leave the stock exhaust in place.
Replace the Restrictive stock air cleaner on your Sporty and wake it up!
**This Air Cleaner System comes with a Support Bracket. If you already have an aftermarket support bracket, or you have one of the few Twin Cam Models that comes with a Support Bracket, you may click the box below and save $22. Look at our Support Brackets HERE.
Caution: Motorcycles modified with this DK Custom Products High-Performance part may not be legal for public highway use in some areas. Since this is a race application, if you're running the optional screen & filter, regular visual inspection of the retaining wire & mesh is recommended. The user shall determine suitability of this product for his or her use.
Product Tags
Use spaces to separate tags. Use single quotes (') for phrases.