Home

/

Black Floorboards Mid or Forward Mount Sportster Dyna Softail
BLACK HALF-MOON FLOORBOARDS
For
Sportsters-Dynas-Softails
Where a Male Clevis Style Footpeg Mounts
DK Custom Products

FEATURES & SPECS:
These Floorboards mount just like a Standard Footpeg
Fits Mid-Control or Forward Control on Harleys in place of Footpegs
Easy Forward/Rearward Adjustment (3" range)
Adjustable set screw for different lateral angles
Floorboards will fold-up
Increased Lean Angle over stock footpegs

12" x 4.75" Platform
Black Rubber Insert/Mat for Secure Comfortable Footing
Steel Construction w/ Patent Pending Mount

Black Finish

(also available in Chrome)
Sold in Pairs
E-Z INSTALL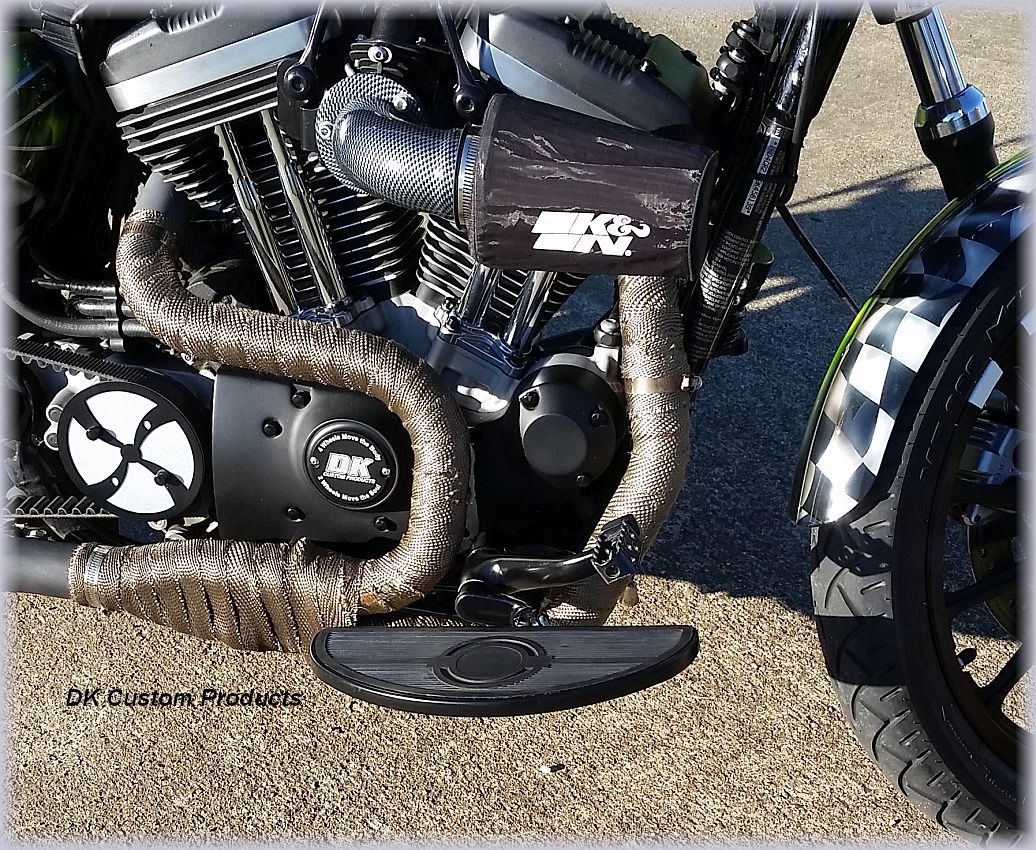 These Floorboards will fit any Sportster, Dyna or Softail that use a Standard footpeg style mounting clevis.
Fits both forward and mid control mounts.

(Two Sets of Mounting Brackets are included for you to choose floorbooard angle to fit your bike and that you are comfortable with)
The platform measures 12" x 4.75", they give your feet a solid, comfortable position. They are adjustable, forward/rearward, & w/ the set screw, the lateral angle (angle from the ground)can be adjusted also.
YOU will be amazed at how comfortable they are!
They provide improved ground clearance (lean angle) over stock pegs.
Being able to move your feet around on a secure platform, having no wind pushing at the bottom of your boot while at speed, is especially useful on those long rides!
The black rubber mat/insert provides vibration isolation and a good grip in wet & dry weather.
300 lbs rating for standing on them.
Black Finish. They are also available in a Chrome finish. Click HERE to see them.
FITMENT:
Fits all Harley's that uses a standard male clevis footpeg.
If you are installing these on a Sportster with Mid-Controls, we recommend getting the Adjustable Brake Rod seen at this Link. Without the Adjustable Brake Rod the Brake Pedal it may hit the Floorbaord on Sportster's with Mid-Controls.
Does Not Fit the 2018 or later model Low Riders.
Will fit M8 Softails when combined with M8 Softail Footpeg Adapters, which you can see at this LINK.
If you have the evil little offset clevis that HD has been using on some models recently, you will need to either grind down the offending leg, or convert to the standard clevis. You can see details on that HERE.
If you are using Extended forward controls, you may need a longer shift rod to get the shifter up high enough over the floorboard. A longer brake arm is NOT needed.
On some bikes with mid-controls, the brake pedal may need to be moved up a bit, which may require a longer brake rod and/or a different brake pedal arm. Alternatively, if you have a short spaced clevis and need more room for your shifter or brake pedal, a standard spaced clevis can be seen HERE.


Make your ride Different AND more comfortable!!!
"I am amazed at how much more comfortable my Sporty is with these...especially at speed. This is one of those things that needs to be experienced to realize how much better they are than stock pegs." -Kevin
"These boards are fantastic. Look killer, and are really comfortable. Typical DK Custom quality (i.e. Excellent). I've been looking for half moon boards for a long time and these are perfect." -Robert
Save
Save
Save
Save
Customer Reviews
Excellent quality, perfect fit

Review by

FarmerChet


Put these on a Dyna Fat Bob and the difference is huge. No wind blowing your foot off the peg - never knew that was happening. (Posted on 1/12/2023)

Lived up to my expectations & then some

Review by

Rodekrew


I bought these Floorboards as a new rider, Was told that floorboards over pegs would allow for better stability & more choices for foot placement.
Wow what a difference being on the bike has been. I would highly recommend these to any rider, not just new..
Thanx for making this product. (Posted on 8/18/2022)

Good product made and sold in USA

Review by

Journeyman


Happy to get made in USA parts for my 2014 fxdwg. They look good on my bike and really improve comfort on longer rides. They don't fold up too much and a bit tight in the clevis. Tight is good though right! (Posted on 10/29/2020)

EXCELLENT PRODUCT

Review by

MOUNTAINMAN


BEST MOD I HAVE DONE .LOT MORE COMFORTABLE. EASY INSTALL .QUALITY PRODUCT (Posted on 10/5/2020)
Product Tags
Use spaces to separate tags. Use single quotes (') for phrases.