Home

/

Black-Out Forks 39mm Upper Fork Covers Sportster Dyna Harley
BLACKED-OUT
UPPER FORK COVERS
For
39mm Forks
Fits
Sportsters & Other Models w/ 39mm or Smaller Fork Tubes
Made in THE USA
by DK Custom Products
FEATURES & SPECS:
Black-Out Your Ride

Made in The USA

Double Layer of Durable Marine Vinyl

Four Lengths to a Variety of Models

Sold as a Pair

Easy 2 Minute Install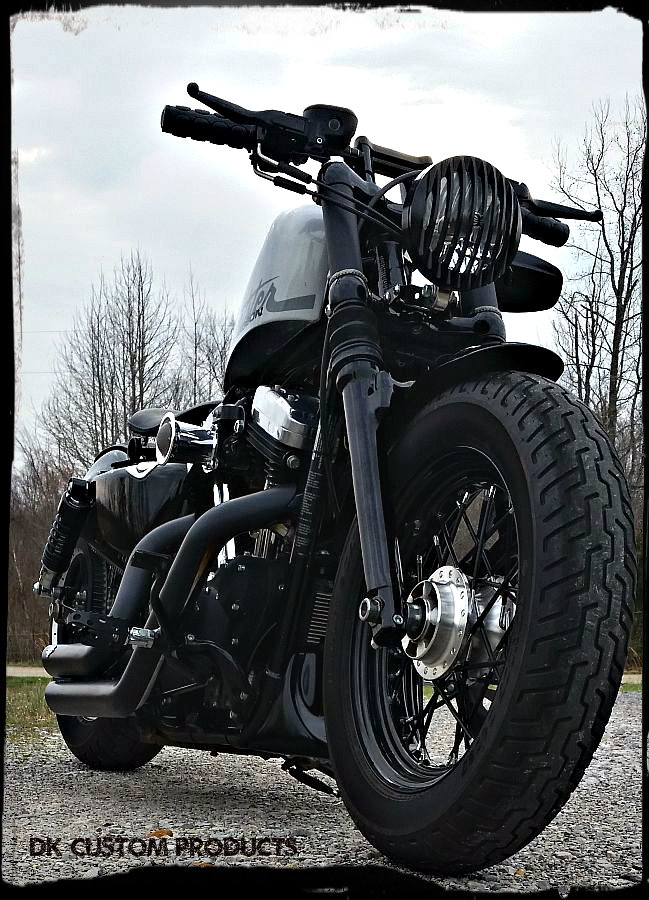 These Fork Covers allow you to black-out your chrome upper forks. Made by DK Custom Products, here in the USA. Marine Grade, double layered, vinyl for long life. They will not scratch your bike, and are super easy to install.
Choose from 4 different heights. 6 1/8", 6 1/2", 6 3/4" or 7 1/8". At the fork tube, measure the space between your bottom tree and top tree, to know which size will fit your ride. If you have an accessory clamped to the fork tube and none of the sizes fit, get the closest one, they are easy to cut down to the size you need for your bike.
These are sold in pairs, one for each fork tube.
Check out all the pics above!
This an Easy to Install, High Impact Mod!
"Another great product from a great company. The upper fork covers fit awesome and couldn't be easier to put on. No one should use pvc with these on the market! Really blacked out my iron. Thanks again. " -Michael
Customer Reviews
Fork Covers

Review by

Charlie


Got these to complete the blackout of my iron, fit and finish is excellent and they are easy to install. (Posted on 7/1/2021)

Perfect

Review by

Andy


Outstanding product! Perfect fit and excellent craftsmanship. Thank you! (Posted on 11/11/2020)

Awesome!

Review by

Jeremy


Bought these for my 2020 iron 883. Easy to put on and fit perfectly! A must if looking for that black out look. (Posted on 7/30/2020)

Great Price Awesome Product

Review by

Jamie


These are an easy and great looking way to blackout the forks on your Bike !! DK Customs with awesome service as well !! (Posted on 9/16/2019)

Great price, looks great, quality is awesome.

Review by

Sportster Guy


Great price, great quality, adds an awesome esthetic to your bike to black out your bike or contrast chrome. Takes less than 5 minutes to put on. Love the product. (Posted on 2/19/2019)
Product Tags
Use spaces to separate tags. Use single quotes (') for phrases.