Home

/

Chrome Floorboards Mid or Forward Mount Sportster Dyna Softail
CHROME HALF-MOON FLOORBOARDS
For
Sportsters-Dynas-Softails
Where a Male Clevis Style Footpeg Mounts
DK Custom Products

FEATURES & SPECS:
These Floorboards mount just like a Standard Footpeg
Fits Mid-Control or Forward Control on Harleys in place of Footpegs
Easy Forward/Rearward Adjustment (3" range)
Adjustable set screw for different lateral angles
Floorboards will fold-up
Increased Lean Angle over stock footpegs

12" x 4.75" Platform
Black Rubber Insert/Mat for Secure Comfortable Footing
Steel Construction w/ Patent Pending Mount
Chrome Finish

(also available in Black)

Sold in Pairs
E-Z INSTALL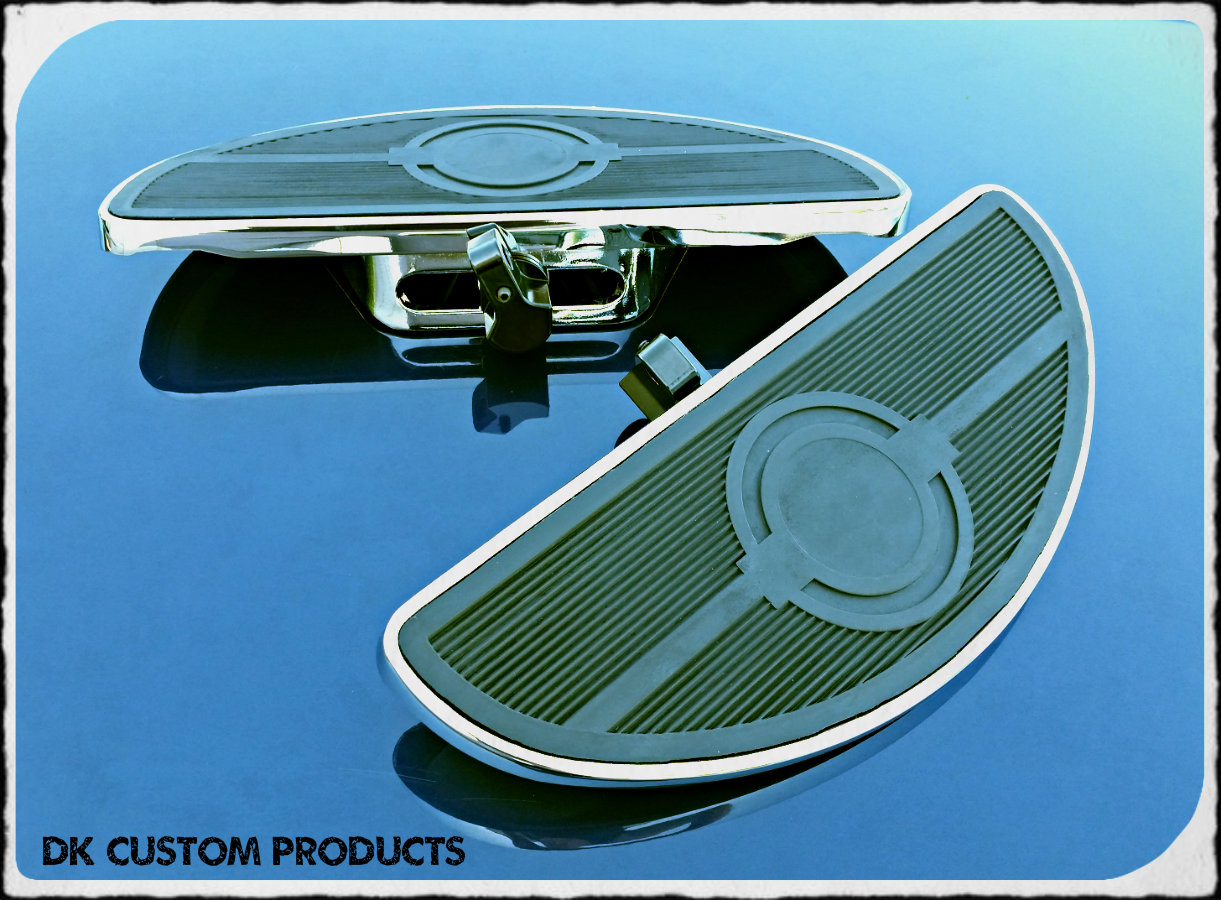 These Floorboards will fit any Sportster, Dyna or Softail that use a Standard footpeg style mounting clevis.
Fits both forward and mid control mounts. (Two Sets of Mounting Brackets are included for you to choose floorbooard angle to fit your bike and that you are comfortable with)
The platform measures 12" x 4.75", they give your feet a solid, comfortable position. They are adjustable, forward/rearward, & w/ the set screw, the lateral angle (angle from the ground)can be adjusted also.
YOU will be amazed at how comfortable they are!
They provide improved ground clearance (lean angle) over stock pegs.
Being able to move your feet around on a secure platform, having no wind pushing at the bottom of your boot while at speed, is especially useful on those long rides!
The black rubber mat/insert provides vibration isolation and a good grip in wet & dry weather.
300 lbs rating for standing on them.
Chrome Finish. They are also available in a Powder Black finish. Click HERE to see them.
FITMENT:
Fits all Harley's that uses a standard male clevis footpeg.
If you are installing these on a Sportster with Mid-Controls, we recommend getting the Adjustable Brake Rod seen at this Link. Without the Adjustable Brake Rod the Brake Pedal it may hit the Floorboards on Sportster's with Mid-Controls.
Does Not Fit 2018 or later model Low Riders.
Does Not fit Optional "Further Forward Mid Controls". Please realize that optional Further Forward Mid Controls are Not Mid Controls or Forward Controls.
Will fit M8 Softails when combined with M8 Softail Footpeg Adapters, which you can see at this LINK.

If you have the evil little offset clevis that HD has been using on some models recently, you will need to either grind down the offending leg, or convert to the standard clevis. You can see details on that HERE.
If you are using Extended forward controls, you may need a longer shift rod to get the shifter up high enough over the floorboard. A longer brake arm is NOT needed.
On some bikes the brake pedal may need to be moved up a bit, which may require a longer brake rod and/or a different brake pedal arm. Alternatively, if you have a short spaced clevis and need more room for your shifter or brake pedal, a standard spaced clevis can be seen HERE.

Make your ride Different AND more comfortable!!!
"These boards are fantastic. Look killer, and are really comfortable. Typical DK Custom quality (i.e. Excellent). I've been looking for half moon boards for a long time and these are perfect." -Robert
"I am amazed at how much more comfortable my Sporty is with these...especially at speed. This is one of those things that needs to be experienced to realize how much better they are than stock pegs." -Kevin
Save
Save
Save
Customer Reviews
the way to go

Review by

ron


These were the perfect thing to make my sportglide more comfortable for myself. Did not like the footpegs that came with the bike.
DK was easy to deal with and highly recommend them. (Posted on 10/31/2023)

Love my floorboards

Review by

Pigfoot


Best mod yet, only had this Sportster a few days
but knew from the first ride that I wanted to install a set of floorboards.
Install is fairly easy , did have to remove a little power coat no biggie.
Great quality part fit and finish.
(Posted on 12/1/2022)

Solution for wife's Sport Glide

Review by

Randy


Harley boards out of stock, again. DK in stock. Order arrived quickly. The M8 adapter was a little tight. Nothing a touch of the grinder could not handle. Boards installed and look really good. My wife's bike and she loves them. So much better than pegs. Had to call DK about grinding to fit. Great response and told me to go for it. Promised to refund or replace if I messed them up. Great after sale service. Thanks DK!!! (Posted on 5/25/2022)

A whole new level of comfort

Review by

Greg


I've looked at the DK Floorboards several times in the past few months. Opted to go and pulled the trigger, and what showed up were two beautifully designed pieces, bracketing was a stellar fit and the first ride was the icing on the cake. Thanks Dwayne, nicely executed. (Posted on 5/4/2022)

Should have gotten these a long time ago!!

Review by

Neil


Wow..... a simple mod had made so much difference. I always kinda thought boards were for the big dressers, no sir, old age and creaky joints had my trying anything to be more comfortable on the Fatbob, these are a revelation. Feet not being on a fixed position peg means you can move your feet around as often as you like and always be connected to the bike!. Note: I have a reduced reach kit fitted, which meant a little fabrication work was required to the right side mount angle but easy enough with a grinder and a welder. Very happy thanks guys!! (Posted on 9/24/2021)

Crazy stability and comfort.

Review by

PewPeepance


I was skeptical at first. I had forward controls on my iron 883 and highway touring was exhausting and stressful even with heel supports behind my pegs.
I put down about 150 miles this morning to break these in and get used to them and the difference is insane.
High speed interstate (over 80) was no problem, stable, comfortable, and relaxed.
Twisties were no problem, didn't grind where I used to on my thicker pegs.
I had to remove and adjust my shift linkage quite a bit to fit my steel toes under so it's gonna take a while to get used to the angle but no biggie.
I also had to adjust the rear brake pedal up about an inch to clear the board. Altogether took maybe an hour to assemble, install and make all the adjustments with basic toolroll stuff.
Quality is top notch, heavy steel everything.
Not the cheapo amazon tin junk lookalikes.
Best 200+ dollars I've spent on bike stuff.
Period. (Posted on 3/14/2021)

Comfort

Review by

John C


I installed these on my 2006 low rider to replace mid mount pegs. I can't believe how the level of comfort and control has increased. Long rides are much more comfortable, having the ability to move feet around on the boards. I rarely use my hiway pegs anymore. The quality and looks are great and installed fairly easy. Raised brake pedal adjustment easily and moved shift peg up a bit. The difference is night and day over the pegs. (Posted on 11/26/2020)

Great Product

Review by

Ed


Installed your floorboards on my M8 Sport Glide. Great product. High quality. Nice price. Easy install. Bravo!
-Ed (Posted on 12/31/2019)

Money well spent

Review by

Calcustom


So much better then pegs
These boards give so many different riding options you can always find a comfortable position and they also look great.
Easy to install and the quality is top notch.
https://photos.app.goo.gl/UiAart7wkcYqJohT8 (Posted on 2/1/2019)

Great fit and feel

Review by

James


Great fit easy to install and a really comfortable ride . So much better than the stock pegs! (Posted on 10/13/2018)

All the comfort and killer looks

Review by

Justin


I hated my forwards on the highway, until I picked up these bad boys. Now I can cruise in comfort for miles. I had to grind off the powder coat on one side of the bracket to get them to fit but aside from that it was typical DK bolt on ease of use.

They seem huge when you take them out of the package for the first time, once installed they look right at home. The slim profile really helps.

If you do miles you owe it to yourself to give these a go. (Posted on 10/7/2017)

Boards on 48

Review by

Robert


Bought the boards when they were introduced. Was on vacation so had to wait to install. Removed the footpeg mounts and cut off the "evil" offset. (Altogether that took about 20 minutes each). Then it was a simple bolt on and adjust process. These boards are fantastic. Look killer, and are really comfortable. Typical DK Custom quality (i.e. Excellent). I've been looking for half moon boards for a long time and these are perfect. (Posted on 8/27/2017)
Product Tags
Use spaces to separate tags. Use single quotes (') for phrases.