Home

/

Cooling Deflector Wings for Touring / Trike Models
COOLING DEFLECTOR WINGS

FITS HARLEY-DAVIDSON TOURING &
TRIKE MODELS 1999-UP
MADE IN THE USA!
By
DK Custom Products
FEATURES:
Made from American Steel
Durable Black Powder Coat Finish
Reduces Rider & Passenger Buffeting
Re-Directs air on to the engine for better Cooling
E-Z BOLT-ON INSTALL - DOES NOT REQUIRE REMOVAL OF TANK
E-Z Install, Step-by-Step Instructions included
Made in The USA
The functions of the Cooling Deflector Wings are:
1. Reduce the air coming over the top of the tank, around the sides of the tank, And between the upper & lower fairings.
2. This results in a reduction of air hitting the rider and passenger chest, which reduces buffeting/helmet & glasses bobble.
3. Redirect that air to flow over the engine for better cooling.
We have consistently seen engine temperatures reduced by 8-15 degrees with the CDW's.

These mount up easily at the front tank/frame mounting point on each side. They are adjustable to get the best redirection of air for you.
When ordering, use the drop-down to let us know whether you have a Harley Trike or a Harley 2-Wheel Touring Model. This way we can send you the correct CDW for your Ride.
Most baffles and deflectors that reduce rider and passenger buffeting also reduce air flow over the engine, making it run hotter. 2007-Up Twin Cams already run too hot during the warm weather months.
With some thought, some curves and bends, & many miles of testing various prototypes, we developed the CDW's that -
Reduce Buffeting

Are unobtrusive when installed

Increase air flow, cooling the engine, resulting in better engine performance & longer engine life
This is an EASY install - 10 to 20 minutes!
FITMENT:
All Tri-Glides, Freewheelers and FLHXXX (with or without Tank Lift)
All 1999*-Up 2-wheel Touring Models (with or without Tank Lift)
Does NOT FIT the Heritage Softail. (yes, we know that HD has started listing the Heritage as a Touring bike, but it is a Softail and this is not designed for the Softail frame)
***Important Fitment Note for 2 Wheel Touring Models:
-Fits 05-Up with Lower Fairings
-Fits 99-up with NO Lower Fairings
Patent D828,252
"Who knew something so small would make such a big improvement, Thank you!" -Anthony
"Hello I am very happy with your air wings, they look much better than Harleys. Oil temp down about 5 to 8 precent.Thanks." -Steve Harshbarger
"I ordered a set about three weeks ago for my '14 Ultra Limited. First, I want to thank you for the extremely fast shipping. Second, the wings cured my buffeting problem.
I have a $650 Shoei helmet that I couldn't wear because my eyeballs were shaking so badly that I couldn't focus on the road, but not any longer. Great product! Thanks!" -Stephen
"Had the stereo coming through the helmet speakers, and I could definitely hear it better, and could hear the wife on the intercom much better.
Much less noise under the shield. I was actually able to knock the VOX back three notches without it kicking in and out off of my mic...
So we're well pleased, noticeably less helmet bobble, I used to get a lot, and an unexpected improvement in using the front intercom." -Nate
There are two different style CDW's-

1. Fits HD Trikes with a tank lift and looks like this-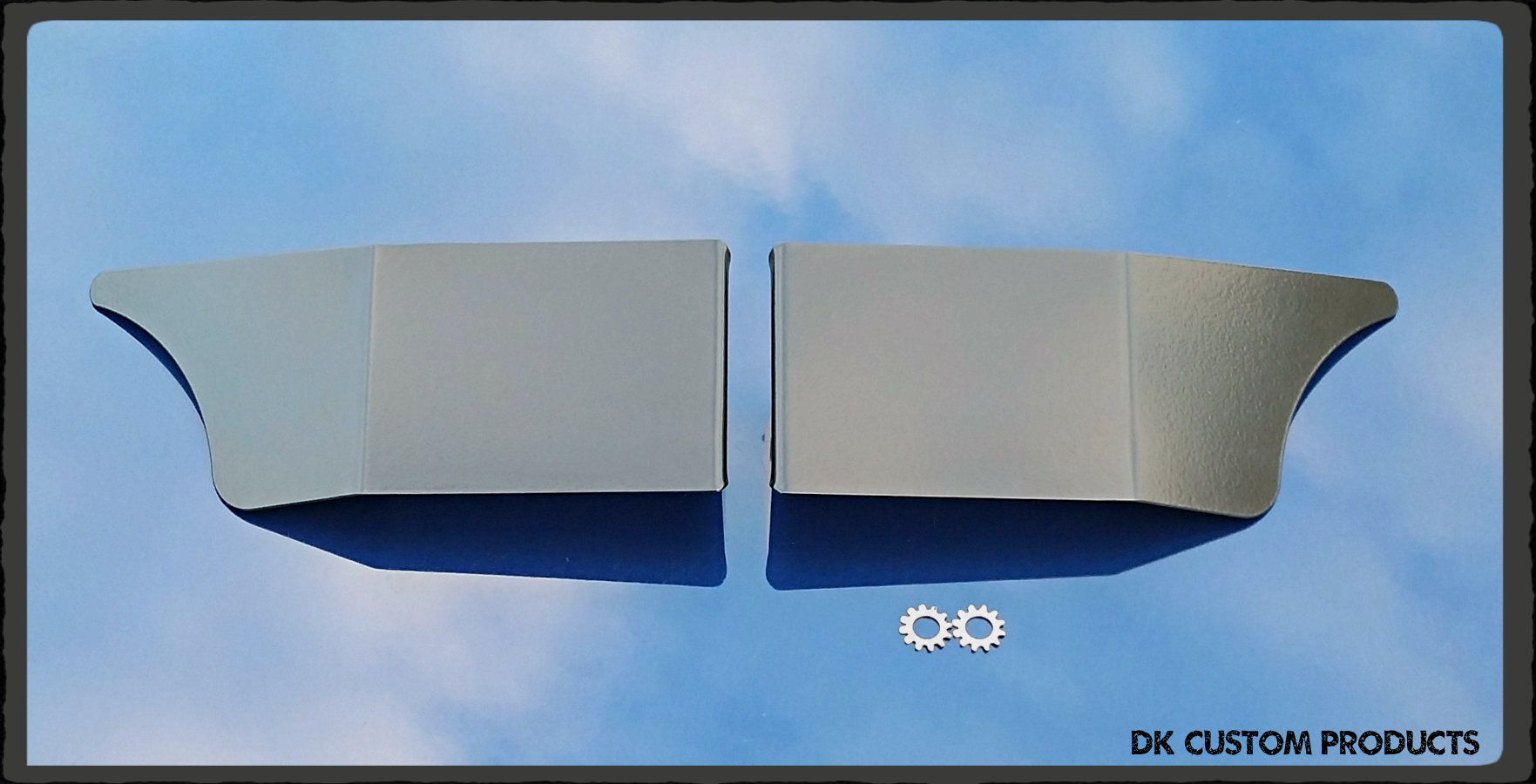 2. Fits Trikes without a tank lift and all 2 wheel Touring models (with or without a tank lift) and looks like this-




The reason for the different design is that on all two wheelers, and Trikes without a tank lift, there is less clearance room, so the design is a bit different (and smaller) to get everything to fit.

They both have a "wing" to them that extends out past where the air is that would cause buffeting, this wing is to catch extra air and direct it down onto the engine.

The purpose for designing these was two-fold:

1. Redirect air onto the engine to cool it down. This happens 100% of the time and is good for an 8-15* reduction in engine temps (regardless of design).

2. Reduce buffeting. How much it will reduce it is dependent on dozens of factors. How tall you are, what kind of seat you use, how you sit/slouch, foot/leg placement, type of helmet, etc.

Here are a few photos, side by side, for comparision-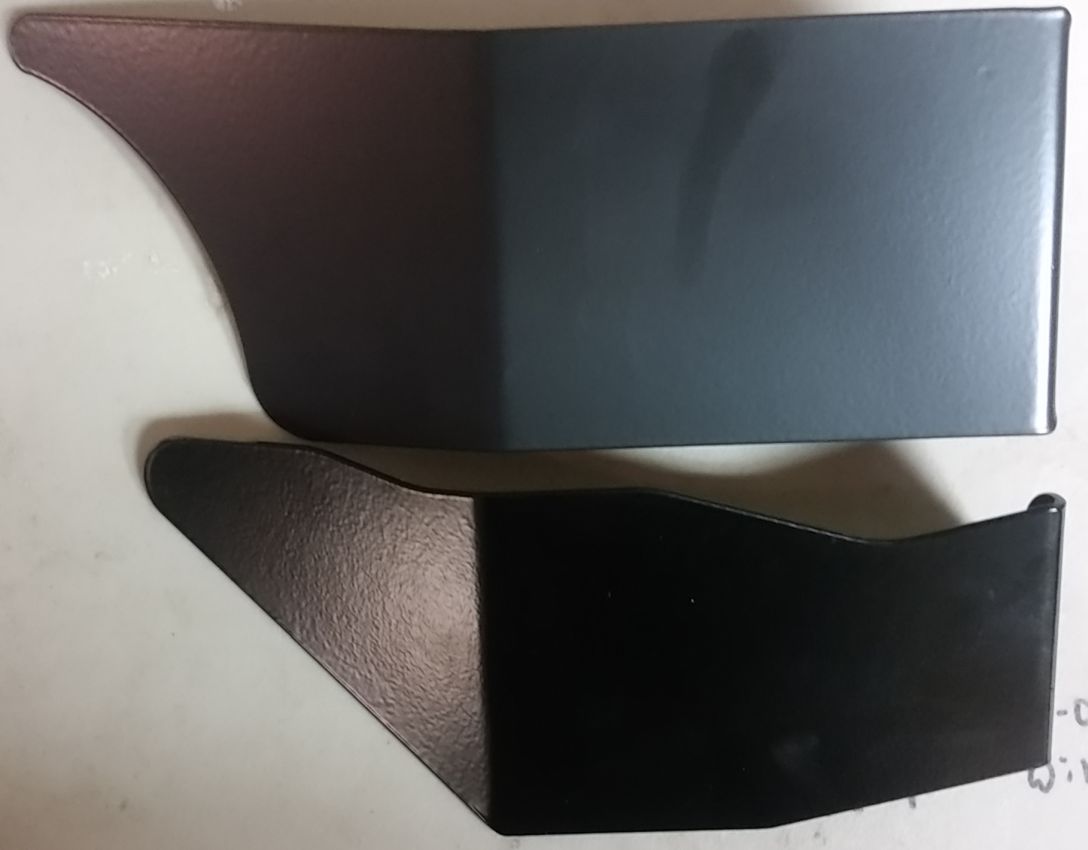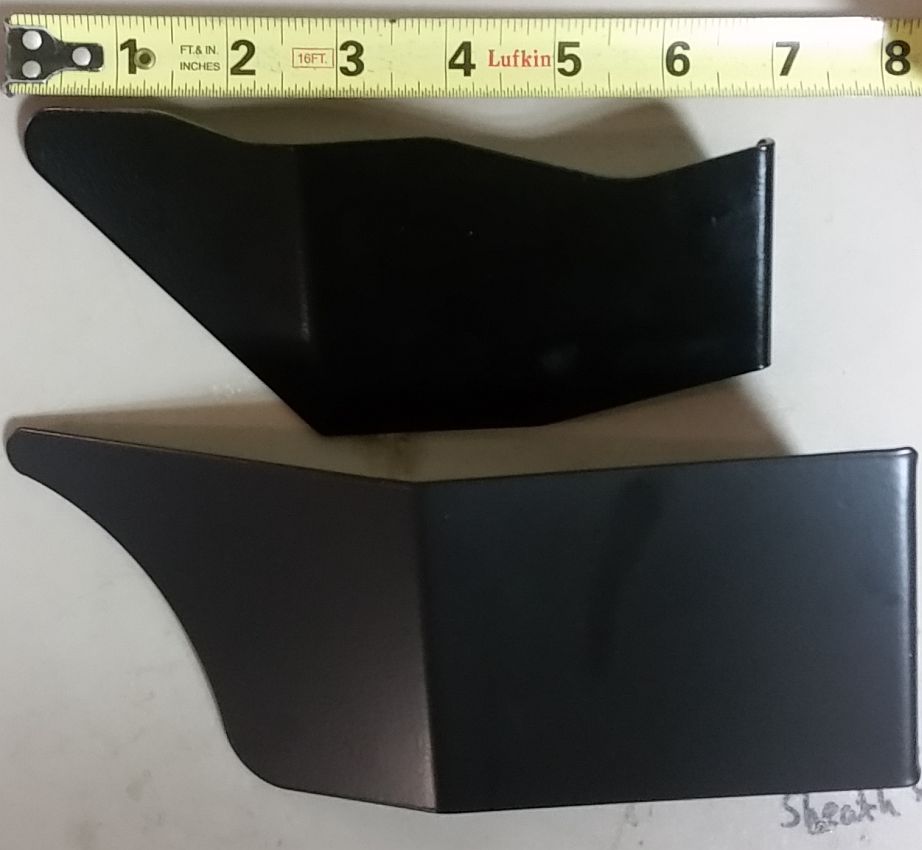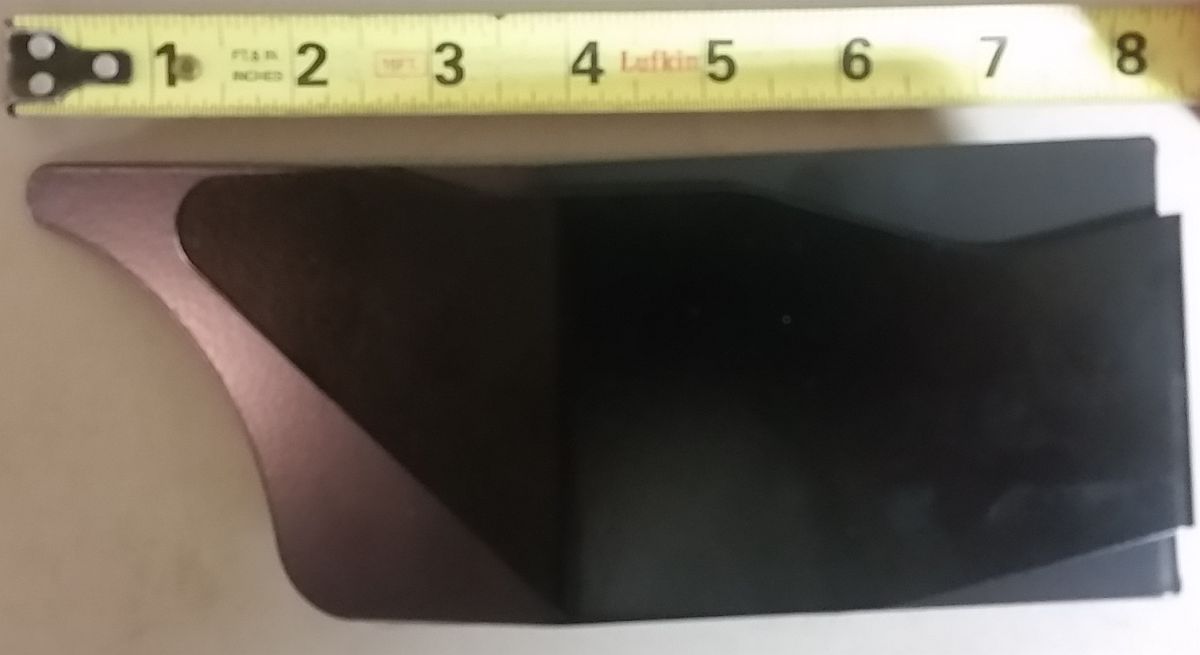 btw, the one made for the two wheelers/trikes with no tank lift, will also fit on the trikes with a tank lift.
They also work well on bikes/trikes with no lower fairings.
Customer Reviews
CDW

Review by

SEHENDR


Very good quality. But not sure how much helped cooling on my 2009 Road King, still had very high ET numbers. (Posted on 5/5/2021)

Well worth it!

Review by

Keith


We've got wind in Saskatchewan! And these cooling wings DO make a difference for rider buffeting. Well made, good finish. Now if DKCP's can just come up with something for those nasty side winds! (Posted on 5/1/2021)

Easy install

Review by

Skullmania


Great quality easy install and reduces buffeting quite a lot. Definitely worth it (Posted on 4/21/2021)

They work !!!! Great

Review by

Spanky


Easy to install. Stops 95% of buffering between fairing and Tank. No up draft either. Motor runs cooler with air being pushed down on front and rear cylinder. I wear a Shark modular helmet much less wind noise. I ride in Florida motor runs much cooler fans come on alot less.I ride a 2017 FLHTKL (Posted on 4/19/2021)

They work great!

Review by

Harvey


Easy install! (Posted on 4/12/2021)

Another excellent product

Review by

Jim


Since purchasing my 2019 Trike last November I have added the Deluxe Tank Lift Kit which reduced some buffeting. Then the Floor Board Extensions which made it more comfortable and cooler on my leg. Just added the Cooling Wings and there was a noticeable difference in the buffeting. My helmet does not wobble around anymore. I've also installed the Tour Pack Relocation to give wife more room and the External Breather System. My next project will be to add a set of Love Jugs.
Highly recommend the products from DK Custom. Quality parts. Thorough installation instructions. (Posted on 3/28/2021)

They actually work

Review by

Brian


These work best with the tank lift with the deluxe option. I installed these on a 2016 Tri-glide after installing a new windshield. Having the wind go around me more made it real obvious how much was coming up from my lowers. I got these and it solved that problem along with helping direct the air over the engine and under the tank more withg the deluxe tank lift kit. My Trike has barely hit over 200F since installing these with the tank lift. Just get em. Install is easy especially if you do it when you install the tank lift. (Posted on 3/19/2021)

DK "Gives you wings"

Review by

Trikemaster


Installed on 2020 Tri glide Ultra with 1-1/2" tank lift kit. Install was ease. As per instructions I needed to bend ever so slightly to gain clearance and angle to direct air flow at maximum. Clearance at bottom back edge of fairing was achieved by bending mentioned above. No problem. One thing to keep in mind is the fact that the adjustable wings at the bottom ends of the fairing when adjusted to allow air flow towards engine the top rubs across the top very end of the wing slightly. Not so much as to cause not using them just be aware. GREAT product!! Thanks again! (Posted on 3/16/2021)

Great product

Review by

Ga rider


Been trying to solve buffeting issue and beard lift. Had my doubts about this product but it did solved my issues. Tried different windshields and jes deflectors. This by far worked best. (Posted on 2/26/2021)

Neat little product

Review by

Eli


Easy install, fit perfectly, and really throws the air where it needs to be for cooling. (Posted on 1/18/2021)

Another quality product from DK Custom

Review by

Windsurfed


A very well machined part. Fit perfect. (Posted on 1/8/2021)

Well worth the money

Review by

CrazyAsian


2020 FLHTK here, put these on in 15 minutes, quick, easy install. I have nothing to compare them to as this is my first HD, and Bagger, coming from metric choppers. I do know that they did in fact almost eliminate the dirty air coming over the front of the tank, thereby eliminating buffeting and eyeball bounce for me at 6' with a stock 10" windshield and stock seat. All in all, well worth the money I spent. DK's fantastic customer service is just the icing on the cake, I'm a customer for life now. (Posted on 12/29/2020)

great product

Review by

dan


after installation i noticed a decrease in the air flow on my face . this was great but when i put my feet on the highway pegs i usually get a lot more air flow running up my legs and into my face but now that is 80 percent less . this alone makes these wings worth the money . with all that wind blowing over my motor it has to be running cooler .. Great product ! (Posted on 10/18/2020)

Noticeable improvement in buffeting, but not end all solution

Review by

Dave D


Install, was super easy. I adjusted them as high up as I could while still clearing the fairing at full turn. Aesthetically, you hardly notice them. Now for my main concern, buffeting. I did all my observations at 80mph. I did notice a reduction in the buffeting, but its not life altering like the fangs were. With these installed my glasses didn't vibrate nearly as much as they did before, but there is still some. To their credit it is a noticeable reduction so I would definitely call it a plus. Between the KW windscreen, fairing deflectors, and Lowers, It has definitely removed about 90% of my issues. I will also say, traffic was very heavy while doing these tests on the freeway. More traffic is more turbulent air, so with that said, just cruising open road, it may have even better results. I can't say much for cooling as my bike is stage 2 with a custom tune. With the cat elimination and the tune, it already ran cooler than the lean stock tune. However, I did notice more airflow down by my feet. Overall, Its worth the 50 bucks to give it a shot if you still suffer from buffeting. (Posted on 10/16/2020)

Did exactly what it said it would do

Review by

Blueox


Easy to install and stoped the dirt from coming up into my face. (Posted on 10/8/2020)

Air Deflectors work

Review by

Walrun


Noticed reduction of heat on legs, Pleased with the results. Have fairing on my 2020 Freewheeler and noticed less wind turbulance behind windshield after air deflector install. (Posted on 10/8/2020)

Great Product

Review by

David B


Well made with excellent finish. Can feel heat reduction. Excellent service and fast shipping (Posted on 10/3/2020)

Deflector Wings

Review by

shwnoff1


When I first read about them my thoughts were yea right. After install they really work good and it seems to keep alot of air moving over the heads. Great product very happy (Posted on 9/28/2020)

Deflector Wings

Review by

shwnoff1


When I first read about them my thoughts were yea right. After install they really work good and it seems to keep alot of air moving over the heads. Great product very happy (Posted on 9/28/2020)

not for me

Review by

Mark


I don't know what much this helped with buffeting or temps. I did 4 things at once. new windshield - tank lift, new seat and the deflector wings. Although they were somewhat conspicuous, I removed them for aesthetic reasons. (Posted on 9/14/2020)

Great product

Review by

Cozmo


Cut down wind coming from under the fairing significantly. My eyes don't shake anymore much nicer (Posted on 9/9/2020)

Deflectors

Review by

Oz Walds


I bought the deflectors the same time I bought the 1.5 inch deluxe tank lift. My way of thinking it just made sense to do this at the same time, tanks up and I am looking for more air over my cylinders this was a great addon.
Thanks DK Customs (Posted on 9/7/2020)

Puts the air where it's needed

Review by

Pegasus


Easy install fits well. Puts the air where it's needed. Would like to see a more stylish design, maybe with a curve, also offer a chrome version. Otherwise Good Job DK! (Posted on 9/2/2020)

Cooling deflectors

Review by

Roger


Putting the cooling deflectors on has made a world of difference in my ride. No more scorched leg (Posted on 8/31/2020)

ok, but not as good as I was told by other riders

Review by

Bernie


I've put on the extended floor boards, tank lift and wind deflectors. The ride is cooler, But I found the tank lift to cool more. Hardly noticed the difference when I put the wind deflectors on.The quality is very good, the price is good. Putting headers on next to see what that does? (Posted on 8/31/2020)

Another Great Product.

Review by

TerryThrTrollKiller


Since June I have installed the tank lift, floorboard relocation kits, trike shocks and lift kit, oil filter relocation and oil cooler kit and last, but not least, the cooling wings. I am a happy camper now. I always loved my trike but now, I'm in love with riding it. It is much cooler, no more scorched legs and the ride is fantastic. These cooling wings top off my upgrades and ate well worth the price. Carry a socket snd adjust them until you get the sweet spot. (Posted on 8/25/2020)

This product help reduce wind in face, not completely, but still noticable.

Review by

Spanky


Fast delivery how's your day been and a very good company to do business with. (Posted on 8/19/2020)

Not great

Review by

Paul


Engine dropped a couple degrees as per my tuner, but I run 210 to 230 most of the time. They did not do anything for wind buffering.and that's what I was looking for. The wind between the lowers and bat wing hit me in the face, I love the wind but not how my sunglasses jump around.


*************

Sounds like you could benefit from adjusting the angle of the CDW's. Give a call or an email if you would like some assistance. (Posted on 8/18/2020)

Effective and looks clean

Review by

Wolfman


I did the deflectors in conjunction with a 1.5 tank lift. What a difference! Good quality material and looks really good on my TriGlide "Ruby" (Posted on 8/13/2020)

excellent products

Review by

Petrus


Tanklift and deflectors work perfect for me. No more buffeting to the helmet and the ride is much more quit.
Also, at the moment its very hot in the Netherlands and after a 2 hour ride on the highway at 120 km the oiltemperature did not come above 115C [239F] and that is without an oilcooler. So the tanklift helps with the cooling aswell. Also no need for midframe deflectors to keep the heat away from your thighs.
Very happy with both products. (Posted on 8/13/2020)

Effective

Review by

Jeff in Tucson


I ride in temperatures well over 100 degrees in the Arizona desert with my 2012 Road Glide. The custom motor is quite the beast at 113 ci and 130 hp / 127 tq. Things get cooking fast down here! With the tank riser kit, plus the rear deluxe lift kit, and the cooling wings, I'm easily seeing 10 degrees less, sometimes more, on really hot days. Even during questionable speeds on the highway in the heat, passing grandmothers, Corvettes, Mustangs and Kawasakis, the oil temp has never gone over 230. At regular cruising, it's more like 190. Ah, life is good. (Posted on 8/5/2020)

Effective

Review by

Jeff in Tucson


I ride in temperatures well over 100 degrees in the Arizona desert with my 2012 Road Glide. The custom motor is quite the beast at 113 ci and 130 hp / 127 tq. Things get cooking fast down here! With the tank riser kit, plus the rear deluxe lift kit, and the cooling wings, I'm easily seeing 10 degrees less, sometimes more, on really hot days. Even during questionable speeds on the highway in the heat, passing grandmothers, Corvettes, Mustangs and Kawasakis, the oil temp has never gone over 230. At regular cruising, it's more like 190. Ah, life is good. (Posted on 8/5/2020)

What and improvement!

Review by

RC


I just installed DK Custom wind deflectors....and man what a difference they make!

I didn't realize just how much the wind coming up between the tank and inner fairing affected hearing my music, and it took all the helmet buffeting away. I definitely recommend them! (Posted on 8/5/2020)

Freewheeler

Review by

Fox


I ordered a host of cooling modifications from tank lift and wings in the scope of them all it made my ride cooler for sure & I added DKs floor board extensions making my rides much more comfortable (Posted on 7/23/2020)

Did better than I expected........

Review by

MickeyFee


I was hoping that they would deflex the wind and rain from coming up from between the lower fairings and fairing. They do great at pushing wind and rain down and away from my face, and eliminated all wind buffeting.
Bonus points for mild engine heat reduction and keeping my legs a bit cooler also.
Very pleased with the results! (Posted on 7/4/2020)

Performed as described

Review by

Alan


Noticed an immediate reduction in the amount of air hitting my chest and shoulders. Easy install but did require some bending to accommodate my TriGlide (Posted on 7/4/2020)

Great

Review by

DrBill


Keeps your legs cool Great product (Posted on 6/18/2020)

Great product

Review by

Shooter Dan


These wings are great for redirecting the air that would be flowing over the tank down towards the engine. Helps to cool the engine and stops the air from hitting the rider. With less turbulence around my helmet, I can hear the bike better and that's always a good thing. (Posted on 6/1/2020)

Great product

Review by

Johnny


Fast shipping and extremely easy to install. Felt a definite difference especially with heat on my legs. (Posted on 5/19/2020)

As advertised

Review by

Nick R.


The value is in the simplicity. The research has paid off on this product. 15 min install. Very noticeable reduction in head buffeting.Can hardly tell they are there. Great job D&K! (Posted on 5/7/2020)

Deflector Wings work Great!

Review by

ZooMan55


Super easy to install, and they make a big difference. Noticaeble difference in the way the air comes up over the tank, or doesn't any more.

Hoping it has a similar effect on blowing heat from the engine down and out. I'm riding a Freewheeler trike and it does get warm. Haven't used these in the heat yet, but hoping. (Posted on 4/14/2020)

Air deflectors

Review by

Vince


These look good, have a nice finish, are easy to install (Posted on 4/5/2020)

Awesome felt improvement

Review by

CAM


Put the wind deflectors on my 2017 Tri-Glide with the deluxe tank lift. The installation was quick and easy. About a 15 minute job. What a felt difference in reduced wind buffeting between the fairing and gas tank. Nice not having as much wind hit you in the face and chest. The felt heat coming off the side of the engine onto the rider and the passengers legs was reduced to almost none. Great product, nice fit and finish. (Posted on 3/26/2020)

Definite Improvement

Review by

Matt E.


I put these on my 2020 Ultra Limited to go along with a 10" Freedom Shield. I had tried a couple of other fixes for head-buffeting / wind management (various windshields and air-deflectors) but hadn't quite got it as good as I felt it could be based on past experience with my previous bat-wing fairing bike (2015 Street Glide Special with fork fangs and a Freedom Shield). The Freedom Shield was a step in the right direction after first trying a Klockwerks Shield but it still wasn't good enough. I considered adding a customized set of Harley fork fangs but was leery of what they would do to my engine temperatures (Limited has lower fairings). I haven't tried to measure engine temps with these DK Custom Deflector Wings (I don't see how they could do anything but help lower temps) but they definitely lessened the turbulence in/around my face and head. Based on memory alone (not necessarily all that reliable) I don't think these cut updraft quite as good as Harley fork fangs, but they are a close second and definitely won't hurt my engine temps. I give the Wings two thumbs up. They're definitely worth the price of admission. (Posted on 11/7/2019)

Really helps control air flow

Review by

dr gary


The air wings catch their coming over the pods and channel it over the engine. It helps cool my legs from the engine heat. (Posted on 9/16/2019)

Air deflector

Review by

Sao


Seems to work fine fast delivery like always. Great product thanks!! (Posted on 8/30/2019)

Worth the buy for street glides

Review by

Michael


So it is definitely worth it for buffeting alone. I am 5'10 and ride a 2015 FLHXS with a klockwerks 6.5. This was added after the clock werks and did more for buffeting than many other buffeting mitigations.

For heat. I tested it in similar conditions at highway speeds and say maybe a 2 degree run temp drop, however cooling down to that point seemed accelerated so I think it is worth the buy. (Posted on 8/8/2019)

Excellent

Review by

FJM JR


Unreal how much these reduce the buffeting. I can hear my stock speakers now. These along with the deluxe lift kit and Love Jugs make the bike run much stronger. Very happy with these products. (Posted on 7/30/2019)

wing deflectors

Review by

tony


I felt improvement on the wind coming up from the triple trees and aloing side the tank. great product. (Posted on 7/20/2019)

A product that does it's job well

Review by

Michael O.


I installed these during my installation of the tank after putting the ThunderVolt 50 plug wires on my 2017 HD Freewheeler trike.
On my test ride, I had an immediate improvement in head/helmet buffeting that could be felt on the highway. My temp. reading showed a 10-12° improvement & coupled with DK Customs 1.5" tank lift, a 20-25° overall temperature reduction.
Thanks for another great product. (Posted on 7/10/2019)

Not Sure....

Review by

Carlo


Just returned from a 2500 miles road trip in Europe (Spain and Portugal) I am from the UK.
Fitted the Cooling Deflector Wings before I went.
1. Product well made and easy to fit (I had to use the supplied spacer but no problem).
2. I have an 2018 Ultra Limited Low.
3. It was a really hot trip...the weather in Europe is exceptionally hot at the moment...100 - 110 degrees.
I do not know whether the CDWs actually helped to keep my engine temp. down...I did not measure it but I had no problems.

4. I bought the wings primarily to help with head buffeting. They may have helped a little but I am not sure how much. I still had some buffeting so they did not eliminate it. (Posted on 7/5/2019)

review of the air deflector wings

Review by

Judi


I ordered your air deflector wings for my 2014 Tri Glide. I called customer service with my questions, who gave me great service and made sure I had the right set coming my way- and it came very quickly! Very happy with the results of having them on. (Posted on 7/4/2019)

Engine Cooling

Review by

mark7352156


I have a tank lift kit and added the cooling deflector wings. The riding outside temperatures have been over 100 degrees. I have rode my 2016 H-D Tri-Glide Ultra and checked the temperatures are under 200 degrees without the cooling deflector wings the teperatures are usually over 250 degrees. I recommend these cooling deflector wings. (Posted on 7/1/2019)

great

Review by

Mac


these are great as everything you do to cool engine help a lot would hope every one put them on great job Dk (Posted on 6/30/2019)

Good so far

Review by

Chet


Timely delivery, hardest part about install was getting them out of the packaging ( someone went crazy with the tape); I combined this with a 1" tank lift. So far, they seem to be working, a little less air coming over the tank and it feels like I have less heat from the engine. All in all, a good product that does what it says it will do. (Posted on 6/22/2019)

Awesome

Review by

Joel


I am really impressed at how these work. I never really enjoyed going highway speeds because of the buffeting I would get. Plus since I have a 2006 model, I have a 5 speed tranny. I do have an oil cooler but at the rpms it takes to get to 75 or 80MPH, The oil cooler doesn't do much. 2 problems solved for 50 bucks! Super easy to install as well. (Posted on 6/18/2019)

They work as advertised

Review by

Wings


The wings definitely move some air over your engine I think they are a useful addition (Posted on 6/4/2019)

OK

Review by

Mike


The product is well made and delivery was fast. Unfortunately I could not use them on my 2017 Road King Special because of the windshield I have installed. No way of bending the wings to fit. The issue is when I turn the handle bars from side to side the wings interfere. (Posted on 5/8/2019)

Very nice

Review by

Thumper


2016 Tri Guide. Haven't installed yet, powder coating is top notch. (Posted on 2/5/2019)

John

Review by

Smithc221


Thank you! (Posted on 6/21/2018)

Well Made and effective

Review by

Dean


Great idea, that works. Very easy install in my 18 Tri Glide and they helped. I am pleased with products I have purchased from dk and recommend them. (Posted on 5/31/2018)

Great product, glad I bought them.

Review by

Roger


Put them on my 2013 tri glide. Huge improvement in updraft around the tank. Still have a little from the sides of the tank. Considering the tank lift. (Posted on 5/9/2018)

John

Review by

Smithc810


They work! (Posted on 3/12/2018)

sa-WEET!

Review by

-Vince


I have a 2015 FLHTCUL, and added the cooling wings this past spring. They are absolutely THE TITS! Noticeable reduction in head buffeting. At under fifty bucks and a 5 minute install, they are the most cost effective comfort mod I've made.
(Posted on 1/9/2018)

Good for airflow

Review by

Red


Sharp product, good fit and finish. Helps to redirect wind down to the engine where it belongs, not up in your face. I run without fairing lowers, and these don't get in the way or look out of place. (Posted on 7/25/2017)
Product Tags
Use spaces to separate tags. Use single quotes (') for phrases.