Home

/

Dynojet Power Vision Flash Tuner w/ Auto Tune
FREE PRE-PROGRAMMED EFI MAP
DOUBLE WARRANTY
UNLIMITED SUPPORT
POWER VISION
by
Dynojet
The Most Powerful Flash Tuner Available
For
2001-2023 Delphi EFI Harley-Davidson's
Including the Milwaukee-Eight
DK Custom Products has Partnered up with Dynojet & Fuel Moto
To Offer the Best Flash Tuning Choice for Harley-Davison's
Along with the Best Warranty and Best Customer Support!
Features & Specs:
Fits All 2001-2023 Delphi EFI Harley-Davidson's

Includes Basic Auto Tune

Includes Cable

Optional Mounting Bracket & Visor

Flash Tune & Put Away

Flash Tune & Use Full Color Touchscreen to Monitor Real Time Data

Can make quick adjustments to your Tune via the Touchscreen. No computer needed.

Can Log Data while you Ride, Generate an Improved Tune, & Flash the ECM. No computer needed.

Stores up to 8 Different Tunes, PLUS original

Comes with a Tune Made Specific to Your Bikes Modifications

Double the Dynojet Warranty

Unlimited Lifetime Technical Support

Includes Powerful Win PV Software

Optional Target Tune for Models 2001-2023

2019-Newer Touring models can be equipped with RDRS. (RDRS is a new collection of technology designed to match motorcycle performance to available traction during acceleration, deceleration and braking.) The easiest way to tell if your Bike is equipped with RDRS, is by checking to see if you have a Traction Control switch on your left handle bar. If you have the Traction Control switch your Bike IS equipped with RDRS.
DK Custom Products is proud to have Partnered Up with Fuel Moto to Provide the Best Customer Support for the Power Vision Flash Tuner.
You can now get the Most Powerful, Versatile Tuner for your Harley, with Unlimited Technical Support, Free Custom Tunes for Your Bikes Specific Modifications, Optional Handlebar Mount & Visor, All in One Package!
Custom Maps & Unlimited Technical Support
By

And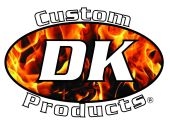 The Power Vision is delivered to you with a Custom Map, for Your Bike, already installed in it. You can plug it in, load the new tune into your bike, unplug it, and be riding with the New Tune in 5 minutes.
Or, if you prefer, you can mount it on your handlebars and take advantage of the Hi-Res Color Touchscreen to monitor real-time data from your bike, like RPM, Speed, Engine Temp, what Gear you're in, Instant MPG, Trip MPG, Throttle Position, and Much More!
It comes with Auto Tune Basic. This feature is where the Power Vision records data while you're riding, it then generates a suggested Tune for Your riding style and conditions. At the end of your ride, you can take 2 minutes to accept the tune and flash it to your ECM.
It can also be used on as many bikes as you'd like for monitoring and data-logging. For a small fee it can be fully functional as a flash tuner on a second bike.
The Power Vision will also connect to your Windows computer, via a standard USB cable. With it connected to your computer you can edit hundreds of variables in your tune, compare tunes, share tunes with anyone else.
When ordering, you will be asked a few questions about your bike so that a Custom Tune can be loaded into your Power Vision before it is shipped to you.
For full details on the Target Tune Option, please Click

HERE

.
Fitment: PV-1 PV-2 PV-3B
Touring 2002-2013 2014-2020 2021+

Softail 2001-2010 2011-2020 2021+
Dyna 2004-2011 2012-2017

Sportster

2007-2013 2014-2021

V-Rod

2012-2017

Street 500/750

2015-2017
The difference between PV-1, PV-2 & PV-3B is the different cables used by your year & model Harley-Davidson.
Dynojet has discontinued the Black & Chrome finish. Only available in Standard Black Finish now.
See Optional Handlebar Mount & Visor HERE
Please note the following:
Pan America & Sportster S support may take slightly longer than other models


PV-3B product & tune support will be available for USA models initially. We will not have tune support for bikes sold outside North America at time of release. International customers will want to contact the Dynojet distributor/dealer network within their individual country.
Message from Dynojet:
"Due to the increased cost of components, freight, necessary spot-buys and end of life components for PV-1B, 2B and 3B, Dynojet has implemented a price increase on these part numbers effective immediately as of May 1, 2022.
All new orders received May 1st forward, will reflect this new updated pricing which is attached. Dynojet has absorbed major price increases all year for these parts and will honor any outstanding PO's already received but not yet shipped."
Attention CALIFORNIA Residents: THIS PRODUCT IS NOT LEGAL FOR SALE OR USE IN CALIFORNIA ON ANY
POLLUTION CONTROLLED MOTOR VEHICLE. PRODUCT CANNOT BE SHIPPED TO CALIFORNIA
Caution: Motorcycles modified with this High-Performance part may not be legal for public road use in some areas. The user shall determine suitability of this product for his or her use.

Save
Customer Reviews
DynoJet power vision

Review by

Bo


I put this on my bike and put the tune I received from DK customs and activated the auto tune feature.
I have 2019 Harley Tri Glide.
It really woke my motor up.
I also get 45 mpg running 50 mph.
I ride a lot of back roads in Georgia so i can drive at 50 mph. (Posted on 3/20/2023)

Powervision

Review by

ep


I got the Powervision because I was adding a American Custom Header to my 2015 Triglide due to the heat issues. Everyone said that it would need to be tuned. Looked at the FP4 but all the reviews were bad. With just the header the TG wasn't bad but still not good. So I added the PV and a Outlaw 828 while I was at it. Not had much time to ride but my TG is much smoother with the canned tune. All and all happy. (Posted on 2/8/2023)

Happy!!

Review by

JWJIII


TriGlide runs much smoother , smoother acceleration, no lag. impressed, glad i bought it (Posted on 9/22/2021)

So far very satisfied

Review by

sehendr


Seems the included tune flash worked as stated as AFR runs at 14.6. Have not had enough time on the unit to determine if further improvements can be made. (Posted on 3/26/2021)

great customer service fast delivery

Review by

Glenn


I accidentally ordered the wrong tuner package. a customer service representative noticed soemthing may hace been wrong, got in touch with me, changed my order to the correct part, and refunded the difference. (Posted on 5/28/2020)

Awesome tuner!

Review by

Roman B.


I had the fp3 tuner on my bike and it was running HORRIBLE! No matter how much I auto tuned it called Vance and Hines many times and no response! I went back to the power vision and the people at DK Customs and their above and beyond customer service was really appreciated! They got me set up quickly for the tuner and I received it right away.I put it on the bike it turned over once fired and idled by itself! The fp3 it would constantly stumble and die out. So I took it for a ride AND WOW!!! A TOTALLY NIGHT AND DAY DIFFERENCE!!!! So much power and crisp responsiveness! Also no B.S. in traffic my bike would get to 380 degrees with the fp3 and the power vision dropped it to 260!!! I should of stuck with the power vision as usual and I'm glad I went back to it! THANK YOU DK CUSTOMS!!!! AWESOME PRODUCT AND AWESOME CUSTOMER SERVICE!!!!!! (Posted on 11/18/2019)

Excellent tuner

Review by

Jason


I had ordered this for my 48 with the basic slip ons and air cleaner upgrades. The tune included was pretty close right from the get go. After a few hours of riding I was able to dial everything in and upload a tune specifically for the bike. Runs really well, very useful friendly and as always the customer service is fantastic. I've never been disappointed with anything from DK and this was no exception. (Posted on 9/11/2019)

Easy and effective.

Review by

jim


I needed a tune for my 2019 Softail Slim to adjust for the DK air cleaner kit and Vance and Hines slip-ons. I am not very computer savvy, I still use a flip phone. This could not have been easier. I loaded the custom tune and it runs like a champ. This was overkill for my application but it will be there when and if I make future changes. Very pleased with the results provided. (Posted on 7/26/2019)

DKCustoms is AWESOME!!

Review by

Fig


Soo I needed this for my Hammer 1275 sportster big bore kit that was arriving a few days after I ordered this, I didn't order this from hammer because it was 549.00 and from what people told me it doesn't include all the extras DK throws is here like the visor and mounts. This arrived extremely quick, and DKCustoms even tuned it for the 1275 big bore kit that I had said in the comments just hoping that they would and they did! DKCUSTOMS ROCKS!!! (Posted on 6/8/2019)

Great Value and Easy Install

Review by

Wes


Arrived quickly, was an easy install and came loaded with the correct tune to match the performance mods made to my Trike. (Posted on 4/23/2019)

Easy install

Review by

Gray Biker


I had a Power Commander on another bike. I had a V&H tuner on the last one. I know how you can do all kinds of map changes on Dynojet tuners. And by what I read these tune better than the V&H so I went with Dynojet again. (Posted on 12/13/2018)
Product Tags
Use spaces to separate tags. Use single quotes (') for phrases.