Home

/

Dynojet Target Tune for The Power Vision Harley EFI Tuner
FREE TT ENHANCED PRE-PROGRAMMED EFI MAP
DOUBLE WARRANTY
UNLIMITED SUPPORT
TARGET TUNE
For The Power Vision
by
Dynojet
Works with the Power Vision to give a Powerful, Dynamic Tune, as You Ride!
For
2006-2023 Delphi EFI Harley-Davidson's
DK Custom Products has Partnered with Dynojet & Fuel Moto
To Offer the Best Flash Tuning Choices for Harley-Davison's
Along with the Best Warranty and Best Customer Support!
Features & Specs:
Provides Real Time Tuning, as you Ride

Fits All 2006-2023 Delphi EFI Harley-Davidson's

Allows the factory ECM to interpret and use wideband O

2

sensor signals

User defined AFR/Lambda targets over a broad range

Target fuel table from PV calibration is achieved in real time
R

etains OEM closed loop, adaptive fuel control strategy

L

earns and uses VE table corrections as you ride

More Powerful Auto Tune w/ Target Tune
D

oes NOT interfere with dealer diagnostic / service tools

D

irect plug in OEM style connectors connect to factory O

2

harness

Straight forward installation, comes with Step-by-Step Instructions

Double the Dynojet Warranty

Unlimited Lifetime Technical Support
DK Custom Products is proud to have Partnered Up with Fuel Moto to Provide the Best Customer Support for the Power Vision Flash Tuner & Target Tune.
Enhanced Custom Maps & Unlimited Technical Support
By

And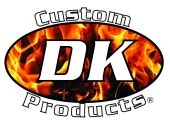 Dynojet Target Tune is an optional accessory for Power Vision that adds a new dimension to Harley tuning.
Target Tune incorporates closed loop fuel control utilizing Bosch wideband O2 sensors into the HD-Delphi ECM.
Dynojet has evolved the OEM closed loop parameters and adaptive fuel control within the ECM to meet the needs of performance & tuning enthusiasts alike.

The Target Tune has many features. The Two Outstanding are:
It allows you to set the desired AFR and no matter what throttle setting or RPM you are at, the TT will use the wideband O2 sensors to keep you at your Targeted AFR. This makes a Huge difference in power & fuel economy. A Difference that you can FEEL, and See when filling up.
Target Tune utilizes the included Wideband O2 Sensors, instead of the factory Narrowband O2 Sensors. This means your bike is running in closed loop 100% of the time, and when you run Auto-Tune* with the TT you are able to dial in exactly the ideal tune at every throttle and RPM setting, instead of just in narrowband closed loop with the "Basic Auto-Tune" that comes with the Power Vision. No More open loop where there is less control over the tune.
When ordering, you will be asked a few questions about your bike so that the correct Target Tune will be shipped to you, to work in conjunction with your Power Vision.
ALSO, if you have anything about your tune you do not like, decel pop, a flat spot at a certain RPM, etc., please enter that information in the "Notes:" field and we will make some adjustments to the tune for you.
When ordering you will be asked if you want the Full Target Tune Kit w/ Oxygen Sensors, or if you already have the Auto-Tune Pro and want to Upgrade it to the Target Tune.
After you order, please email us ([email protected]) your current best Map that you are using with your Power Vision. We will convert it for use with the Target Tune and email it back to you.
For full details on the Power Vision, please click

HERE

.
Fitment:
Touring 2007-2023

Softail 2007-2020
Dyna 2006-2017

Sportster

2007-2023

V Rod

2008-2017
Fitment Note: The Target Tune Kit comes with Wideband O2 Sensors (18 mm) that need to be installed in your exhaust headers. Many bikes already have 18 mm ports that these sensors can screw into. If not, the kit includes two bungs that can be welded into your headers to accept the included Wideband O2 Sensors.
*Autotune does not work with 2021+ Models that have the Target Tune Installed.
Attention CALIFORNIA Residents: THIS PRODUCT IS NOT LEGAL FOR SALE OR USE IN CALIFORNIA ON ANY
POLLUTION CONTROLLED MOTOR VEHICLE. PRODUCT CANNOT BE SHIPPED TO CALIFORNIA
"I have used just about every tuner on the market. For the last several years I have been using the Power Vision, which surpasses all the other tuners on the market for ease of use and producing a great tune (plus I love the Touch Screen Gauge Cluster).
I did not think it could get any better until I installed my Target Tune to work in conjunction with my Power Vision. With the TT it's absolutely amazing how much stronger my bike runs in every circumstance, as the Target Tune is constantly adjusting for all variables to provide the ideal tune." -Scotty
Caution: Motorcycles modified with this High-Performance part may not be legal for public road use in some areas. The user shall determine suitability of this product for his or her use.
Product Tags
Use spaces to separate tags. Use single quotes (') for phrases.