Home

/

FLYING KNUCKLE FOOT PEGS ~ Wrinkle Black...More Details
FLYING KNUCKLE FOOTPEGS
For

Sportsters-Dynas-Softails-Touring

WILL FIT FORWARD-CONTROLS, MID-CONTROLS, HIGHWAY PEGS & PASSENGER FOOT RESTS!

MADE IN THE USA!
By
DK Custom Products
DURABLE WRINKLE BLACK
POWDER COAT FINISH

FEATURES & SPECS:
Fold-Up FLYING KNUCKLE Pegs fit all stock Harley-Davidson & most custom control set-ups
American Cold Rolled Steel
WRINKLE BLACK FINISH MATCHES HD FINISH
Adjustable set screw for different lateral angles
Choice of Fitment (90* or 45*)
E-Z INSTALL
FITS ALL HARLEY-DAVIDSONS THAT USE A FEMALE CLEVIS MOUNTING POINT (see Fitment Notes Below)
Sold in Pairs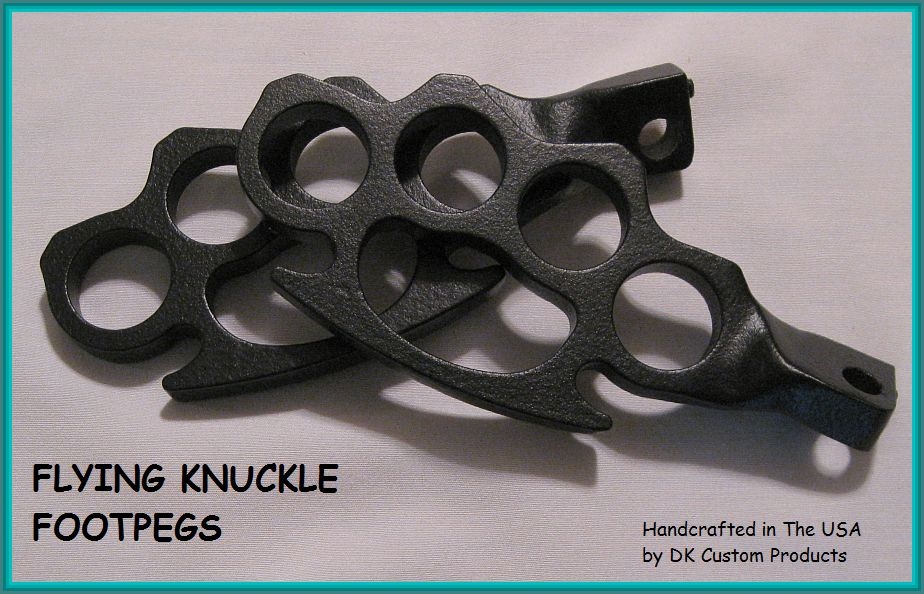 This is a picture of some 45* Knucks
Being able to move your feet around on a solid platform makes all the difference! You will be amazed at how comfortable they are.

Additionally there is a Grade 8 set screw that adjusts the lateral (angle from the ground) angle to what suits you best.

Look at all the pictures...you will be very pleased with how this alters the attitude of your ride!

Works equally well with Forward or Mid Controls as mini-floorbards, passenger mini-floorboards, and is a perfect for highway pegs...even on Touring bikes!
Also available in Textured Brass Powder Coat Finish at this LINK
Fitment Notes:
Will fit the M8 Softail when used with the Footpeg Adapter at this LINK
You will need to look at your footpeg mount on your bike, and look at the last 2 Example photo's above. Then determine whether you need a 45* or 90* mount.
If you are not sure, you can email a photo of your bike of where you want to mount the pegs, and we'll let you know which ones will fit.
Most of the time mid-controls and passenger pegs will use a 45*.

Most of the time forwards and highway pegs with use a 90*.

This is an EASY install - 5-10 minutes!

Make your ride Different AND more comfortable!!!
"Amazingly comfortable pegs, that really get the compliments. " -Kevin
*For our friends in Australia & Canada- Australian & Canadian Customs view these as a prohibited weapon and are not letting them through when checking packages. If you order anyway and it does not get delivered, we cannot refund.
Customer Reviews
Nice!!!

Review by

cdepac


These things are badass. I am glad I bought these steel ones instead of the cheap aluminum ones off eBay. They are super comfortable as well. The only improvement would be if they were a quick release so you could use them like brass knuckles!!! That would be cool (Posted on 10/6/2022)

RADASS PEGS!!!

Review by

Lyons


I've put these pegs on both my bikes! For the rider and passenger, I just don't believe that a more comfortable peg can be found that will inspire the same amount of confidence, compliments, and give your bike that much needed attitude adjustment! They look GREAT and are a stable wide platform for riding. Whether you're just bar hoping or putting in a 600 mile day, they can't be beat! They are subtle enough that most people don't notice them at first. After they're noticed though, that's all people want to talk about... "How completely RADASS they look!" Keep up the good work DK!!! (Posted on 3/29/2022)

Perfect Fit and Finish

Review by

SLAUGHTERBOY


Purchased these pegs for the highway bar on my 2008 Street Glide. They fit and work perfectly with the stock HD crash bar. Very comfortable and look bad ass. Thanks DK! (Posted on 5/20/2021)

Would buy again

Review by

DanO


One side went together perfect. Had to ream out other side but no big deal. Looks great. Nice platform for your feet, better than stock rubber pegs but boards would be too big for my little 18 streetbob. Dont think your gonna do it without the adapter kit, wont work. Set screw adjustment works great for perfect angle/comfort. (Posted on 11/25/2019)

Love these pegs

Review by

Hollywood Hamilton


I was looking for something solid and stylish that grabs your attention and this was perfect. Easy install and it's a nice detail to my bike that everyone notices I would definitely recommend this product (Posted on 6/1/2019)

Quality product!!!

Review by

Rudeboy


Bought my second pair, love the quality, and how they look on the bike, and my wife loves how comfortable they are compared to the stock passenger pegs!! (Posted on 4/9/2019)

Kick ass

Review by

Ryan


I've got the flying knuckles on both my bikes. They are comfortable and people always like them. They're a very high quality product to, I love them! (Posted on 3/31/2019)
Product Tags
Use spaces to separate tags. Use single quotes (') for phrases.