Home

/

JIMS Force Flow Fan Cools Twin Cam & Milwaukee-Eight Engine
JIMS
FORCE FLOW
Cylinder Heads Cooling Fan
Fits All
Milwaukee-Eight Touring Models
& NOW
Milwaukee-Eight Softail Models
Made in The USA!
Twin Cam Force Flow Fans are Out of Stock
We are unable to sell the Twin Cam Fans at this time.
Please check back periodically for updates!
ALL M8 FANS
ARE CURRENTLY TAKING
ANY WHERE FROM 2 DAYS TO 3 WEEKS TO SHIP
FEATURES & SPECS:
Lowers Head Temps up to 100 degrees
Sleek Design includes horn

Wrinkle

Black

Finish

Pushes High Velocity Air directed at Head Gasket Surface
Everything supplied for an E-Z BOLT-ON INSTALL
Step-by-Step Instruction Included
JIMS ForceFlow Cylinder Head Cooler. Whether you are running a big inch performance engine or rolling stock in traffic on a hot summer day, your air cooled engine will heat up.
Excessive heat and operating temperature can be an engines worst enemy. The patent pending JIMS ForceFlow literally forces the heat away from your engine by pushing high velocity air through the cylinder fin pack in a wide flow pattern, directed at the head gasket surface.
Powered by a cooling fan that was designed to cool brakes in NASCAR, the JIMS ForceFlow can lower head temperatures up to 100 degrees!
The ForceFlow can either be activated by a thermostat (included), or wired for a manual on/off switch (included).
This unique design also relocates the horn inside the ForceFlow's streamlined housing, and gives the horn mount or "left side" of the bike a much needed new look.
Fitment: Fits all Harley Twin Cam Models & All Milwaukee-Eight Softail & Touring Models (including Trikes)
Twin Cam CVO & 120 Models require additional mounting hardware, which is an option while ordering
Milwaukee-Eight CVO's do NOT need the additional mounting hardware.
MAKE SURE You Choose the Correct Option for YOUR Bike.
***M8 models that are Twin Cooled will have to have some creative placement of the Thermostat, or can be run with just the switch, not using the Thermostat.
***M8 SOFTAIL FITMENT NOTICE- In order to install the Forceflow on the M8 Softails, it is necessary to re-locate the coil. This Kit includes a turnkey coil relocation system to move the coil to the front of the motorcycle inconspicuously tucked underneath the neck of the bike, in-between the frame tubes. This new mounting system allows the Forceflow to be installed on all Milwaukee Eight Softail motorcycles. Non-stock components that are installed in this area, under the neck, may conflict with the coil relocation, this Includes the Harley Brand Engine Guard. The coil cannot be relocated for the Force Flow if an Engine Guard is installed.
Every week we see Twin Cam & M8 engines that have been destroyed by excessive heat.
These Charts showing normal operating temps are Directly from the Harley Manual:
TWIN CAM ENGINES: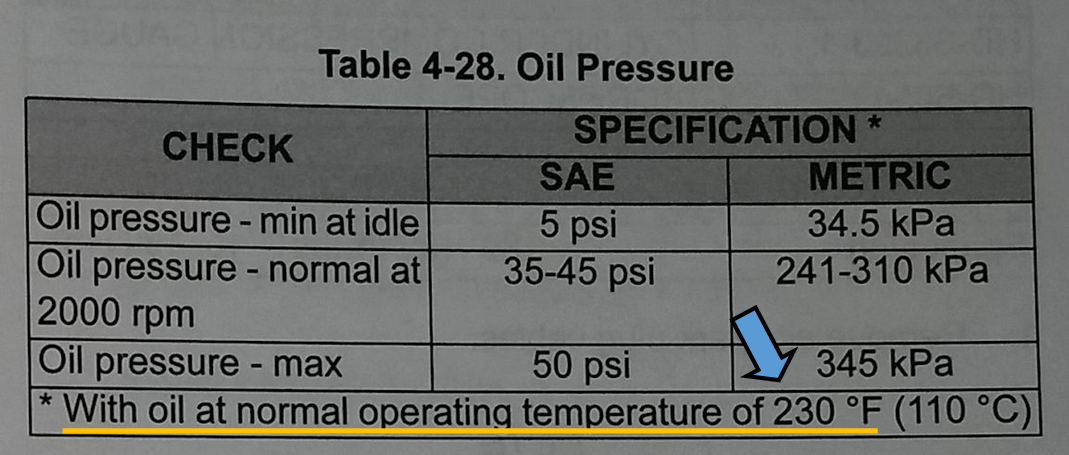 M8 ENGINES: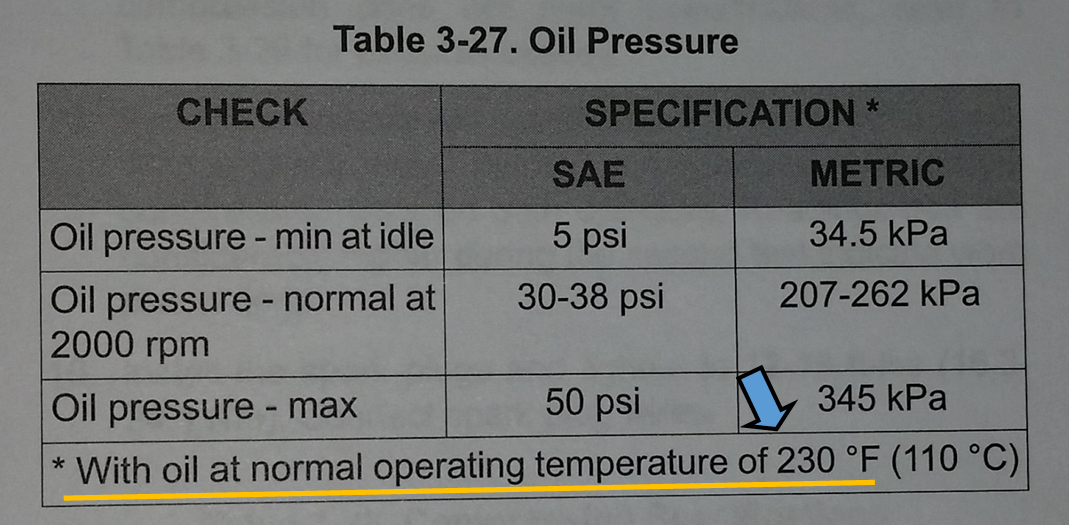 Not only is the "normal" amount of heat uncomfortable, it:
Reduces Power & MPG
Increases Wear & Tear on the Engine
If you have not read the Report- "Why & How to Cool Down Your Twin Can & M8 Engine"
You can see it by clicking this LINK
"The last step in cooling my 103 down was a fan, & when I saw this Force Flow, I loved the look. With it installed I am very happy with how well everything is working together to increase my power and the longevity of my motor. btw, I also have all of your other parts for getting the heat down! Thank you!" ~Stephen
Test Data on the Force Flow Fan
We put off testing this fan for well over a year. We did not think it would work that well.
However, we were told that it did work well at cooling down the engine, so we took the time to test it on two different bikes.
An Air-Cooled 103 and a Twin-Cooled (wethead) 103.
We were pleasantly surprised by how well it works. See the Video Report HERE
Even though both of these bikes already had a full compliment of Cooling Components installed, this fan did a great job of lowering the temps even more!
To do the testing we removed the fans that were already installed on these bikes, and when we did, in certain situations the temps were getting too high for optimum performance, and getting into the range were accelerated wear was occurring.
By Switching on the Force Flow Fan the temps came right down into the optimum range....both for Performance and Engine Longevity.
Check out the data below-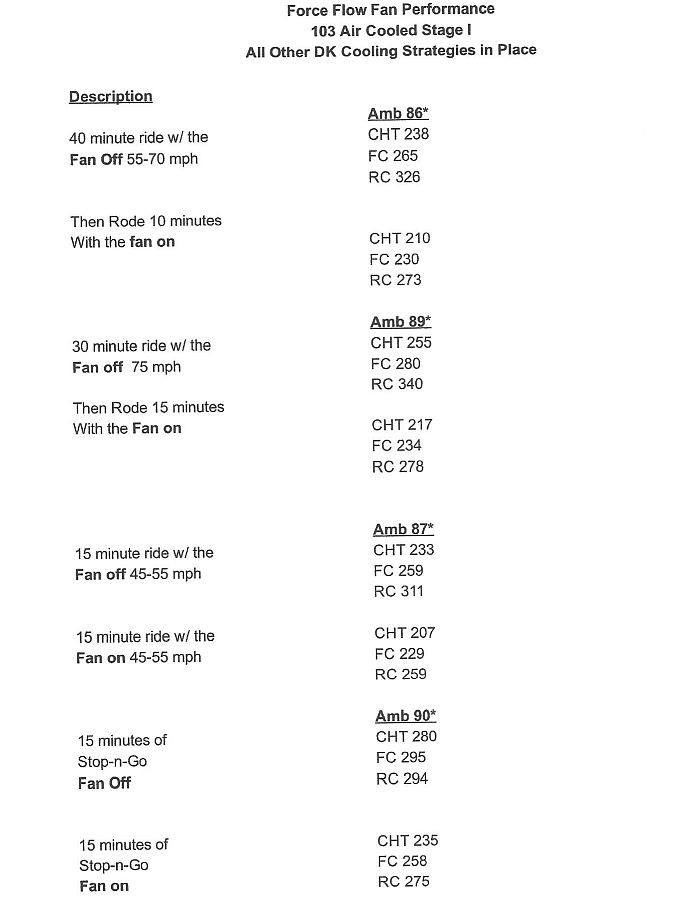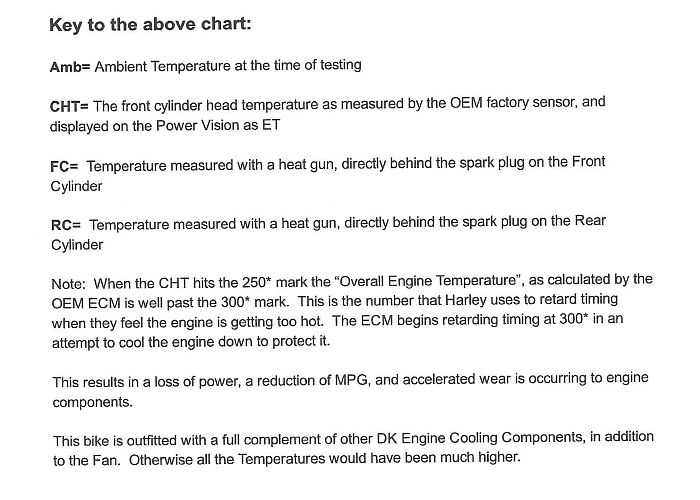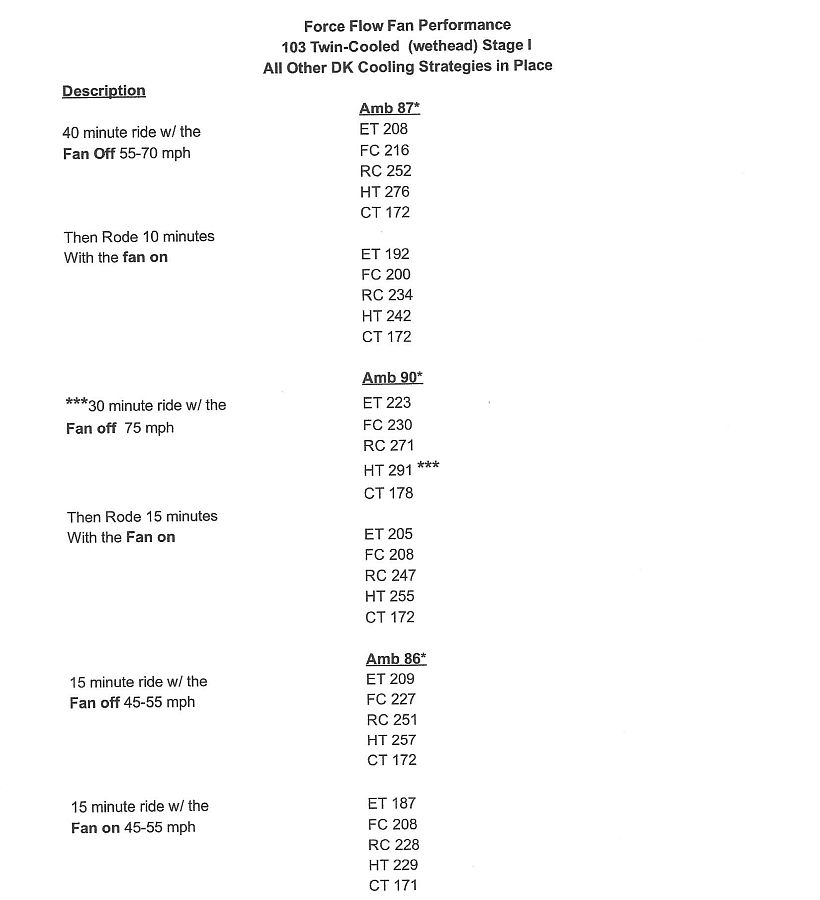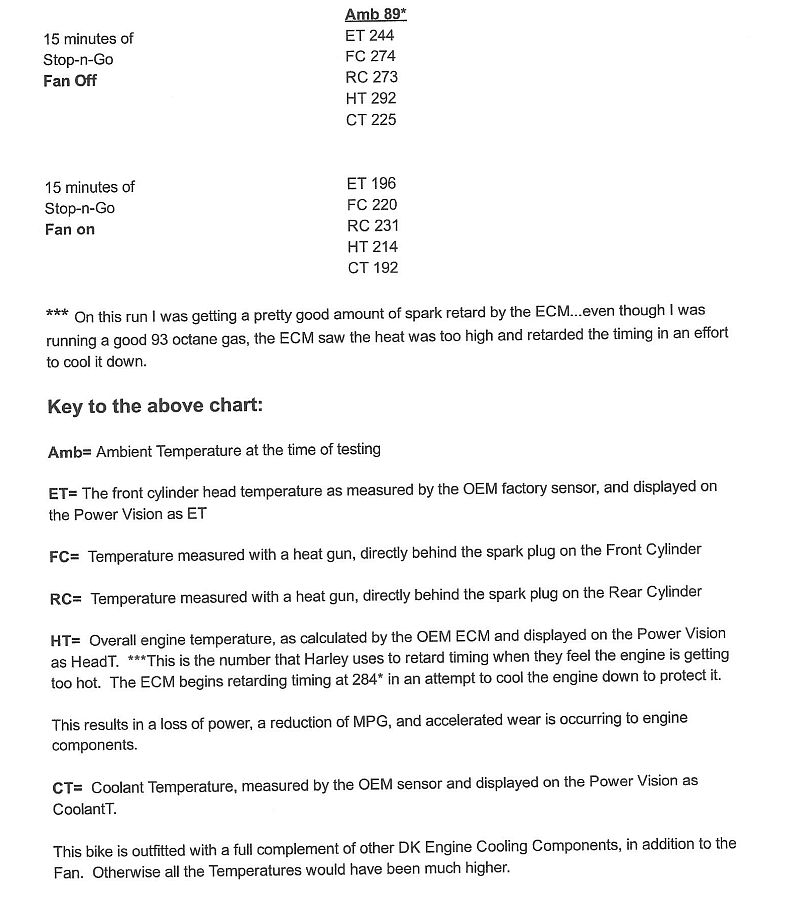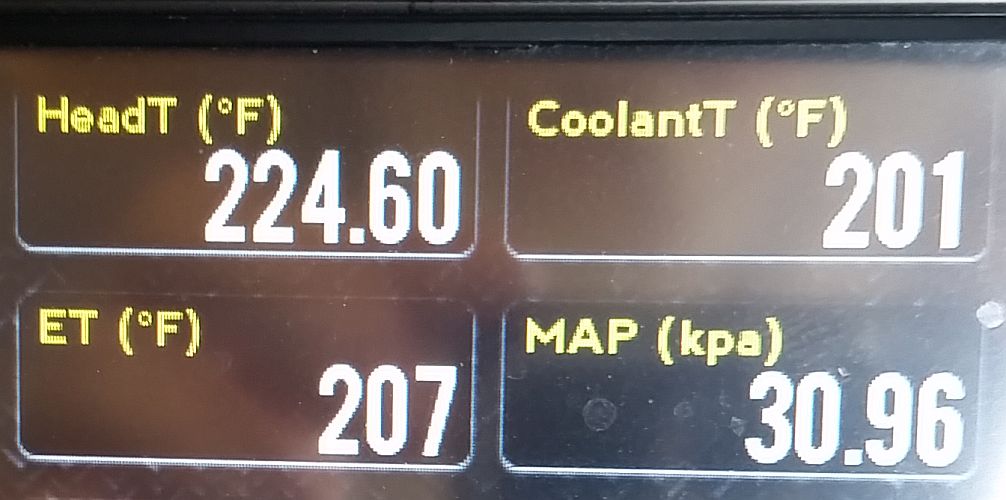 Save
Save
Step By Step Installation Video:
Customer Reviews
Fitment Notice Could Be Clearer

Review by

Digger


The Fitment Notice states: Non-Stock Components may conflict with Coil relocation. I had to return Jim's Force Flow Fan as my Engine
(Crash) Guards were in the way. Notice should specifically include "Engine Guards," as who thinks of these as "Non-Stock? DK Custom was kind enough to waive the restocking fee, but I was still out the $40.00 to return. (Posted on 3/22/2023)

Unreal cooling power

Review by

Phillip mckeown


I ride long distance when i ride my 2021 street bob 114. 4-500 miles is my daily avg. On weekends. Summers are 112 f. Then 48 f at night. Had my dealership install it and she puuuurrrrrrsssssss like a kitten now.. Thermal stat set at 140. Engine stays at 180. Never gets hot or unpleasant.to drive (Posted on 11/9/2021)

Jims forcefan. M8 2021 streetbob 114.

Review by

Phillip mckeown


Second i got it back from the dealership i .went st8 (Posted on 10/21/2021)

Great Product - Not so great instructions

Review by

FriscoRaj


Fan worked and I like it so far. Using and Infra heat gun I see the head at about 120 F temp. The installation instructions were confusing and all over the place. I figured it out with some help from my riding buddy. (Posted on 9/13/2021)
Product Tags
Use spaces to separate tags. Use single quotes (') for phrases.