Home

/

Naked Complete HiFlow 606 Air Cleaner Harley Milwaukee-Eight
Outlaw HiFlow 606
Air Cleaner System
For

Harley-Davidson
Milwaukee-Eight
~Complete High Performance System~
~Designed To Fit The 'Milwaukee-Eight' OEM Cover~

MADE in The USA!
DK Custom Products

FEATURES & SPECS:
Tapered HiFlow Genuine K&N Air Filter

6 1/4" Base & 5 1/2" Face Diameters



Designed Specifically for the M8 Engine

Naked - No Cover - OEM Rushmore Cover Fits

Your Choice of External Breathers (NO dirty air in engine)

All A True Stage l Air Cleaner




E-Z Step-by-Instructions Included




Made in The USA!
The Outlaw HiFlow 606 System will give your M8 the Air it needs to Produce Maximum Power. CLEAN AIR - No dirty air routed back in!
This system is TURN-KEY. It comes with everything needed to replace the restrictive stock air cleaner.
E-Z Installation with Step-by-Step Instructions.
Genuine K&N Filter with Million Mile Warranty.
Filter is re-usable. Simply wash, let dry, & apply oil.
Fits Milwaukee-Eight Models.
This is a must for at Stage 1 Upgrade.
Included: Your Choice of Brass, Black or Polished Aluminum Breathers. Or you can choose one of the Hose & filter Breather Systems for venting - The Traditional, the Discrete, or the Premium Discrete To see full details on All these choices Click HERE.
When choosing between the Breather systems, it is helpful to know-
1. All three Breather Bolt function the same, it is just a matter of which color you prefer.
2. All the Hose and Filter Breathers function the same with the Outlaw Air Cleaners, it is a matter of which system you like the looks of the best.

The Transformer™ is the Ultimate External Breather System, that Doubles as a Support Bracket and can be Transformed into an EPA (Emissions) Compliant System. It fits all Outlaw Air Cleaners.
This 606 comes with no cover. A cover is not needed, and you can run it this way, or let your imagination run wild and secure any cover you want to it via, the center bolt in the filter element.
Just about any HD or aftermarket cover (Round, Football, teardrop, etc.) will fit over it.
It is Specifically Designed to work with the OEM M8 Cover.
Comes with the needed hardware to mount the Factory Milwaukee-Eight A/C Cover to this 606 HiFlow Air Cleaner.
You can upgrade to the Outlaw HiFlow 606 Air Cleaner System without doing any dyno work or adding tuners IF you leave the stock exhaust in place. To see Why the M8 Does Not Need a Tune when Running Free Flowing Intake & Exhaust CLICK HERE.

Fitment:
This Air Cleaner fits OEM Milwaukee-Eight Throttle Body
NOTE: With This Air Cleaner the OEM support bracket must be used. It is pictured below. If you don't have one, the HD Part # is 16400049 (it has a retail price of $17.09)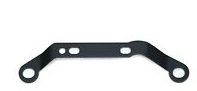 Harley routes dirty, oily crankcase air back into the air cleaner compromising the performance of your engine. The Outlaw Breathers vents it without compromising the performance or longevity of your motor.
Caution: Motorcycles modified with this DK Custom Products High-Performance part may not be legal for public highway use in some areas. The user shall determine suitability of this product for his or her use.

"Great addition to my Bike. DK Custom Rocks!" -Sol

Customer Reviews
Naked Complete HiFlow 606 Air Cleaner Harley Milwaukee-Eight

Review by

Bob


Replaced the screaming eagle high flow air filter with this one so I could use the transformer and i am so glad I did. It seems like the engine runs better and throttle response is quicker too.

Great product and worth the money. (Posted on 5/9/2023)

Excellent way to complete stage 1

Review by

NK Bobcat


I already had the breather bolts and a high flow air cleaner from Vance & Hines. I liked the idea of using the OEM cover so the breather bolts were covered and the steam and blowback wouldn't hit my leg. My bike looks and runs great and I have had no oil or blowback through the breather bolts. (Posted on 4/30/2023)

Naked complete HiFlow 606 air cleaner HD M8

Review by

Kerry


I love this combo set for 3 reasons, first, it allowed me to use my H-D military air cleaner on my 2018 Trike! Second, it gives better airflow. Third, with the EBS it keeps heat and carbon build-up down.
The easy instructions and U-Tube videos make the installation quite trouble-free. (Posted on 4/6/2023)

Great product!

Review by

David


Love the fact that I could use my OEM cover since I had the cover painted to match my bike. (Posted on 1/20/2023)

Love it!

Review by

Nevin Pratt


I wanted a quality hi-flow air cleaner, but I wanted the stock look. This one (with the original cover plate) was just the ticket! (Posted on 10/17/2022)

Nice Setup

Review by

Bill


2020 Roadglide Limited. Running the factory airbox cover for now while looking for a custom cover. It does stick out a little more than the stock location. I was able to reduce that some by deleting the 3 spacers on the mounting bracket. I had to grind some off the bracket so it sits flat on the filter plate. Also I used the provided cover screw to plug the center hole in the plate. (Posted on 9/22/2022)

Well done, Great customer service.

Review by

JR


Made well, easy to install. Had a small issue and Natalie from customer service was a great help and solved my problem. (Posted on 8/15/2022)

great looking w/ stock cover

Review by

Paul K


This set up worked great w/the Transformer easy to follow instructions. looks great with the stock cover only sticks out a little far. Going to get the seven spoke cover and or floor board extensions. Over all very happy with DK products. (Posted on 5/22/2022)

Easy install!

Review by

Evel


Watched the Youtube video and it was easy! (Posted on 5/20/2022)

Awesome air cleaner kit!

Review by

Bobb Gorena


Really easy to install, although because the intake is asymmetrical, you have to make sure everything is aligned properly. The pictures help a lot. It makes a huge difference compared to the factory air box, and coupled with the external breather my bike is running lots better, with better throttle response, better sound, and more get up and go!! This is a very high quality component, at a great price! I bought it to use with the stock cover, but I think it looks pretty awesome naked, plus it sounds so awesome sucking in all that air when you open up the throttle! Couldn't be more pleased! I'm a customer for life now! (Posted on 5/7/2022)

My bike can breathe

Review by

HR


Nice intake system, everything mounted up as it should. I feel like the throttle response is better. Overall Im satisfied. (Posted on 4/30/2022)

noticeable performance increase

Review by

Jim


First of all let me say all quality parts as expected from DKCustoms. Easy install, printed instruction are good but I must say watch the video a few times before attempting installation. Also as stated in previous reviews it does make the OEM cover stick out a bit further. I have the rider floor board extensions so not a big deal. There was a noticeable increase in power and torque after putting this on. Really woke up the machine. As a side note there is a better sound coming from the exhaust also. Great product. Highly recommend. BTW I have a 2019 M8 114. (Posted on 3/30/2022)

Nice low profile AC

Review by

Sao


Had little issue with the first one and DK responded quickly and the second one was spot on like all DK products!! Great customer service this is a nice low profile AC running it naked with the HD ratchet cover. Thanks again! (Posted on 3/19/2022)

EXCELLENT - really delivers!

Review by

Kevin Z in Arabi


First off, I'm not a mechanic or "technician" as they are called today but I was easily able to do this install myself. The naked air cleaner and discrete EBS system look great on the bike and from the "seat of the pants" dyno it feels like my 2021 Triglide pulls much harder, faster. It took me one cold beverage and about two hours total, including showing it to a neighbor. The 114 is already strong but now pulls harder and no more hot oily mist being put into my intake and engine. I wish I could include a picture as the new 606 looks so much better than the stock cover, but if I want to go stealth mode can put the stock cover back on. EXCELLENT PRODUCT as is all that I have purchased from DK.
DK has a great video on the install and great customer service on the phone. I am extremely happy with spending my hard earned $$$ on DK products. (Posted on 3/15/2022)

Great air cleaner

Review by

Bob


Changing out the stock air cleaner isn't a hard choice to make and this is a great cleaner to go with. The only thing is if you're going to retain your M8 stock cover it will stock out slightly further with this filter. It's not too the point where it's uncomfortable, but it is noticeable. Even with that I'd highly recommend this air cleaner. (Posted on 2/28/2022)

Overall a great air cleaner with one minor issue

Review by

Tom


Overall, this is a great air cleaner. SUper easy install as expected, quality parts and perfect for adding a breather, which I bought from DK also.

The one issue I have is the way the OEM M* air cleaner cover sticks. I like the look of this cover and wanted to stay with it. This is not necessarily a DK Customs issue, you need to use the bracket to attach the OEM M8 cover, and to clear the hump on the K&N filter you need to install spacers, making it stick out a little more.

I would highly recommend this air cleaner if you are installing a breather. Get both of them from DK Customs. (Posted on 10/13/2021)

Have no doubts...

Review by

Ricardo


If you're on the fence about buying a complete air intake system from DK Customs; don't be. You won't regret the purchase. Excellent support, delivery and instructions on the install. My 2020 M8 feels stronger on 2K-3K RPM range and response is clean with added power.
Recommend getting the EBS with the system as this will prolong your engine without that dirty air getting back into it. Highly recommend. (Posted on 7/28/2021)

Easy mod with real benefits

Review by

Chris


Bought a used 2017 ultra limited. First oil change I noticed the air filter had oil all over it. Not knowing about the blow by was I did some research which eventually led me to DK customs. Bought the 606 naked kit so I could keep my stock cover. Watched the linked video once before the part arrived and followed along again while doing the install. Couldn't have gone any easier. The bike feels more responsive and I'm not sure if this is a placebo but it seems like it sounds deeper now also. Long story short. The 606 kit is money well spent. Thank you DK Costums!! (Posted on 7/4/2021)

Perfect for my RoadKing

Review by

Sportyone


Looks great with my 8" round heritage style cover. It is a MUST to get the blow by out of the intake. Great quality at a great Price! http://shop1.lvhd.com/productImages/59146-96.bmp (Posted on 6/23/2021)

I work as a Program Manager for MHEP

Review by

DREAD


THE QUALITY OF THE PRODUCT IS GTEAT. THE INSTRUCTIONS WERE NOT CLEAR TO ME WHEN IT CAME TO RE-USING THE STOCK AIR CLEANER COVER WITH MY 2017 TRI-GLIDE. BUT WHEN I CALLED DK THEY WERE VERY RESPONSBILE, KNOWLEDGABLE AND HELPFUL IN WALKING ME THROUGH ANY MISCONCEPTIONS I HAD. IT WAS MORE MY ANXIETY THAN THE INSTRUCTIONS. I'D RECOMMEND THIS PRODUCT TO RIDERS EXPERIENCING THIS OIL/MIST ISSUE OR NOT; IF IT AIN'T HAPPPERNING NOW, IT WILL EVENTUALLY HAPPEN SO WHY NOT PREPARE FOR THE WORST CASE SCENARIO AND TAKE SOME PREVENTIVE MEASURES FIRST! (Posted on 6/16/2021)

nice fit

Review by

Mike


Good quality fits great haven't tested the performance yet . will test after I change the exhaust (Posted on 6/15/2021)

Quality product

Review by

Randy C


Fast shipping. Fits well . All hardware needed included. The engine is much more responsive than stock of course. Used the stock AC cover. Also bought the breather kit that works great. I like this product. (Posted on 6/1/2021)

Excellent product, more power

Review by

HogWart


I bought this along with the external breather system mainly to avoid putting oil back into the intake air. I was very surprised to learn that there was a significant improvement in power! The stock exhaust also now has a nicer "growl" - even my riding buddies noticed this. It is well made and easy to install. DK even has a detailed video on YouTube that takes you through the process, step by step. Well done, DK!! (Posted on 4/22/2021)

Givin' the M8 some CPR

Review by

Wally


Put this on last month on my 2017 police bike, now she can at least run a full marathon without running out of air. Great addition. It does push the filter and cover out a bit but added the floorboard extensions. That helped with more room. (Posted on 3/23/2021)

Just a heads up

Review by

TBull


I bought & installed the "Naked Complete HiFlow 606 Air Cleaner Harley Milwaukee-Eight", which reused my stock breather cover on my 107 M8. Not intending to be critical of the product, but it does move the breather back & out considerably. It now pushes my leg out more making it less comfortable for me.
(Posted on 3/13/2021)

Best AC for M8

Review by

Ken


Can't beat this high flow air cleaner for the M8. It also allows an external breather system to be installed with it. Good quality and value. Highly recommended. (Posted on 12/1/2020)

Great system.

Review by

Robert


Super easy to install, used the OEM cover .. Absolutely Outstanding .. Also installed the EBS for my M8, another great idea !! (Posted on 10/9/2020)

Easy to install on 17 TG

Review by

Phil


Liked the looks of my 107 cover so with the naked high flow 606 I could reuse it. One thing to note though and that is that it sticks out farther. I will be ordering the foot feet extensions next. (Posted on 5/24/2020)

Easy Install - Not Symmetrical

Review by

Chris - Ohio


Bought this kit as I wanted the flexibility to reuse the stock A/C cover or to mount a center holed cover of my choice from HD at a later date. All in all, easy install, just like other A/C kits form DK. What I didn't know was how off center the circular naked a/c would look on the M8 vs the old Twin CAMs. This is not a knock on DK at all, just something to be aware of if going with a circular a/c kit from anyone really on an M8.

HDs twin CAMs are very symmetrical when it comes to adding a high flow a/c kit whereas the M8 is not. I never noticed this until I installed this kit. I almost prefer the look of the stock a/c cover over the naked filter by itself with how much it appears to be set forward on an M8. Hopefully I'll get used to it. (Posted on 12/2/2019)
Product Tags
Use spaces to separate tags. Use single quotes (') for phrases.
What's Your Take on Harley's Fully Electric Future?
579 (65.43%)

No, not for me.. :

31 (3.5%)

Maybe if there were no other Harley's:

35 (3.95%)

I'm warming up to the idea.:

240 (27.12%)

Makes me no difference, I'm riding my gas-powered Harley until it quits!: