Home

/

Naked Complete HiFlow 606 Air Cleaner Harley Milwaukee-Eight
Outlaw HiFlow 606
Air Cleaner System
For

Harley-Davidson
Milwaukee-Eight
~Complete High Performance System~
~Designed To Fit The 'Milwaukee-Eight' OEM Cover~

MADE in The USA!
DK Custom Products

FEATURES & SPECS:
Tapered HiFlow Genuine K&N Air Filter

6 1/4" Base & 5 1/2" Face Diameters



Designed Specifically for the M8 Engine

Naked - No Cover - OEM Rushmore Cover Fits

Your Choice of External Breathers (NO dirty air in engine)

All A True Stage l Air Cleaner




E-Z Step-by-Instructions Included




Made in The USA!
The Outlaw HiFlow 606 System will give your M8 the Air it needs to Produce Maximum Power. CLEAN AIR - No dirty air routed back in!
This system is TURN-KEY. It comes with everything needed to replace the restrictive stock air cleaner.
E-Z Installation with Step-by-Step Instructions.
Genuine K&N Filter with Million Mile Warranty.
Filter is re-usable. Simply wash, let dry, & apply oil.
Fits Milwaukee-Eight Models.
This is a must for at Stage 1 Upgrade.
Included: Your Choice of Brass, Black or Polished Aluminum Breathers. Or you can choose one of the Hose & filter Breather Systems for venting - The Traditional, the Discrete, or the Premium Discrete To see full details on All these choices Click HERE.
When choosing between the Breather systems, it is helpful to know-
1. All three Breather Bolt function the same, it is just a matter of which color you prefer.
2. All the Hose and Filter Breathers function the same with the Outlaw Air Cleaners, it is a matter of which system you like the looks of the best.
This 606 comes with no cover. A cover is not needed, and you can run it this way, or let your imagination run wild and secure any cover you want to it via, the center bolt in the filter element.
Just about any HD or aftermarket cover (Round, Football, teardrop, etc.) will fit over it.
It is Specifically Designed to work with the OEM M8 Cover.
Comes with the needed hardware to mount the Factory Milwaukee-Eight A/C Cover to this 606 HiFlow Air Cleaner.
You can upgrade to the Outlaw HiFlow 606 Air Cleaner System without doing any dyno work or adding tuners IF you leave the stock exhaust in place.

Fitment:
All Milwaukee-Eight Models
NOTE: With This Air Cleaner the OEM support bracket must be used. It is pictured below. If you don't have one, the HD Part # is 16400049 (it has a retail price of $13.49)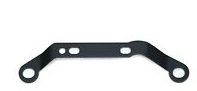 The EPA has required Harley to route dirty, oily crankcase air back into the air cleaner compromising the performance of your engine. The Outlaw Breathers vents it without compromising the performance or longevity of your motor.
Caution: Motorcycles modified with this DK Custom Products High-Performance part may not be legal for public highway use in some areas. The user shall determine suitability of this product for his or her use.

"Great addition to my Bike. DK Custom Rocks!" -Sol

Customer Reviews
Givin' the M8 some CPR

Review by

Wally


Put this on last month on my 2017 police bike, now she can at least run a full marathon without running out of air. Great addition. It does push the filter and cover out a bit but added the floorboard extensions. That helped with more room. (Posted on 3/23/2021)

Just a heads up

Review by

TBull


I bought & installed the "Naked Complete HiFlow 606 Air Cleaner Harley Milwaukee-Eight", which reused my stock breather cover on my 107 M8. Not intending to be critical of the product, but it does move the breather back & out considerably. It now pushes my leg out more making it less comfortable for me.
(Posted on 3/13/2021)

Best AC for M8

Review by

Ken


Can't beat this high flow air cleaner for the M8. It also allows an external breather system to be installed with it. Good quality and value. Highly recommended. (Posted on 12/1/2020)

Great system.

Review by

Robert


Super easy to install, used the OEM cover .. Absolutely Outstanding .. Also installed the EBS for my M8, another great idea !! (Posted on 10/9/2020)

Easy to install on 17 TG

Review by

Phil


Liked the looks of my 107 cover so with the naked high flow 606 I could reuse it. One thing to note though and that is that it sticks out farther. I will be ordering the foot feet extensions next. (Posted on 5/24/2020)

Easy Install - Not Symmetrical

Review by

Chris - Ohio


Bought this kit as I wanted the flexibility to reuse the stock A/C cover or to mount a center holed cover of my choice from HD at a later date. All in all, easy install, just like other A/C kits form DK. What I didn't know was how off center the circular naked a/c would look on the M8 vs the old Twin CAMs. This is not a knock on DK at all, just something to be aware of if going with a circular a/c kit from anyone really on an M8.

HDs twin CAMs are very symmetrical when it comes to adding a high flow a/c kit whereas the M8 is not. I never noticed this until I installed this kit. I almost prefer the look of the stock a/c cover over the naked filter by itself with how much it appears to be set forward on an M8. Hopefully I'll get used to it. (Posted on 12/2/2019)
Product Tags
Use spaces to separate tags. Use single quotes (') for phrases.