Home

/

Outlaw Brass Breather Bolts Harley-Davidson Sportster & Evo
SOLID BRASS
BREATHER BOLTS

For

Harley-Davidson
Sportster Models 1991- UP
Big Twin Evo's

MADE in The USA!
DK Custom Products/Meadows Moto

FEATURES & SPECS:
Machined From Solid Brass Bolts

Dual Brass Screens with Filter

Set of Two
THREE SIZES TO FIT MOST ANY Air Cleaner Set-Up

No More Hoses

Made in The USA!
Mfg. Exclusively for DK Custom Products by Meadows Moto & Machine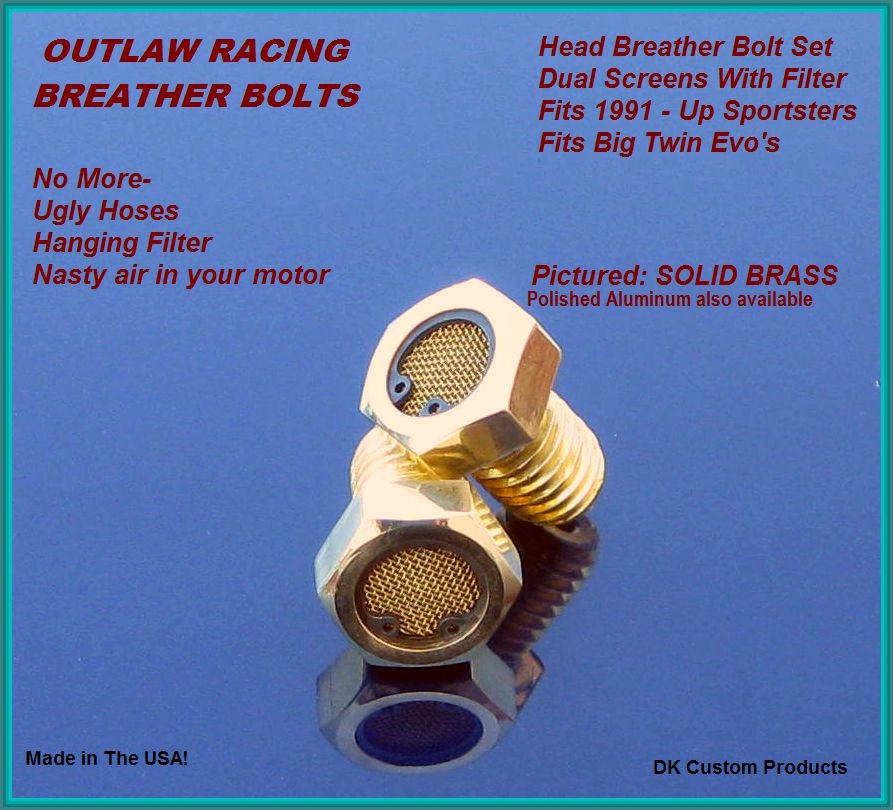 This pair of Brass Breather Bolts will really clean up your ride! No more hoses or filter. The filter is built into the bolt.
The EPA has required Harley to route hot, dirty, oily crankcase air back into the air cleaner compromising the performance of your engine. This vents it without compromising the performance or longevity of your motor.
Caution: Motorcycles modified with this DK Custom Products High-Performance part may not be legal for public highway use in some areas. The user shall determine suitability of this product for his or her use.

With the Outlaw Racing Breather Bolts you will experience a slight performance increase. This is because engines like Cold Dry air!

Also available in Polished Aluminum and Anodized Black. These are a must-have when doing your Stage 1 upgrade.
E-Z Install
Fits All Sportsters 1991 & Up (except XR1200)
Fits Big Twin Evo's

Fitment Notes:
These Breathers come in 3 sizes-
3/4" Thread length
1 3/8" Thread length
2" Thread length
The most popular size after-market support brackets are about 1/8" thick. The standard 3/4" Breather Bolt is used in this instance.
Other after-market air cleaners use support brackets/backplates that have more depth for the bolt to go through. (SE, Big Sucker, Joker) Depending on how deep the backplate is you will need either the 1 3/8" or the 2" Breather Bolts.
When ordering below you will be given an option on which length you want.

"Cleans up the look big time. Very little mist, and only when I'm hammering it." -Stevo

Customer Reviews
Great product

Review by

Tater nutz


Installed new intake and had bolts that routed oily crap into the throttle body and all over my idle sensor causing a high idle on start up, after cleaning up throttle body and installing these breather bolts my issue is been fixed. 2015 harley forty eight with s&s air stinger air cleaner. (Posted on 6/14/2022)

Breather bolts

Review by

BrownAndy


Great design, DK parts are rad! DK support is above average..try them and ask questions if you are on the fence about buying a part.

BE SURE to watch the DK Oil carry over video...https://www.youtube.com/watch?v=gJ0vYAitUqU&t=0s
I just learned..I was putting just a bit too much in the reservoir. (Posted on 4/6/2022)

Breather bolts

Review by

Inspirephil


I just installed the 3/4" brass breather bolts and I'm very happy with the look. No more ugly hoses coming off the heads!! (Posted on 10/3/2021)

Excellent

Review by

DC


These bolts are an extremely nice product. Well made and well finished. Customer service is outstanding! A bit of oil misting might occur on occasion with some bikes, but it's to be expected with that type of breather system. Love the look, love the product. Would certainly recommend. (Posted on 10/28/2020)

Brass breather bolts

Review by

Mark


Really like the look. I do get a few drops of oil that collects on the underside of my DK air cleaner which drips on my chrome case and deposits a mist of oil towards the oil tank. Not a big deal. (Posted on 10/16/2020)

Worth it

Review by

Markcnnn


These are nice and well worth the money.. I put them on my 883 after I installed a stage 1 kit..
Big difference.. My bike loves that clean air..
Yeah I get a small amount of spray on the back of my ac but who cares? I wipe my bike down everyday anyway.. (Posted on 5/22/2019)

Looks pretty but soils the boke

Review by

Gardiner


These breather bolts look very nice and are well made, but the downside is that they spray oil all over the side of the engine and oil tank. That dirty hot air has to go somewhere ... gets on rocker box covers, intake, push rod covers, engine case, exhaust pipes and the oil tank. Do not use these unless you're just hauling your bike to shows.

Every bike spits a different amount of oil. Most Sportsters do not spit enough oil to overcome the filters built in to these Breather Bolts, but some do. Most of the time, on a Sporty, when oil is making its' way past the filters it can be stopped by using the included additional filters, and/or by following the OEM directions regarding oil. See details at this link (Instructions)- https://www.dkcustomproducts.com/media/wysiwyg/Amber/3-9/Black_Anodized_Breather_bolts.pdf
(Posted on 10/10/2018)
Product Tags
Use spaces to separate tags. Use single quotes (') for phrases.