Home

/

Outlaw Brass Breather Bolts Harley-Davidson TWIN CAM
SOLID BRASS
BREATHER BOLTS

For

Harley-Davidson
TWIN CAM & MILWAUKEE-EIGHT's

MADE in The USA!
DK Custom Products/ Meadows Moto

FEATURES & SPECS:
Machined From Solid Brass Stock

Dual Brass Screens with Filter

Set of Two
FITS TWIN CAM Motor

No More Hoses

Made in The USA!
Mfg. Exclusively for DK Custom Products by Meadows Moto & Machine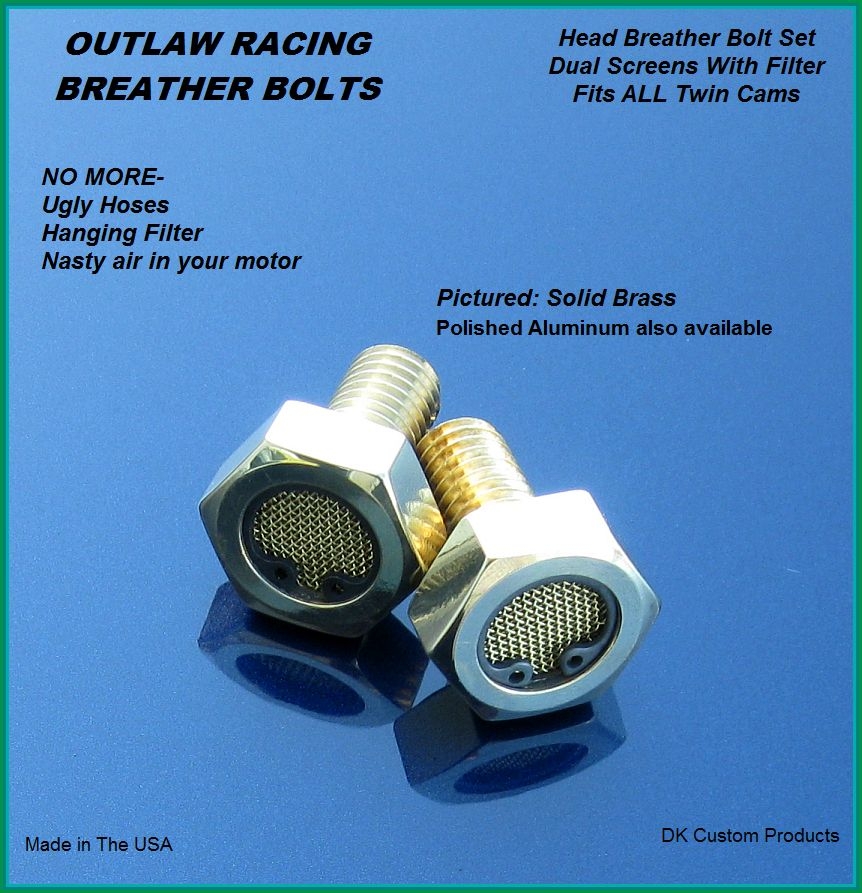 This pair of Brass Breather Bolts will really clean up your ride! No more hoses or filter. The filter is built into the bolt.
The EPA has required Harley to route hot, dirty, oily crankcase air back into the air cleaner compromising the performance of your engine. This vents it without compromising the performance or longevity of your motor.
Caution: Motorcycles modified with this DK Custom Products High-Performance part may not be legal for public highway use in some areas. The user shall determine suitability of this product for his or her use.

With the Outlaw Racing Breather Bolts you will experience a slight performance increase. This is because engines like Cold Dry air!

Also available in Polished Aluminum and Anodized Black. These are a must-have when doing your Stage 1 upgrade.
E-Z Install
Fits All Twin Cam & Milwaukee-Eight Motors (1999-Up)
Fitment Notes:
These are made to work in conjunction with a standard after-market support bracket which is about 1/8" thick. The thread length on the OUTLAW Breather Bolts is 3/4".
"Cleans up the look big time. Very little mist, and only when I'm hammering it." -Stevo

Customer Reviews
great product

Review by

jdub


better than expected.nlce bright finish,easy to install.works as advertised. (Posted on 8/1/2022)

Love these

Review by

FXR Mike


Such a clean look... and being brass, "classy as well! (Posted on 3/24/2022)

Excellent quality, easy install.

Review by

2015Freew


My particular 103 has a lot of oil spray out of these and was all over the engine. I ended up buying DK's EBS with black can to collect the oil. Awesome setup. (Posted on 10/12/2021)

2007 HD FLHTC 96" TC. Positive review, would definitely recommend.

Review by

John


Very clean, classy and high polished. Kinda enthused that I won't be burning nasty crankcase/engine oil fumes through my engine anymore. Also matches my other brass accent parts on my bike. .45 cal. shell casing valve stem caps and a brass shifter linkage. (Posted on 5/26/2021)

Easy and worthwhile

Review by

Matt24


Ran across these from a customer of mine. Looked way too simple to really do anything. I was upgrading his motor to a 114 and after breaking down his motor I was amazed at how clean a 5 year old motor with over 15000 miles were on it. After that I bought for my own bike and told several customers about and they purchased. Folks while very simple I can attest that they truly do work. (Posted on 5/23/2021)

A Must Have!!

Review by

BIG T


Used a Borescope to look into the combustion chamber area of my 09 Fatboy's 96ci. Was able to get a good look at the top of the piston and there was a considerable amount of carbon present.

Engine is stock and had 15,000 miles when I first looked. I replaced the stock a/c with an Arlen Ness Inverted Big Sucker a/c. I installed the DK Breather bolts at the same time.

I also started using the SEAFoam additive at the same time at 1oz per gallon. Now at 18,000 miles I again used the Borescope to look at the top of the piston. I would estimate a 75% reduction in carbon on top of the piston.

I live in HOT Florida and use 60w Redline oil and have had a very slight oil misting. So slight It is only detected by running my finger across the face of the breather bolts.

I highly recommend these breathers. They not only look good, but they have really cleaned up the combustion chamber on both cylinders. This has got to be helpful in performance and helping my engine last longer.

Great product! DK is an awesome company! (Posted on 4/3/2019)
Product Tags
Use spaces to separate tags. Use single quotes (') for phrases.