Home

/

Outlaw HiFlow 636v Air Cleaner Sportster Complete System
Outlaw HiFlow 636v
High Performance
Air Cleaner System
Harley-Davidson
Sportster Models 1991-UP
~NewGen 636v~
~Optional Rain Sock~

~Fits EFI & Carbureted~
MADE in The USA!
DK Custom Products

FEATURES & SPECS:
Genuine K&N Air Filter (Choice of 4 different sizes/shapes)

Forward Facing - Improved leg clearance



Choice of Black or "

Chrome

" Powder Coat Finish


Patent Pending NewGen Design Increases Air Velocity

Your Choice of External Breathers

(NO oily air in engine)



Filter Element is out in the air for Cold Air Intake

Harley Heavy Breather Covers will Fit with the Round Filter

E-Z Step-by-Instructions Included




Made in The USA!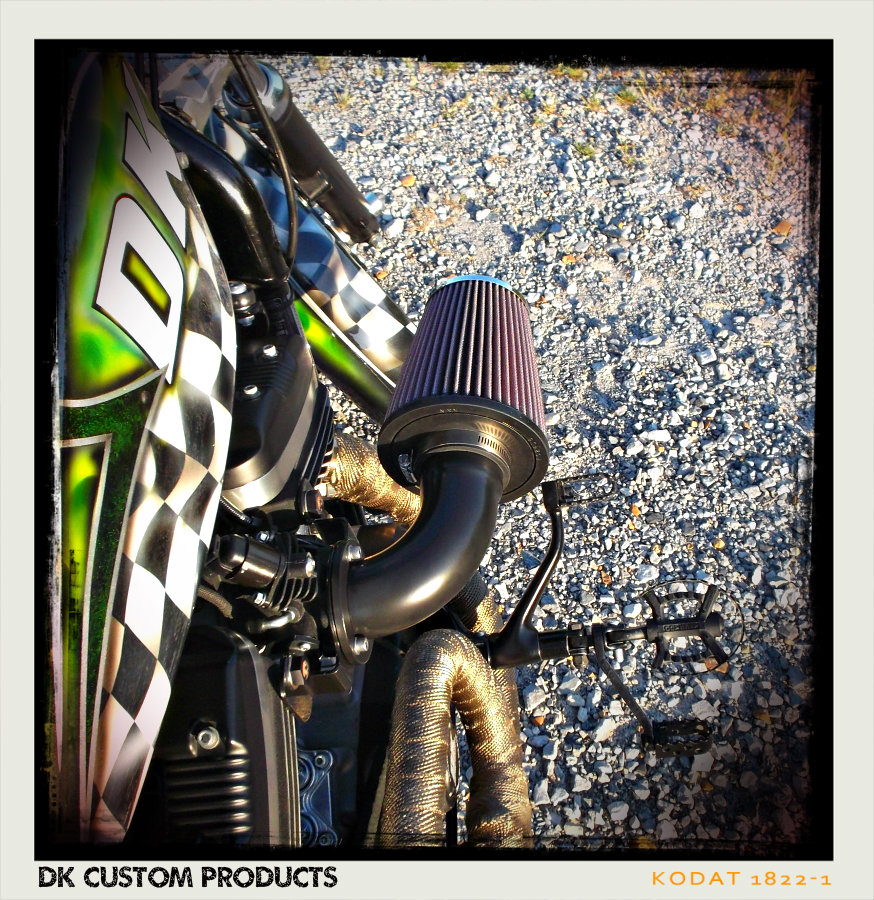 Pictured above is the Round Filter Element w/ Chrome endcap
This High Performance Air Cleaner System utilizes the Venturi Effect to Increase the Velocity of the air entering your throttle body/carb via a Patent Pending Forward Facing Intake Tube.
This results in a significant increase in power across the entire RPM band when compared to other aftermarket air cleaners.
This System is TURN-KEY. It comes with everything you need to replace the restrictive stock air cleaner.

Choose Between:
Intake Tube in Black or "Chrome/Silver". These are both Durable Powder Coat Finishes. See pictures below.
There are 4 different choices of K&N Air Filter Elements-
1. Oval with Chrome endcap
2. Large Oval with Black endcap
3. Round with Chrome endcap
4. Shorty with Black endcap (This 250 CFM filter will flow more air than a Stage II Sportster can eat)
(you can see all the details/specs on each of these filters at this LINK)
Included: Your Choice of Brass, Black or Polished Aluminum Breathers. Or you can choose one of the Hose & filter Breather Systems for venting - The Traditional or the Discrete To see full details on All these choices Click HERE.
When choosing between the 6 Breather systems, it is helpful to know-
1. All three Breather Bolt function the same, it is just a matter of which color you prefer.
2. All three of the Hose and Filter Breathers function the same with the Outlaw Air Cleaners, it is a matter of which system you like the looks of the best.
The Transformer™ is the Ultimate External Breather System, that Doubles as a Support Bracket and can be Transformed into an EPA (Emissions) Compliant System. It fits all Outlaw Air Cleaners.
There are optional Rain Socks to fit each of these filters
(You can see all the Rain Socks at this LINK)
The ingeniously simple (patent pending) design that produces the Venturi Effect is the shape & length of the Intake Tube with the enlarged mouth. This gives the Outlaw HiFlow 636v Air Cleaner an Increase in Intake Velocity, giving your Sportster all the Air it needs to Produce Maximum Power....CLEAN AIR - No hot oily air routed into your intake!
E-Z Installation with Step-by-Step Instructions.
Genuine K&N Filter with Million Mile Warranty.
Filter is re-usable. Simply wash, let dry, & apply oil. See Filter Service Kit HERE
Fits ALL Sportsters 1991-Up.(except XR1200)

This is a must for a Stage 1 Upgrade.
If you like the covers that fit on the Heavy Breather, they will also fit on the 636v that is equipped with the Round Air Filter Element. You can see it in one of the pictures above.
We do not sell these covers, but you can pick one up at a Dealership, ebay, Amazon, or you might already have one.
You can upgrade to the Outlaw HiFlow 636v Air Cleaner without doing any dyno work or adding tuners IF you leave the stock exhaust in place.
Replace the Restrictive stock air cleaner on your Sporty and wake it up!
**This Air Cleaner is designed to be used with your stock or aftermarket support bracket. If you do not still have your stock support bracket, add one when ordering. You can see our Support Brackets HERE.
*All EFI Sportsters come stock with a support bracket for the throttle body. It is the piece of metal that bolts to each breather bolt in the heads and then to the center top of the throttle body. Carbed Sportsters do not come stock with a support bracket, carbed Sportys will need to add one to their order if you do not already have one.
Caution: Motorcycles modified with this DK Custom Products High-Performance part may not be legal for public highway use in some areas. The user shall determine suitability of this product for his or her use.
Patent Pending
"If people only knew what a difference it (636v) makes above and beyond other high flow systems you would have the market cornered.
Thank you for a really good and effective product and it is well made and fits up with absolutely zero issues." -Dennis T
Go HERE to See Dyno Chart Results
Customer Reviews
Shorty

Review by

Gabe


Ordered mine with the support bracket everything works fine. Ordered some banjo breather bolts from J&P cause I just didn't see them on here for a sportster. Did notice an improvement over the stage 1 ac. (Posted on 3/20/2023)

Wow

Review by

Leox420


First off amazing customer service from Rachel can't wait to get my 636 in so much smarter to have a air cleaner that can have a bolt on option too add a catch can Rachel was so knowledgeable that I returned my other air filter and went the dk route (Posted on 9/22/2022)

Great intake

Review by

Mikk


Very easy install. Looks bada$$. And the fact that it is the only intake in this style with the external breather system is awesome!! (Posted on 7/28/2021)

Great system

Review by

Ken W


Installed the 636v complete system with the catch can. Great looking quaility parts. Easy install, and looks great. Looking forward to no more oily mess in the intake. (Posted on 9/2/2020)

Outlaw 636

Review by

Corey A.


Well, you can't go wrong with DK Customs! There are other cheaper similar air intakes but why risk it? The 636v is a heavy breather. Was a snap to install. Love the new look. My 1200 Sportster was already a Stage 1 so I'm not noticing any "gains". Arrived fast and DK Customs' products always get a big (Posted on 6/9/2020)

Woke Up 883

Review by

Paul


Installed on a 883 Superlow and it really seemed to wake it up. Performance increase is noticeable. Had Short Shots and a FI2000R tuner installed before adding the 636v. Just bolt on and go. Actually surprised at the difference it made. Looks great bolted up to the supplied support bracket. (Posted on 4/26/2020)
Product Tags
Use spaces to separate tags. Use single quotes (') for phrases.