Home

/

OUTLAW High Performance Cleanable Oil Filter in Anodized Black
OUTLAW High Performance Oil Filter

Anodized Black
HiFlow Reusable Filter is the Last Oil Filter You Will Need to Buy
INCREASED HP & TORQUE - COOLER RUNNING ENGINE
MADE IN THE USA!

FEATURES & SPECS:
Cleanable and Reusable

Proven Technology

- Meets/

Exceeds Manufacturers Specifications

Medical Grade 304 Stainless-Steel Filter Flows 7 Times More Oil than a paper filter

Reduced Oil Pump Drag = Increased Power to Rear Wheel

Provides Faster Oil Pressure at Startup

Billet Housing Fins Help Drop the Temperature of the Oil Via Heat Dissipation


Integrated Magnet Prefilters the Oil




Reduces/Eliminates Bypass of Unfiltered Oil Found on Standar

d paper filters



Pressure Tested to 1000 psi.


No More Cutting Apart Filters for Inspection

Environmentally Friendly


Drilled wrench nut for easy removal, includes safety wire hole required at most race tracks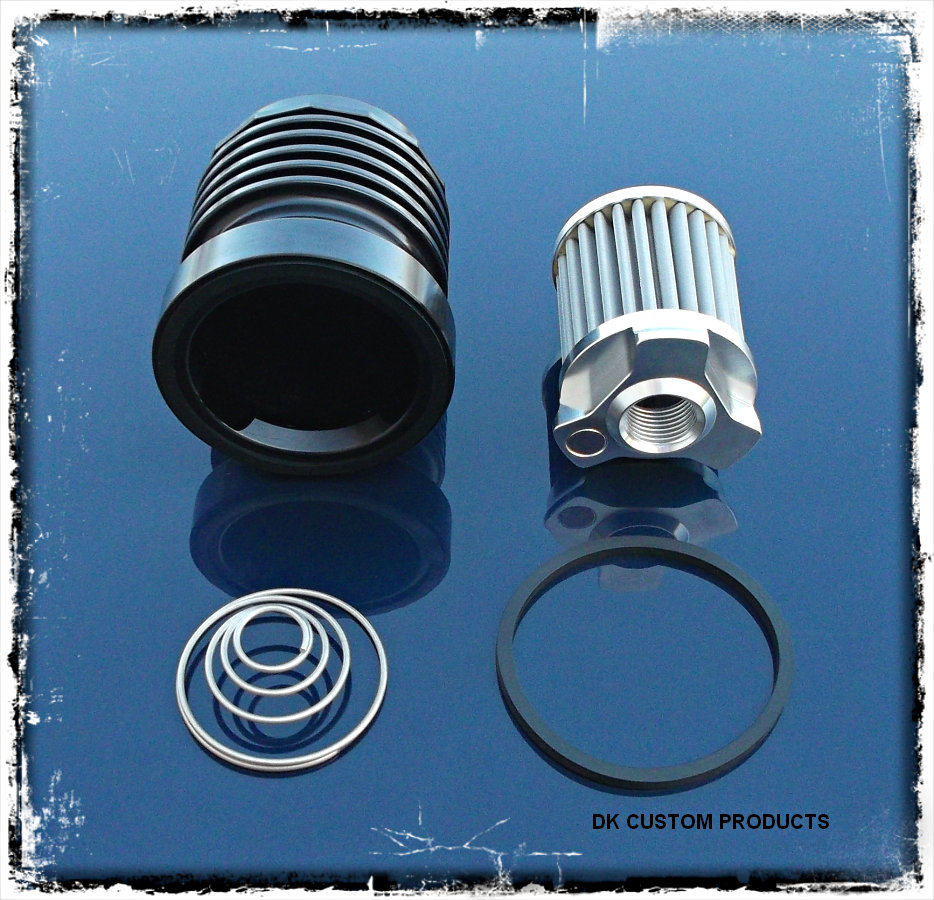 Save $ - Superior Oil Filtration - Increased HP & Torque - Cooler Running Engine
More Details:
The Outlaw High Performance filter offers many features not found in standard paper filters. Outstanding performance is obtained by their high flow rates, magnetic pre-filtering, consistent filtering medium, billet outer housing which aids in cooling the oil, and a unique progressive rate bypass which avoids unfiltered oil bypassing the filter at startup, and high-rpm operation — a major concern with standard paper filters.
At the heart of the filter is a medical grade 304 stainless-steel micronic cloth filter designed to pass a large volume of oil when compared to standard paper filters. The cloth is designed to filter out particles 35 microns or larger. (35 microns is below the limit of human visibility)
Before you start with the, "my filter is rated at 5 microns and it filters way better," you need to understand just how the micron rating applies to oil filters. The HD OEM filters and aftermarket paper filters are rated on averages, percentages and multiple passes, so a 10-micron-rated paper filter may be letting particles 100 microns and larger through. The medical grade stainless steel cloth they use in their filters is consistent across the entire surface and is rated at 35 microns, meaning nothing larger than 35 microns will pass through the material, it is an absolute, with paper filters, the rating is an average. Additionally, paper filters have a bypass, so on startup & high RPM the oil is not being filtered at all!
Easy to remove with a socket. Cleaning the filter & the housing is easy- wash the stainless steel element in cleaning solvent, gasoline, kerosene, carburetor cleaner or any other degreasing agent. Let air dry, or you can use compressed air.
There are two quad rings included. A quad ring will typically last 3-5 oil changes. Additional quad rings are available. If you accidentally damage the stainless steel element, those are also available.
Because of the HiFlow characteristics of this Oil Filter, resulting in less oil pump drag, Dyno Runs consistently show an increase of 4-8 HP and an increase of 4-12 ft. lbs in Torque (Twin Cams).
Quote from Hot Bike Magazine:
"Besides doing a superior job of cleaning and cooling the oil, independent testers doing back-to-back dyno comparisons of these reusable oil filters and an ordinary disposable, charted as much as an 8-horsepower bump along with 10 more lb-ft of torque."
Fits All Harley's 1986-Up (Sportster, Twin Cam, Milwaukee-Eight, Big Twin Evo)*
*Does not fit 1986 FXWG, FXSB, FXEF

"Not only did it cool down my 103, I gained 7 Horsepower & 11 ft lbs of Torque!" -Kevin
Customer Reviews
Awesome product

Review by

Robert


Thought that it looked small but fits great. I like the socket fitting on the end, will make for easy removal. Finished is great. Will be easy to disassemble for cleaning with my next oil change. Did I mention that I will not have to buy another filter since I both this one, that saves lots of dinero. (Posted on 9/16/2021)

Last filter I'll ever need

Review by

Andyman


Besides not ever having to replace the filter again you get to see any junk running through the motor plus it's good looking (Posted on 9/15/2021)

Does what it said it would do

Review by

Ryan


I bought one of these maybe a month ago, changed all my fluids and installed this oil filter. So far so good! Quality was great, easy to get on, and it's nice it has the castle nut for easy changing. Who knows if it actually made an increase in horse power, but bike feels great! Next up is some bitubo shocks and a sputhe kit. (Posted on 4/15/2021)

Quality product

Review by

2017 Road King


The design and quality of the filter are exceptional!
I installed this with the oil filter relocation kit and Jagg oil cooler on my 2017 M8 107 Road King.
My bike is running cooler now.
Quality product and quick delivery!
Highly recommend this product! (Posted on 11/5/2020)

Best of the Best

Review by

CM


Part of my winter project plans, As with everything DK , I know I'll be Happy (Posted on 11/4/2020)

Well built and looks good

Review by

Erlyirn


Got the filter along with the relocation kit . I was a little hesitant at first because of price but like the way cooling fins were built into it, and oil temps have dropped. Plus the magnet in the filter and no more messy oil changes I am glad I bought it. (Posted on 10/13/2020)

Excellent product

Review by

Jim


Used this with the oil filter relocation kit. Looks great. (Posted on 9/18/2020)

Very Impressed with this product

Review by

PigDog


Well made item that does perform - easy to fit, remove, clean and refit. Makes my engine run cooler and quieter - not sure about power gain, but if there is any I'll take it. (Posted on 5/3/2020)

Another awesome product from DK

Review by

Rich


No more worrying about which oil filter to use or having to keep buying. Filter works great. Teamed up with the filter relocation kit and auxiliary oil cooler I like knowing that I'm doing everything I can to keep this engine cool. I have over 42 k on my 2017 SGS and I would like to see 100 k before I have to do engine work. Thanks again for another great product. (Posted on 10/21/2019)

Quality product

Review by

JEFF


Looks to be well designed/made, hasn't shown a decrease in oil temp..... (Posted on 9/25/2019)

Nice Piece!

Review by

TAG


Was worried at first that the base would interfere with the Jagg oil cooler adapter since the hoses are close to the filter base.

Not a problem. The base of this filter is the same as a stock filter. This filter is extremely well made and looks awesome! It will be easy to inspect the element for any foreign debris now.

It actually takes up less room than a standard filter and looks bad ass! (Posted on 1/31/2019)
Product Tags
Use spaces to separate tags. Use single quotes (') for phrases.