Home

/

Pair of Quality Heim Joints For Harley Shift Linkage
PAIR ~ HEIM JOINTS

For

Harley-Davidson Shift Linkage


DK Custom Products
FEATURES & SPECS:
Sold in Pairs of Two

Top Quaility Stainless Steel

Includes Two Stainless Steel Jam Nuts

5/16-24 Female Heim Joints

Fit Stock Harley-Davidson Shift Linkage and most aftermarket linkage
E-Z INSTALL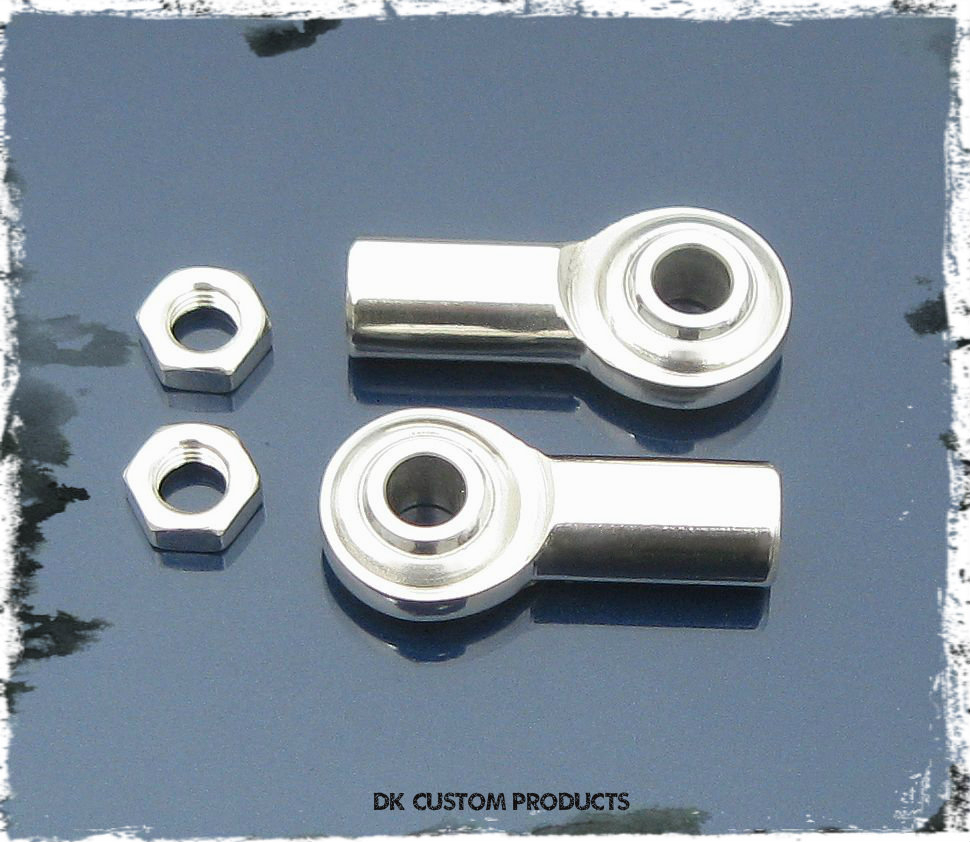 A Pair of Two Quality Heim Joints & SS Jam nuts to Last a Lifetime.
These have a machined polish finish. With a little time polishing, you can give them a show quality finish.

Heim joints don't/can't fail like the stock rod ends. No more stock linkage ends that are prone to break and leave you stranded. They are adjustable, and you may be pleasantly surprised how much smoother your bike will shift.


This is an EASY install - Replace the sloppy stock linkage ends in 5-10 minutes!
"Very easy to do and I think it looks great. Biggest plus is the shift feel. Doesn't feel "crunchy" anymore...feels very solid." -Pachuco
Installation Instructions in video below-
Customer Reviews
Performance upgrade

Review by

Beats stock


High Quality, exceeds form fit function of the stock factory setup will last a lifetime. (Posted on 4/10/2023)

Smart and simple upgrade

Review by

Stevo37


Thanks again DK for a high quality part delivered faster than expected. Shifting is so much better and confident. Save yourself the inconvenience and replace the stock junk
(Posted on 4/3/2023)

The right part, at right time

Review by

Good looking out


I own a custom linkage, and was using the stock linkage parts….well on a ride they broke on the highway in the middle of stop and go traffic. Made it to dealership and purchased new shift linkage, thinking my custom link was obsolete. After trip saw this ad on You Tube, purchased and got the product two days later. Fits like OEM, custom linkage back on bike. (Posted on 11/21/2022)

Very good

Review by

Lakezahl


One less thing to go wrong, could've used an extra turn of thread but works fine. (Posted on 7/11/2022)

better

Review by

Brian


much better than what i had . now i wont be stranded on the side of the rode. (Posted on 6/3/2022)

a little adjustment necessary

Review by

Jim


Bought these for the peace of mind. High quality as expected from DK. Easy install. However, my rod was apparently longer than "normal" so I had to adjust the shift rods after installing them. I also put a flat washer on each side of the joints to allow the rod to flex on the bearings as intended. I can honestly say that now it shifts much quieter, smoother and neutral is much easier to find. This is my 7th "comfort/heat" mod from DK. Will continue to support them as they always have quality and well researched products. (Posted on 3/13/2022)

Heim Joints

Review by

Temeculamark


Replaced stick ends with The Hein joints Just for peace of mind but was pleasantly surprised how it added a more positive shifting feel. Both with up and down shifting. Neutral seem easier to find. Shipping is always fast as well.
Thank you
Mark (Posted on 12/22/2021)

Adds durability without much cost

Review by

BW


The shift linkage ends are known weak points. Now I can ride across the country knowing my linkage ends won't ever break. $30 for peace of mind is cheap. (Posted on 12/18/2021)

welcome surprise

Review by

mikee


The joints themselves were unremarkable. And not in a bad way. They just simply were what they were supposed to be. Seem like good quality, etc. The main reason I purchased them was it seemed like cheap insurance just in case I found myself one day in BFE with a broken factory rod where the ball popped out. But, after installing them I was surprised to find it eliminated a frustrating problem I'd always had prior. My bike is a 2020 rgs and only has about 7,000 miles on it, but even from day one, finding neutral when parking was a giant pain in the ass. I had to be extremely slow and easy hunting for it or it'd just blow right past neutral. Up or down, it didn't matter. After installing these heim joints, it dawned on me about a week or so later that I was no longer having this issue. The factory joints felt nice and tight after removing the linkage, but still, there must be just enough slack between the two of them that it's what was causing my neutral problem. Now it just clicks in neutral with no problems. No more hunting. (Posted on 10/7/2021)

Great Linkage

Review by

James


The heim joints was an easy install. Much better quality than the original Harley OEM linkage. Installed in a few minutes.
Shipping charges were a bit high for the small package sent by USPS! (Posted on 8/30/2021)

A great improvement !

Review by

GW Harley


I've bought several of your products and these heim joints are like all the rest. Superior quality and a great value. Fitment is perfect and the function is as described!
Thanks for another GREAT product! You guys are the best! Your videos are fantastic and very informative. With these heim joints installed shifting feels and functions with a more solid feel. Makes finding neutral very easy.
Buy. Buy. Buy. (Posted on 5/5/2021)

EXCELLENT QUALITY

Review by

SEHENDR


Heim Joints are excellent quality, installation on my 2009 Road King Classic was not as shown on DK video though. Used my stock rod, but could not use lock nuts as didn't have enough threads so I used thread lock on them. The new joints greatly improved the shift quality. (Posted on 5/5/2021)

Outstanding

Review by

Jay


Always the first thing I change on a Harley, Product does not come with bolts but no biggie. Ace Hardware has chrome section that sells them. The Harley shifter rod ends are junk and will eventually break. Buy these and have piece of mind. (Posted on 5/4/2021)

Nice..... Very Nice.

Review by

BW


I ordered a pair for my FLHTK and they work great. The quality and fitment is obsolutely better than stock. No more rattling around! Of course I'm a chrome guy so I Harley hooked me with some chrome bolts and an acorn nut to top it off. (Posted on 5/4/2021)

Great product - works well

Review by

Hogwart


These work great and are easy to install. The bolts to reattach the linkage to the motorcycle are not included. On my 2018 M8 Harley touring, I needed two 5/16" x 24 bolts. The rear needed a 3/4" long bolt, the front needed 1 1/4" bolt. I used stainless steel. These joints are slightly longer than the factory joints, so if your linkage is already adjusted to the shortest possible length, you might need to rotate the shift levers on the spline. (Posted on 5/2/2021)

Excellent

Review by

Ron


Great quality and easy to install (Posted on 4/21/2021)

Heim joints.

Review by

Chuck


Really didn't expect much. Bought them more as they were less likely to fall off them OEM. Was pleasantly surprised that it was very apparent that shifting just improved dramatically. Just so much smoother. (Posted on 4/21/2021)

Great buy.

Review by

Douglas


Very easy to install. Very good Heim joints. Glad I found and bought them. (Posted on 4/19/2021)

Stopped the squeak and crunch

Review by

David


Smooth and quiet, excellent quality. Save your zip ties for other things. (Posted on 3/24/2020)

Awesome Heim Joints

Review by

Roman B.


Thanks guys I really appreciate it I really noticed that the bike shifted way more positive! Quality parts once again never disappointed keep up the great work! (Posted on 5/1/2019)

No bike should be without these!

Review by

prariepilot


Easy install and well worth the improvement in the shifter mechanism. Has to be the best application as DK has tested them relentlessly!
(Posted on 4/24/2019)

Awesome product

Review by

Rich


The heim joints work great. I would recommend them to anyone with stock shift linkage. (Posted on 11/20/2018)

Great product

Review by

Rich


The heim joints really clean up the sloppy stock Harley part. The linkage is tighter and the shifting is much smoother. I would recommend this product to every Harley owner with stock linkage. (Posted on 11/15/2018)
Product Tags
Use spaces to separate tags. Use single quotes (') for phrases.