Home

/

Premium Discrete Breather System Twin Cam & M8 Touring Softail Dyna
PREMIUM DISCRETE
& Flexible Breather System
For

Harley-Davidson

FITS ALL TWIN CAM & MILWAUKEE-EIGHT MODELS

DK Custom Products
FEATURES & SPECS:
Fits All Outlaw & Many Other Air Cleaner Systems
Banjo Fittings at Heads for a Clean Look
Allows Discrete Placement of the supplied filter
Chrome Washable Reuseable Filter - flexible placement

Includes 6 feet of hose for maximum flexibility in filter placement

All needed hardware (including a Brass & Black T-Connector...use whichever one matches your Bike Best
Turn-Key System
Optional Stainless Steel Braided Hose
Optional Chrome Hose Clamp Covers
E-Z Install ~ Step-by-Step Instructions Included
In the picture below you can see one of many different places you can affix the filter. Please look at the additional pictures at the bottom to see how discrete this external breather system is.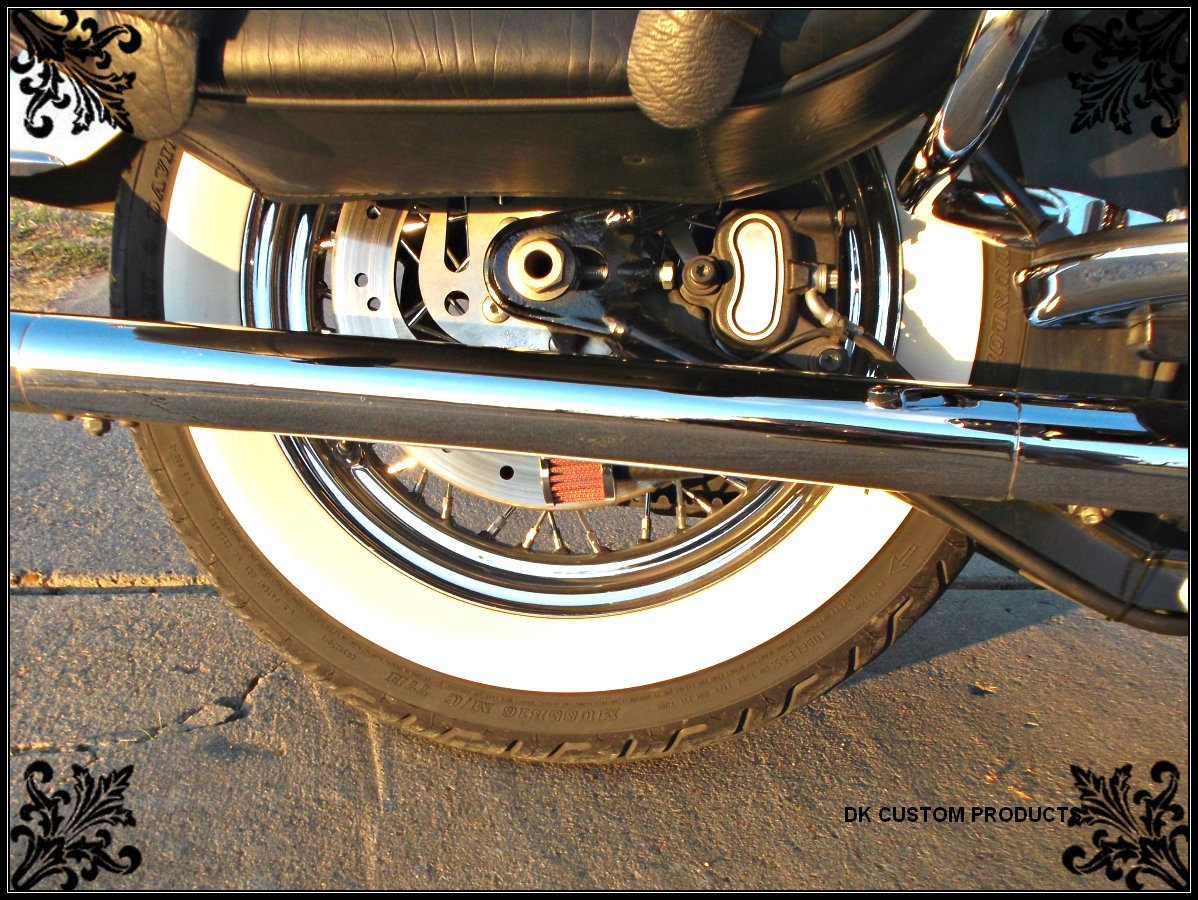 An external Breather Kit is preferred with any Air Cleaner System. This allows for only clean cool air to go into the air cleaner and engine, increasing performance and engine longevity. This kit will work with ALL OUTLAW HiFlow Air Cleaners and many other aftermarket Stage 1 Air Cleaners*.

The EPA has required Harley to route hot, dirty, oily crankcase air back into the air cleaner compromising the performance of your engine. This vents it without compromising the performance and longevity of your motor.
With this breather system you will experience a slight performance increase. This is because engines like Cold Dry air!
E-Z Install
Fits All Twin Cam & Milwaukee-Eight Models - 2000-Up Touring & Softail, 1999-Up Dyna
*Fits ALL Outlaw Air Cleaners. For aftermarket A/C's, If your air cleaner system utilzes a support bracket that is no thicker than 1/4", this will fit. If you A/C uses a backplate that bolts into the heads, this will not fit. You will need to use the Breather Bolts or standard Discrete System to allow you to route the hot oily air outside your combustion chambers.
Does not work with OEM, Screamin Eagle, most S&S, Arlen Ness, Roland Sands , etc... If you have questions about fitment, please email with a photo, link, or part number of the air cleaner on your bike.
There are Optional Stainless Steel Braided Hose (more details HERE) & Chrome Hose Clamp Covers (more details HERE) if you prefer that look to the Black Hose and plain hose clamps or zip ties.

In some of the pictures below the Optional SS Braided Hose is pictured, as well as the Chrome Hose Clamp Covers. These are not included in the kit unless you opt to include them when ordering.

Filter may, or may not, have a small loop in it. This does not affect the aesthetics or installation choices. The filter may also vary in size, color and shape.
Caution: Motorcycles modified with this DK Custom Products High-Performance part may not be legal for public highway use in some areas. The user shall determine suitability of this product for his or her use.

Customer Reviews
The breather kit is a great product

Review by

Great product, Easy install


This kit came with everything needed for an easy and neat install.
The parts were of high quality and the directions were clear.
In less than one hour, The kit was installed and ready for operation.
I would highly recommend this breather kit.
Additionally, I would highly DK products to anyone who wants quality parts at a fair price. (Posted on 9/12/2023)

Everything you need!

Review by

JohnC


This kit is the best. It includes everything you need to install a premium external breathing system on your bike. All parts are quality, well made, and at a fair price. I've been a customer of DK for about 10 years now, and they never disappoint.

No more oil being routed back in the engine. It took me about 30 minutes to install the whole system. It did take me quite a bit of time to figure out where to route the catch can but once figured out it doesn't take long at all. Looks great on my 2021 sport glide. Also added the Outlaw 606 air cleaner and she breathes so much better now! Highly recommended.

Also look for their YouTube channel, They're always posting informative videos and lots of how-to videos out there. (Posted on 7/31/2023)

Great system a must for your Harley

Review by

Tony


You get everything you need to install. Super easy to do. And everything i recieved was fast shipping..Thanks Dk. (Posted on 5/24/2023)

Preminum Breather System

Review by

KERRY


Simple clean system. It does what it is supposed to do and is easy to install. (Posted on 4/19/2023)

nice

Review by

barney


Easy to in stall (Posted on 3/13/2023)

Perfect Solution

Review by

ROVA


2015 Road Glide Ultra CVO.
High quality product. Great value. Easy installation and noticeable improvement in performance. I have Zero oil in K&N air filter now. No more oil means that I clean the filter less and save time and money. (Posted on 12/22/2022)

Simple installation, quality product!

Review by

Nevin Pratt


2022 Tri Glide. I studied a *bunch* of external breather systems before buying this one, and decided this was the best one. Everything I have learned and experienced since then confirms I made the best choice. (Posted on 10/17/2022)

Peace of Mind

Review by

Bill


2020 Road Glide Limited 114. Had some oil soaking on the stock filter. Did not like the thought of that crap getting sucked in where it doesn't belong. Installed catch can behind brake pedal. Converted stock filter to the 606 at the same time. Easy do it yourself job. Watching Utube video from DK helps before you get started.






1 (Posted on 9/22/2022)

Easy to install

Review by

Vman


Does a great job. Wouldn't even know it's there. Highly recommend it. (Posted on 8/17/2022)

Nice quality didn't work out.

Review by

CtrPunch


Make sure you read and check fitment for the type of air filter you have. The quality was great I ordered the wrong kit. I opened it I'll keep it. (Posted on 7/19/2022)

Easy install

Review by

Sao


Installed this along with the 606 naked AC cleaner. Can't wait to get some miles with it and see the difference it will make! Thanks! (Posted on 3/19/2022)

Get that dirty breather oil out of your air cleaner.

Review by

FLSL slim shady


.SS lines and chrome clamps. Simple install. Just follow instructions and check out the videos. (Posted on 3/17/2022)

Great and necessary addition

Review by

Bob


Purchased along with the outlaw 606 air cleaner. Install couldn't be any easier and ensures oil isn't being put back into the engine. Don't hesitate to add this to your bike, you won't regret it. (Posted on 2/28/2022)

Discrete Breather

Review by

Biker64


Easy install looks great on my 2021 roadglide (Posted on 1/25/2022)

Great breather, lots of versatility

Review by

Tom


I bought this along with the Outlaw 606 air cleaner and they go great together. Installation was simple and the hose length gives you plenty of routing options. My only wish is that the hose was thinner but this is not a deal-breaker at all. I highly recommend this kit if you don't feel like drilling and tapping into an air cleaner. Add the Outlaw 606 and you have a great setup. (Posted on 10/13/2021)

Clean easy install

Review by

Gene


After watching DK video about external breather I checked the air box on my 2009 TRI Glide. The bike only had 1250 miles on it and had oil in the box and filter. Installed EBS and 606 filter, bike is now running clean and cooler. (Posted on 10/5/2021)

Easy to install

Review by

B in NC


This was super easy to install. Could it be done cheaper if you DIY? Yes, but this takes the headache and hassle away from having to hunt the parts down individually, and not getting the right size, or getting something that just doesn't fit right. More than enough hose to put it where you want it. Well done DK! (Posted on 9/7/2021)

A definite plus

Review by

TechTeacher


Simple yet functional design. I always worried about the Harley implementation of this issue but DK has taken this to a new level. So easy to install. I should have gotten the chrome clamps for that true custom finish. (Posted on 4/7/2021)

Quality product

Review by

TBull


I called in & asked some questions about the external breather system & they suggested the premium version for better looks. I'm glad I payed a little extra to get the nicer breather bolts.
Easy install. (Posted on 3/13/2021)

A must have upgrade

Review by

Nicholas


I can't believe how much oil has been blown over my bike this 20K miles. Only 250 miles since the install, which was super easy, and not a drop of oil to while away. Not too mention my response has increased and I feel more power. No more oil soaked air filter! (Posted on 12/22/2020)

Great idea...Love what it does...makes perfect sense

Review by

Donny


I installed this and the 606 air cleaner on my trike flrt last Sunday...I got the polished aluminum Finned cover which was recommended by Dwayne...I can hear this thing sucking clean air into my motor and bike seems to be faster off the line and freeway speeds...The polished cover looks fantastic and I am really into DK products for the long haul...Thanks to Dwayne and the rest of the gang...donny lovette (Posted on 8/25/2020)

2020 Road Glide Special Air Breather System Mod

Review by

Chief J


Installed to eliminate hot, oily crankcase oxygen depleted air from the intake. Cleaner M8 114 cubic inch motor, cleaner intake, and cleaner valves/pistons. Improved air/fuel mixture & combustion. (Posted on 5/19/2020)

Clean cool air

Review by

Cheese


Installed on my 06 electraglide. No more oil to wipe out of the air filter and intake. Finally a solution to the hot air and oil issues. (Posted on 1/5/2019)

Easy Install - Clean Breather Now

Review by

Steven


Just installed this on my 2018 Fat Bob. Easy to install. Cooler and cleaner air going in now. (Posted on 12/28/2018)
Product Tags
Use spaces to separate tags. Use single quotes (') for phrases.