Home

/

Premium Leather 16" Bobber Solo Seat System w/ BARREL Springs
PREMIUM DIAMOND LEATHER
16" BOBBER
BOLT-ON SOLO SEAT
w/ BARREL SPRINGS

For
2004 - Up SPORTSTERS
The Most Travel in Solo Seat Suspension

MADE IN THE USA!

DK Custom Products
FEATURES & SPECS:
Direct Bolt-On, no drilling, cutting or welding
Includes Super Comfortable

Leather Diamond Tuck

16" Bobber Style Seat
Includes Front and Rear Mounting brackets that bolt onto your Sportster
Includes Your Choice of a Pair of

Chrome

or

Sano Black

Barrel Springs (3" Height)

Includes All Needed Hardware

Easy Install- Takes less than 45 minutes
Step-by-Step Instructions included

Made in The USA!

Optional Adjustable Adapter (needed for 04-Up Sportsters)
Optional ECM Fender Cover

(2007-2009 Models)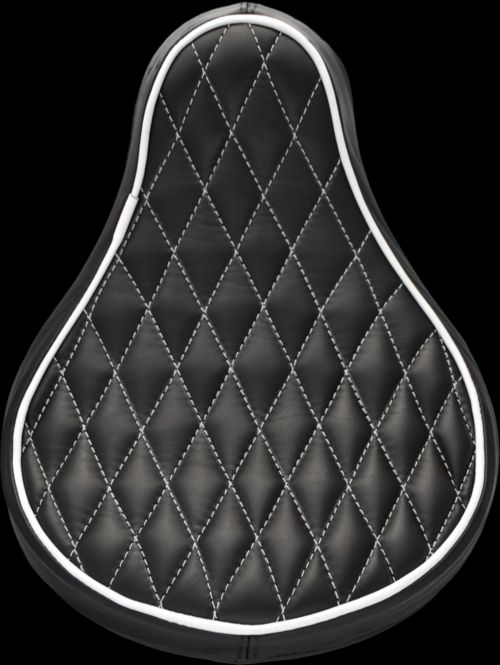 The Premium Sportster Solo Seat w/ Barrel Springs provides the Most Suspension Travel in the Solo Seat Experience.
There is NO drilling, cutting or welding needed. Simply bolt on the included Black Powder Coated brackets to existing mounting points on your Sportster and attach the barrel springs and seat to them.
This is an E-Z install. Takes less than 45 minutes. (it does NOT require un-bolting the rear fender like other kits do)
Includes a Leather Diamond Tuck Bobber Style 16" Seat. The steel seat pans have quality cowhide leather, with white stitching, covering super comfortable high density seat foam, providing a great look, a comfortable ride, and long-lasting durability.
We have combined the Best Finished Solo Seats with the Proven DK Solo Seat mounting hardware, creating a Premium Sportster Solo Seat Line. Backed by a Lifetime Warranty on all steel components, you cannot get a better value!
This Bobber Seat is 16" long, 12" at the widest point, contoured for Comfort & has a 4" roll, giving support, & keeping you planted in the seat on hard acceleration. (it also available w/ Smooth Black seat vinyl)
You have a Choice of Chrome Barrel Springs or Sano Black Powder Coated Barrel Springs. Click HERE to see detailed information on Spring Options.
With our exclusive Optional Adjustable Adapter you gain 2 inches of movement of the seat forward or rearward. This allows you to dial in the ideal seating position in relationship to the grips and footpegs. It is really appreciated by taller riders & riders that just want more room to stretch out! With this Bobber Seat you will need to get this adjustable adapter for proper fitment.
Optional Frame Cover that fits below the seat pan and over the Electrics. (click HERE for full details)
Optional ECM Fender Cover for 2007-2009 Sportsters (click HERE for full details)
13" Premium Low Profile Solo Seats also available.
Fitment:
This is a direct bolt-on for 04-Up Sportsters, and w/ minor fab work can fit earlier year model Sportsters AND a variety of other motorcycles. If you have a 4.5 gallon tank, you will need the Optional Adjustable Adapter so that the nose of the seat clears the back of the gas tank.

~Big Travel in Solo Seats for a Sportster ~
"I've ridden 10's of thousands of miles on Solo Seats. This is, by far, the most comfortable I've ridden." -Kevin
Product Tags
Use spaces to separate tags. Use single quotes (') for phrases.