Home

/

Premium White LED Bulbs for Harley Passing - Driving Lights
PAIR OF LED REPLACEMENT BULBS
For
Passing Lights

For 2005 & Up Harleys w/ Passing Lamps

FEATURES & SPECS:
Direct Plug-n-Play Replacement of Harley Passing Lamp Bulbs
Pair of Two LED Bulbs
Matches the DK Custom Drop-In Headlight Bulb
640 Lumens
Bright White

*

Beam at 6000K
Aluminum Alloy Housing
Superior Color Contrast for Better Visibility
Fit HD Models 2005 - Up with non-Led Passing Lamps
LED Lifespan: 30,000 Hours
1 Year Warranty
This is an easy install, just unplug the stock bulbs and plug these in.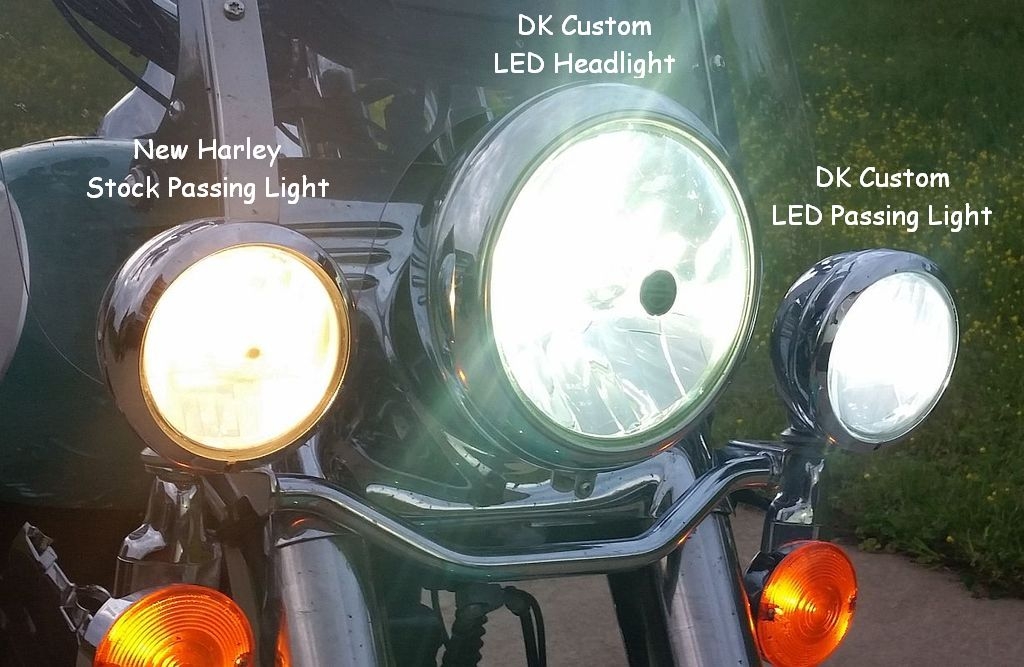 The photo above shows the LED Passing Light and how it goes well with the LED Headlight, and how much whiter it is than the stock HD Passing Light.
See Photo's Above on How Well They Light up the Road at Night!
These super white lights go well with the

DK Custom LED Drop-In Headlight

*

These passing lights when looked at alone are a bright white.

You can't see it in the photo, but in person the passing lights next to the DK Drop in Headlight looks very slightly yellow, because the headlight is an even brighter white.



You will be able to see more, and people will see you better, day & night!
This light was designed according to DOT specs, however, it is not DOT tested. Due to the brightness of these LED bulbs, you may need to adjust the lamps a small amount.
Easy Install, simply unplug the stock bulbs and plug these in.
These bulbs are for the lights on either side of the headlight, sometime called Passing Lamps, Driving Lights or Fog Lights.
Long Life Expectancy of 30,000 hours

Fitment:
These are a direct replacement for HD Passing Lights, part # 68453-05
Fits 2005 & Up Softails and Touring Models that have Passing/Driving/Fog Lights that are not already LED from Harley.
These are Not DOT Approved. Legal for Off-Road Use Only.
"I was waiting for these to come out to match my DK Custom LED Headlight." -Paul
Save
Customer Reviews
Great Upgrade

Review by

Fluke


These LED's are a great upgrade from the halogens that were in my 2013 Ultra Limited. I put the DK Customs LED drop in headlight bulb in, and it just made sense to install these, too. (Posted on 12/16/2022)
Product Tags
Use spaces to separate tags. Use single quotes (') for phrases.