Home

/

Premium White LED Drop-In Headlight Bulb H4 - Fits All Harley
BOOM!
LED REPLACEMENT BULB
Light Up The Road!

Fits All Sportsters, Dynas, Softails & Touring

(except those that have a factory LED Headlight or the two bulb set-up found on some Models, or if you have a sealed unit) It replaces the HD Bulb Part #68329-03
FEATURES & SPECS:
Direct Plug-n-Play Replacement of Harley Headlight Bulb
LED Headlight H4 Bulb
High/Low beam
2500 Lumens
Bright White Beam at 6000K
Low amp draw of 0.8 amps vs stock 4.5 amps
Built-in Heat Management
Superior Color Contrast for Better Visibility
Matching Driving (Passing) Lights are available

HERE

Includes 4 adapters to fit a variety of motorcycles besides HD models
LED Lifespan: 30,000 Hours
1 Year Warranty
This is an easy install, just pull out the stock bulb and put this one in its' place.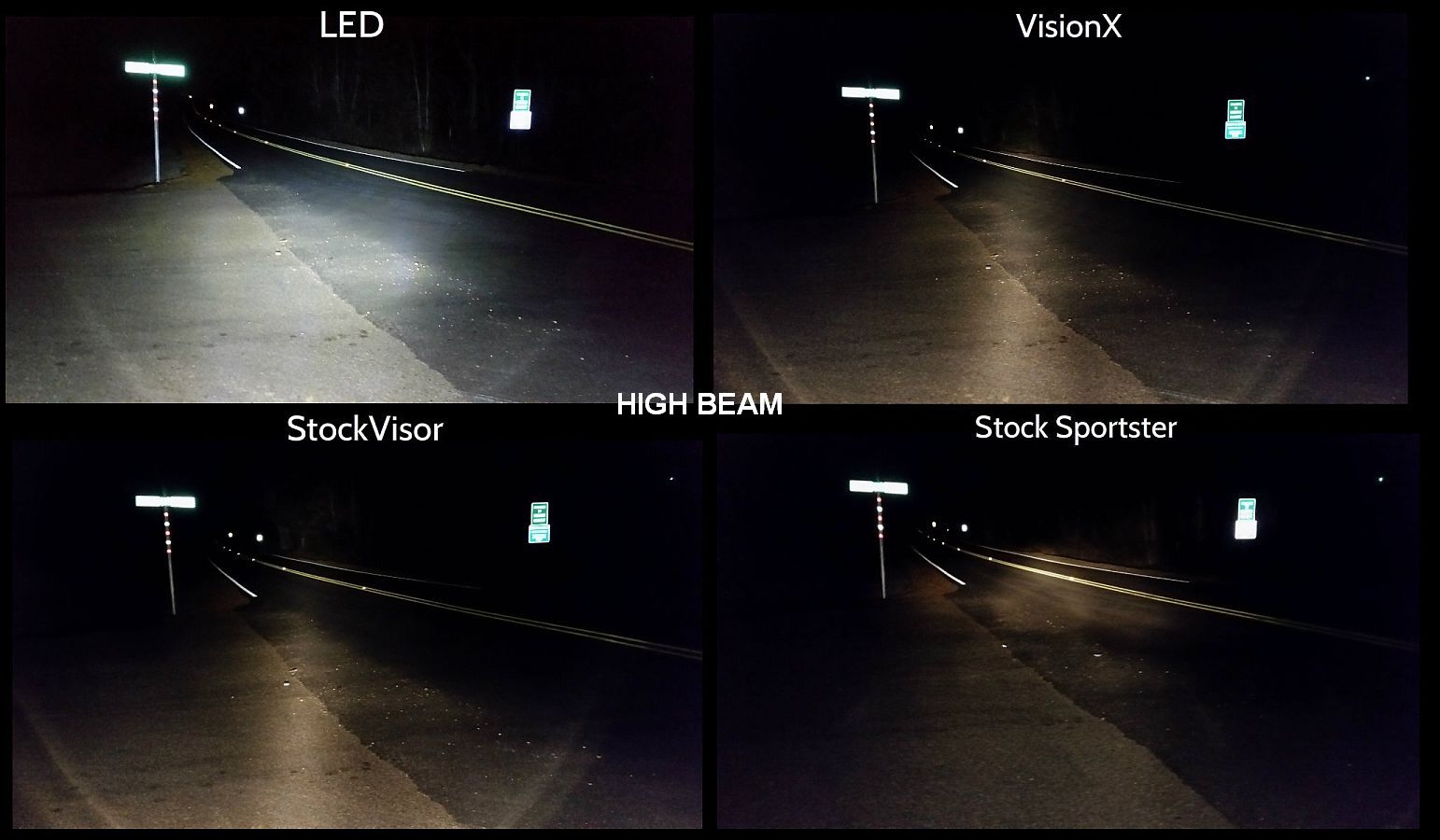 The photo above shows the LED compared with the stock OEM bulb and two top tier Halogen bulbs. The Difference is, literally, night & day!
See More Photo's Above
This super white light will give you increased visibility-you will be able to see further, clearer, and people will see you better, day & night!
This light was designed according to DOT specs, however, it is not DOT tested. Due to the higher brightness of this LED bulb, you may need to adjust the headlight angle a small amount.
Everything is contained in the bucket, no cutting of wires, no external ballast. The built-in heat management keeps the light bright and the bulb and headlight bucket cool.
LED Life Expectancy of 30,000 hours is, 8 hours riding a day, for over 9 years!

Fitment:
Fits most Sportster, Dyna, Softail, Touring & some V-Rod Models, 1995-Up. (except those that have a factory LED Headlight or the two bulb set-up found on some Models, or if you have a sealed unit) It replaces the HD Bulb Part #68329-03
They do Not fit in the headlight housing #67700029, which is found on the Breakout (or any other bike that has that same Part #).

It will also fit most any other motorcycle, it comes with 4 adapters for many makes & models
It also fits in the DK Custom Visor Style Headlights that you can see HERE.
5 3/4" headlights, like found on the Sportster & most Dyna Models, may require an extra 5 minutes work to remove the plastic connector case. It is still plug-n-play, just without the bulky plastic. Instructions & pictures included.
These are Not DOT Approved. Legal for Off-Road Use Only.
Also Available are Matching Driving Lights. Click HERE to see them.
"I still don't understand how it puts out so much light, but I am in shock over how much light I now have!" -Lars
Save
Customer Reviews
Much better visibility

Review by

Tiho


Great fit, quick install, and fantastic visibility.
Installed bulb on 2013 Fatboy. (Posted on 12/20/2022)

Great Upgrade

Review by

Fluke


I have a 2013 Ultra Limited, and this is a great upgrade from the halogen bulb. I don't care for the modern sci-fi look, wanted to look stock, but needed the LED bright. Got what I needed from DK. (Posted on 12/16/2022)

did not fit

Review by

jdub


did not fit my 2018 2bulb road king headlight,did not catch this info in fitment (Posted on 8/1/2022)

2 thumbs up

Review by

Bpos66


I haven't done any Night riding as yet, but I have noticed how bright the roadsigns are, & at a great distance away, at dusk which was non existent with the Halogen bulb. (Posted on 5/25/2021)

Great way to keep stock look. Boy what a difference.

Review by

Bigrick


Amazing.....13 ultra limited. With all 3 replaced up front its crazy how bright they are. (Posted on 12/10/2020)

Exactly as described!

Review by

RAWG


Easy drop in install. "Night and day difference"
Loving life. (Posted on 11/19/2020)

Awesome Drop in LED headlight

Review by

Roman B.


Man what a difference! I'm so glad I got this light! Definitely brighter and wider view of vision. Cars definitely see in the early morning or night. So super easy to install it took me just a few minutes. Definitely worth it! DK CUSTOMS IS THE BEST!!! (Posted on 11/5/2019)

High Visibility

Review by

Ron O


I love knowing with these bright lights are going to keep me safer. The 1st bulb I used was defective after about 6 months but DK made it right with great service and customer care. Thanks for taking great care of me! (Posted on 6/28/2019)

Fantastic visibility!

Review by

JOHN


As one of the first additions to my trike, the bulb has upgraded the visibility and function of the headlamp!

I have no problems or warning lights on my 2017 Freewheeler with this bulb.

Although I can understand personal tastes in aesthetics are different from person to person, but I highly recommend purchasing this bulb versus an entire assembly. (Posted on 2/21/2019)

Much brighter than stock

Review by

B D


Very bright. I can see much better at night and cars can see me better too. The only downside is my red light comes on indicating my bulb is burnt out.


B D, please contact us so we can help you get rid of that code. DK Custom (Posted on 2/18/2019)

Great upgrade

Review by

Drifter


This bulb works fantastic. Every bit as bright as a HD Daymaker! You wont be dissapointed. (Posted on 12/17/2018)

Really lights the night

Review by

I can see clearly


Bought this to stick in bullet headlight on 2015 FXDWG. Want to be seen and the nighttime illumination is awesome! (Posted on 12/13/2018)
Product Tags
Use spaces to separate tags. Use single quotes (') for phrases.