Home

/

Pro-Action Street Series Shocks For Your Harley-Davidson

MADE IN THE USA!
CUSTOM DESIGNED & DEVELOPED SHOCKS
For
Harley-Davidson
Sportster ~ Dyna ~ Touring ~ Trike
Models
These are Out Of Stock Again
4-20-21 Update-It is expected components will be back in stock within the next couple of weeks. We're Currently accepting orders, they'll be shipped on a
First Ordered-First Shipped basis.
Features & Specs:
CNC machined T6061 aircraft quality billet aluminum

3 stage incrementally pressure sensitive self adjusting compression valving

2 stage pressure sensitive rebound system

Light weight-under 2 lbs.

Nitrogen gas charged with coil over spring

Hard coat anodized

12 port high flow piston

Longer travel

11.25", 12.25" & 13.25" lengths

Hand adjustable threaded spring pre load adjuster

Externally adjustable free bleed control

S

tainless steel spherical bearings in shock eye

Sold as a Pair

Works with Standard & Comfort Lift on Trikes

Proprietary charging system

Easy Installation

Limited Lifetime Warranty
DK Custom Products has tested numerous aftermarket shocks over the last 8 months. We've logged well over 15,000 miles on a variety of bikes and trikes, covering an array of road condtions, loads and speeds. All this while paying close attention to ride quality with the various shocks.
Additionally, we spent 2 days testing various shocks on a Shock Dynamometer, measuring compression, rebound, spring rates and travel. (see photo)
Unless you go to a custom reservoir type shock, (costing over $1000), we don't believe you can get a better ride than from the Pro-Action Street Series Shocks for your Harley-Davidson.
Custom Tuned to Your Bike & Your Riding Style/Loads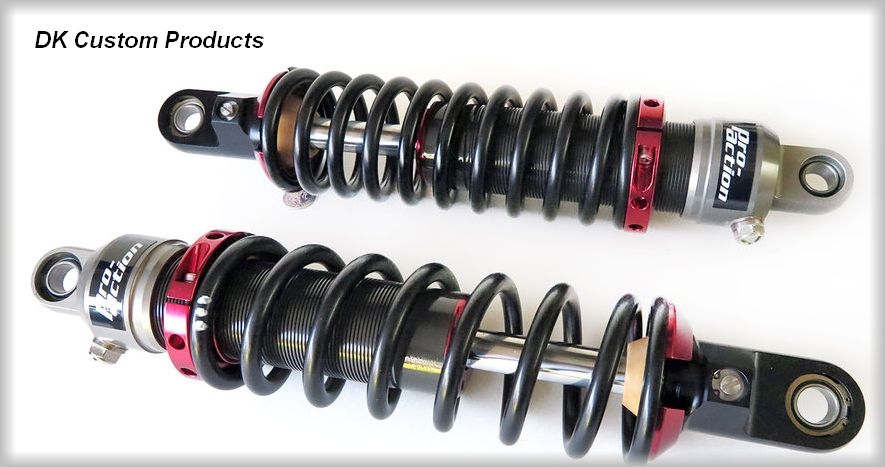 Top of the Line Pro-Action Shocks give superior ride quality. Not only do they smooth out the bumps, large & small, it is amazing how much more stable your bike/trike will feel going thru the curves. It is confidence inspiring.
The T6061 Billet aluminum bodies house a unique 3-stage progressive valving system for compression, and a 2 stage rebound system. Coupled with "fit to you" coil over springs that have an adjustable pre-load, you will be amazed how much smoother and more stable your bike/trike will ride.
These Street Series Shocks are available in 3 lengths: 11.25", 12.25" & 13.25". The travel is 2.5", 3" & 3.5" respectively. Combined with less sag than the stock shocks, this gives an average of 33% - 50% MORE Travel.

(Unless otherwise requested, we will send the OEM length shocks for your bike to you)
When you order you will be asked some easy questions. Your answers give us the information needed to use the correct spring rate for your shocks, as well as giving us the info needed to adjust the pre-load and rebound for you. This way when you receive the shocks they are already set-up for you. Simply bolt them on and ride!
You can Lower or Increase the Height of your Bike by requesting a different Length Shock.

We will send the stock height shocks for your bike, unless you request in the "Special Instructions", at checkout, 1" shorter or 1" taller Shocks.
Limited Life Time Warranty Details:
Only for the original purchaser of the shocks
Does not cover accidents, fire, environmental catastrophes (submerged in a flood, etc.)
Does not cover if the shocks were abused (overloading them), improper installation
If they are installed properly, not overloaded, not damaged by some external force, then they are Lifetime shocks for the original purchaser....if they wear out, they will be rebuilt/replaced at no charge.
Click HERE for More Information on our Testing of Performance Rear Shocks
See the Shocks in Action
" ...the 444's were 100% better than the OEM Air shocks and the Pro-Action Shocks are 100% better than the 444's.
I believe the biggest experience change would be anyone going from the OEM Air directly to the Pro-Action shocks."-Roger
"I had a huge improvement in both sport feel and cushion. The suspension was stiff enough to hold my lines well going in and out of the turns but soft enough to take the bumps that would normally make me sore or tired in the arms.
Thank you for all your help and great customer service. You have sold me as a lifelong customer and can't wait to get the front suspension redone through you guys." -Giang Vu
.
Click the Rear Shocks Test Report Link below, to learn more about How shocks work.
Also included in the report are charts, showing performance results of stock, middle of the road, and top performing shocks on many Harley-Davidson Models.
Customer Reviews
Excellent Products

Review by

Walt


When I transitioned to a Trike a few months ago I thought I made a huge mistake. Then I had a set of pro action shocks and convertible comfort lift kit installed on the trike and I was absolutely amazed at the difference it made in the ride and handling of the Trike. It reignited my passion to ride again. High quality product; great value for the money and the people at DK Customs are the best Thank you. (Posted on 4/13/2021)

Great purchase

Review by

Joker5


I rebuilt my 2016 street glide at 52000 miles... all high performance and I use pro action shocks front and rear.... I love the way this bike handles now . I am impressed with how well it takes corners and curves... front end don't shake nearly at all at high speeds. For me , money well spent (Posted on 2/13/2021)

Working well

Review by

Dave


I have a couple thousand miles on these now, better than stock premium hand adjustable. (Posted on 4/14/2020)

DK Pro Action Street Series

Review by

Boomer


Got these shocks in a timely fashion after ordering. Replaced the air ride on my Tri Glide, what an improvement. Appears to be better in curves. Wheel goes over bump or pot hole without causing the side to side hop of the air ride. A little stiffer than I would like but after I get a few more miles on them and I get used to them, I'll see about adjusting them. (Posted on 3/26/2020)

Tremendous improvement over stock shocks

Review by

Pork hop


I ride a 2018 Harley FLRT and put 15,700 miles on it before ordering th Pro-Action street series shocks in the 13" stock size.
I've only had the chance to put a little over 100 miles on them so far but it's amazing how different the ride feels right from the get go!!
They came pre adjusted as promised and so far I see no reason to make any changes.
Thanks so much for making these shocks available to us Trike riders.
Amazing product from a great dealer.
Tom from Indiana (Posted on 1/17/2020)

Great product

Review by

Tom


Shocks arrived ahead of schedule. Installation was simple and instructions were excellent. Very easy to tune and they are a big improvement over stock shocks. (Posted on 9/5/2019)

I can't even tell you the level of improvement

Review by

DirtyOldMan


I previously had Works shocks specially made for my bike. They were a huge improvement over my stock shocks. Works went out of business and I needed mew bushing and no proper replacements were available. I made some but apparently not well enough.

I finally ordered the Pro-Actions from DK and installed them. I never realized how noisy and uncomfortable my shocks were. A world of difference so far. I haven't done any real twisty road riding yet but am pretty sure my dollars went to the right product.

As far as customer service, Dwayne and company have it down. Thanks! (Posted on 2/1/2019)

Awesome shock's for the Fat Bob's!!!

Review by

Krazy


I went w/ the 13.25" length Pro-Action Street Series Shocks as I wanted more lean angle & to have a shock that could handle the bumps...
The 1st thing I noticed is how the shocks do absorb the bumps & now I don't avoid them like I used to!!!
The 2nd thing I noticed is how much easier the bike leans or falls right into the twisties now as I'm not havin to work the bike as hard like I used to!!!
The 3rd thing that I noticed is I'm takin the twisties at a faster speed than I used to & even my son said he doesn't have to slow down as much now when he's followin me on his sport bike!!!
The 4th I'm goin to do is I'm goin to get a set of Avon Cobra's as soon as I wear out the stock tires so that I can go even faster thru the twisties!!!
The 5th thing is Thank U Dawn for lettin me pick your brain & recommendin the Pro-Action Street Series Shocks to me & my back Thanks U to & Thanks to the DK Customs crew for for doin all the testin of the different shocks which made my decision even easier on what shocks to buy for my bike & save me money in the long run!!! (Posted on 6/4/2018)
Product Tags
Use spaces to separate tags. Use single quotes (') for phrases.