Home

/

Relocation kit for Tour-Pak Harley Baggers 97-08 ...More Details
TOUR-PAK RELOCATION KIT

FITS 97-08 HARLEY-DAVIDSON RIGID & DETACHABLE TOUR-PAKS*!
MADE IN THE USA!
By
DK Custom Products
SCROLL DOWN PAGE FOR MORE PICTURES!
FEATURES & SPECS:
Made from American Polished Stainless Steel
Stainless Steel Relocation Plate is delivered to you with a protective film which you can remove

Includes ALL Stainless Steel Hardware
Moves Tour-Pak back approximately 2.5 inches making things much more comfortable for the passenger!
Fits both the Rigid Mount and Detachable Mount Tour-Paks on 97-08 HD Touring Models*
E-Z INSTALL
Instruction Sheet & Template Included
Patent Pending
* Does not fit Tour Paks that have Amplifier attached to bottom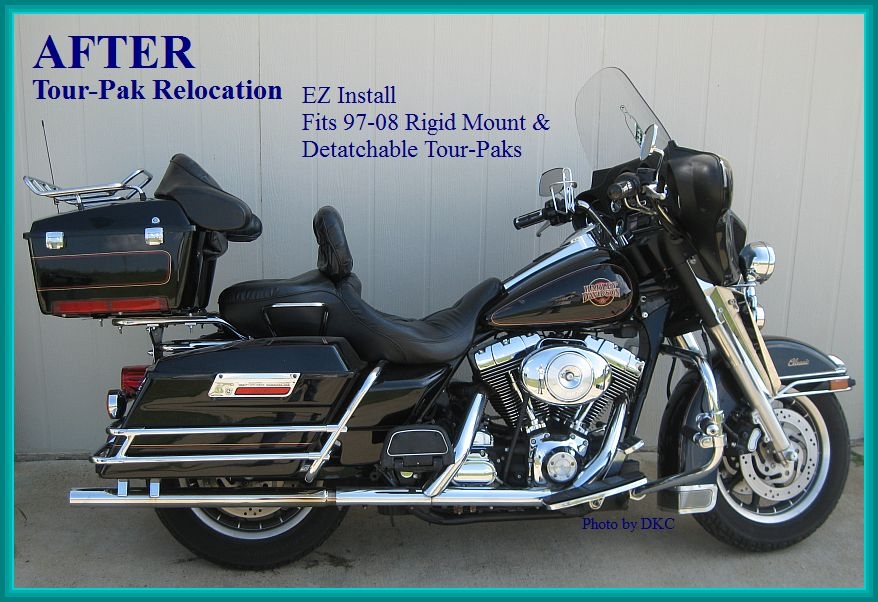 Get More Comfortable Miles with those extra few inches...it makes All the Difference in your Passengers Comfort!
Makes it much easier for the passenger to climb on & off the bike, especially if there is a drivers backrest!
This works with both the Rigid Mount Tour-Pak and the Detachable Mount Tour-Pak.
97-08 mounting racks from the factory have an inherent design flaw resulting in a rack that is prone to breaking. This simple, but effective low profile relocation kit is rated at over 10,000 PSI and greatly enhances the strength and durability of your rack AND Tour-Pak.

If you have a Road King, Road Glide, Street Glide, or any Model of the Electra-Glides w/ a Tour-Pak....

Your Passenger WILL Thank YOU for the Comfort these extra few inches gives them!!!
A template is included with the instructions for holes you may have to drill in the Pak. Over the years The MoCo has had a variety of different hole patterns in the Tour-Pak bottom plate. Some models of the Tour-Pak have as many as 14 holes, some as few as 5 holes. When using the template you may find that you already have some, or all of the needed holes.

*Does not fit Tour Paks that have an amplifier attached to the bottom, such as the CVO's.
IMPORTANT NOTE: If you are looking for a kit with "Bling", or something that is overly complicated, this is NOT the kit for you. This Relocation is amazingly simple in design, and once installed it is not visible.
There are other kits on the market that put the Tour-Pak up higher on the rack, moving the Center of Gravity Higher, they also are quite visible and cost more.
With this kit, there is no chrome, it simply relocates the Tour-Pak back for Passenger Comfort. It gets the job done, and the only person who will know it is there is your passenger
This is an EASY install - 30-45 minutes!
If Mama's happy, everybody's happy!
"Got it fast...installed it...what a difference it makes!!!"
-Brian
Customer Reviews
TourPak Relocation Kit

Review by

George


I haven't been able to install the Relocation kit yet as I am recovering from Knee Replacement surgery but it arrived right on time and looks to be just what I am looking for and at over half the price of other kits I have found. Ride safe Ya'll (Posted on 9/7/2023)

A little extra room goes a long way!

Review by

CVO RED BOMBER


I took my time and read through the instructions before we started. Had some help and glad i did. My CVO already had most of the holes drilled so that was a plus. Wifey loves the extra space, especially after lunch!!! A+ product (Posted on 4/26/2023)

Great relocator kit

Review by

slvry00


In the beginning I had to read a few times the instruction sheet. But after checking it out, I got the right measurements and it worked great. (Posted on 2/8/2023)

It works as expected.

Review by

Dumpster


After installing a couple relocator kits on later model bikes this one is different. I put it on an 03 Roadking. This kit is trying to cover way more mounting scenarios than the later model kits. So therefore it maybe not as plug and play as other kits for other models.
Still was easy to install. It gave me the room i was looking for.
After having thought about how I would relocate it myself then finding this kit it saved me the hassle of rounding up the parts myself. The piece of plate should give a certain amount of support to the Tour pak which I like as now days I tend to overload it.
Customer service was very good. (Posted on 4/2/2022)

Works perfect

Review by

Frank


Gives the wife more room for comfort A+
2005 Ultra Classic (Posted on 8/25/2021)

Great addition

Review by

Santa Bill


2006 Road King, more room for girl friend. Follow Instructions easy to install. Read twice drill one. DK customs great Products. (Posted on 8/25/2020)

Mama's very happy

Review by

Joe


No frills, easy peasy! Just what I was looking for. More room for my wife. She always felt that she was crowding me. Made a big difference. (Posted on 7/8/2020)

Easy to follow instructions quick install

Review by

Rocky


If you will sit down and read your instructions before you walk out to start it helps alot. But honestly I think it took less than an hour even reading as I went. Had my wife step out to help for a few just to make sure i didn't drop or scratch anything. The room we gained was exactly what we needed. (Posted on 5/27/2020)

Don't over think it.

Review by

woodrow Cornell


peace of mind, drill your new holes slowly ( have someone else steady the pack ) and slide the new mount into place .
I Didn't want to remove the wiring and put up with that hassle, turned out great. (Posted on 10/5/2019)

Don't over think it.

Review by

woodrow Cornell


Found this on Ebay and went to their website, it was a little cheaper to order it directly from them.
Cheapest one that I could find that sounded like it would work ,I placed my order and was checking out the website later in the day to find out that they have a scratch and dent area, if I read it right there was one in there and I could have saved a little more.
It is all but about 2 inches completely hidden under the tour pack .
Like I said ( don't over think it ) I didn't even take the tour pack off the bike.
Loosen the 4 main bolts lay the template down and put the bolts through the template and tighten only a couple turns (just for pese (Posted on 10/5/2019)

100% As Advertised

Review by

LCapo


I ride a 2000 FLHT and searched for a color matching Tour Pack. Finally found one and after installing it, knew immediately it was to tight and needed to somehow be moved back several inches. After searching for a relocation kit, this product from DK Customs seemed to be what I was looking for.
I ordered it from my phone, it was delivered within the advertised time and came complete with everything needed to install it! Instructions were spot on, don't overthink the information, the template they provided I cut out the pre-marked holes and taped it down on the inside bottom of the Tour Pack. I had to drill 2 holes, the kit came with all the bolts, nuts, washers, and lock washers. Was exactly what I needed and recommend purchasing this kit if you need to move your Tour Pack away from your stock seat. (Posted on 4/22/2019)

Great product

Review by

Bob


We've got an 05 road king that we put 70,000 miles on ..after installing your kit I couldn't believe the improvement in comfort . the wife used to push on my back on long rides and I would end up on the tip of the seat ,after installing the kit we had all the room we needed wish we would have done it earlier. Install was fairly easy be sure to pay close attention to the installation instructions measure twice drill once.
Overall excellent (Posted on 4/15/2019)

Had issues, but company found solution!

Review by

Bambam


I ordered this extender for my 1997 electraglide Classic, it showed up on time and the price is good for the time it would save you to buy a pieces of metal and figure out where to drill the holes, comes with all necessary hardware and instructions. That's where I ran into troubles! Lol my 1997 stick Harley came from the factory with a different mounting bracket that the ultras used, mine is secured with just three holes and the Dk plate is meant for the five hole Harley bracket. I called and spoke with dk personnel, can't remember their names but the man said he never seen that bracket on a stock bike, after investigating we did indeed figure out it is a stock bracket , because the bike was special ordered that year, that might have been the reason. Anyways, we got it figured out, I used the original mounting holes and original bolts which bolt right into bracket and don't go all the way through ultra bracket, I had to drill only three holes and get another bolt to match the original. Overall, the product works and looks good, abit of a pain in the ass figuring it out but no fault of DK customs, great customer service in helping me figure out another of Harley Davidsons oddities. (Posted on 2/4/2019)
Product Tags
Use spaces to separate tags. Use single quotes (') for phrases.