"The Beginning of a New Era" - HD CEO Jochen Zeitz
HD's Virtual Launch Event, which took place Tuesday morning (1/19) was a global event and the very first of its kind in Harley's 118 years. It was pretty interesting, however, we at DK were left wondering about ONE BIG THING...
Here is a recap of the event with photos and video.
Comment below and let us know your thoughts!
As soon as the event went "live", Harley's newest 'Go Ride' ad was shown and we thought it was a homerun! It enourges everyone everywhere, no matter what, just go ride. Check it out...
"Chase those quiet moments that are anything but quiet...." Just go...." "Because the roads you don't take are the only ones that will haunt you when you're going...going...gone."
Not too shabby. It certainly made me want to 'Go Ride'! What did you think?
After the ad, actor Jason Momoa, who collaborated with HD last year on the 'United We Will Ride' campaign kicked off the event, welcoming viewers before introducing Jochen Zeitz, HD's new CEO -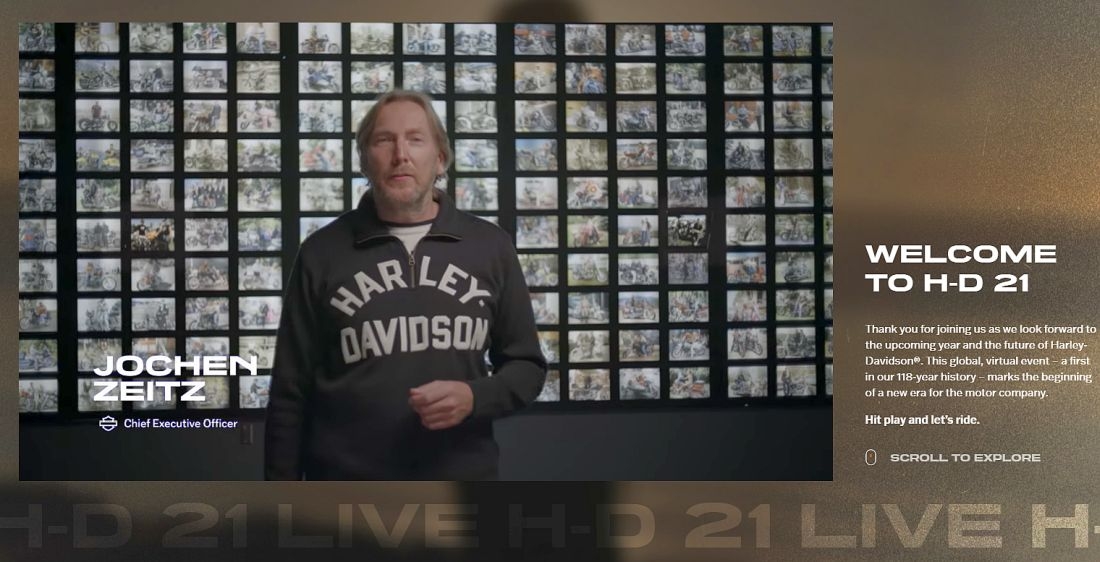 Zeitz spoke with empathy about 2020 being a rough year for us all but said HD has high hopes for a much better year in 2021. He went on to talk very briefly about himself riding, starting at the age of 16. He talked about our "unique & shared passion for the Harley Davidson experience" & went on to say how 2021 excites the people of HD & assured all viewers that "Harley Davidson is here for you."
The first models introduced were the Touring models, the 'Specials', and what HD calls their "Flagship Lineup", the CVOs.
There was quite the emphasis on the CVOs & "factory customization" during the event. In fact, over half of the 40 minute event was dedicated to the CVOs.
"Starting in 1990, the CVOs were designed to give riders the most 'Premium Harley Davidson Experience, Right off the Factory Line.' " said Brad Richards, VP of Styling & Design.
"We wanted to make sure every CVO customer feels like they have a 'one-off' Harley Davidson in their garage."
This year, the CVOs are equipped with the 117ci M8 engine.
HD said the CVO models, which consists of 4 bikes; the Road Glide, Street Glide, Tri Glide, & the Limited; deliver "big engines, big wheels, big paint, industry-leading finishes, technology, craftsmanship, & attention to, or more accurately, the obsession to detail."
CVO Road Glide
CVO Street Glide
CVO Limited
CVO Tri Glide (Look at that kick-ass color!)
After the Touring models, only two of the Softail models were discussed; the Street Bob & the Fat Boy, both of which are listed under "Cruisers" on HD's website.
The Street Bob maintains its kick-ass, bare-bone look with no fairings, bags, etc.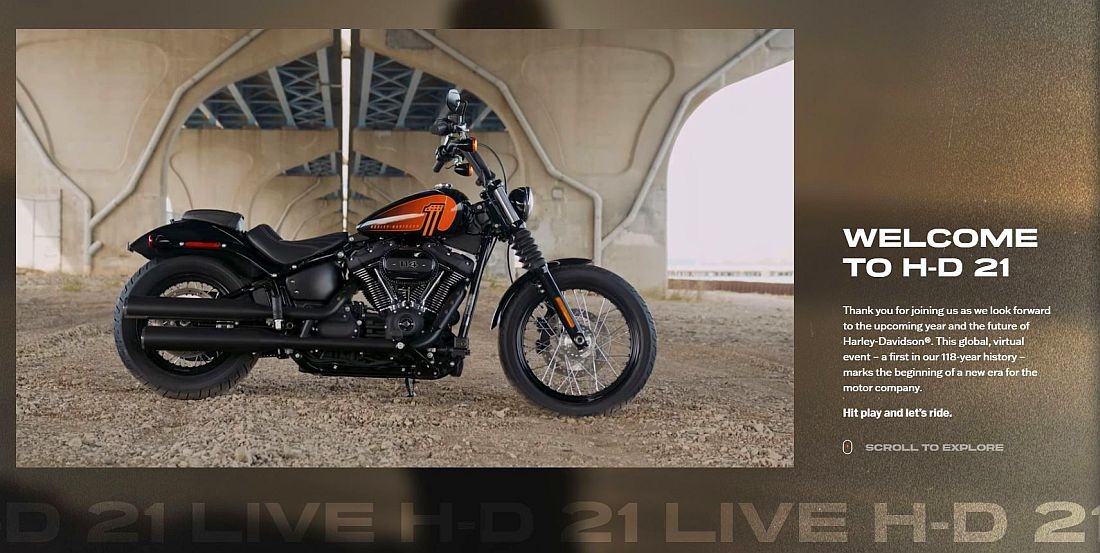 Check this out!
The instrument gauge has been integrated into the handlebars on the Street Bob! This Digital Rider Gauge is only offered in two of HD's Softail/Cruiser models.
The Fat Boy, one of the most iconic designs in Harley's history, is even fatter, brighter, wider, and more dominant than ever before.

The brightness is due to the new chroming throughout, which was a desire by the marketplace according to Bill Davidson, HD's VP.
Here's the chrome previous to 2021-
Here's the new, brighter chrome -
How about the new look on the tank console?
Speaking of bigger & brighter, HD's styling manager Kelly Slank said "This year's color pallet is exciting! For inspiration, we've developed color stories."
Here's some of the colors shown during the event -
'Deadwood Green'
'Crimson'
'Bronze'
"Shifting" Color - 'Snake Venom'
From Green...
To Purple -
Personally, I'm diggin' the 'Snake Venom'!
Slank said "Color is so personal and because of that, we will continue to develop and innovate, bringing the consumer new and exciting things."
What is more personal than the clothes you choose to wear?
Apparel & Riding Gear was included in the event. Harley's GM General Merchandise Chad Beightol said "We have this rich legacy that's authentic...Our connection to that heritage is going to show up in a more powerful way this year in our product and branding." HD plans to expand the business focus beyond motorcycles with commit business units to parts, accessories, & general merchandise.
The event was concluded with Zeitz announcing the Pan America's reveal being February 22nd before closing with a short preview video featuring Jason Momoa riding cross country style on the Pan America.
Here's the video -
And that was it!
Notice something missing? We did.....
WHERE IS THE SPORTSTER?! Not a single word was spoken about it from anyone at HD during the event. There was only ONE photo of a Sporty, and about a 1.5 second clip of the same bike being ridden when talking about the "new, exciting colors".
Maybe there were no changes made to the Sportster to reveal for 2021, (other than when you go to the website there are ONLY 3 Sportster's for 2021) but wouldn't you think they'd still include at least little blurb about in it in this Global, First Ever event???
The Sporty is still listed on HD's website, however, it's listed under "Street" and there isn't one place on the site that you will even find the word 'Sportster'.
Only 3 Sportster's are offered from HD - Iron 883, Iron 1200, and the 48.
What's going on here??? Are they intending to slowly kill off the Sporty???
We want to hear from you! What are your thoughts?
Comment below and let us know!