Home

/

Sportster Speedometer & Indicator Lights Relocation Kit
SPORTSTER SPEEDOMETER & INDICATOR LIGHTS RELOCATION KIT

Fits Most Sportster 1995-Up
(& some Dyna Models)

MADE IN THE USA!
By
DK Custom Products
FEATURES & SPECS:
Made from American Cold Rolled Steel

Relocates Speedo & Indicator Lights to front left of tank

Includes all hardware for mounting in 4 different positions off frame

Works with OR without a tank lift

No cutting of wires or splicing needed

Compatible w/ fork tube mounting (Clamp Details

HERE

)


Durable Black Powder Coat Finish

E-Z Step-by-Step Instructions Included


Lifetime Warranty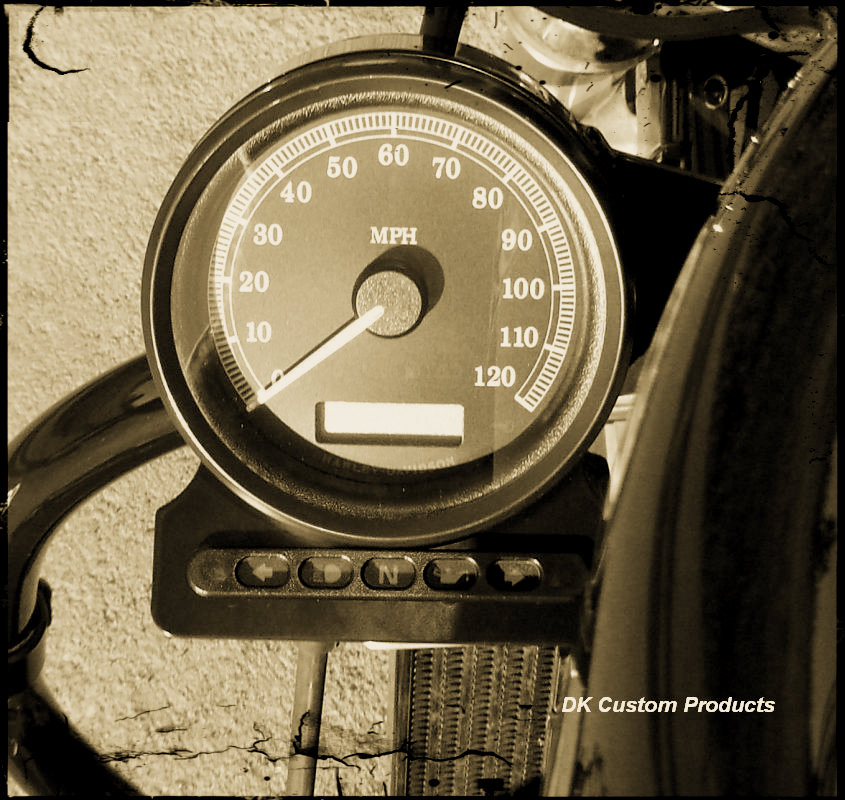 This Speedo/Lights Relocation Kit comes with extra bolts and spacers so that you can mount the speedo exactly in the position that is most comfortable for you. Both the angle and the distance that it sets out from the frame is easily adjusted.

We also have a Speedo Relocation Kit that relocates only the Speedo. Click HERE to see.

Also available are Black & Chrome Top Clamps for models that have the stock speedo bracket built into the Top Clamp. Click HERE to see.
Also available is a Fork Tube Clamp, allowing you to mount the Speedo off the forks. Click HERE to see more details.
Fitment Notes:
Sportster Custom and 48 models require the Harley-Davidson speedometer back plate and rubber gasket (back cushioning) HD #67320-95 & 67104-95
This Kit is the best fitment for the 2014-Up Sportsters.
~Fits Most 1995-Up Sportster Models~
(& Dyna Models that have the same size Speedo & Indicator Lights as Sportsters)

Will not fit most Customs and a few other 90's/early 2000's models. The way to know is to remove the indicator lights from your current set-up and look and see if the light hole pattern in your current bracket matches the pattern in the bracket pictured above.
If it does not, then you can still get the Relocation Kit for the Speedometer HERE.

Pictures above show various positions out from the frame.
U.S. Patent D753,473 S
Customer Reviews
Awesome

Review by

TeamX


I failed to mention I have a Paughco Custom Fat Bob tank.....this is the 4.5, but it has been modified further for 4.9 gallons....I was worried about being able to see the speedo under it's width....

Called CS and they worked with me about the 6" kit included...has worked out awesome. (Posted on 8/29/2020)

Incredible

Review by

TeamX


I ordered the speedo relocation, 2" hidden riser extension and a new clamp.

Ever part is immaculate, arrived quickly and every bolt is well above what Harley quality.

fan for life. (Posted on 8/28/2020)

Awesome product!

Review by

Oldman


Awesome product. Installation is easy (read the instructions), all the needed hardware is included, and it looks and functions superbly. This is a really useful modification and it generates a ton of comments! (Posted on 5/13/2020)

Great Product

Review by

David


I have an 03 XL883 sportster.

This relocation kit worked perfectly. It is metal so very sturdy and very durable. Love the spacers it comes with along with different bolting size options. The kit itself is awesome. I am not a big fan of the price but then again I am not aware with all the costs involved with making this kit in its entirety along with possible profit margin. If I had another bike I needed to do a relocation seeing I cannot do anything about this price I WOULD DEFINITELY BUY this again because it is a for sure buy that everything will go right and save you headaches. You get what you pay for I guess and this is a phenomenal product. I am also thankful to DK customs who is the only place I have found to be considerate and thoughtful of older sporty's built before 2004. Thank you DK. (Posted on 1/14/2020)
Product Tags
Use spaces to separate tags. Use single quotes (') for phrases.