Home

/

Stealth Adjustable Highway Peg Mounting Kit - Sano Black
STEALTH ADJUSTABLE HIGHWAY PEG
MOUNTING KIT

SANO BLACK POWDER FINISH

Fits Dyna and Sportster Models


Made in The USA
by
DK Custom Products
FEATURES & SPECS:
Allows an extra set of pegs to be used as Highway Pegs

Arms made from American Cold Rolled Steel


Arms are 9" long

Arms are adjustable with a 4" range, forward or rearward




Arms are reversible for even more adjustability

Stand-off Clevis is adjustable for even more options


Durable Black Powder Coat Finish

Fits Dyna and Sportster Models with mid-controls


Optional 1/2" & 1" Spacers

Includes all needed hardware, including footpeg clevis bolts, washers, & nuts

Compatible with all DK Custom Footpegs and most other footpegs that fits a Harley


E-Z INSTALL - E-Z to Adjust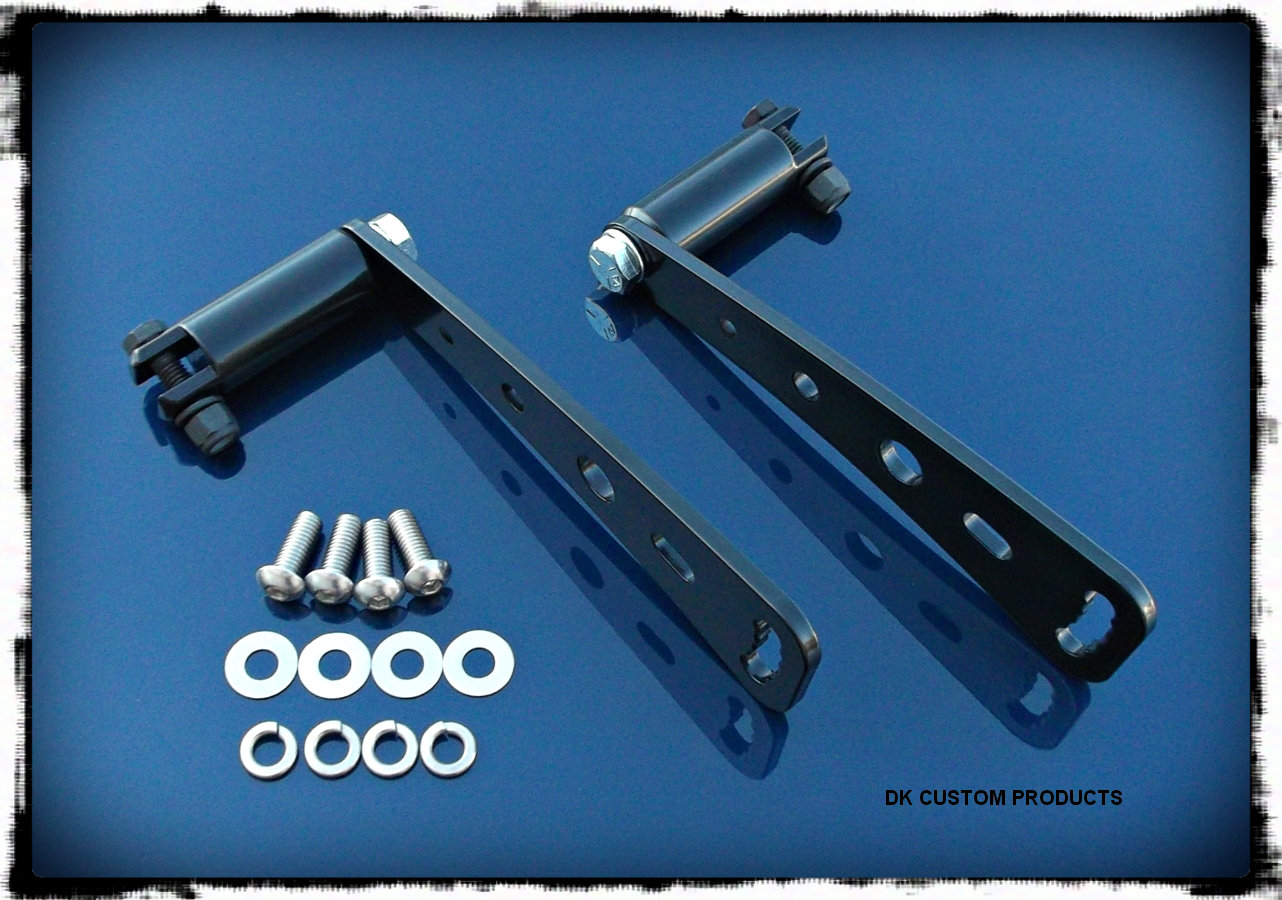 These are sold in pairs of two.
Want to stretch out, but don't have/want an engine guard/crash bar to attach Highway Pegs to? This is your answer.
Fully adjustable, fits any peg that fits in a female clevis.

The 9" arms have 5 bolt positions on the bottom, allowing for a forward to rearward adjustment of up to 4".
Plus they are reversible, giving another 1.75" in adjustability.
These bolt right up to your frame, where Harley already has tapped holes for the forward control option on your 99-Up Dyna or 04-Up Sportster.
These stand out 4" from the frame, so that is where the inside of the peg starts, and then with a standard 4.25" footpeg, the outside of the peg will be 8.25" out from the frame.
There are Optional 1/2" & 1" Spacers that will push the Highway Peg mount out further from the frame, giving better clearance around "fat" air cleaners

These have a durable Black Powder Coat Finish.

No pegs are included with this Kit. Spacers pictured are Optional.


Give your legs a break, Stretch out AND more comfortable!!!
"Finally, a highway peg kit that adjusts to fit me and my bike, plus it looks killer." -Dustin
Customer Reviews
Serves a purpose

Review by

Mike


I have these on a 2020 883 with a V&H V02 Naked intake. Running 1" spacers and extended length foot pegs, my leg still sits on the breather. Adding the spacers and longer pegs causes some flex. They aren't perfect but they work. Haven't had them on long so I can't speak for longevity. I have their speedo relocation kit and their replacement top clamp, love them both. The pegs I could take or leave. Customer service is great. (Posted on 9/7/2021)

Fit on my 2015 HD Dyna Street Bob perfectly!

Review by

TRoy


I have mid controls and these brackets bolted perfectly into the forward control holes in the frame of my 2015 Harley Davidson Street Bob. Nice to have the option to stretch out when riding. The brackets do flex a little with my feet on the pegs but that doesn't seem to be a problem so far. Easy to install and easy riding! (Posted on 5/4/2021)

The only thing missing from a sportster!

Review by

Regor


I ride a sportster 1200 for a couple of reasons. They're light(er), somewhat nimble, and fun as hell! The only gripe I've ever had is being able to stretch out on those long trips. And these totally take care of that. I just put 3000 miles over 7 day's last week and have the perfect setup thanks to these. Quality build. Good powder coating. Definitely get the 1" spacer. It's the perfect amount if you've got a aftermarket air cleaner. (Posted on 9/9/2020)

Extremely satisfied

Review by

2001 T-Sport


I searched around for awhile trying to find the right highway peg mount setup. I have an IMZZ Elite crash bar, so crash bar mounts weren't an option & I found that most frame mounts wouldn't work due to the angle they came out off of the bike. Enter DK customs & there stealth mounts. Immediately out if the box I was impressed with the quality. Because of the adjustability, I was able to get the pegs right where I needed them. I ordered the spacer kits, but ended up not needing them, because I sandwiched the mounts between the frame & the crash bar. Returning the spacers was easy & painless. I'm 100% satisfied with these mounts & would recommend them to anyone looking for a quality versatile highway peg mount. I also received DK's 2" tank lift kit as a gift... that's another great item they offer. (Posted on 2/26/2020)

2019 Iron 1200

Review by

J


Great highway peg mount kit that allows me to stretch my legs out comfortably. Easy install. I needed them on the closest setting, and needed at least 1/2" spacers or there'd be a clearance issue with my frame. The spacers helped give me more space from my air cleaner too. (Posted on 7/29/2019)

Well desigened & Well made piece

Review by

ACE 2016 883 IRON


Really like the design of them , Very well made and the hardware is top notch . (Posted on 4/26/2019)

Awesome

Review by

2007 883L


Fast shipping heavy duty easy installation finally got around to ordering them no regrets (Posted on 5/26/2018)

Simple yet strong

Review by

Robert


Finally got around to ordering them inexpensive solid easy to install maybe a 1 inch spacer would have been better but not necessary only issue was finding someone to hold crescent while I tightened peg mount to adjustable brackets love it looking forward to more future purchases thanks guys great fast shipping (Posted on 5/25/2018)

Stealth Highway Peg Kit / 2009 Iron 883

Review by

hero2zero


Really, really solid metal. Bolts and nuts and also rock solid. Installed effortlessly. Absolutely cannot beat the price for this quality. (Posted on 5/18/2018)

spacers

Review by

bricklayer


Should come with spacers, pretty much everyone will need them, ended up using 1/2 nuts for spacers, not paying $28 for something that should have come with the kit.

Actually, the majority of folks do not need or use spacers. In the spacer kit, the four bolts are USA made Grade 8, and the four spacers are powder coated. (Posted on 2/14/2018)

Stealth Highway Peg Kit / 2013 HD Iron.

Review by

Great Product


I purchased a set approximately two montgs ago and couldnt be happier with the quality of the parts and ease of installation. I'm very particular with aftermarket parts because I've found many dealers don't care about quality and fit. Not the case with DK Customs it seems. Quality accessories that fit the bike perfectly. They also add to the overall riding experience on long hauls. (Posted on 10/7/2017)

Love these things!

Review by

John


I have mid controls on my 2012 Sportster. I don't know why they call them "mid" as they should be called "back" or "rear". I looked at relocating them to the front but felt that a lot of relocation kits (especially the H-D brand) were out of my price range. Along comes DK Customs with these bad boys. They take about 5 minutes to install and do the trick! I did have to order the 1" extensions to allow my right leg clear the air cleaner (it's bulky and I want to eventually change it out). They have a number of grooves to chose from and that adds a few minutes to the install; finding your exact seating position. It's nice that they are so customizable. Super sturdy steel, all bolts, washers, and lock washers included. Not disappointed with these in ANY way and super glad that I picked them up! (Posted on 10/1/2017)
Product Tags
Use spaces to separate tags. Use single quotes (') for phrases.