Home

/

Stealth LED Driving - Passing Lights Headlight Universal Mount
PAIR OF BLACK POWDER
DRIVING/PASSING LIGHTS


Works Great as Headlights Also


Universal Fitment

DK Custom Products

FEATURES & SPECS:
Sold as a Pair
1600 Lumens combined
15 Degree Spot
Bright White Beams at 6000K
Superior Color Contrast for Better Visibility
Aluminum Body/Glass lens
Low amp draw of 0.8 amps each
LED Lifespan: 30,000 Hours
1 Year Warranty
Can be used as Headlights, Auxiliary Driving/Passing Lights or Fog Lamps
2.2" in Diameter & 2.6" Long
Comes with Posi-Tap Connectors for E-Z installation
Instructions & additional hardware for E-Z mounting Included
These LED Lights pack a Lot of Punch in a small package. They can replace a Headlight, or be used as Aux. Driving/Passing lights.
SEE and Be SEEN
Below is a picture of a Sportster with the stock headlight removed and a Pair of these Stealth LED's being used instead. One is pointed a bit lower for the Low Beam, and the other higher for the High Beam.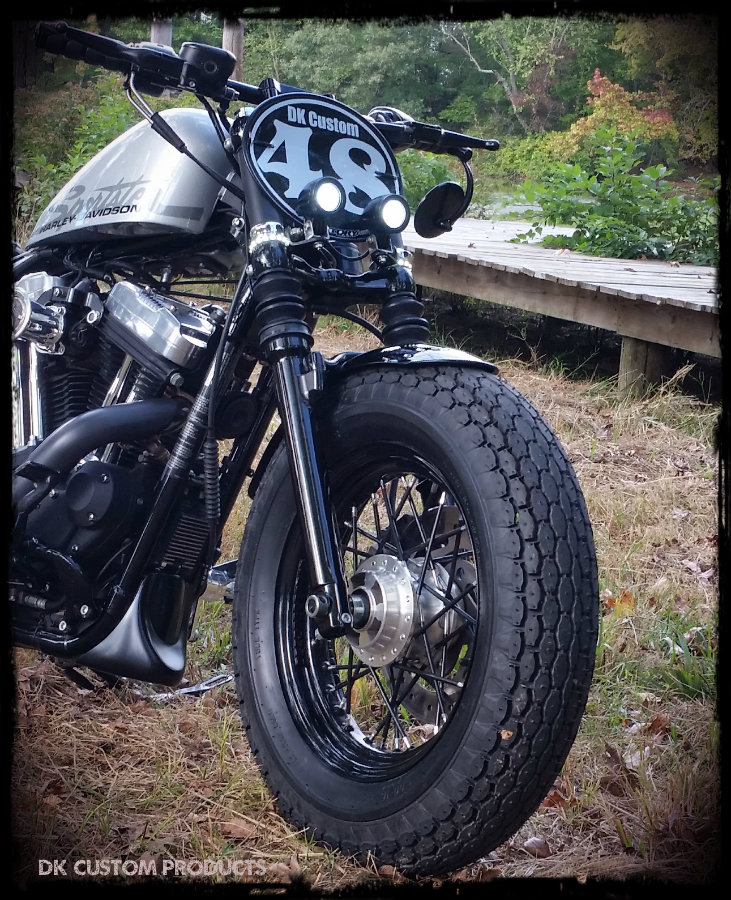 The more common use is as auxiliary Driving/Passing Lights. You can see them mounted off the engine guard below.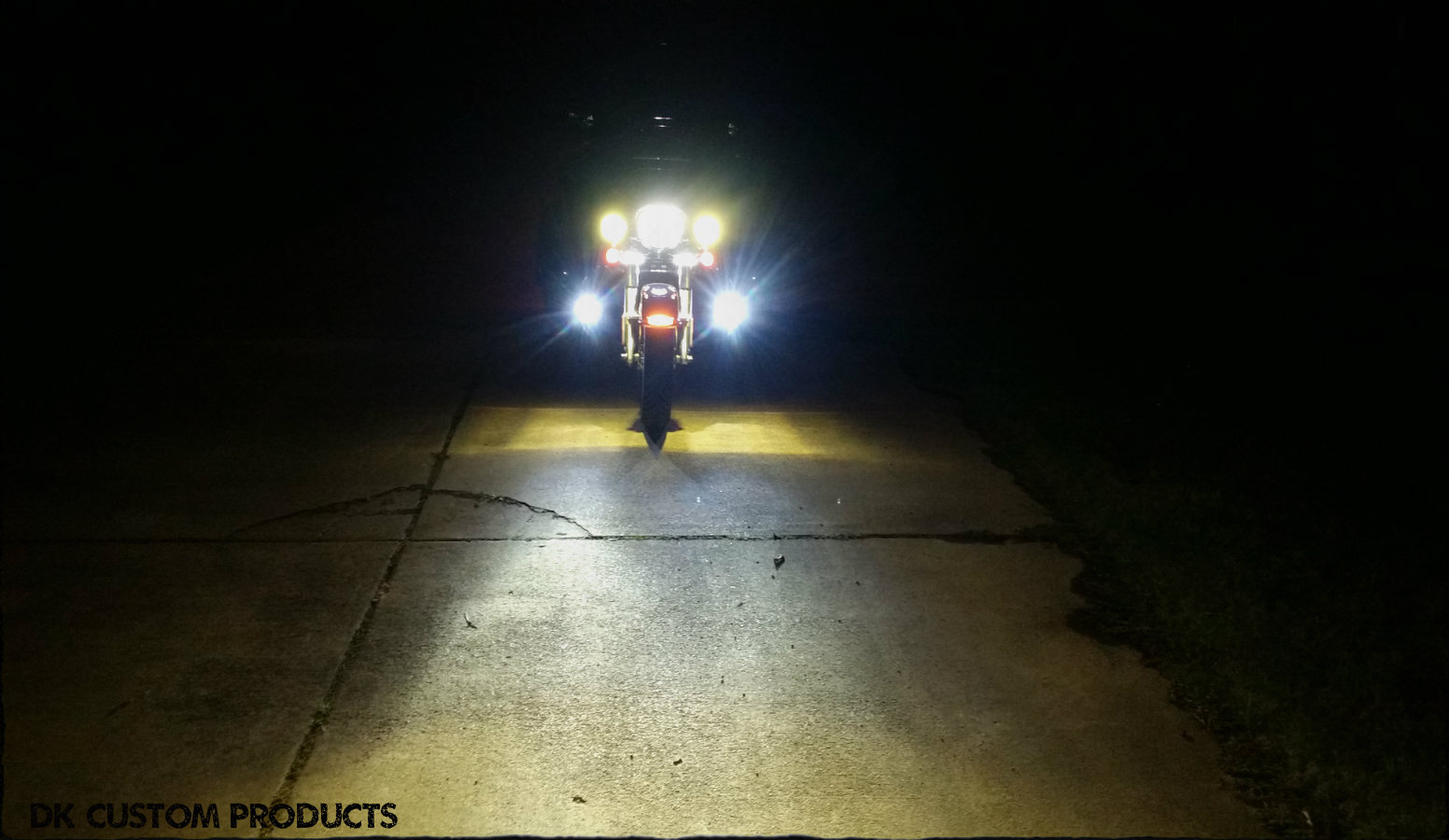 They can also be Mounted off the Floorboard Brackets on All Touring Models, as pictured below.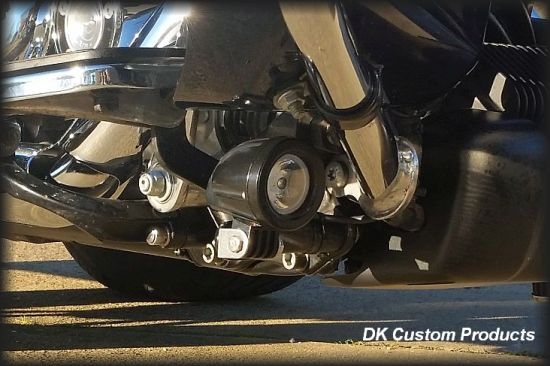 See More Photos-These are Very Versatile

These super white lights will give you increased visibility-you will be able to see further, clearer, and people will see you better, day & night!
Housed in aluminum bodies, with a durable powder coat finish, not only will they help you See & Be Seen, they Look Great!
These come with a mounting bracket for easy mounting on a flat surface.
For Frame or Engine Guard Mounted Auxiliary Driving/Passing Lights, there is a Chrome or Black Optional Bracket Kit. You can see details & more photos on them HERE. You can add them as an option to the lights..
For Floorboard Mounted Auxiliary Driving/Passing Lights, choose the Optional L Brackets.
This is an easy install. The Lights come with Step-by-Step instructions, as well as Posi-Tap connectors for fast, secure & easy connections.
FITMENT: These lights will work with any modern 12 volt Motorcycle.
With the L Bracket Option, they will fit on any Touring Model at the Floorboard Bracket.
With the Engine Guard Clamp Option, they will fit on any Harley-Davidson that has an Engine Guard
Comes w/ enough wire to mount anywhere on the front of the bike/trike.
"See & Be Seen - I Agree with that! The Stealth Driving Lights have really helped, both in the day & night." -Ronald

Save
Customer Reviews
AWESOME LIGHTS

Review by

BONJO


These are awesome lights and you absolutely cannot beat the price! And you know what? DK Custom's customer service is awesome too! If you have any questions or concerns, they will be sure to make it right! THIS is how every company should be - but unfortunately isn't! Save yourself a hassle and buy AMERICAN - BUY DK CUSTOM PRODUCTS! (Posted on 12/15/2022)

These lights will get noticed!

Review by

Joe


I purchased these lights for my Triglide for more night time light and to be seen during the day. The lights are super bright and good quality! The DK bracket that bolts onto the floor board is high quality. The actual bracket that the light attaches to is low quality especially the bolts and nuts. The threads are too shallow and smooth, the supplied nuts would jump threads when tightening. The hardware would not tighten enough to keep the lights in position. Solved this problem by purchasing stainless Allen-drive cap screws and steel nylon insert stop nuts. Recommend these lights! (Posted on 12/6/2022)

Great lights and service

Review by

Hardwickbv


These lights are just what I need for running backroads with lots of deer and other critters.
Can't beat the service anywhere. (Posted on 6/29/2021)

Great calue

Review by

Nick-WPB


I put MotoLights on my CVO at $550! These lights do the same job for 89% less.
The L Brackets mounted to the upper front caliper bolt on my 2015 Street Glide Soecial. Just had to rotat the lights out some. Same place as MotoLights mount. Does the same job in creating greater conspicuity as proven to prevent cagers from turning ir pulling out in front of you.

Great driving lights, however, I do not recommend them as headlights though. (Posted on 3/25/2021)

Awesome Lights

Review by

RaineyDay


Awesome set of lights. Looks good and functional. And you can't beat the price. (Posted on 11/25/2019)

Top Notch

Review by

Casper


I'm very satisfied and I get questions all the time about them. Like the earlier comment, I just wonder how much if any, are the HD's any brighter. These are just a fraction of the HD cost. (Posted on 10/13/2019)

Fantastic lighting option!

Review by

JOHN


As soon as I saw the Stealth light with the floorboard mounting in the images, I was sold.

Although I have little experience in wiring, I am utilizing a factory harness to tie into for a custom-meets-factory setup.

I am really looking forward to experiencing the increased visibility and function as soon as riding season arrives!

Stop reading reviews! Purchase these now! (Posted on 2/21/2019)

Very Satisfied

Review by

DB


I purchased these lights thinking, I cant go wrong for $55. Well I was right, these lights are not only inexpensive, the accent my 2015 RG's front end tremendously. I can't imagine the Harley Davidson Fog/Driving lights being much better. You got a winner here DK Customs!!! (Posted on 2/25/2018)

Bright as Hell , They won't disappoint!

Review by

Paul


Bought and used these stealth light as my headlights to be different, once you get them dialed in it'll light up the road better than you've ever seen before. I always have people staring and asking about the bike. Almost every aftermarket parts I put on is from DK they are the best, the bike with the punisher decal and stealth headlights is mine . Best thing I ever did was get these lights (Posted on 1/21/2018)

Excellent!

Review by

Red


Awesome little light bombs. They look really sharp, are bright as hell, and come with enough bracketry that you should be able to mount them about anywhere you want. Plenty of wiring attached, I mounted mine way out on the engine guards with no issues or troubles with wiring runs back along the guard, up the frame, and into the headlight can. They've never loosened or gotten out of alignment since mounting (loctite of course). Excellent value. (Posted on 7/25/2017)
Product Tags
Use spaces to separate tags. Use single quotes (') for phrases.