Home

/

Thunder Torque Inserts 158 For Increased HP & Torque
THUNDER TORQUE INSERTS™

Increases Low & Mid Range Torque
Adjustable Sound Volume & Tone

For Your
Slip-on Mufflers & Full Exhaust Systems

MADE in The USA!
by
DK Custom Products

FEATURES & SPECS:
High-Temp Powder Coat Finish
Stainless Steel Studs (5/16" diameter)

Includes All Hardware

FITS 2" diameter & larger Slip-ons (other sizes available)
Increases Low & Mid Range Torque
Increased Exhaust Gas Velocity

Increased Inertial Scavenging

Adjustable Sound Volume & Tone
Option for only 1 TTI for 2-1 exhaust systems
E-Z Installation Bolts into the end of the slip-on muffler (using the baffle bolt hole)

Patented Technology
Made in The USA!
Long Thread Option for Larger Diameter Exhaust SEE FITMENT NOTES Below
Watch these videos on how to get a better sound AND increase torque!
Take a listen to the following sound clips of 5 Different Bikes that all have an increased amount of Power from Thunder Torque Inserts™ Being Installed.
***The Video Below shows how to Remove Baffles from stock OEM Mufflers that do NOT have a Catalytic Converter in them. This process does NOT work on Mufflers that have Catalytic Converters in them.***
Do you want Louder Exhaust?
Quieter Exhaust?
A Deeper Tone?
A More Aggressive Bark?
Do you want More Torque?
FITMENT NOTES:

When ordering you have an option of getting just ONE TTI if you have a 2-1 exhaust system that has only One slip-on, or to choose TWO TTI's for exhausts that have Two Slip-ons.

There is an LT (long thread) Option for larger diameter pipes. Click this LINK to Order them and WATCH the Video to determine if the LT Option is appropriate for your application.
Click this LINK to see Pictures & Fitment Information, to Choose the Correct Size for your Exhaust
The Video Below shows how to Remove Baffles from stock OEM Mufflers that DO have a Catalytic Converter in them.

Another Video showing how good the stock exhaust can sound, and how much power they can have, with the baffles removed and replaced by Thunder Torque Inserts™.
All the Vance & Hines Systems and Slip-ons we've tested produce more power, and a bit deeper tone with TTI's Installed. The V&H's respond particularly well to TTI's, with or without the baffles!
Without getting too technical, we've spent thousands of hours testing shape, size, thickness, & surface coatings to find the optimum combination that increases power across a wide RPM band, AND gives maximum flexibility to deliver different sounds.
The Increase in Torque is accomplished by reducing engine pumping losses, increasing exhaust gas velocity and increasing inertial scavenging.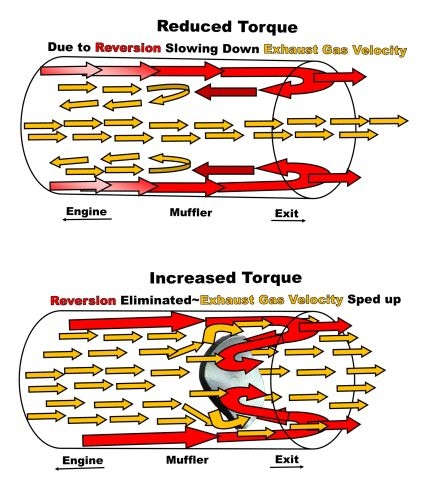 More about how exhaust works at this LINK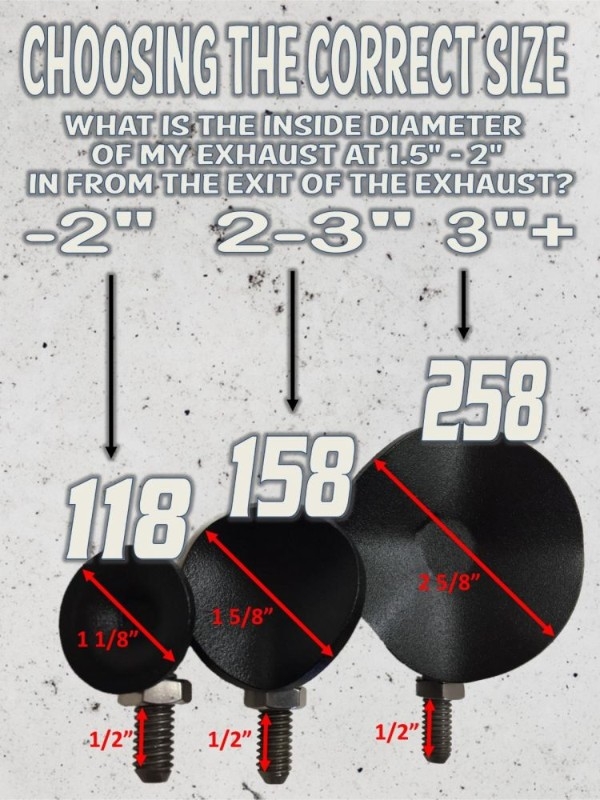 Thunder Torque Inserts™ are designed to perform well when used on slip-ons with and without baffles, drag pipes, shortys and 2-1 Systems.
The Patented design will produce a bit deeper sound/rumble all the way through the RPM and Throttle range.
If you feel that your current exhaust is too loud, the Thunder Torque Inserts™ will noticeably reduce the decibel levels.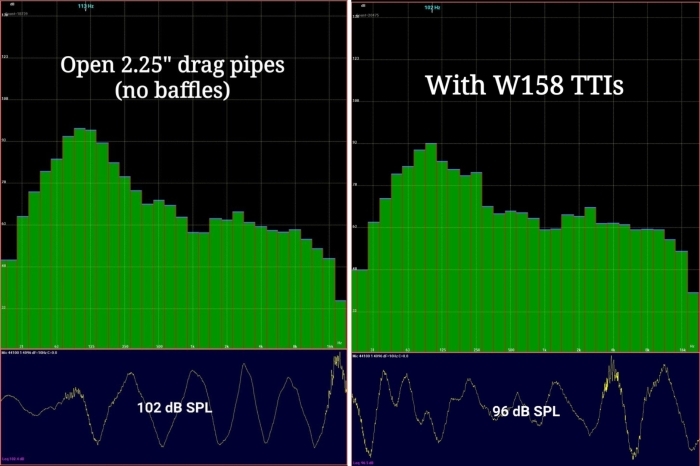 The comparison may seem subtle but decibel measurements are not linear.
For Example, 90 decibels is four times as loud as 70 decibels and 110 decibels is about 16 times as loud.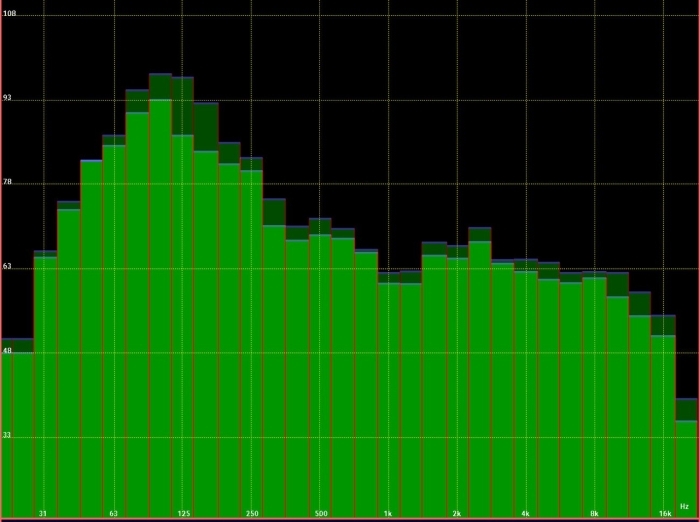 These particular results belong to a customer that had this to say...
"My impression of the sound is that it lost some higher pitched bark at roll-on and there was a reduction in low pitch reversion "echo" (kind of a flabby chuffing sound). To my ear, with these pipes, the tone isn't significantly lower but it is a bit cleaner or more refined sounding"
(Twin Cam at Full operating temp, mixture corrected, and idling at 1000 RPM.)
A small change can make a BIG Difference!!!
THE MOST TORQUE & HORSEPOWER GAIN PER DOLLAR SPENT!!!
YOU CAN'T DO BETTER
Check out the Dyno Charts Above!
Here's what people are saying:
"I have a sportster 48 with a stage IV and VH Short Shots and feel compelled to comment as these are one of the best purchases I've made for the bike.
I took out the baffles and put in the TTI which took all of 30 minutes.

They make the bike better, full stop.

There's no other way to put it. I don't understand the physics of it and don't want to know.
These things cost next to nothing and have been one of the best mods I've done to the bike." -tellawcaster

"...I was disappointed that the Cobra NH slip on muffler caused obvious loss of engine torque although the exhaust sound was much improved from stock and also SE slip on.

I did some internet research to find that exhaust lollipop baffles might help and favored DK TTI from the options I found.

I have to say I was skeptical that the TTI would make much difference but went ahead and fitted it onto the removable Cobra muffler baffle tube so the DK TTI bolt wasn't visible outside the muffler. I was amazed at the difference this little cup close to the exhaust exit made! It definitely restored a lot of engine torque and the sound is even better.

Best $26 (including shipping) I've ever spent!

Thank you DK for this great product!"

DL
"We just installed the Thunder Torque Inserts. The change is very noticeable. ..using Screaming Eagle II Slipons without baffles. Metallic sound disappeared with the inserts!
...always a drop in power from 2,700 to 3,200 RPMS in any gear. Now the power delivery is very linear and smooth in the whole powerband.
It's amazing to feel that something so small, simple and easy to install made so much difference on the bike !!
Thanks so much for all!!!" -Concha
"Just wanted to take a minute and let you guys know how pleased I am with the W258 TTIs.
I'll be honest, when I first read about these things I figured it was somewhat gimicky so I didn't expect much. But, after removing the baffles from my Wild Pig slip ons and installing the W258's I was blown away by both sound and performance!
It has the potato potato sound at idle (noticeably louder than before) and also sounds great at cruising RPMs. It actually reminds me of the way my old shovel head sounded.
What really surprised me though was the very nice torque gain that you can really feel. After installing true duels and the wild pigs, I noticed a loss in torque. The TTIs brought all of that back, and maybe then some!
Best money I've spent on my exhaust system for sure. Thanks!" -Dewayne
Save
Save
Longer Thread Variation - Do You Need Them? See Video.
Dyno Charts of 8 Different Bikes Running Thunder Torque Inserts™ HERE
More Dyno Charts w/ TTI HERE
Customer Reviews
Torque insert 158

Review by

Jg


Hard to believe but exactly as advertised. 1994 heritage softail, baffles removed. The bike sounds a hell of lot better and low, mid-range torque is so much better. Thanks for the product and great videos with data to back up the claims! (Posted on 8/10/2023)

PROBLEM SOLVED

Review by

Uncle E's Cycles


We had a 2006 Honda Shadow Sabre with a mishmash exhaust system. We installed the correct jets but the bike continued to after fire excessively. Added the thunder torque inserts and the after fire went away. The bike sounds fantastic now. and the owner is very pleased with the result (Posted on 6/23/2023)

Loud Pipes Saves Lifes

Review by

Ditch


Simple installation. I have the V/H Shortshots and had removed the baffles. Also running the V/H intake. Thunderous!! I have not had a chance to feel the difference as I'm waiting on some jets. However the bike sounds completely different. 03 Sportster 1200C. (Posted on 5/15/2023)

"Must Have" mod

Review by

nevinpratt


Adding these to your slip-ons is a no-brainer. Just do it. (Posted on 4/20/2023)

Instant difference

Review by

Shawn


After sitting in my garage for nearly 6 months, I decided to install these . Big difference instantly . Very well done DK customs . And the price point can't be beat . (Posted on 4/9/2023)

good sound

Review by

Ben


easy install, good barky sound, hard to tell if tourqey increase thru butt dyno. so far, satisfied with the product (Posted on 3/24/2023)

Great Customer Service - Long Thread Inserts 158

Review by

STEVE


Originally ordered the Standard Thread Thunder Torque Inserts 158 for my 2020 Low Rider S with Tab Z slip-ons and found the thread length was too short. Was called by customer service because of my review and informed me of the Long Thread Thunder Torque Inserts 158. They offered to do an exchange with no issues. It was my fault I did not see the Long Thread option. Love D K Products! (Posted on 3/20/2023)

Sound

Review by

Michael


I love the way it made my Vance &Hines double slash sound. Very happy with my purchase. I have good low end torque coupled with some 525 Reaper cams. (Posted on 3/12/2023)

surprised

Review by

tex


sorry it took so long to get this review in, had to wait for the ice to melt.i knew it would help but i didn't think it would make such a difference. (Posted on 2/20/2023)

Great Product - Great Results

Review by

Nige UK


I had read about reversion and what it is so was interested to read and hear about DK Customs' explanation and videos, backed up by dyno charts, on the Thunder Torque Inserts. I admit that I was a little skeptical at first that at <$50 these would work.
However, convinced by their articles, I went ahead and bought a set of TTI-158's and fitted them to a set of V&H Staggered Shortshots, the result was, frankly, amazing! You can, literally feel an improvement in lower end torque especially when opening up out of a bend. Absolutely fantastic product. Well done Guys - big thumbs up from me. (Posted on 1/28/2023)

Same results as adding a cam or 2-1 pipe

Review by

Fat boy


It's really hard to believe unless you experience it for yourself but the difference these things make is equal to putting a larger cam or changing drag pipes to a good 2-1 pipe, I have experienced both. This thing really works. I have 3 different Harleys and all 3 have one! (Posted on 12/14/2022)

Good quality product

Review by

Joe


After lots of research and reading reviews I finally purchased the inserts. I installed the 158's in a set of Rinehart slip-ons with baffles. The installation was easy once I got the end caps off! Not sure if there has been any improvement in torque since I am still running stock air cleaners and head pipes with cat but it sure sounds good! (Posted on 12/6/2022)

Amazing results

Review by

Line trash


I heard about these from a person I met in HD shop. Watched videos and was extremely skeptical of performance results but wanted the sound. Bought first one and put on 03 fat boy, Stage 4. I really liked the sound and noticed a slight performance increase. Then I bought one for my 2019 heritage, both have 2-1 Rinehart pipes. Stage 2 with FP3. If the reading on the tuner can be believed I gained 15 hp 17 tq. I definitely noticed in seat of my pants. Never own another bike that won't have one of these. Great job DK. (Posted on 12/1/2022)

Awesome MOD investment for real TORQUE increases!!

Review by

Robert young


I installed these Thunder TORQUES insert on my 2019 Harley Heritage 107 stage 3 kit w/D&D FAT CAT exhaust!! Holy Thunder, I could really feel the increase of torque an little better throttle response !! This should be one of the very first mods people should do to there bikes if desired better performance (Posted on 10/27/2022)

Amazing Thunder Torque Success

Review by

Lee


O.K., I finally installed Thunder Torque Inserts the way Kevin said to do it. I ordered the bigger 158s and removed my baffles this time. The results? Totally awesome. I don't get any popping in the headers now. Taking out the baffles and running 158's is the key. The sound level ain't bad either. I thought my 2006 CVO FatBoy 103 would be too loud but it's really just a little louder. Now my bike can breath better, sounds better and it has outstanding pick-up. And I can run my Power Vision tuner without any popping. (Posted on 10/6/2022)

Best mod for the money

Review by

Bob young


I installed the Thunder torque on my 2019 heritage 107 stage 3 with Cobra Speedster / down pipes!! It really made a big noticeable difference in my torque throttle response and in the mid-range!! I would have been looking at him for last few years but just couldn't understand how these simple mods could actually work but doing the research and watching the videos and customer reviews and for the price I couldn't go wrong!! I just wish I would install these a long time ago in extremely worth the money and if you love torque it's the only way to go! And if I get other bikes in the future I definitely will buy them (Posted on 9/22/2022)

WOW

Review by

Robert young


For the last few years I've been looking at the Thunder torque but was hesitant to buy it because it's just didn't seem like it would really work (Posted on 9/22/2022)

Impressed

Review by

TTI 158


I wasn't chasing torque or horsepower but trying to correct a severe case of reversion when I installed Cobra True Dual head pipes replacing my stock exhaust on my 21 Street Glide. I installed the headers and mounted my Rinehart DBX45's back on and after tuning with my Power Vision 4, anytime I shifted gears or decelerated the engine it sounded like a 1975 Peterbilt cranking on the jake brake. After trying other tuning options and reaching out to Cobra (no help by the way) I emailed Dwayne who explained what my problem was. So after researching the online talking heads, I bought a set of the TTI 158's and installed them today. To be perfectly honest the reversion hasn't disappeared totally but wow, the difference was amazing. Not sure of any HP/Torque gains as that's to be proven by the Dyno. I will say that I'm happy to have gone this route rather than shelling out big bucks for new baffles, slip-ons, head pipes, or even a new tuner. Thanks Dwayne (Posted on 9/14/2022)

Great value and service

Review by

Steve


On a 2007 Sportster Custom, using the 118 TTI with the standard baffle and wish I'd done this much earlier. These guys provide great info on how to do it all and were very prompt and helpful in answering a specific email query. Highly recommend the product and the company. (Posted on 9/13/2022)

Low end torque is much improved

Review by

Spike


Installed on a 2018 Heritage Classic 114 with Reinhart slip-ons. Torque at the low end is way better than it was. The sound is throatier and deeper on acceleration but I don't really care for the sound on deceleration. I turned the inserts slightly and some of the deceleration "frapping" as I call it went away but some is still there. Bottom line is I like the torque improvement but not all of the sound quality. Just a personal thing I guess. These inserts do work and they are not very hard to install. Great quality product. (Posted on 9/7/2022)

works

Review by

zummm


worked as advertised 0n 1200 sportster with gutted mufflers (Posted on 8/13/2022)

Great product

Review by

Dan


I added the Thunder Torque Inserts to my 2016 tri glide and it made a great difference in the quality of the sound. Also, improved the low end torque. (Posted on 8/8/2022)

Seeing and hearing is believing

Review by

SlowNLow


Based on past experience of buying another bike with straight pipes and replacing the ends with baffled slip-ons that eliminated the reversion, I already knew what was ahead, but wasn't sure the TTIs could do the same - and they do! At a fraction of the cost, I got low end torque added to this new-to-me bike I had never experienced since I have had it - and the deeper sound makes these slip-ons the makers weren't even proud enough to put a name on - sound good! (Posted on 8/5/2022)

I'd recommend Thunder Torque Inserts

Review by

V-Rod


I installed the Thunder Torque Inserts in my strait pipes on my '07 Sportster Roadster and I was surprised at how much better my engine ran. I'm not a tech guy so I don't know what Dynos prove, I just know that these work and they work well. I would recommend them to anyone with straight pipes. (Posted on 7/18/2022)

Worth the investment

Review by

JB


Purchased the 158 TTIs for my 2021 Heritage Classic with V&H slip-ons. Noticed improvement with sound and torque in 1st couple of gears. Easy to install even with my limited mechanical background.
Well worth the inexpensive price. (Posted on 6/29/2022)

What I needed

Review by

Vic C


After doing my Stage 2 upgrade I couldn't get rid of the deceleration popping. So after doing some research on reversion I decided to give these a try. They're just a modern day version of the "lollipop". But much better quality than I could have done. So my laziness comes at a price.
But I did instantly notice that the popping was gone.
Inserting them on the bike is difficult with the exhaust installed because of clearance issues.
But all in all I'm very satisfied with the results.
(Posted on 6/22/2022)

Surprising Results!

Review by

Scott


Purchased the 158 TTI's to install on my 2009 Road King with Freedom Performance True Duals exhaust. Noticed the increase in torque but the real benefit I wasn't expecting was the increase in mpg! These increased my mpg by appx 5mpg across the board. Don't know the science behind it, but at the price of gas these days, more than worth the price!!! (Posted on 6/20/2022)

GREAT ADD-ON

Review by

bear on two wheels


for the price, you can't beat the performance. And the sound. i would pay double for this. super easy to put on !!! (Posted on 6/20/2022)

Impressed

Review by

TAS


I was running screaming eagle slip ons and intake. I was not making the horsepower I wanted even with the DK intake. So I cut out the stock mufflers and put them back on. Horrible. They sounded loud but i got a bad reversion at 3500 rpm. Those mufflers are 3" without the baffles. So i got the mid sized thundertorqe insert. Reversion solved? Pretty much but the bike was still way too loud. So i stepped up to the biggest ones. They're inexpensive why not? Big improvement in sound and torque. I've played with the angles a little and had to let my Thundermax adjust to them but I've gotten more power, torque and mpg. I'm planning on a 1275 upgrade with cams and a 2 into 1. Thundertorqe will be in those pipes too. (Posted on 6/20/2022)

Worth it at triple the price

Review by

Roadhamr


Sound is so much better, throttle response has improved and most importantly on decel all of the popping and farting is gone! Pulls hard, smooth and predictably and has a great sound. My V&H pipes have little to no baffling and sounded harsh. Now they sound great and is not nearly so obnoxious so my neighbours I am sure appreciate it.
Easy to install with basic tools and for the money a great mod. (Posted on 6/14/2022)

Best Bang for the Buck

Review by

Bas8o


I added these to my Rinehart slip ons after taking the exhaust caps off. There is a noticeable slight increase in torque, and a smoothing out of the first two gears when accelerating on my Iron 883. Great product! (Posted on 5/13/2022)

Excellent

Review by

Apocman69


They work great in restoring low end power on my 2021 street bob with aftermarket non-baffeled exhaust tips (Posted on 4/20/2022)

Good results

Review by

Billy gates


Guys, I am very pleased with your product. The sound is excellent and the seat of the pants power felt better. Thanks for the fast delivery. (Posted on 4/19/2022)

Way better than I expected!!

Review by

Dave


2019 Fatboy 114 Freedom Performance Cobat shorty pipe.
Definitely improved low end torque and the sound is just incredible!! (Posted on 3/21/2022)

Awesome

Review by

Mitch


2008 Heritage Class with V&H Straightshots. Definitely made a noticeable difference in the low range rpms and gave it a throatier growl. Very happy! (Posted on 3/18/2022)

Amazing Mod! Worth every penny!

Review by

SLeonard


Just installed the Thunder Torque Insert on my 17 Softail Slim S with V & H Competition Pro Pipe.
I have to say I can definitely feel the increased torque through the mid range power of my Slim. It had a very good sound before, a little on the loud side, but now it has a little more thump to it which I think sounds even better. It's still loud and obnoxious, but that's what I like! I love your videos and products and look forward watching new ones and adding new products to my bike.
Thanks DK Customs and Keep up the good work!

Best Regards
SLeonard (Posted on 3/16/2022)

Superb!

Review by

Westerfield


I was quite disappointed when I installed my new Rineharts on my 124" milwaukee 8 bagger. I've always run Rinehart mufflers because they make a harley sound like a harley should sound. Not only did they not sound great, but the torque at low rpm was boring. Tech support at dk customs convinced me that these inserts could be a game changer and they were right! The torque came back, and the sound is better than any set of Rineharts I've ever had! These little magic-makers will be on every bike I own from now on! (Posted on 2/28/2022)

Like 'em

Review by

Ricardo


I have them on my V&H 300 Eliminator slip ons and like them. They do make my ride sound better and I felt that extra pull and better responsiveness in the low and mid range RPMs. I hardly ever ride above 4K RPMs so I can't tell you how they do in the higher RPMs. I played with the angles of the 158 TTIs and found the best fit was at a 60 degree offset from open face being flush with exhaust exit. Having it flush with exit was too restrictive as it covered most of the exit (2'' exit). Perhaps the smaller version would have worked well flush with exit but I'm happy with what I have now. Thanks again DK Customs! (Posted on 1/11/2022)

Exactly as described

Review by

ratchet


Got a set of TTI's for my V&H Twin Slash slip ons. Great tone, torque, and helped with decel pop!
Easy install. (Posted on 12/9/2021)

Great exhaust note

Review by

DaDarkDyna


Installed these straight on during my 124" build. So, I can't speak to how they'd compare to my previous set up. Figured I'd add the TTI's during the build since I know my 2-2 sans crossover would drain my torque. I was noticeably impressed however, by their low end rumble, and have not noticed the low end lacking. Again, hard to objectively compare though. I'd definitely add recommend the product. (Posted on 12/3/2021)

TTi's

Review by

Eric


I bought these with the hope of taking the baffles out and having a louder deeper sound. After removing the baffles from my slip ons and installing the TTi's, i was really pleased with the sound at idle which was quite loud. To my surprise, I didn't experience low to mid range torque loss and they seemed to work really well. The down side was that while riding and listening to the exhaust it really sounded like shit and was too loud so I put the baffles back in with the TTi's. I am still impressed with the noticeable improvement in low and mid range torque. It truly feels more responsive and smoother accelerating. Another great product from DK! (Posted on 11/5/2021)

They work

Review by

Mark


I have a Dyna twin cam 96 with an S&S air cleaner, breather bypass and Vance and Hines Big Shots full exhaust system. These pipes are LOUD and had a good amount of decel pop. Installed the TTI's and instantly had more bottom end torque, less decel pop and made it sound deeper and less harsh. I will definitely put these in any exhaust I buy in the future. (Posted on 10/6/2021)

Performs exactly as I hoped for

Review by

Jeremy


I've spent more money on bigger claims and been less than impressed. Not at all the case with the thunder torque inserts! This product works very well. Gave my Rinehart slip ons a deeper tone and I noticed a substantial increase in torque. I ride my street bob a whole lot and I'm very familiar with it so when I say I noticed an increase in torque it's for real!
Great customer service. Very friendly, helpful and down to earth people at DK Customs. You've earned a customer here. (Posted on 9/21/2021)

noticable torque increase deeper & lower tone

Review by

othrme


I was skeptical at first and probably wouldn't have tried it if it wasn't from DK
The science behind the product doesn't lie, I was amazed at the difference in acceleration
I set mine at a slight angle (158 in a 3&1/2 " Rinehart slip on)

Small price tag on a great product !! (Posted on 9/19/2021)

Amazing product

Review by

John Wayne


I have V&H 4 1/2 H/O slip ons. I researched the TTI's everywhere I could, even called dk customs to ask questions and make sure I got the right ones and right placement. I took the fiberglass packing out and installed the TTI's as instructed. I love the sound and the low and mid range torque is unbelievable! Would highly recommend these. Customer service is the best! Thank you dk! (Posted on 9/4/2021)

great

Review by

smokey


after doing a lot of research i went with two 158. easy to install sound great , and i can feel the the deafferents in low and mid, all the way through . the bike pulls harder. went on first run 125 miles and i was surprised , also got better gas mileage. 2000 fxst standard with cv carb(worked over) s&s open air system V&h long shot style No Baffles . Bottom line I like them . thanks DK
Smokey. (Posted on 9/3/2021)

158 thunder torgue

Review by

Thefella


The 158 was just what I was looking for after installing the Woods tw222 cams in my street glide 103. Did for sure get that tw222 reversion coming thru throttle body... but let me tell ya... pulls hard at 2800-4800 rpm thru all gears. The 158 thunder torque took a lot of the reversion out... and could tell more torgue on low end . The install was fine and looks and sounds great. Love my low rumble with the 158 thunder torgue. (Posted on 8/31/2021)

These things work

Review by

Luke


I went into this skeptical. I ordered a set of V&H slip ons at the same time as these inserts just in case they didn't work as advertised. I can happily say after a few weeks with drilled baffles and TTI's that I returned the V&H pipes without even trying them. The stock muffler with TTIs is the EXACT right Harley sound I wanted. Not too loud, but definitely got the V-Twin thump. (Posted on 8/20/2021)

2015 1200

Review by

Bushdawg


Best my bike has sounded and performed since I have owned it. Make sure you mount solid and near the center of your exhaust flow. I have factory exhaust, wrapped with factory covers over wrap. Completely gutted wrapped factory mufflers. These inserts took away most of the deceleration pop. And gave me all the torque I was missing. Amazing sound note!! I recommend to anyone who loves open pipes but wants the power of a tuned exhaust. (Posted on 8/18/2021)

Amazing

Review by

Mike


Who knew how that two pieces of metal would make such a huge difference. These are amazing, lower tone on idle but when I open the throttle the sound comes alive as does the added torque. DK customs comes through again, huge win!!! (Posted on 8/4/2021)

Did exactly what I needed them to do

Review by

Joseph


I had a issue with low speed surging
I installed the torque tuners and it cured the problem and really didn't affect the sound that I wanted very well made and fairly easy to install (Posted on 7/30/2021)

Great Product !!! \m/

Review by

Rodolfo


Fit perfectly. Easy to install. Love the sound afterwards. DK Videos are great to cover all my questions and explain the benefits. DK customer service is second to none. Installed on a 2015 Iron 883 (Posted on 7/14/2021)

Love the sound of the low end

Review by

Jeff


I've a 2020 Slim, watched a lot of you tube videos, deciphered the B.S. and I paid attention to DK, and I made a decision, my new bike running like it should or the awesome warranty.
I first installed a way bigger breather, hmm. Than immediately rerouted the hot vapor through DK banjo fittings, via a brass T, hidden behind the air cleaner, to a breather mounted under the bike.
I watched and understand back pressure and I bought a off brand (2) slip ons, also installed the DK Torque inserts. My 107, woke up, you can hear the air being sucked in, real low rumble behind the bike, and I can still hear her talk. Thanks DK (Posted on 6/11/2021)

Great Product

Review by

TSnOKC


Fit perfectly and easy to install. The price was right on these, so I figured why not give them a try? Deceleration pop was gone instantly on the first ride. Noticed an improvement on throttle response and seems a bit torque-ier. Exhaust also sounds deeper than before. Overall I'm impressed, happy with the purchase and DK's customer service is second to none. Installed on 2007 Sportster 1200 XLC with 2.5" Python slip-ons. (Posted on 5/31/2021)

Actually an improvement!

Review by

Roxanne


Installed 158's on my Iron883 with VH Short Shots and was pleasantly surprised. Deeper exhaust tone and a little improvement in the mid to high range especially in a role on. Worth the small price for sure. (Posted on 5/27/2021)

07 FXD V&H Short shots

Review by

Chato


So I'm writing a unbias review. I had my bike Dynoed after a stage 2 using a Fueling Reaper 543 cam and my bike felt great, responsive, quick and sounded great with a stock 96 Cubic Inch motor. After hearing about the TTI's I decided to order them and give it a try to see if it really does what it claims to do. At first glance after receiving my 158 TTI's it looks like a great quality product. I had to modify it though by shaving the nut down to half it's size and trim the bolt down to fit under the V&H short shots heat shield which now sits snug hard up against it though the baffle holes and had to drill a bigger hole in the existing baffle holes to fit the bolt. After riding it seemed to have more torque and a little more responsive in the lower RPM range but it took a big hit in the higher RPM range where before it was pulling right up until redline. I guess you can't have best of both. I also did remove the louvered baffles that V&H engineered for performance that the short shots came standard with so that seemed to work for the higher RPM ranges. The TTI's does sound great though a more deeper tone and I do get compliments by my mates on how my bike does sound. I guess it all depends what style you ride if you like the power in the higher RPM's or lower to make your decision on getting the TTI'S but for the price was worth a try and can always change it back to the way it was if I decided to drag lol. (Posted on 5/25/2021)

great!

Review by

Sparky


They tune better than my homemade lollipops, (Posted on 5/5/2021)

They work plain and simple

Review by

Shrock1


I have 2019 Fatboy 114 stage 2 tq cam
Freedom 2-1 combat shorty turnouts. The pipes sound amazing, didn't know if installing these thunder torques would do anything at all. The baffles stayed in but since the pipes are short I guessed I could benefit from a little more back pressure... what could I lose but $30? They freaking work noticeable difference in low end power. And a bad ass growl to deceleration... it also eliminated an occasional decel pop.... honest review this little insert just works. Good job DK !!! (Posted on 4/26/2021)

TTI 158

Review by

Erlyirn


Put these in as a winter project and also packed my baffles which had none and were a straight through design. Aside from a deeper tone from the packing the one thing I noticed was decel pop was greatly reduced to almost none existent. I haven't ridden since last October so I don't have a before and after comparison but so far I am happy with them. (Posted on 3/4/2021)

TTI 158's

Review by

kenny


Bought my 2016 883 with a 1250 hammer kit on it.bike had 980 miles on it.bike was very torquey and fast.bike also came with cobra 909 speedster exhaust on it upon purchase of the bike,it was a little too quiet for my taste so i took the welded in flat washer out of both baffles and lost just a little torque but not enough to matter..

this gave me the sound i was looking for.then i upgraded my belt sprockets to 32/66 for lower rpms on the interstate.lost a little more torque but bike still had good power....

so kevin asked me if i wanted to try the 158,s as my pipe diameter is right at 2"...got them in after,drilling baffle,pipe,and heat shield in the original spot where they all connected..

so glad i did because now i have all the torque back that i lost from higher gearing and modified baffle with almost the same loudness except deeper now...

if i had to buy the cobra 909 speedster exhaust again,i would do the exact same thing to the baffles and install the 158,s...its like a whole new bike except with interstate gearing.in conjuction with the oil filter relocation kit,my oil and head temps are now running lower.these guys really know their stuff when it comes to bikes.Thx a bunch kevin for all the help.LOVE your products ! (Posted on 2/24/2021)

Great product

Review by

Schmikie


The inserts are made very well, easy to install, bike runs good and sounds great. Installed on j103 with Vance Hines, straight shots baffle removed (Posted on 12/10/2020)

Fan for life

Review by

Sir Whistler


Been riding 40 years best damn thing I ever bought. Added that to my new drag pipes laf s and added a new breather unbelievable difference best and 40 years. Great product. Don't hesitate. (Posted on 10/17/2020)

17 Slim S V&H Short Shots

Review by

Manchild


Hey DK family. I have a 2017 Slim S with V&H Short Shots. I installed your Thunder Torques and O...M...Gosh !!!!!!!!!!!! Very thunderous over the the V&H baffles. It has this deep snap/clap sound. Hard to explain. lol. I feel a nice bump in power. When I get her dyno tuned I'm sure I'll see more of an overall gain when the A/Fs and timing is smoother. To future buyers, Be sure when installing these in any pipe with heat shields that you mock up where you need to drill holes as to not interfere with heat shields and exhaust mounting brackets. A sharpy will the trick. I was careful of this and I also made sure you can not see the bolts. I positioned the baffles in the middle of the inner pipe diameter so they would look centered. I did not cover the V&H stock baffles mounting holes. It doesn't hinder anything imo. I LOVE THE SOUND of these baffles. I was going to get a set of BCTs as I have had them (bct's) in the past. GET THE DK TTi's. YOU WILL SAVE MONEY AND THE SOUND IS BETTER imo and the power seems stronger. Like it pulls harder the BCTs did . That's my opinion with no dyno to back it up. Thanks DK team for yet another excellently engineered product. God Bless and keep the shiny side UP!!!! I got the 158s. Perfect fit for the V&Hs. (Posted on 9/30/2020)

Great product, easy install!

Review by

Dave


When I installed Magnaflow 4-1/2" slipons on my 2014 Road King I was shocked at the severe loss of low end torque. Jamie at Fuel Moto recommended I install TTI'S, glad I did torque greatly improved and sound was better. Some written instructions would be helpful. (Posted on 9/29/2020)

Thunder Torque Inserts

Review by

Chris Y


Added the TTI 158 to my '17 Slim with Freedom Performance Radical Radius pipes. Wish I hadn't waited so long. Night and day difference. Sound is deeper, bike pulls hard. Great product! (Posted on 9/15/2020)

Sounds great

Review by

Craig.F


Sounds great easy installation.all the stuff I get here is endeared to high quality better than HD stuff. (Posted on 9/13/2020)

TT inserts and LED drop in headlight bulbs

Review by

Ringer


First off, thank you guys at DKcustom products for the excellent follow through and communication. I really appreciate all the email replays to my questions.
The drop in LED bulbs were a snap to put in and made a world of difference in the dark mornings on the way to work!! They make it easier to see and be seen. (Posted on 9/2/2020)

Thunder Torque Inserts

Review by

Davejo44


I just put these in my Cobra 909 slipons! Great product, added the back pressure that my M8 needed so torque is back the way it was when I first bought the bike. Didn't do a whole lot for sound, but, it sure put the low end torque back the way I wanted. Super product! (Posted on 8/10/2020)

Just the ticket!

Review by

Mack


I put these on the ends of my 3 inch aftermarket exhaust on my SRT Jeep. it changed an obnoxious idle to a nice deep rumble. (Posted on 7/28/2020)

Great

Review by

Jack


They are exceptional, that simple. Just put a set in my fishtails on an 02 road king And my bikes running better now than it ever has. Running true duals with fish tails Screamin eagle intake and power commander v and didn't need to retune upon installing (Posted on 7/27/2020)

Great product

Review by

rick


I do a lot of research before I buy and the Thunder Torque insert made sense. I recently rode !800 miles in two days and my exhaust sound was unbearable plus my bike had poor low end torque . I ordered the baffle and noticed a really good boost right off idle to mid range that I had been missing. The sound is better as well and that bad bark is much quieter yet sounds good. I'm really impressed with this product and the help and assistance I received when I called DK. (Posted on 7/21/2020)

Best $$$ spent for performance increase.

Review by

Zak


I've known about these for a while. I honestly thought it was a bunch of snake oil and BS about the performance increase. Recently, on my 2011 Blackline Softail (96 ci, stage 1, fp3 tuner, V&H slip on pipes, SE breather), I've noticed a flat spot in the torque around 2500-3000 rpm. It's like the bike would lolligag through those rpms and grab at 3K and run out hard from there. This was driving me nuts because I do a lot of backroads riding in 3rd & 4th gears in that rpm range. I've run multiple auto-tune sessions on my fp3 and I still had that flat spot in my torque range. So I figured, why not try these. For the price, I ain't gonna loose that much if they're just hype and do nothing for me. Put them on Saturday evening (left the stock baffles in ) and took the bike out for a rip on Sunday morning. WHAT A DIFFERENCE!!!! I couldn't believe how hard my bike was now pulling from 1800 rpms all the way through 5000. I'm sold on these and have already told several of my friends who have similar torque related complaints to get these! (Posted on 7/20/2020)

Amazing

Review by

G wilding


Added the 158s to my 05 sporty 1200 with a stage 1 and it really woke it up! My main goal was to deepen the sound so I didn't piss off my neighbors leaving for work at 5:30am. Best $30 I've spent on the bike yet. Noticable change in low and mid range torque and a better sound. Super fast shipping too. (Posted on 6/25/2020)

You wont be disappointed

Review by

Greg


Everybody I ride with has complimented the sound of my bike. It also runs so much better than when I ran no baffles. Best money I've spent on my bike so far. (Posted on 6/8/2020)

Excellent

Review by

Thunder Torque Inserts 158


Awesome product works as advertised! Customer service was great to deal with. Will by from DK Customs again for sure. Thank you for the great products and service. (Posted on 6/8/2020)

Improved sound & performance

Review by

Rev Horton


Put these on true dual system. Butt dyno felt improved torque and deeper tone (which is what I was looking for). For the price, actually bought 2 sizes to try with hi-flow baffle and the larger to try with baffles removed. (Posted on 5/28/2020)

Thunder Torque Inserts 158

Review by

Roman B.


I put these in my Vance and Hines big radius pipes on my 110 motor. Honestly WOW! The 110 has a lot of torque but these bad boys brought out even more!!!! Thanks DK CUSTOMS!!! AWESOME QUALITY PRODUCT AND CUSTOMER SERVICE!!!! (Posted on 5/18/2020)

Good Little Pieces of Metal

Review by

John


Nice product and good business move on DK. The best products for customers aren't any new inventions, but ideas to better or innovate existing ones. By starting with the classic lollipop design and perfecting a patent with a wavy & curved plate welded on a screw thread, DK really hit it out of the park. I have had DIY lollipops in for years as I don't like baffled sounding exhaust. Once I purchased and installed these on my 48, it became apparent that the sound you can make is really up to you more so than conventional lollipops. I do like the ability the TTI's give us to tweak the decibels and growl of the exhaust. That's what I am really happy about. I have noticed a tad more Torque and power but that may be all in my head as I do not own a DYNO. Plus, as we all know 48's are light bikes (not heavy) with a 1200 engine, so they are already "torqy" throughout the RPM scale. What I do recommend is running auto tune if you have an FP3 for a couple sessions - only after you find the sound you like to get your airflow synced up. Overall, it's an out of sight mod that is affordable and adds another way to make your bike "your own bike"

Definitely Recommend. (Posted on 5/13/2020)

Very pleased with the product

Review by

Zac


Got them for my nightster with short shots. Very happy with the results. Loud and more torque. Shipped in 3 days after ordering and customer service was amazing. (Posted on 5/6/2020)

Best bang for the buck!

Review by

Erik


TTI are exactly what they're described to be. I put these in my screamin eagle II's after removing the baffles and didn't lose any power and it sounds badass!
If anything i gained tourqe at low end and through the middle.
Definitely a good product and it shipped fast. (Posted on 5/5/2020)

Awesome product

Review by

Robert


I recently installed the TTI 158's on my 2013 Wide Glide with Vance and Hines Mini Grenades without baffles. The sound is very good. Some would say loud! I like loud, so I'm satisfied. I haven't dynoed it, but I can definitely feel the performance. Also there is no drone at highway speeds. I also feel that the roll on torque is there also. I have the 118' s and the 258' s for other bikes I have. The Wide Glide has the 636 air cleaner as well. The install was easy. Very good value for the price. I'm very happy with the product and the customer service. (Posted on 4/14/2020)

torque insert

Review by

jim


sounds great (Posted on 4/11/2020)

158 torque insert

Review by

Kelly


Put the inserts in my 2 1/4" drag pipes on my 02 Springer Custom and they sound amazing, and performance is great.
They are built well, and between the manufacturer website and the YouTube videos all questions will be answered.
Super Satisfied. (Posted on 3/27/2020)

More torque please!

Review by

Sylvanus


Excellent craftsmanship, sound and torque increase.
Thank you! (Posted on 1/20/2020)

Freakin Amazing

Review by

Fokus2x;


I bought a set and easy install. WOW they are not Bull Sh**ing they really work. I told a friend and he also experienced getting back the lost power from baffle removal. i swear by them. (Posted on 1/20/2020)

I'm happy

Review by

Frank


My seat-of-the-pants dyno says my bike has more power and feels like it is pulling better in the lower gears. Can't say sound is louder but my Magnaflow 4.5 Hitmans seem to sound different with a little more rumble.
I did have a little dificulty installing the TTI's as the threaded part was too shour to fit through the thick sidewall of my mufflers. Had to improvise with a piece of a coupling nut and a 2" long stud, but I got them installed. Even with this little difficulty, the benefits for the price is worth it. Yep, I'm happy.

(Posted on 1/6/2020)

As Advertised

Review by

Dale


Bought my Low Rider used with tapered slip-ons, no baffles. It was evident, especially in the mid-RPM range that there were issues with exhaust flow. I was skeptical about the TTI claims, but the low-cost translated to low risk. Once installed, there was noticeable improvement in acceleration, eliminating the "bogging" at certain RPMs. While that was the intent of trying the TTIs, I was also pleased with the sound improvement: deepened the tone and removed a higher-frequency "pinging" overtone previously present with the open pipes. Seems to have brought the exhaust flow back into line with the original ECM set-up on the bike. Pleasantly surprised that such a simple product had such a noticeable impact on both the performance and sound. (Posted on 12/21/2019)

Another 5 star review

Review by

AustinK


I don't know what more could be said - but there's a reason for all these 5 star reviews. I was running a straight exhaust no baffles on my Nightster through V&H sideshots - good and loud - but was losing some torque and back pressure. Installed these bad Larry's and it was like a new exhaust. Sounded deeper, more boom to it, and still just as loud as before. Definitely added power to it as well. I will definitely buy these for my next bike. (Posted on 11/13/2019)

2 -1 Short Side Dump Exhaust

Review by

VRADMAN


Was getting ready to spend $1500 on a new exhaust and decided to try the TTI. The bike ran fine at wide open throttle but was not enjoyable to ride around town. After the install I had a completely different bike. Gobs of low end torque, smoother through at all RPMs and made the exhaust note more tolerable. Best $26.00 ever spent. Thanks DK for savings me thousands. (Posted on 11/5/2019)

Great product for my Cobras slip ons !

Review by

Arnaud from France


I am living in France and driving a 2018 1200 Iron sportster. I bought a pair of Cobras RPT slip ons and found them a bit too loud but worse, I found I lost some torque. They are a part of my stage 1 : kuryakyn velociraptor A/C and Dynojet Power Vision tune. Then, with the advice of a friend of mine and another one from DK Customs, I bought a set of W158 TTIs. I installed them instead of the baffle bolt. I kept the genuine baffle inside the slip ons. What a great improvement ! I got a great deep sound, less loud and best of all, I had the lost torque back, especially in low and mid range without loosing any power in high range. It is just the right solution to keep my Cobras slip ons on my bike without being afraid of getting a fine for a too big noise. More than this, I can ride the entire day without loosing my ear capability ! Last thing : price is ridiculous regarding what TTIs give ! (Posted on 10/28/2019)

Great product!

Review by

Bill


I bought a used 2004 Sportster that the P.O. had drilled the baffles out of. It was too loud and sounded like the rim shot on a cheap snare drum! Very annoying.
I figured I couldn't go wrong for the price. I installed these while the mufflers were still on the bike, a good punch is key.... I found the tone and the sharpness of my old exhaust gone, only too be replaced by a slightly quieter and glorious exhaust note.
My seat of the pants Dyno is getting old and doesn't work so well anymore, but the sound of my Sporty sure puts a grin on my face. Well done! (Posted on 10/15/2019)

Wow

Review by

Dennyb


I have 07 sportster with efi put hi flow ac end rinehart mufflers. Bike stumbled and bucked at low speed and rpms. Tried a bunch of things then saw these and another version. The other version seemed too expensive for what they were. I'm soooooo glad I chose these. Kept baffles and added thunder torque inserts and bam bike actually can cruise through town and not look like I'm trying to bull ride! Best money I spent on the bike. Sounds like I always thought it should. Get em! (Posted on 9/25/2019)

They work

Review by

Mark


Gained noticeable power in lower RPM. I'm running stage 1 velociraptor air cleaner and ultimate comp. exhaust.Its loud and has a punch.Not bad for a 17yr. old fatboy. (Posted on 9/23/2019)

Thunder Torque inserts in Cobra RPTs

Review by

Handirifle


After recently purchasing and installing my Cobra RPT slip ons for my '07 Sportster 1200, I noticed a disappointing drop in power in low and mid range torque and zero improvement in upper range. My bike also has the Screaming Eagle intake, and ViEDs fuel system. In addition the sound, although an improvement over stock, was a bit harsh at times.
Fast forward to Thunder Torque inserts. I installed the TT158s into the removable core, and man did it wake this bike up. First off the decibel rating is slightly lower, but also slightly deeper.
Second, torque and smoothness were improved from idle up, from before the RPT install, and when comparing to the RPTs without the TTi, the difference, was dramatic. Now my bike sounds and runs like a Harley should.
I would not have believed something so simple could have done this, if I had not experienced it myself. I cannot recommend them highly enough. (Posted on 9/19/2019)

TTI 158 are great for restoring power/torque

Review by

DL


I fitted Cobra NH slipon to M8 2018 SportGlide to improve exhaust sound for safety (so car drivers hopefully know I'm there). Sound was great but mid range engine torque was destroyed! TTI 158 was easy to install (drilled hole and bolted onto removable baffle). Effect miraculous! Torque restored and engine sound better than ever. Thank you DK Custom! (Posted on 9/9/2019)

Killer

Review by

Pete


I bought a 2001 FXDX and there were already unbaffled Vance & Hines short shots and Screamin Eagle Air Cleaner on the bike. I did the Brian Thomas ( https://www.youtube.com/watch?v=iTPPP8jkje4 ) carb rebuild and got the SE Stage 1 6200 rpm module and coil kit.I did not like the pipes coming going up or down in revs so I bought a set of Thunder Torque 158's. I have them at 90 degrees and the sound is perfect and crisp all through the throttle range.No popping back on decel now. But most importantly the change in acceleration shocked me, all the way up.
DK you guys gave us back the balls we lacked. This product was the least expensive of all the mods but it iced the cake. Sweet! (Posted on 8/20/2019)

OMG !!!

Review by

GaryT


The increase in low end torque in my 88 in Twin Cam is absolutely incredible!
Took out the Samson baffles and launched 'em.
Thanks Guys! (Posted on 8/14/2019)

Great product happily surprised

Review by

Matt


Bought the 158w after a few guys on a fb group site reccomended them to me said it would be the best $40 I spent. When I got them in the mail I was not expecting what I got, just this little bent piece of steel, but after the install which was not hard at all I took it for a ride... the tone is deeper, the db a little louder, and the power on roll on is a noticable difference i didn't believe the hype till i did it myself. I cant wait to tweak the programmer and see what i get. I will send everyone to get these from you guys! (Posted on 7/25/2019)

158

Review by

Jimmy


Great product, very well made but could be improved for certain applications, ie mine. I used the 158 in the end of 2004 SEii muffler. I removed the bottom bolt, drilled the hole slightly larger, instructions ask for a bigger hole than i drilled but i didn't need it. The threaded bolt part is a bit larger in diameter than the original baffle bolt which is okay, but it could be a quarter inch or so longer to get the wavy part up into the center of the baffle exit. These things are heavy duty made and work well. On another bike i installed a 258 in the bell shape housing of a thunderheader, about a half inch out from the end of the baffle exit. It worked a treat, knocked the sound down enough to tame the huge roar and made the bike run even better. Well worth the money and effort. I rated the value lower because i had to pay for international shipping and currency conversion to AUD. For a USA resident would be much better value. (Posted on 7/17/2019)

Pretty Simple

Review by

John


The product was pretty simple. A bolt with a piece of metal welded on. The install was a pain in the rear. When reading the instructions I saw that Vance and Hines slash cut I had to do some inventing. It was fairly easy to remove baffles and set it about half inch behind the baffle hole. I just drilled another one and in they went. Sound wise it almost seems just as loud just a little clearer sounded. Haven't rode it yet so can't say about that. Overall I like them. (Posted on 7/16/2019)

1200c 06 V&H exhaust no baffles

Review by

Skip In Alaska


It was loud and poppin on decel when i bought this bike used, added the thunder torque inserts and fixed it right up. i like that they are adjustable i got mine turned about ha 3/4 now and they sound just right one thing to note, is you have to make the stock V&H holes larger to get them to fit, you can do it on bike with a hand reamer like i did. pretty easy. check them after a few rides of high reving as they will losen up and need final tighning. would recomend forsure. (Posted on 6/27/2019)

The best

Review by

Bill D


Slapped a set of W158s on my Vance and Hines Big Radius 2:2 with no baffles and these things definitely live up to the hype and do not disappoint. More torque, a killer sound, and an easy setup. Most importantly however, is the customer support these guys offer. From my first email requesting information to helping me get them setup to achieve the perfect mix of performance and sound these guys are the absolute best. Knowledgable, friendly, and incredibly quick responses...I seriously couldn't be happier with the product or the experience from start to finish. Top notch all around, do yourself a favor and get these! (Posted on 6/25/2019)

Excellent

Review by

C


This is 3rd set of torque inserts I have ordered from DKC. They work! Buy em! ;) (Posted on 6/20/2019)

V&H Eliminator 300 no baffle or end caps

Review by

DD


Thanks DK, i recieved the TTI 258 and they made all the difference. I got the low end back and they sound great. Thank you for the great service and im very happy with the end results.
Dennis (Posted on 5/8/2019)

Great product for the money

Review by

Gazza


After fitting V&H slip on's my bike wasn't running the same. These have transformed the performance and virtually eliminated popping.
Great value, they do what they say they do! (Posted on 5/3/2019)

TTI 158

Review by

DD


With no baffles, pretty sure those are 3" diameter and need the 258's. Since you have the 158's give them a try with the baffles, you should feel a nice bump in the torque. DK Support Team.

I only went with what was recommended by DK. I was told if i was going with the baffles and end caps 118 would work best, But was suggested 158'S with no baffles or end caps would be my better option.
Best Regards


Hey, I just tracked down the advice given you. My apologies, it was incorrect. Running with no baffles and no end caps (which is the best for power/torque) the 258's are best. If you want to run the end caps, then you could run the 158's or the 258's, but for power, the end caps are a real power robber. They really interrupt the flow, slowing down the exhaust gas velocity. Here is a link to our sizing for TTI's.

http://www.dkcustomproducts.com/choosing-the-right-size-thunder-torque-inserts.htm

If you are good to run no end caps or baffles, please email or call us and we will send you the 258's at no charge to make up for our error in advice given.

(Posted on 5/2/2019)

TTI 158

Review by

DD


I purchased TTI 158 for vance & Hines Eliminator 300 Exhaust. I Tried them without baffles and without baffles and end caps on. They definately made the sound deeper. With end caps on they felt restrictive with end caps off they sounded good but didnt feel any difference in seat of the pants torque compared to the baffles without wrapping and end caps on.

With no baffles, pretty sure those are 3" diameter and need the 258's. Since you have the 158's give them a try with the baffles, you should feel a nice bump in the torque. DK Support Team

(Posted on 5/2/2019)

V&H Short Shots

Review by

NoSlackPatriot


I installed these in my V&H Short Shots on a 2017 XL1200X. Install requires removal of pipes from the headers. I was able to use a bit slightly smaller than the 3/8in size without any issues. I recommend using a tool with a rubber handle wedges between the pipe and the insert to prevent rotation of the insert for tightening down the lock nut. These do provide a very noticeable increase in power, torque, and deeper sound. VERY PLEASED! (Posted on 4/22/2019)

Really

Review by

Cal rider


I think they work. Feels better on the freeway stronger midrange. Sounds different. Rinehart tracker pipes. 2009 883L. Satisfied my curiosity (Posted on 4/15/2019)

Great update on classic design

Review by

Fasttrack


Great quality and awesome design. Helped with backpressure issues I was having on a short exhuast and gave me the added benefit reduced decibels. Fast shipping and great service by DK custom. (Posted on 4/3/2019)

These work

Review by

Pablo


I installed the 158 TTI's on 07 STC with V&H long shots hoping to quiet the bang some. I could tell a difference and I like the slightly lower tone but not much quieter, (I have really close neighbors). It might be just my wishful thinking but I did seem to feel and increase in torque by seat of pants test :-)
Overall, this works as stated and install was a breeze including drilling the holes larger.
I also ordered one 258 for my buds Fat Boy with a header but hes OOT and will update after install. (Posted on 3/29/2019)

Good Quality

Review by

Oakie


Installed TT-158's in Hi Roller baffles. Still snowing here off and on so have not had a chance to ride. I was delighted when the nice lady at DK took the time to go take photos of Kevin's mufflers and sent to me so I could see how he installed. That is customer service above and beyond. (Posted on 3/21/2019)

Sweeeeeeeet!

Review by

Buck Bang


Installed 158's in V&H short shots, removed baffles, on 2015 Dyna Wide Glide. This bike is so much fun to ride. (Posted on 12/13/2018)

Helps true duals setup

Review by

Livewire


I recently purchased as I am running the V&H dresser duals. My low end torque definitely suffered. I installed the 158 model into the V&H oversized 450 Raiders. The oversized from V&H has a 2.5" baffle. I removed the tip and baffle. Was able to drill the very back of the baffle and install the tti. Slipped them back together and ready to go. About 30 minutes total. Great thing was I did not have to drill through the outer part of my slip on. I run the fp3 and did live sensor data before and after. I don't know if there torque reading is accurate, but it showed a 14 ft/lbs increase. I can definitely feel the difference. (Posted on 10/29/2018)

They really work!!

Review by

Q


Just installed W158's on my 04 sportster and these do exactly what they say. With the videos available, removing the baffles from my stock mufflers (w/cat) and installing the TTi's was so easy it took about an hour from start to finish. I was shocked at how much more aggressive they sound now. Exactly what a Harley should sound like. Also felt an instant increase in low-mid range torque and a much smoother ride all round. I was so happy with these little bad Larry's that I just ordered the W258 for my 1200 and can't wait to put them in. A serious bang for your buck!!!
Thanks DK! (Posted on 5/2/2018)

WOW!

Review by

Dirt


I pulled the baffles out of the Vance & Hines slip ons on my 2014 Iron 883 and installed the W158 Thunder Torque Inserts over a year ago and all I can say is WOW! The exhaust on this little 883 sounds wicked, very deep and throaty. The low and mid range torque is linear and pulls MUCH better. I constantly have people tell me how much they like the sound. If you are thinking about getting these DO IT! They sound AMAZING and you'll be blown away by the improved low and mid range torque. The sound when I crack the throttle is SICK. Don't wait, get a pair. (Posted on 4/15/2018)

Great sound and power for cheap!!!

Review by

JMC87


I recently put these on my 48 and finally have my bike sounding and performing to where I won't mess with it EVER again.

I originally bought the bike new at Republic HD in Stafford, TX with the typical stage one upgrades. Heavy breather, Vance and Hines Short Shots and a Screaming Eagle Pro Race Tuner with dyno time. I rode it this way for two years before I got tired of the tinny/rough sound the stock baffles made with the Short Shots. I tried the quiet baffles for a while and enjoyed the deeper tone they gave me but still felt that the sound wasn't what I wanted.

Finally I gave these TTIs a shot and couldn't believe the difference. The low end power has improved, they are loud but deep and powerful sounding. I removed the quiet baffles (with a slide hammer) and enlarged the V&H baffles set screw hole with a drill. Super easy install and the bike sounds AMAZING. No pops or backfire off throttle in higher rpms... just pure power and sound.

Thank you DK!!! (Posted on 4/13/2018)

TTi 158s in upswept fishtails

Review by

Bob


Installed Paughco upswept fishtsils on my 48. They are one piece pipes w/o baffles. Very loud and the bike would hardly run. No low end torque at all.
Modified the 158s (ovalized) to fit and installed and adjusted. Now the pipes sound like upswept fishtails should and the low end is back. These inserts are the best. (Posted on 12/17/2017)

Great!! No more popping when deccelerating

Review by

YeyO


Amazing! These little budies seem inofensive, they seem so simple...but once installed in my FXDC they really, really do their job! I was really struggling with FI due to a lot of decceleration explosions (V&H Twins Slash slipons w/o baffles). The TTI not only eliminated Completely the popping, my bike now has a lower deeper tone, no more metallic sound and recovered a lot of torque in the lows. (Posted on 11/11/2017)

Best money I've ever spent.

Review by

Brad


I put the W158's on my '02 Shadow VT1100 in about 30 minutes (had to drill holes), and I IMMEDIATELY felt a difference. The previous owner had taken a holesaw to the baffles and I've been trying to get the engine dialed in since I bought it. The bike sounds a lot better, it got rid of the hollow, twangy, metallic sound and now has a deep, warm grumble. I can feel a HUGE difference in torque all the way up the rev range and I actually get pushed into the seat now. All in all these are a great buy. (Posted on 8/27/2017)
Product Tags
Use spaces to separate tags. Use single quotes (') for phrases.