Home

/

Thunder Torque Inserts 258 for Increased HP & Torque
THUNDER TORQUE INSERTS™

Increases Low & Mid Range Torque
Adjustable Sound Volume & Tone

For Your Exhaust
MADE in The USA!
by
DK Custom Products

FEATURES & SPECS:
High-Temp Powder Coat Finish
Stainless Steel Studs (5/16" diameter)

Includes All Hardware

FITS 3" diameter & larger Slip-ons (other sizes available)
Increases Low & Mid Range Torque
Increased Exhaust Gas Velocity

Increased Inertial Scavenging

Adjustable Sound Volume & Tone
Option for only 1 TTI for 2-1 exhaust systems
E-Z Installation Bolts into the end of the slip-on muffler (using the baffle bolt hole)

Patented Technology
Made in The USA!
Long Thread Option for Larger Diameter Exhaust SEE FITMENT NOTES Below
Watch these videos on how to get a better sound AND increase torque!
Take a listen to the following sound clips of 5 Different Bikes that all have an increased amount of Power from Thunder Torque Inserts™ Being Installed.
Check out this sound clip of M8 Stock Exhaust modified with TTI™.
Do you want Louder Exhaust?
Quieter Exhaust?
A Deeper Tone?
A More Aggressive Bark?
Do you want More Torque?
FITMENT NOTES:
When ordering you have an option of getting just ONE TTI if you have a 2-1 exhaust system that has only One slip-on, or to choose TWO TTI's for exhausts that have Two Slip-ons.
There is an LT (long thread) Option for larger diameter pipes. Click this LINK to Order them and WATCH the Video to determine if the LT Option is appropriate for your application.
Click this LINK to see Pictures & Fitment Information, to Choose the Correct Size TTI for your Exhaust
Another Video showing how good the stock exhaust can sound, and how much power they can have
with the baffles removed and replaced by Thunder Torque Inserts™.

Without getting too technical, we've spent thousands of hours testing shape, size, thickness, & surface coatings to find the optimum combination that increases power across a wide RPM band, AND gives maximum flexibility to deliver different sounds.
The Increase in Torque is accomplished by reducing engine pumping losses, increasing exhaust gas velocity and increasing inertial scavenging.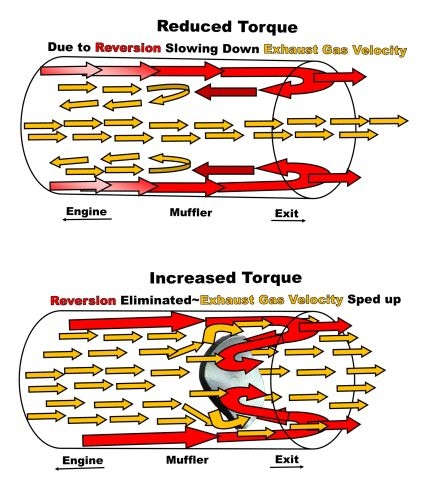 More about how exhaust works at this LINK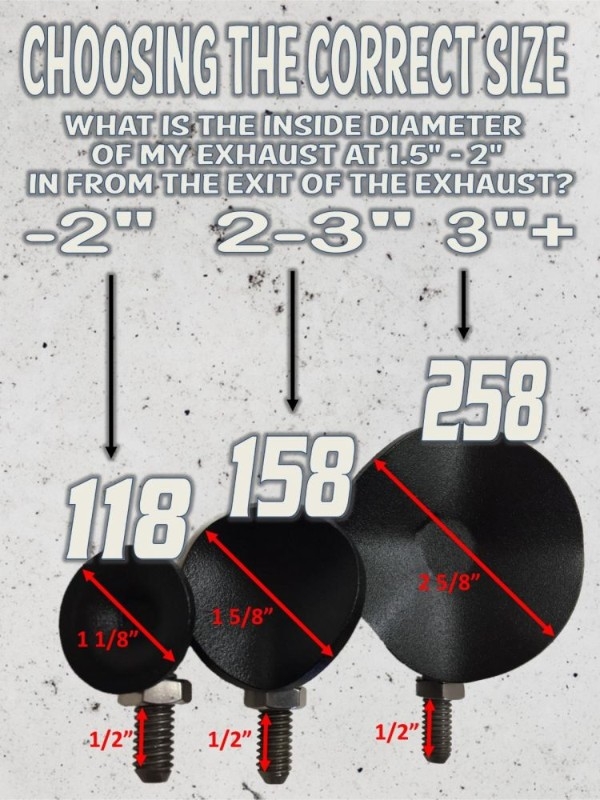 Thunder Torque Inserts™ are designed to perform well when used on slip-ons with and without baffles, drag pipes, shortys and 2-1 Systems.

The Patented design will produce a bit deeper sound/rumble all the way through the RPM and Throttle range.
If you feel that your current exhaust is too loud, the Thunder Torque Inserts™ will noticeably reduce the decibel levels.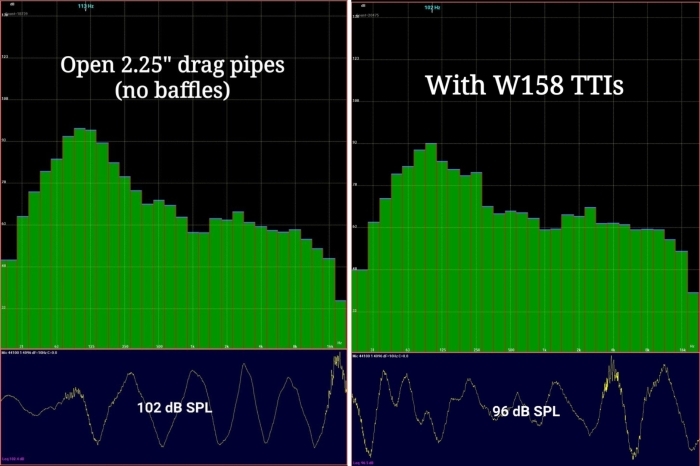 The comparison may seem subtle but decibel measurements are not linear.
For Example, 90 decibels is four times as loud as 70 decibels and 110 decibels is about 16 times as loud.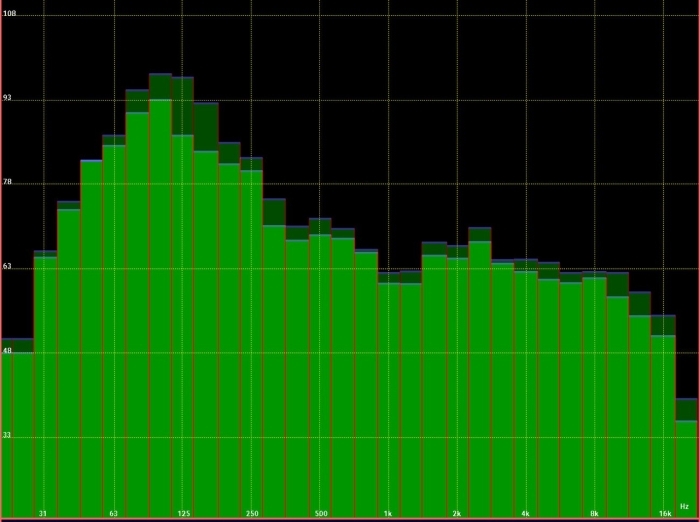 These particular results belong to a customer that had this to say...
"My impression of the sound is that it lost some higher pitched bark at roll-on and there was a reduction in low pitch reversion "echo" (kind of a flabby chuffing sound). To my ear, with these pipes, the tone isn't significantly lower but it is a bit cleaner or more refined sounding"
(Twin Cam at Full operating temp, mixture corrected, and idling at 1000 RPM.)

A small change can make a BIG Difference!!!
THE MOST TORQUE & HORSEPOWER GAIN PER DOLLAR SPENT!!!
"I have a sportster 48 with a stage IV and VH Short Shots and feel compelled to comment as these are one of the best purchases I've made for the bike.
I took out the baffles and put in the TTI which took all of 30 minutes.

They make the bike better, full stop.

There's no other way to put it. I don't understand the physics of it and don't want to know.
These things cost next to nothing and have been one of the best mods I've done to the bike." -tellawcaster
"Amazing how much more power these gave my 103 down low. The sound is raw power too." -Phil
"Just wanted to take a minute and let you guys know how pleased I am with the W258 TTIs.
I'll be honest, when I first read about these things I figured it was somewhat gimicky so I didn't expect much. But, after removing the baffles from my Wild Pig slip ons and installing the W258's I was blown away by both sound and performance!
It has the potato potato sound at idle (noticeably louder than before) and also sounds great at cruising RPMs. It actually reminds me of the way my old shovel head sounded.
What really surprised me though was the very nice torque gain that you can really feel. After installing true duels and the wild pigs, I noticed a loss in torque. The TTIs brought all of that back, and maybe then some!
Best money I've spent on my exhaust system for sure. Thanks!" -Dewayne
Save
Save
Save
Longer Thread Variation - Do You Need Them? See Video.
Dyno Charts of 8 Different Bikes Running Thunder Torque Inserts™ HERE
More Dyno Charts w/ TTI HERE
Customer Reviews
Fit was perfect

Review by

Michael


Felt the power and great sound on take off
Big difference thanks to this product
I recommend these for anyone who wants more raw power (Posted on 9/19/2023)

Best bang for buck

Review by

Justin


Completely changed the bike. My 1200 roadster had screaming eagles. Had some previous work but completely brought the life out of the bike. Pulls all the way to 5500 no problem (Posted on 9/5/2023)

Perfect part for the job

Review by

Norm


Like others have said its simple amazing how well these inserts work for sound and extra power. I found that deep sound I had been looking for and thanks to DK custom i found it..!!! 2018 Tri Glide with Screaming eagle pipes, sounds totally different now and i love them.. THANKS (Posted on 8/17/2023)

258 inserts

Review by

Ray ray


This item works perfectly! It lowered my tone enough to make it pleasant while riding. And when I called to order, the person that helped was very friendly and knowledgeable. (Posted on 7/25/2023)

These are amazing!

Review by

AngryViper


I have a 2008 Night Train and bought it with the baffles already removed. It sounded MEAN but just a bit high pitched and violent for me. I gave these a shot and WOW! What a difference in sound! It lost all the high pitch sound and is much deeper and the bit of boost in power is also nice! The power just feels smoother in the power band. Get them!! (Posted on 6/10/2023)

2010 Sportster 48

Review by

Chip


My Sportster 48 had no baffles on stock slipons.Always sounded poppy and bike not very fast. After installing the Thunder torque and adjusting them to my preferred tone I noticed a BIG difference in bttm and mid range power.All of the popping noise pretty much went away. I was sceptical but after watching all the vids with dyno charts I figured for the price I'd give it a shot...I'm dammed happy I did.My next purchase will be a stage 1air filter kit and after watching your vids on the differences between manufacturers I am most certainly going with the DK brand.Im looking forward to more power after the 2 components combined.
Thx a million DK for all your testing manufacturing and all your vids showing the results...I am a fan a customer and a true believer for all you do for us biker brothers and sisters.Thx again...
Ride Safe everyone...
Chip in Ga. (Posted on 6/2/2023)

Always awesome products

Review by

Sick dog


I love dk custom these helped when I changed my head pipe and took out cat sounds awesome with 472 fueling cam. I've bought almost everything they make for my cvo tri glide. Great company products are top notch and there customer support goes above and beyond (Posted on 5/12/2023)

Great Product! TTI-258

Review by

ERIK


Sounds alot better. Removed baffle and lost some low end. Installed the 258 and got the low end torque back. Thanks for making super great (cherry bomb) (Posted on 4/27/2023)

TTI's on RG

Review by

Larstoltz


Late this winter I got to thinking what I could do to my bike to gain a bit if torque and come on a bit sooner . I run tru dual Magna flo hitman 4.5" exhaust and so I was ready to order a $1100 2-1 pipe for it. It also seemed to idle sort of rough and boggy at take off. After learning about the TTI fromD K Customs I figured for minimum investment I could try them and not lose much if they don't work out. So I ordered them and received them two days later and so was off to a good start with DK. I pulled the baffles out of my pipes and installed the 258 TTI's and what a difference it made! It idles like a beast ,can hear the cam so much better, and it smoothed out the rough/ boggy take off ,and seriously moved my torque range down a good 400 or so rpms. It runs great ,sounds great and I can't wait for warm weather to rip on it! These guys at D K are the real deal. I also ordered a tank lift and plug wires and they are very prompt and responsive and highly recommend ordering from them. I have learned a ton from their videos as well! Thanks (Posted on 3/21/2023)

Thunder Torque Inserts W258

Review by

mark7352156


Install W258 SVT Boneshaker 4.5-Inch Mufflers. Installed per instructions. The sound is much deeper. I have noticed that there is no more decel popping. I have observed an increase in torque and horsepower on my 2016 H-D Tri-Glide Ultra with Stage 2 Upgrade. Very Satisfied with results. (Posted on 2/22/2023)

Made the sound better

Review by

Eddie


Sound is better, no difference at idle, but quietens it just enough to help with the drone. Have not rode enough to tell for sure about power. Definitely not any less powerful. Install was easy, I think I have Full Boar mufflers, didn't even have to drill out baffle mounting holes. (Posted on 2/7/2023)

Wow!! Awesome product.

Review by

JReed


I was skeptical like most but these really work. I put head pipes and after market slip on muffles with a cam. Tried stricter baffles and they did help some, but these inserts did the job. Still running the baffles and I am pleased with both the sound and the low and mid range torque.
2019 Road King Special 114 V&H Power duel header Torquer 450 slip on's.HD Ventilator free flow air filter, S&S Cast intake.and S&S 475c cam chest kit. Bike is a beast now. Thanks for the final touch these insert gave. Thumbs up!!! (Posted on 1/5/2023)

******

Review by

Eddie


Installed the 258's on my 2013 Road King with dual pipes no baffles. . Initially didn't like the sound but when I actually read the instructions and mounted them in the suggested location the sound was great. My seat of the pants dyno tells me that I did pick up a little more low end torque. Happy overall with these and would definitely buy again. (Posted on 12/13/2022)

Awesome

Review by

David


I bought these for my 2016 softail deluxe with v&h 3" slash cuts and i put them on and i can tell a big difference in low end torque. Haven't had a chance to take on longer ride yet, it got cold. Awesome product D&K (Posted on 11/21/2022)

Exellent Customer Service

Review by

TTT


My bike is unfortunately having issues (not related to the installation of TTI) therefore I have not been able to truly take advantage of the item.

I have noticed my sound is definitely lower growl vs stock and can feel the low-end torque delivery.

Installation was simple but the subject I want to rave about is customer service.
Every time I have a question, it's met with a helpful response in an extremely timely manner. To me, nothing else is more important. (Posted on 11/14/2022)

Poor Instructions

Review by

Installation


Hello, I gutted my stock slipons of the baffles.
Then somewhat followed your installation instructions, BUT stopped on a couple items.
1. DO NOT drill a 3/8" hole Way too big. 5/16" is good enough.
2. I didn't want to have the mounting bolt at the bottom, because if you were to drive over something and this nut got caught could result in damage. So I drilled the hole at 3 and 9 o'clock respectfully, 3 for the left and 9 for the right. Hope this helps the next guy DIY'ing his own installation. Good Product (Posted on 11/4/2022)

Excellent Product

Review by

Brian


I have a 2009 Street Glide , 48H cam and Cycle Shack slip ons , the pipes outlet is 3 inches , I removed the baffles, installed the TTI 158, they were a bit loud so installed the TTI 258, the TTI 258 have the perfect sound for me and absolutely no decel pop , this is an excellent product (Posted on 10/11/2022)

Very pleased

Review by

2016 TriGlide


Bought this trike used earlier this year. After market slip ons were installed by the previous owner. The trike was obnoxiously loud, to the extent my riding buddies would not ride behind me. Installed the Thunder Torque inserts and now can ride without having to wear ear plugs. The backfiring on deceleration is greatly reduced also. Am very happy with the results. (Posted on 10/5/2022)

Improved Decel popping

Review by

TEH4PWR


I was skeptical at first, I bought a pair and was quite surprised. I have a '14 Triglide and put a stage 1 street cannon exhaust on when I got it. Last year made it cooler with a new headder and stage 1 intake. That really unleashed my 103.

The acceleration tone was a bit loud. The decell tone was too loud. Putting these 258's on fixed the problem.

I gor 258's because I have the revolver tips. They fit perfectly.

They worked great! Thanks D&K!

(Posted on 9/18/2022)

These TTI work to get the reversion corrected and sounds great.

Review by

PreacherMan


'15 RGS, no baffles and cat still inside.
The TTI with the 606 AC and the XIED's really woke up this bike.
The pull and throttle response is great.
The TTI does it's job and I was running without them, next day, had them installed and won't go without them in the pipe.
2" in from the outer edge of the pipe works for me to keep them somewhat hidden, but very functional.
Thanks again DK for another great product that actually works! (Posted on 9/14/2022)

Thunder toque

Review by

2016 dyna


Installed on 2016 dyna with 2 into 1 no baffles smoothed out power curve (Posted on 9/8/2022)

Regained lost HP & Torque

Review by

John


I have a 2022 Street Glide Standard that I removed the baffles from the stock exhaust. The sound was better but I lost some low end HP and Torque. After I installed the TTI'S I regained my original get up and go. I can't tell any loss of sound with the Inserts. I am very pleased with this inexpensive option!! (Posted on 8/12/2022)

Highly Recommend

Review by

Taylor


I installed these on my '22 Low Rider ST. Installation of the TTI's was very easy and straightforward. If you're using your stock pipes like I did removing the baffling is kind of a pain in the butt. That being spent the whole project was around an hour.

The sound is great! No more Jetson's exhaust. On my 117 it's got a nice deep rumble on idle and absolutely barks when you get on it. Certainly can't complain for the price (Posted on 8/6/2022)

Great sound and keeps power up.

Review by

2018 FLHXS


I have a full stage 1 kit with catless headers and Basani 4" slip ons. I didn't really like the sound of them with the baffles installed. I tried tightening up the packing, taking it out, but nothing sounded good. I didn't want to take the baffles out and loose the power so I always thought I was stuck with what I had. I'm very happy I found DK Custom Products, this simple piece just Inserts into the baffle screw hole. I completely removed the baffles and it's a night and day difference. It has that the old twin cam sound (Posted on 7/29/2022)

Lots of performance of just a few bucks!

Review by

Txvman


Installed the TTI W258 on my 2005 Electra Glide Classic. I had to add a coupler as the instructions stated for larger diameter pipe openings. This is the best cheapest mod that I've done. I started out by removing the packing around the baffles. I then tried the pipes without baffles. The bike just didn't feel right. Throttle response was lacking and it felt like it was falling flat when I would get on it. The decel pop turned into a bubbly horrible sound too. Adding the TTI cleaned up and lowered the tone. My throttle response came back and my seat of the pants acceleration felt much better. Plus my wife LOVES the sound of it now. (Posted on 7/21/2022)

2015 HD Triglide

Review by

Southernyankee


I drilled out my stock slip-ons with a 3 inch metal hole saw, took 20 minutes, very little deburring needed. One muffler had no insulation in it, (not sure what happened there), the other I removed easily with a large pair of needle nose pliers.
I drilled the hole about 2 inches from the end of the exhaust and installed the TTI 258, a very simple process. The results are a great Harley sound with a deep throat and the performance is very much noticed. More than satisfied. My Trike is a True Harley now, thanks (Posted on 7/3/2022)

2002 Electra Glide Classic

Review by

This is a great product TTI 258


I ride a 2002 Electra Glide Classic, SE 258 Cams, Cobra Head Pipes, Jones Big Boar 3" slash cut slipons, SE (K&N) open Air Filter, Power Commander.

The TTI installation was a breeze, pulling the baffles out of the Jones Big Boars was a chore but after that it went pretty quickly. Now I haven't dyno'ed the bike, and I didn't change the tune after I pulled baffles and installed the TTI. My seat of the pants conclusion is the bike runs BETTER, smoother, and has a strong pull from 2500 up. It feels stronger and really sounds amazing. By far the best dollars I have dropped on this bike. Thank you DK Customs! (Posted on 6/20/2022)

Nice sound

Review by

Sonny


Made my Harley sound like a Harley. Not sure of any power or torque gains that are noticeable but the sound is what I was after. Installed on a 2022 XLIron883 stock mufflers with baffles and cats removed. (Posted on 6/16/2022)

Very Pleased

Review by

Doc


2015 Ultra Limited 103 with catless header and 4" Rhinehart slip ons. I wanted more sound so I removed the baffles. It didn't sound that great and I lost tons of torque. These 258s were the perfect cure! Deepened the tone and gave me back the torque. Easy install. Highly recommend! (Posted on 6/6/2022)

Sound went from puny to brawny

Review by

Squatch


Installed in 2020 Road Glide Special stock exhaust. Removed baffles and packing. 2-1/2" hole saw left a metal ring inside muffler. Used a 3-1/8" hole saw to remove ring completely. I would recommend going with the 3-1/8" to start with. Can't really notice any difference in torque but exhaust sounds a lot better. Has a good deep tone and is not loud enough to be obnoxious. I would definitely recommend this product. (Posted on 4/17/2022)

2021 TriGlide install

Review by

Thomas


put these on a 2021 tri glide after removing the baffles and packing from stock mufflers. Easy install. I had to drill two holes. (Posted on 4/5/2022)

thunder torque 258

Review by

ron


put these on a 2020 tri glide after removing the baffles from stock mufflers, made a very noticeable difference, well worth it. (Posted on 3/29/2022)

Wow

Review by

Big ed


Put these in my 2012 ultra with full boar mufflers..pulled baffles out install them..wow what a difference they make.. (Posted on 3/25/2022)

Thunder Torque 258

Review by

Minemule


Installed 258s on my H-D FLSS that had the baffles completely removed. Gave some back pressure back and toned down the excessive noise. Easy to install and adjust. (Posted on 2/24/2022)

awesome

Review by

chad


i have the new SE slip-ons and was debated dropping a ton of money on new pipes. did a lot of reading and found out about TTI's, and they were just the ticket. pulled the baffles and installed the 258's--WOW what a difference. the new SE slip-ons w/no baffles and TTI's sound like the old SE slip-ons. Do yourself a favor and pick these up! (Posted on 12/16/2021)

Not Sure What It Did

Review by

Seth


This is super easy to install. Made my bike have a lot more pop on decel. Did not seem to tone it down or make any noticeable difference in the exhaust or power. The threaded stud needs to be longer to fit in the middle of the exhaust that I have so it looks a little goofy being lopsided. Not too sure what it did or any benefit for my bike. (Posted on 11/30/2021)

Excellent

Review by

Gary


Actually started off with the 99.95 inserts with the tongue and in less than a month both were burnt out and tongue was gone. Can't see why as never touched and must have been too hard and brittle, don't know.

So ordered these at half the price, easier to install, look nice and I can guarantee they won't be going anywhere.

If it made it quieter, I couldn't tell and neither can the neighbors.

Work great and highly recommend! (Posted on 11/30/2021)

Wow what a difference

Review by

Harry


Can't believe how much torque and HP I gained from something so simple but highly affective inserts. They even took care of my excess head pressure, no more oil in the air cleaner. Not even the money I wasted on a fueling vented dipstick did anything for the problem, which is why I spent 275.00 on it in first place. Thank you so much D&K for an awesome product. (Posted on 8/12/2021)

INCREDIBLE!!!

Review by

313Porter48


These truly are worth the money …. Pulled the baffles from my 2014 Forty Eight installed these bad boys and damn what a difference in the torque and the sound. Ran a new map on my fuel tuner and it's nothing but badass!!! The torque difference is immediately noticeable. (Posted on 7/30/2021)

Works as advertised

Review by

Patrick


Fitted in V&H Torquer 450s, which do lose bottom end despite what they say.
Thunder Torque Inserts brought the lost Torque back and slightly quieter which is what I wanted. Thanks all.
(Posted on 7/27/2021)

Well Worth It!

Review by

Mark W


Installed on 2020 FLHX with Vance and Hines Power Duals and 41/2 Hi-Output Slip Mufflers, this is exactly what the bike needed really woke up the bottom end and the sound is so much better! I was surprised that something this simple and inexpensive does what is says it does Thanks Dk! (Posted on 7/21/2021)

Great item

Review by

slvry00


installed 258 TTi on 2004 Roadking with Rinehart true duals. Very easy installation. Removed baffles and what a sound it produced. I bit loud but overall it sounds awesome. you wont go wrong buying them. ENJOY THE RIDE. (Posted on 6/3/2021)

Wow!

Review by

RJ


The sound and low to midrange torque is amazing! Removed the baffles and installed TTi 258s on V&H 4.5" Titan slip ons on my 2010 Ultra Classic. Pipes gave me that louder, deeper tone I was looking for and the butt can feel the increase in torque. Sounds closer to an old school Harley now!! (Posted on 5/17/2021)

lollipops

Review by

Musician


Works as advertised, quite happy with the results. Bike is '08 FLHT with Stage 2 set up, and true duals. Shipping was fast, with zero problems. Product appears well made. Definitely would recommend to a friend. (Posted on 5/13/2021)

Best $50 I've ever spent.

Review by

Parker


I have 2 inch straight pipes on my sportster 883 and I was looking for something to add both tone and back pressure, if you're in a similar situation look no further!
These were exactly what I wanted and the install was insanely easy. Absolutely love these. (Posted on 4/10/2021)

Well worth the money

Review by

Rick


I built a short 2 into 1 exhaust for my 2017 Road Glide that turns out right in front of my saddlebag ...i took out the catalytic converter as well...i put another companies baffle in it...it woke it up from around 3200 rpm and above but it felt like i lost low end torque...so as i was doing resesrch i read about these Thunder Torque inserts and thought why not...they were i expensive enough that i didnt feel like i had much to lise...tore it back apart (Posted on 12/17/2020)

what every stock pipes need

Review by

JOHN


these puppies are AWESOME. thank you DK Customs... (Posted on 11/24/2020)

cool inserts

Review by

JW


I was looking for something to give a little back pressure on the pipes and these inserts worked out well. Easy enough to install, I had to do a little modification on my slip-ons but it all worked out. Its a good buy. (Posted on 10/27/2020)

Best bang for buck

Review by

Acedoc


I dislike the stock mufflers and also hate loud pipes wanting just enough sound to be heard but not obnoxiously loud. I was very sceptical of these and ordered them on a lark. The size I ordered was wrong and I had to make them fit. That said the sound is just right and makes the bike sound like it should off the showroom ! (Posted on 10/24/2020)

Great product

Review by

Worked great


Did exactly what I needed. Wanted the baffles out for louder piped but didn't want to loose the back pressure. (Posted on 10/20/2020)

Thunder torque inserts 258

Review by

Switch


Well I was very skeptical about these inserts, but wow the performance was felt at the low range and upper end of all RPM in town and highway speeds. It made my exhaust tone alittle deeper. These inserts are the best money spent for the performance gained. Installed on 2018 Ultra Limited TAB PERFORMANCE slipons with baffels removed. Thank you DK PERFORMANCE will recommend (Posted on 9/23/2020)

Thunder torque inserts

Review by

TC


Arrived within a few days of ordering. Great quality and had them installed on my triglide in 30 minutes. Am feeling more low end torque. The significant distinction DK offers is the extensive research they've done to make these V twins run cooler, stronger and longer. All their products are backed with earnest by them. I buy direct from them or thru eBay. (Posted on 9/21/2020)

Absafukinlootlee Awesome

Review by

Bad Actor


Just Installed On My 15 Road Glide Special...
I have Freedom Performance Racing True Duals I Pulled Baffles And Installed The Inserts Which Was Pretty Straight Forward Taking About 30 Minutes
What An Awesome Upgrade For Very Little $$$
Sounds Bad Ass And Definitely Has More Horsepower And Torque Definitely Recommend
Thanks GB (Posted on 9/13/2020)

Amazing product

Review by

Sam


I'm no mechanic but I've been riding for long enough to know what works and what doesn't. I purchased the 3" Thunder Torque Inserts assuming I'd be throwing my money away, boy was I wrong ! Not only does the bike generate more power but it controls the sound. So now I have a powerful Dyna and I don't wake the entire neighborhood when I go to work at 4am. Totally worth the buy. (Posted on 9/8/2020)

TTi Great Results, Small Price

Review by

SteveS


I have installed the Thunder Torque Inserts in the baffles of my V&H Twin Slash Cut mufflers. Man what a change in increased power and the sound has been deepened with more volume, not necessarily more noise, just good solid sound! Great Product. (Posted on 9/8/2020)

Best bolt on performance for your buck.

Review by

15streetglidespecial


Immediately noticable performance gains over old setup with limited back pressure. Bike sounds great now and doesn't leave my ears ringing anymore. I recommend an extra jam nut to secure it as I had one torque insert fly out down the highway, but with the cheap price you can certainly afford to replace them if you don't get it installed right the first time. (Posted on 9/2/2020)

Worth a try.

Review by

Mike U


Order came very quickly and was as described. I ordered them for my single sided exhaust on my 2012 Rodglide and I immediately noticed that when decelerating the backfiring had subsided.
Worth it in my opinion.
Thanks DK Customs. (Posted on 8/31/2020)

Excellent Product

Review by

HappyCamper


The inserts were easy to install. Made the sound of my true duals much more crisp and deeper. I just put them on a couple of days ago and in the process seeing where they need to be adjusted too. I installed them in roughly half open position and in a day or so will set them to full closed (perpendicular) position to see if there is any change in performance at various rpms. (Posted on 8/25/2020)

Feel the power and hear it too!

Review by

2010 flhtcu glide


An extra giddy-up off the line. Put these in V&H slip ons with S&S power tune crossover header. Love it! (Posted on 7/6/2020)

Quieted a LOUD exhaust

Review by

Mack


I installed a pair of the 258's in a 3 inch cat back system on my Jeep SRT and it really did the job! I had to set them to about halfway open for best results. (Posted on 7/5/2020)

Thunder Toque inserts 258

Review by

danquet


Fast Shipping, Easy to install. Made a world of difference in the sound. Gave my 2017 Sportster a throatier sound and seem to quiet it down a little. More torque. Great product (Posted on 6/23/2020)

'17 HD SGS Mutazu megaphones + TTI-258's

Review by

PeaceMaker


Recently installed these into my Mutazu Megaphones 4in pipes. Originally had them installed in my stock pipes that I had gutted, but decided to stick with my Mutazus. I removed the baffles & removed the fiberglass packing surrounding the aluminum mesh baffle. I wanted to keep the baffle to fill in inner circumference of megaphone, so opted to keep them in. Had to modify TTI's by cutting away roughly 10 threads & incorporate 5/16-18 couplings (course thread). This allowed them to be centered within pipes. The thread studs on the TTI's weren't long enough, so per instructions, I had to utilize couplings. Then just used 5/16-18 1in hex bolts, followed by a flat washer & lock washer. Man, these TTI's are great. Opened up even more deep tone in my megaphones & the performance, low & mid range, is considerably noticeable as well. Thank you DK Customs!

(Posted on 6/10/2020)

I love this product with my Vance and Hines Slip-On mufflers

Review by

Spitz


I installed these on my 07 Road King. This was one of the best modifications I've made to my bike. The sound of the pipes with these installed is incredible! The performance difference in the low and mid power range was easily superior to any exhaust modification I've seen. I run them with the baffles removed. I will have these in every bike I own for now on. Oh and I almost forgot there was no tune modification need to remove the baffles and install this product.

Thanks for a great performance and sound adding product DK customs (Posted on 5/28/2020)

2017 SGS stock exhaust debaffled + TTI-258's

Review by

PeaceMaker


Recently de-gutted stock exhaust on my 2017 SGS & added these TTI's. Had on for awhile some Mutazu Megaphone slip-ons which sounded great, but for some reason I like the look of the stockers. In the past I used to make my own lollipops, similar to Big City Thunder Monster baffles design. But this time around, thought I'd try a different route since I've heard of this DK Customs company before. You definately can feel a difference & the sound has become more of a throatier kinda sound without a lot of backfire & high pitch. One thing I would suggest is instead of using supplied double nuts for runoff security, I just used a nylon nut or even a close tolerant aircraft grade nut would suffice. That way, cosmetically, it won't look odd having the threaded stem of the TTI with 2 double nuts hangin' down or to the side, whichever way one chooses to install. (Posted on 5/27/2020)

Just As Advertised !

Review by

Nick R.


Simple to install, even for the shade tree mechanic like myself. I already had Reinhardt exhaust, so the HP/TQ did not increase significantly, BUT throttle response is a bit more snappy and exhaust note is louder and lower.
Another great product. Very happy. Good job D&K! (Posted on 5/20/2020)

Thunder Torque Inserts! Yes!

Review by

Randall7000


Made my sporty even sporty-er! Believe the hype! Excellent/inexpensive method to increase torque with a deeper badass-er tone! A must! (Posted on 5/18/2020)

Excellent

Review by

Joe


These inserts are a great product. My bike now has sound and i can feel the increased torque. (Posted on 5/5/2020)

Hold tight...

Review by

Baffles suck


Excellent bang for buck. Ever felt light headed after launch, these will help you get there! (Posted on 4/13/2020)

Amazing

Review by

Mitchell


Best bang for the buckbupgrade i have. Cut my own pipes. My bike, my rules. Easy to do. Super fun project and the reward hurts ur face. Cause u wont stop smiling. Ill be buying more of dk customs products for sure. Stage 1 air cleaner next. (Posted on 4/6/2020)

Sets ya apart

Review by

16 utra


With most bikes sounding all about the same nowadays these are just the ticket to set you apart from the rest. The performance gains are undeniable, the sound is outstanding, the cost is fair, and the installation is a snap. If you want to have others here ya coming and know it's you without a doubt, if you want your torque and your sound than these are for you. I'm running them on my 16 ultra limited in full boar mufflers from Jones exhaust. I pulled the packing and put the baffles back in with the tti's at the end best sound out there!!!! (Posted on 3/25/2020)

Great product

Review by

Bulrid8


These things really do work. They gave me more tq off the line and quieted my loud muffler just enough to make it sound great. Make sure you loctite the nuts a lot, or you will loose them. I think they are a little over priced, but would buy again. (Posted on 3/17/2020)

Amazing!!

Review by

Ace rags


I removed my stock baffles and cats and installed the TTIs. They are awesome! They provide an adequate amount of back pressure to keep or make more low end torque while having that great Harley sound everyone is looking for. Best bang for your buck! (Posted on 1/23/2020)

Crazy how good these are

Review by

Review


I have a 2018 Softail 114 with stage 2 torque cam. I had short shots on it and they ran and sounded ok. Only after my original purchase of short shots did I find out that short shots were probably hurting my torque curve. (Bad on me) These came super quick. I removed the VH baffle and put these in. I was expecting very little. It sounded close to the same as the baffles that were in it. Then I took it out for a ride. It woke the bike up in the usable RPM range a lot!! No more dead spot in the throttle. Nice clean pulling power right where I want it. 2-3k rpms.

Then I thought maybe I should just spend the money for a better exhaust. a 2-1. So I bought a Bassani Road rage. I put it on. Huge dead spot in the low RPMs. twisting the throttle was ridiculously unresponsive I was very disappointed. So I ordered the larger torque insert for the new exhaust. I removed the stock baffle from the road rage exhaust and put in the torque insert. Usually if something sounds to good to be true, it absolutely is. Unless your buying these. Learn from my mistake. Don't buy a new exhaust. Buy these. For 20-30 dollars these are more than more than worth it. (Posted on 1/21/2020)

Freakin Awesome NO BS

Review by

Fokus2xl


I bought a set and easy install. WOW they are not Bull Sh**ing they really work. I told a friend and he also experienced getting back the lost power from baffle removal. i swear by them. (Posted on 1/20/2020)

Great sound

Review by

Cowboy


They showed up yesterday and they help sound tremendously zero decel pop and set off a car alarm going around my block. As for performance I'll have to wait for weather to change to get a good test run in. (Posted on 1/8/2020)

Excellent

Review by

BrianS


I was recently able to get a hold of a pristine 100% factory original 2007 HD CVO Softail Springer in Canyon Copper, Candy Red w/ 8,700mi.
I absolutely love the bike, but the factory tailpipes were stifling the Screamin Eagle 110. I painstakingly removed the tailpipes then easily removed the innards, installed the Thunder Torque Inserts and replaced the tailpipes.
The sound is absolutely what it should be!!!!
The bike runs just fine, although I will be getting a tuner.
In comparison, it sounds like although a little quieter than my 08 Softail Custom w/ V&H Shortshots Staggered.
THANKS (Posted on 12/2/2019)

Great product for a great price!

Review by

Christian


I bought these for my 2012 Victory Cross Roads and I couldn't be any happier with them!!! Definitely worth every penny! (Posted on 11/20/2019)

Terrific experience

Review by

John in Korea


It is amazing..mine is MY18 Slim 107..but feeling now is like riding 114 or 117..feel torque right there at every moment..like installed stage 2 or 3..coupled witj V&H 2 into 1 propipe and velocity 65..great..great.. (Posted on 11/20/2019)

Good stuff!

Review by

Pat W


I bought these TTI 258s after having a baffle shoot out of my Screamin Eagle II slip on while cruising down the highway to work. I had no low end torque and it sounded terrible. After popping out the other baffle and installing these, I got an improvement in torque and sound. The SE II slip ons already sounded great but now they have that real Harley sound and my little Sportster Custom screams down the road. Thanks!!! (Posted on 10/21/2019)

Money well spent!

Review by

Ben Smith


So I emailed support about the TTIs to ask about ways to change the sound of my pipes. I have Tab BAM Sticks with Zombie Baffles on my '19 Street Glide Special and I loved the loudness, but didn't like the tone. I purchased some TTI 258s and they arrived today. Pulled my pipes, removed the baffles (inserts wouldn't fit between the baffle and the cap) and installed the TTIs. WOW!! Just the sound I was looking for... Deep and loud. In my opinion it sounds like Harley should. The increased power in the 2000-4000rpm range is incredible! Money well spent for sure, I'll be recommending these to other riders! (Posted on 9/30/2019)

A Must Have

Review by

Mohammad Baddar


I installed my TTIs on my 2013 FLHTCUSE8. WOW. I love that Deeper Tone.
I then took it for A short Ride and I can tell you one thing here. I am Still smiling. Even With The Baffles,
I really Felt the difference in Power. I mean it really really goes. (Posted on 9/29/2019)

Awesome product

Review by

Dudley Frank


I cannot believe the difference it has made to the bike. Well constructed,heaps more torque , better ride ... thanks DK customs. Arrived on time as well , all the way down under. (Posted on 9/18/2019)

Essential stuff

Review by

Jimbo


I've been running thunder torque inserts in stock Dyna exhaust with the entire baffles removed for over a year and they are awesome! Loud, throaty, perfect pitch kinda sounds carbureted, perfect amount of deceleration pop. Anyhow, I lost one (broke the metal where it was bolted on, haha) and my bike became obnoxiously loud and ran like shit. I welded a washer over the hole and replaced the insert and now I'm back in business. It's amazing how much difference this simple little product makes! (Posted on 9/5/2019)

Worked great!

Review by

Dave Kay


Really added torque and mellowed out my 4" Megaphones from KC International. Not too loud now. A great choice. (Posted on 8/6/2019)

TTT 2 5/8 quiet Rinehart bark on FLSTC

Review by

Orca56


Installed TTI 2 5/8" in my 3" Rinehart slip-ons in a 2007 H-D Heritage Softail, and it really took the edge off the Rinehart high pitch bark and greatly reduced decel popping. Hesitant to drill a hole in those pretty Rineharts but I am glad I did, no more riding with ear plugs or ringing ears in a full face helmet! Rinehart tone is still there when you open up the throttle, TTIs have been an effective solution, thanks DK Custom!! (Posted on 7/25/2019)

2007 Night Train w/TTI 258 = Snappier and better sounding ride

Review by

SGTMAJ


Quality product and an easy install. Bike feels snappier and sounds better. Product was installed in a V&H Competition Series 2-1 exhaust with baffle removed. (Posted on 7/10/2019)

Small change

Review by

LILFGR


Customer communication was ok. Took a couple times getting thru t actually speak to someone, but after getting my questions answered i was able to order what was needed. Installation was fairly simple. The insert did quiet my pipes down a little bit which is what i was hoping for. Overall satisfied. (Posted on 7/10/2019)

2018 fxlr w258 torque inserts

Review by

Kolt


I just got my w258 2 into 2 torque inserts for my 2018 harley Davidson lowrider, I drilled out the factory baffles on my bike and took all the packaging and everything out (catalytic converter) and put the inserts in and immediately fell in love head over heels for the sound and power I gained, with just 2 small inserts in a straight pipe its astounding the physics behind these to be able to do such a magic trick on a bike. Thsi honestly the best 30 bucks I've ever spent on anything. (Posted on 7/5/2019)

Great product

Review by

Hardwickbv


After calling and talking with Dwayne a couple times I purchased the 258s for my 17 Tri-Glide with Screaming Eagle Street Cannons. I ended up leaving the baffles and mounted them at the half way point of the tips.
I ride to work each day through the country with several hills and curves staying mostly below 50 mph. I have noticed that I am having to downshift less during my trip indicating A good increase in torque at the lower speeds.
I also believe they have increased my gas mileage both around the country where I normally ride as well as on the highway during a couple long trips I have taken since installing them. Recommend them highly!!! (Posted on 7/3/2019)

Excellent product

Review by

Nelly


I brought the thunder torques for my partners 2007 fat boy, he is over the moon with the sound and performance of his bike now, we totally recommend this product if you want a louder and better performance bike, best money we've spent on the bike by far, thank you DK customs (Posted on 7/1/2019)

2019 Iron 883 with 3" slip ons with baffles removed.

Review by

Jonathan P


Fast shipping. The W258 TTIs restored my lost torque and acceleration, and they got my bike sounding awesome! (Posted on 6/26/2019)

Awesome upgrade!

Review by

HisAngriness


I bought a 2012 Softail slim, bone stock. After looking into full exhaust systems I came across these insets and figured it can't hurt to try them for the price. MAN WHAT A DIFFERENCE! Removed the baffles and installed the 258's and not only can I HEAR the difference but I can FEEL it in my butt dyno when riding. I might just keep the stock pipes on it now! (Posted on 5/23/2019)

258s In My '12 Nightster

Review by

Rob


I recently purchased a 2012 Harley Sportster 1200N Nightster. It had stock mufflers on it that just didn't provide the "sound" you commonly associate with a Harley. This was evidenced by the 3 times I was almost wiped out by people changing lanes right in to me because they either weren't aware of my presence or just weren't using all their faculties to be attentive to the road, their actions, and other motorists. I looked around for ways to increase the sound output and mostly came up with completely different mufflers or ways to simply remove the baffles inside the stock mufflers.

Then I came across DK Customs TTI, Thunder Torque Inserts. Not only was it a reasonable means to increase decibels of exhausting, it gave the added benefit of back pressure for torque output. And the price was exponentially less than completely replacing the mufflers with something that was essentially going to do the same thing.

I reviewed the tutorial videos and collected data, watched the instructional, and set in to order a set after confirming with Dwayne which product I needed. Installation was simple enough, if somewhat exacting and delicate, and adjustments took no time at all. And the sound.... Holy Moley! "Thunder" Torque Inserts is right!!

My Nightster went from a gurgely, sputtery Kawasaki sound to the rumbling, throaty, bark of a Harley! And the low end torque increase is dramatic! It now pulls like my 1200XL Custom does! I honestly can't believe how vast of a difference, an improvement, was made by such a simple insert and at such an incredibly low cost. These simple inserts are well worth the price and I would recommend them to anyone who is on a budget, not afraid to make modifications, and wants a deep, growling bark for their bikes sound without sacrificing power by simply hollowing out their mufflers. Worth. Every. Penny! (Posted on 5/4/2019)

2016 XL883L OEM Tapered Pipes Install

Review by

NoSlackPatriot


These were installed in my wife's 2016 XL883L. Her pipes are the OEM tapered exhaust. For this install, I used blue painters tape with military map markers and tape measure to evenly mark my cut line at the taper line, which measures 4 3/4 inches from the end of the exhaust pipe. When cut at the taper, tapping out the baffles is too easy!!

A band saw came recommended from Dwayne, which I purchased and then soon found out that I knew nothing about the required number of teeth for a smooth cut. I'm sure this method works fine, but I went with a Dremel and EZ Lock Metal Cut off Wheel and Adapter, about $30 in sum; and returned the band saw. This method provided a smooth cut all the way around. I then locked my angle grinder with a 40 grit flap disc in my bench mounted vise and evened up and smoothed the edges where I cut. Perfect finish!!

These do provide an increase in power and the sound is much deeper than my XL1200X with V&H Short Shots. It sounds great and my wife loves them! Her biggest reason for getting these was to be heard by cages. The increased performance is an added benefit that she thoroughly enjoys! (Posted on 4/22/2019)

05 ultra sounding sweet

Review by

KRi


As the title suggests I have an 05 ultra classic, the bike has a Reinhardt stepped header and Rush 3.5" cans with 1.75 baffles, the exhaust combination has always performed well but was just a bit loud and high pitched for my liking! I discovered the DK TTI and questioned if for this small price could these be the solution or is it just another BS product out there making big claims. I figured why not try a set since they are simple to install and if I don't like them let's be honest it's the cost of a few good beers, TTI's arrived quickly and nicely packaged, installation was quick an simple with the rush cans (I ordered 2 5/8" insert per DK)! Upon first fire up I instantly noticed a change in pitch and volume of the exhaust and all for the better, took the bike for a ride and same thing over all tone and pitch is now deeper, softer and just better, from a stop light the bike feels to have slightly more torque but it's always pulled well on the bottom end, ran the bike just south of the rev limiter in 3 gears and it pulls clean and crisp all the way! Very happy with the TTI and I believe this is a prime example of often times simple is better! Great work DK. (Posted on 4/12/2019)

WOW game changer

Review by

pojobe


After many upgrades and age my E-Glide with cobra head pipes and DNA 4 in exhaust had lost it sound and became too loud for me, installed 258 and got back so much more, torque you can feel and see, the old Harley sound we love, and not to loud, this is a must have product if you have true duals, it will put in the back pressure in the engine. (Posted on 3/14/2019)

Sound and Performance

Review by

Johnny Bravo


I have a RGU w/ 4" slash cut Vance & Hines performance slip-ons. I removed the baffles to increase the sound and my safety. I lost torque and the sound was super loud. My buddy recommended the Torque Inserts and what an amazing difference in low and mid torque!!! I tried 3 different angles for the sound and decided to leave the inserts flat against the diameter of the pipes. Strong Sound! Deep and throaty. (Posted on 12/13/2018)

Good sound

Review by

Gray Biker


Removed the cat and installed 4" mufflers, removed the packing.. I knew my back pressure was going to be screwed up. So I bought the inserts. It has a lower tone to it now. More of the old HD sound. Dont know about any more power... Its to cold and sloppy on 1.5 miles of gravel to try it out. Easy install removed the bolt for the baffle and installed in the same hole. (Posted on 12/13/2018)

Nice product

Review by

Jim


I took a set of stock 09 dyna slip ons, cut 3 inches off the back, yanked the baffles out and installed these. Results were pretty spectacular. I ran it for a few days without the inserts and my bike was super loud but sounded like crap, excessive decel pop among other annoyances. Bike already had open intake and ViED's. After TTI installation this bike runs great and sounds awesome! Deeper tone and decel pop was lessened. Perfect to my ear since I like loud bikes with a little deceleration noise. Bike runs cooler. One of the best inexpensive upgrades available! (Posted on 8/17/2018)

TTI W258 On Full System

Review by

Dave Fox


Hi DK,

Just wanted to drop you a note to let you know that I am on my second set of Thunder Torques on two different bikes and the results have been incredible. My first set of TTI's were used with V&H slip ons and they worked great. My second set are on Samson true duals with 4×30 inch mufflers. Results are fantastic, raw power. The young lady who helped out in customer service was great too. Thanks Dave (Posted on 8/13/2018)

W258s in stock 2015 Street Glide slip-ons

Review by

JMC87


After installing a set on my Sportster 48, I decided to try these on my stock take-off slip on mufflers. I originally had Screaming Eagle Street Cannons, but after I removed the cat from the stock headpipe the sound was terrible. Raspy, loud and blubbery sounding. I orginally got the W258s to try in the Street Cannons but they were a 4 inch inside with no packing or filler, so the TTIs were way too loud and lost a lot of the deep rumble I wanted. This is a design flaw of Harley's in my mind - and that's on top of the end cap design which was a nightmare to work around.

I put my stock slip-ons back on for a few months and it sounded okay with the de-catted head but I wanted more. I watched countless YouTube videos to see if I could get a deep rumble without too much volume and finally decided to try these on. Cutting out the stock cone baffles was straight forward. I used a cutting wheel with a power drill and cut right behind the weld inside the muffler. Once cut, a bit of wiggling and pulling took the cones right out. The next part was critical in getting the sound I wanted - leave the inners with the fiberglass wrap in the muffler! Mount the W258s as close to the end of the fiberglass packing as possible for the deepest sound.

I love the way my bike sounds FINALLY. It is deep and powerful without being too loud for a touring bike. It sounds like a hot rod to me. The only downside to this whole thing is a feel like an idiot for wasting time and money on Street Cannons.

Decat your stock header, use these to replace your stock slip-on cone baffles and ENJOY. (Posted on 4/13/2018)

Thunder torque inserts

Review by

Poolman


I just removed my baffles on my 2014 Harley Davidson Sportster xl1200 and inserted the TTI's and when I turned on the bike my jaw instantly dropped. The bike is loud (Posted on 1/20/2018)

Thunder torque inserts

Review by

Doug


Ordered a set of the 258 inserts expected delivery in 4-5 days recived them in 2 days install was easy enough. The sound is a really nice rumble, torque increase for the buck is fantastic.
Bang for the buck best thing I've every found! (Posted on 11/8/2017)
Product Tags
Use spaces to separate tags. Use single quotes (') for phrases.