Home

/

Twin Cam & M8 Discrete Head Breather System Touring Softail Dyna
Discrete & Flexible Breather System
For

Harley-Davidson

FITS ALL TWIN CAM & MILWAUKEE-EIGHT MODELS

DK Custom Products
FEATURES & SPECS:
Fits almost All Air Cleaner Systems
Allows Discrete Placement of the supplied filter
Chrome Washable Reuseable Filter - flexible placement

Includes 6 feet of hose for maximum flexibility in filter placement
Uses Your OEM Breather Bolts with Nipples (not included)
All needed hardware
Turn-Key System
In the picture below you can see one of many different places you can affix the filter. Please look at the additional pictures at the bottom to see how discrete this external breather system is.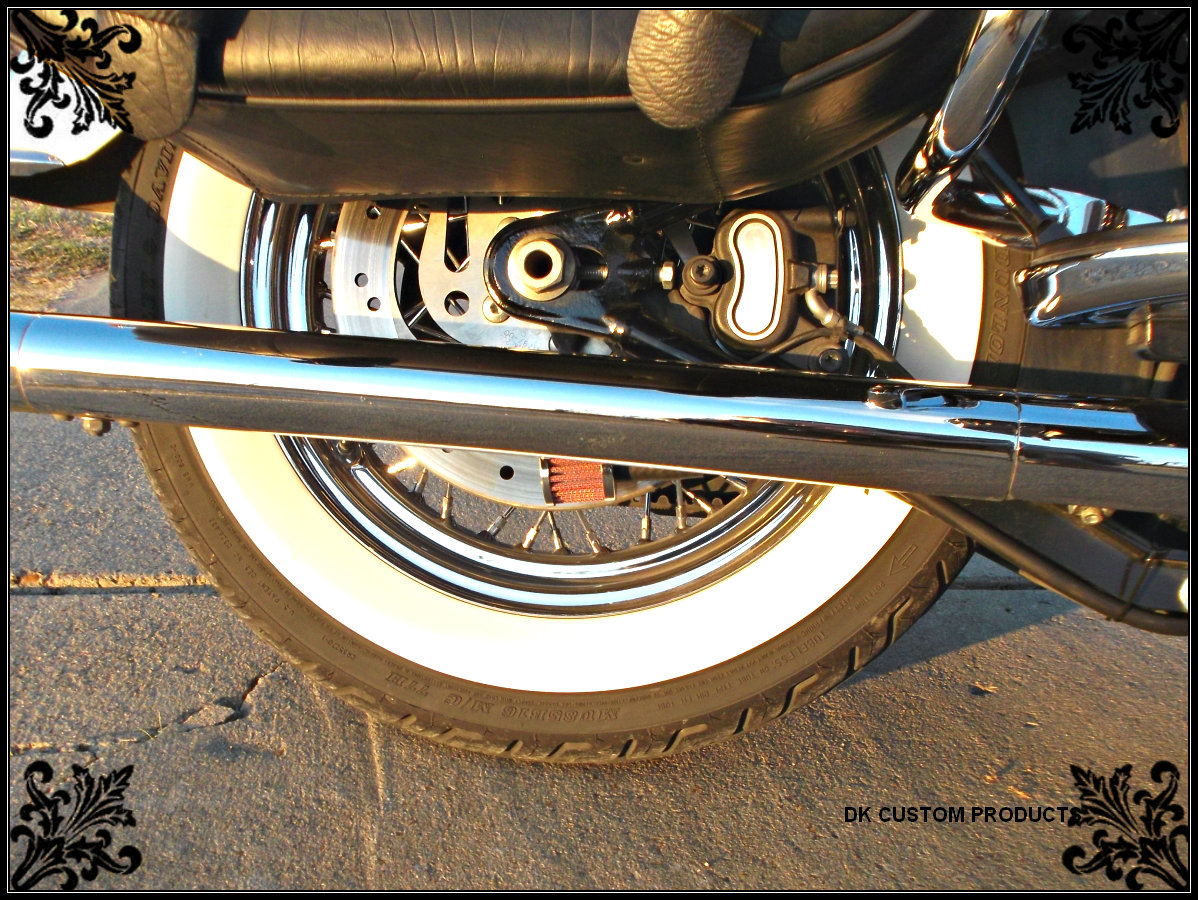 An external Breather Kit is preferred with any Air Cleaner System. This allows for only clean cool air to go into the air cleaner and engine, increasing performance and engine longevity. This kit will work with the OUTLAW HiFlow 587 & 425 Air Cleaners and many other aftermarket Stage 1 Air Cleaners*. It can even be used with the stock air cleaner.

The EPA has required Harley to route hot, dirty, oily crankcase air back into the air cleaner compromising the performance of your engine. This vents it without compromising the performance and longevity of your motor.
With this breather system you will experience a slight performance increase. This is because engines like Cold Dry air!
E-Z Install
Fits All Twin Cam & Milwaukee-Eight Models - 2000-Up Touring & Softail, 1999-Up Dyna
This kit will work with the All the OUTLAW HiFlow Air Cleaners, and most other aftermarket Stage 1 Air Cleaners*. It can even be used with the stock air cleaner if it uses the OEM breather bolts with nipples.
*If your air cleaner system will accept the Stock OEM breather bolts with nipples, then this breather kit will allow you to route the hot oily air to the supplied Filter that you can place anywhere you like.
*If your air cleaner system will accept the Stock OEM breather bolts, then this breather kit will allow you to route the hot oily air to the supplied filter that you can place anywhere you like. Will also work with any air cleaner system that has breather bolts with a nipple on the end to accept the supplied hose.

Filter may, or may not, have a small loop in it. This does not affect the aesthetics or installation choices. The filter may also vary in size, color and shape!
Caution: Motorcycles modified with this DK Custom Products High-Performance part may not be legal for public highway use in some areas. The user shall determine suitability of this product for his or her use.

Larry's Discrete Head Breather System on 2015 Tri-Glide with Rushmore A/C with the Stock Cover
(also used a Vented Chrome Catch-Can, which you can see HERE)
Hope this will help someone else with their installation.
The pictures are as follows:
#1 - K&N air filter with nylon plug in hole where stock hose was.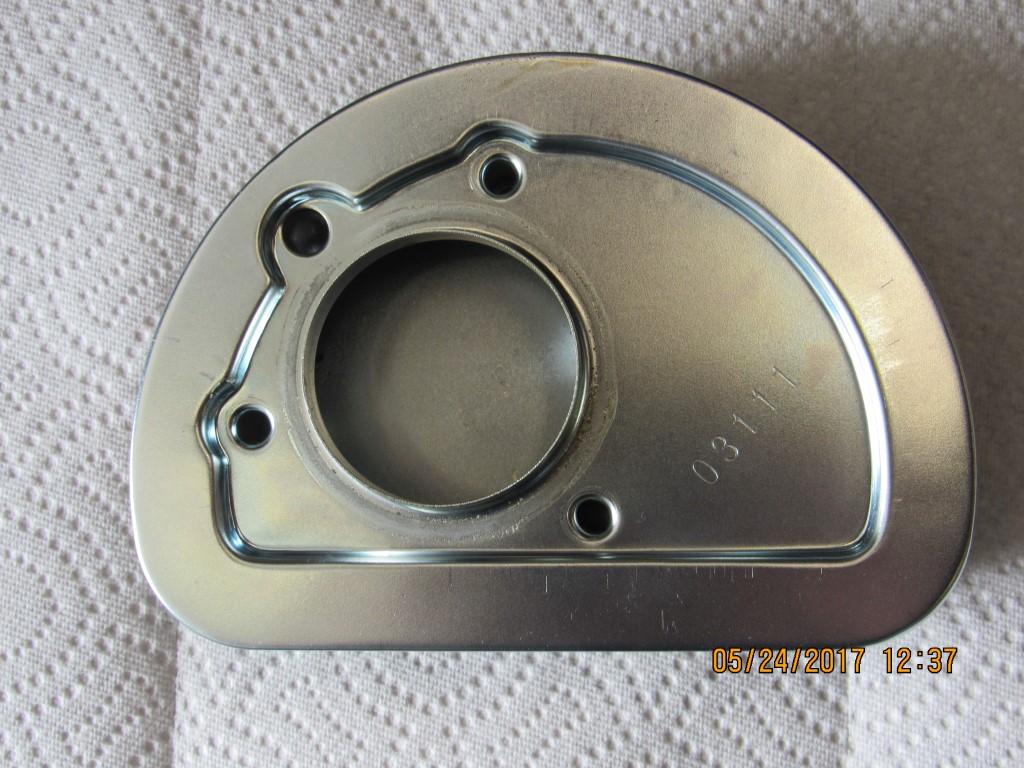 #2 - Stock hoses connected to hoses in kit, and exiting bottom of air filter housing through hole I had to drill.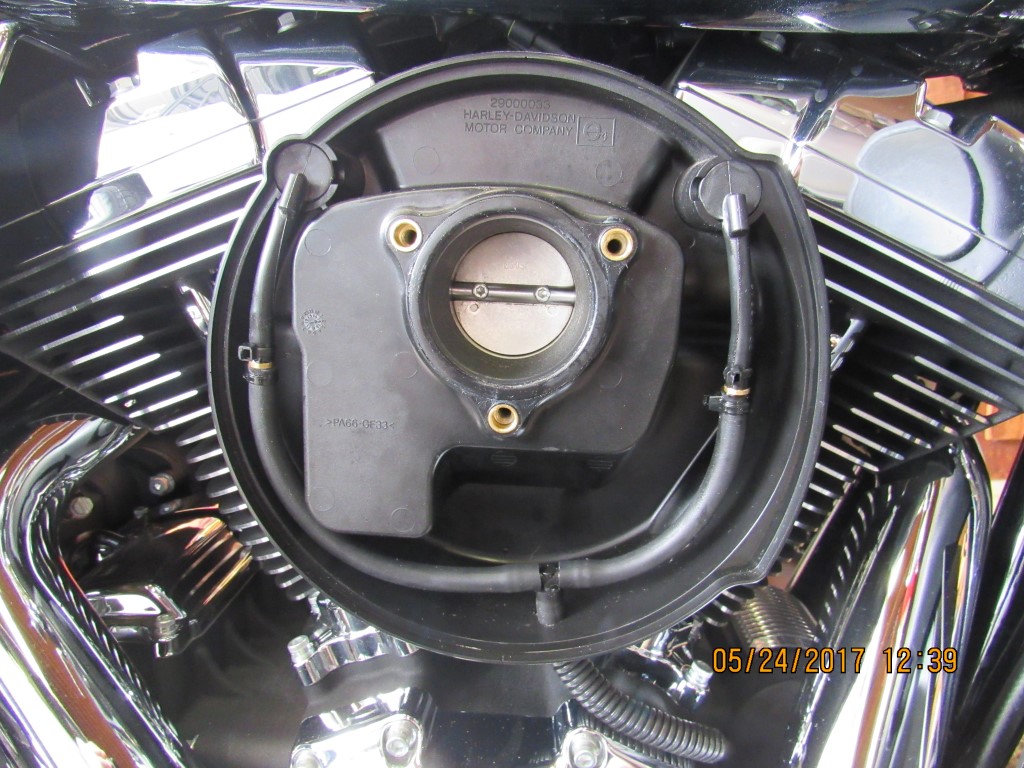 #3 - Hose running on top of cam cover. ( I put a piece of split nylon wire wrap over rubber hose to protect it from heat and rubbing )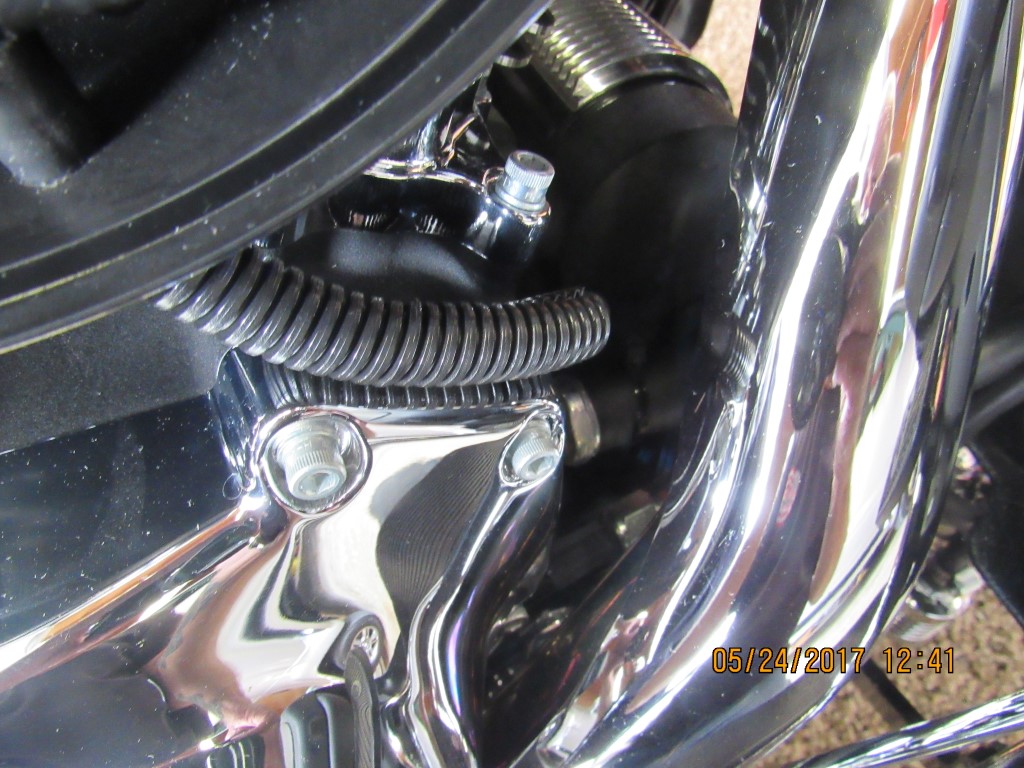 #4 - Hose routed on left side of oil pressure switch.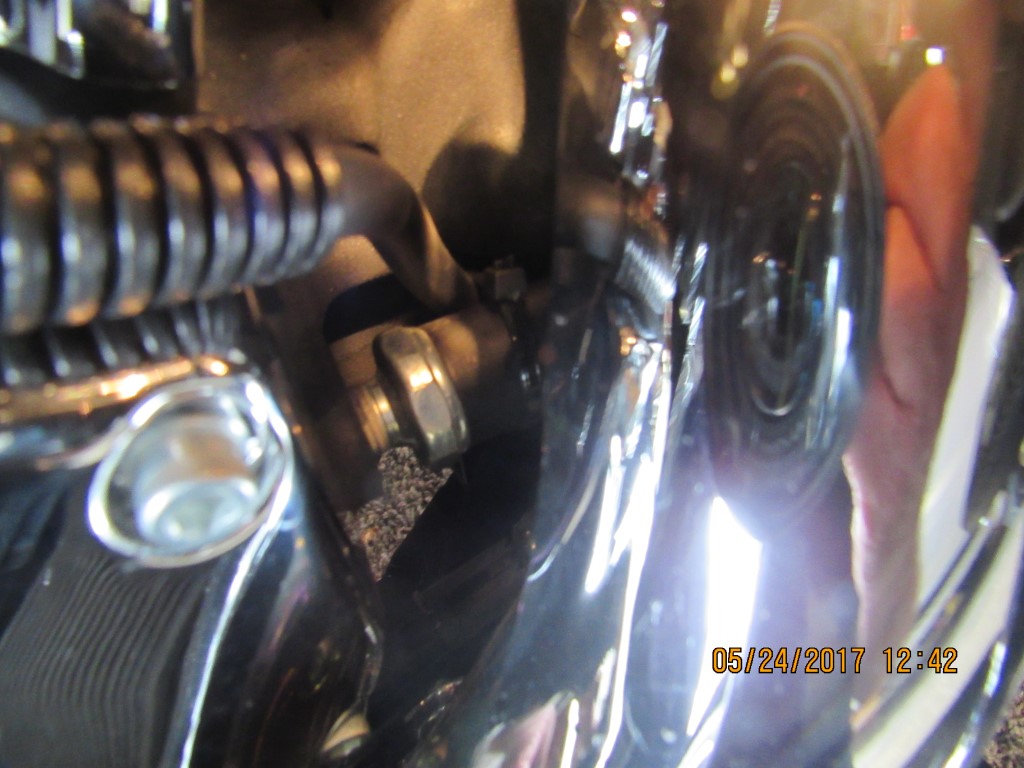 #5 - Hose routed on left side of rear brake control cylinder.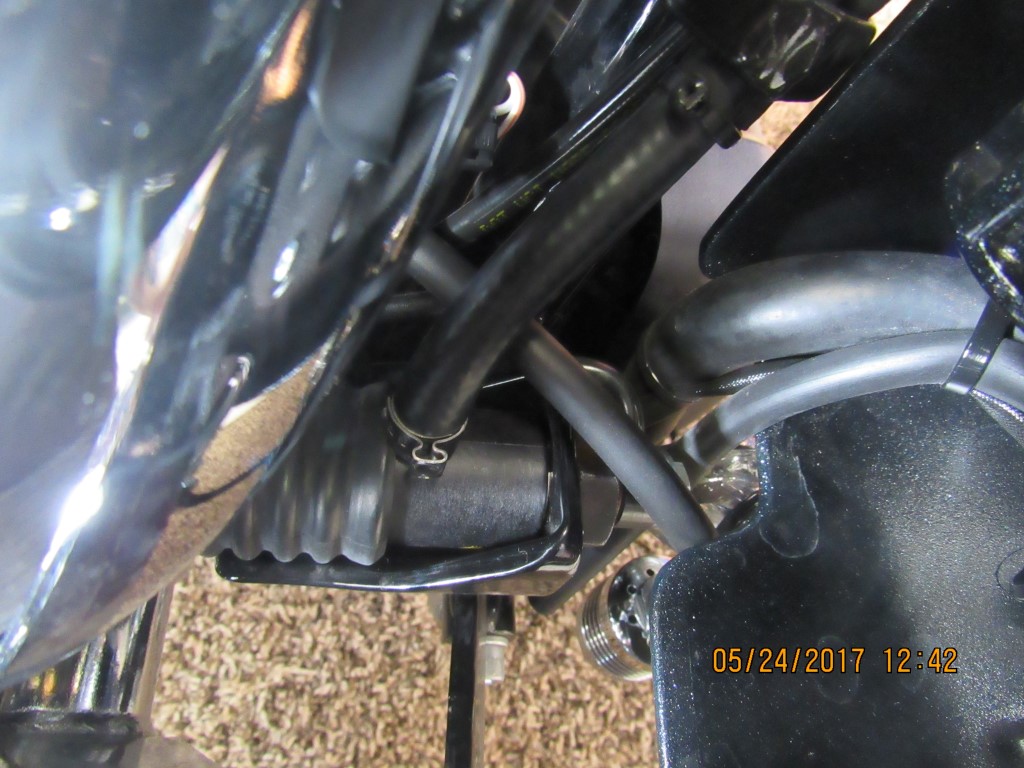 #6 - Hose coming straight down and secured with wire tie. Catch can is very secure and easy to access.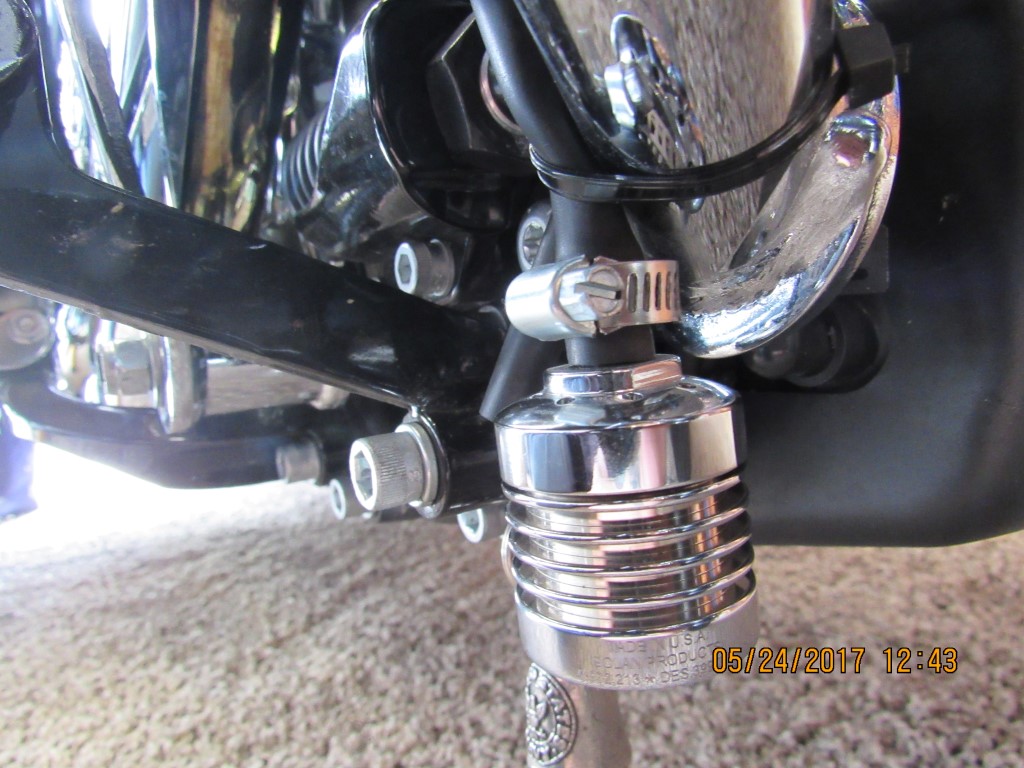 #7 Air filter installed. There is plenty of room for it and the breather hoses. Works great, and I think it looks fairly good.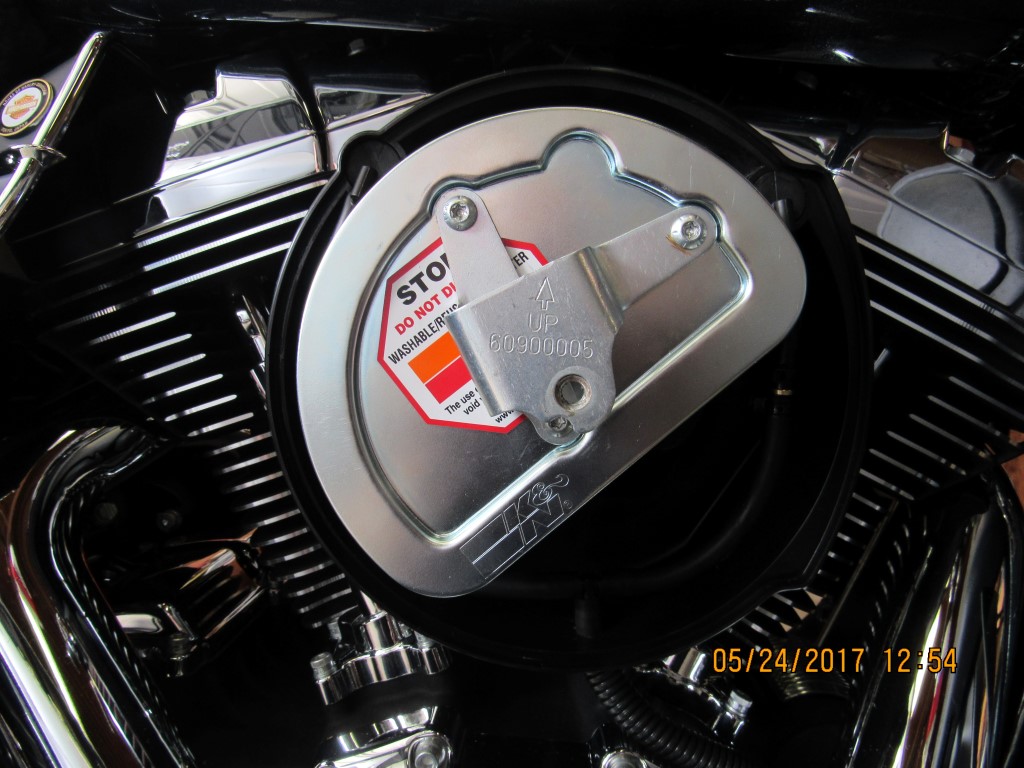 Customer Reviews
Good product

Review by

neil


I installed the breather kit before riding to Sturgis its a simple install the hardest part is deciding where to route the hose and place the filter. After 3000 miles throttle response seems quicker and a 1mpg reduction (Posted on 8/14/2023)

works great

Review by

dave


easy to route, had to figure out bend in hose to mount it towards the front.
Probably took 20 minutes start to finish (Posted on 7/30/2023)

External breather kit and outlaw 636 intake

Review by

Stephen


The staff were great, friendly and knowledgeable. They combined my two orders and communicated every step of the process. Delivery was prompt. Both my Dyna and Road King are running great. (Posted on 2/12/2023)

EBS Kit / Tank Lift

Review by

El Viajero


This is an easy and no brainer upgrade. Dumping hot oily air into the intake is not something you ever want on any kind of bike. The kit from DK had everything I needed for the install and my bike definitely needed that vapor re-routed. After a few good rides, the off idle and partial throttle openings throughout the rev range improved noticeably. My bike runs better and is definitely more responsive since the ECM has adapted to the new air mixture.
The best thing is DK's customer service and the fact that they are actually testing and using this stuff on their bikes. They are awesome to deal with.

My tank lift didn't quite have clearance at the top clamp. There's a small protrusion that's threaded for a cable guide and couldn't quite make it work without machining some material from it. I'm sure that it's a manufacturing tolerance that just wound up being a bit too much in a normally non critical area. No biggie, it can and does happen and was able to work out a good solution with DK with exactly zero problems.
I really appreciate what a great group of folks they are and I have plenty of other stuff I've got on my upgrade list that I'll definitely be buying from them.

Great ( tested and ridden ), products and awesome customer service. Not to mention their You Tube channel is hugely informative and fun to watch.

Check them out and support a fantastic small business.

Thanks DK!

(Posted on 1/18/2023)

What a great service!

Review by

Lingone


The service department went above and beyond to assist me. Firstly, they combined the two orders to reduce my postage costs without asking. Secondly, when I had a problem with my delivery company they intervened to help resolve the issue.
When the package arrived I was impressed with the quality, and am proud to have them on my bike. Great work DK Customs! (Posted on 1/12/2023)

Breather system

Review by

Dave


Like the other products I have purchased from DK customer, it was perfect and easy to follow the directions. Thanks for a great product.
Dave (Posted on 1/8/2023)

Everything you need

Review by

Great kit


Good kit, a little pricey, but very handy to get everything you need in one shop. The girl I dealt with was very friendly & knowledgeable. (Posted on 12/30/2022)

Great Product

Review by

Chaplain J A


My experiences with all of my purchases from DK products has been great. This external breather was as well. Always high quality, well thought out, practical, proven, and tested. This was super simple. The hardest part was choosing a place to route the filter. In the end I chose the way "Larry" did his. (Posted on 11/22/2022)

Twin cam breather kit

Review by

Dougy


Top quality products and service to match (Posted on 8/26/2022)

Good but, a couple things.

Review by

Jeff


The rubber hose connection to the stock bolts seemed pretty iffy, ended up buying a couple spring clamps and wrapping the hose with tape to increase diameter so clamps would work. Correct size clamps couldn't be found readily. Some pictures show filter with an attachment ring, mine had none, not a problem for me just fyi. Would have replaced the plastic tee with a metal tee if I had found one. DK was very helpful over the phone when I asked about mounting options. Would recommend but when I buy a complete kit and then end up running to the hardware store to make it right it drops the ratings. (Posted on 7/7/2022)

Easy install

Review by

Snohomish


Arrived quickly and was easy to install. Couldn't get much better than that… (Posted on 6/21/2022)

Nice way to address this issue

Review by

Mark


Have a K and N intake system that uses stock cover. Got quick advice on how to modify, set up was easy. Keeps engine clean, inside and out. (Posted on 6/5/2022)

Great product and service!

Review by

Bobb G


Install took only a few minutes and it really is discrete, barely noticeable. Combined with the M8 naked airbox the bike is running great now. DK are highly recommended! (Posted on 5/29/2022)

Twin cam breather system

Review by

Tad


Everything was as described, takes a little figuring out where you want to route lines and avoid exhaust. But common sense will help you finish. I would recommend (Posted on 5/17/2022)

Twin Cam and M8 decrete breather system

Review by

Rob


Arrived in a timely manner, properly packed for no damge, installation simple, proper fitment. Think about your route for tubes, Easier to install one time than multiple times to get it the way you want it. Alot will depend on air cleaner you have, on how you want to run tubes and where you want to end it. (Posted on 5/13/2022)

Great

Review by

Nick


Great product easy to install. I can tell a difference in how it runs too. Easy transaction fast shipping. I will buy from again (Posted on 11/30/2021)

Works as advertised

Review by

Russ


Excellent kit, takes longer to find a place to route the tube and filter, than the installation. Throttle feels noticeably a little stronger, and it appears I'm getting 3 to 5 mpg better. Nice not having an oil soaked air filter. (Posted on 10/1/2021)

well worth it

Review by

DJ


shipped quick, easy to install, ran line to barely see filter small drops after riding no worries (Posted on 9/16/2021)

EASY

Review by

Scott


Very easy to install and hides away. Postage here to Australia was expensive though. (Posted on 7/30/2021)

Small price, Big benefit

Review by

papa jim


Have done this to all my Harley since '93, takes longer to unpack than to install, no more mess (Posted on 6/25/2021)

Great product

Review by

B G


Simple to install, simple to use. I feel like it made a difference in the performance of my trike. I have recommended it to my friends at the local HOG Chapter. They are interested also. I dropped a hint where they can buy this product at. (Posted on 6/10/2021)

works great and price was good

Review by

joe


shipping was good product was good and easy install what more can you want thanks DK (Posted on 5/25/2021)

Installation of Breather System in Twin Cam and Milwaukee 8

Review by

edman48


Ordered the breather system for my wife's Twin Cam Freewheeler and my Heritage Classic 114 Milwaukee 8. Easy installation instructions and high quality components. The performance on both bikes have improved and they are running cooler in the warm FL WX. Highly recommend you install the breather system(s) on your Harley. You will not regret it! Thank you! (Posted on 5/17/2021)

Nice Product

Review by

2018 CVO


Installed on my 2018 CVO M8. Drilled hole in upper left of backplate, installed rubber grommet, then ran line up over rear head and under seat and hid filter in right side panel.
Seems to work well. (Posted on 5/10/2021)

2014 Ultra mount in 8 O'clock postion

Review by

2014 Ultra


I ended up drilling a hole in the 8 o'clock position of the stock air cleaner assembly. I wanted to be able to see the filter and any flow out of it. With the 2014, the stock 103 air cleaner is rather large, it does not fit underneath.

Glad to have what I see in the filter removed from my engine.

I sealed the hole on the back of the stock air filter with duct tape - works fine. (Posted on 4/28/2021)

Install of breather system.

Review by

Happy M8


The first thing I noticed was my engine was running cooler! Maybe I'm just imagining things, but I seem to have more power. I did just get an oil change and a new tune. But, I highly recommend it to everyone that has a V-twin. Great easy way to save ur engine. (Posted on 4/7/2021)

Easy install

Review by

Atote


I installed it on my M8 2018 Breakout. I opted to use a steel braided line with chrome hose clamp covers.
Looks good and it eliminates the oil in the throttle body. (Posted on 4/5/2021)

Easy Install With Mods.

Review by

prsamuel001


The most interesting part of this install was the plastic tee. I thought it would be cleaner to find a plastic tee with 2, 1/4" barbs and 1, 3/8" barb so you can go directly into the filter from the 2 1/4" hoses instead of using the supplied 1/4 to 38 adapter off of the 3 X 1/4 supplied tee. Searched all of the online sources for plastic nothing. I did find one at a bar supply house, stainless steel no less.
Ok, stock twin cam 2012 with the removable breather tubes on the end of the breather bolds. Held 1/4" hose on end of bolt with pinch clamps. With the stainless tee at the other end filter is up out of the way almost out of sight. Bike seems to run better with possible increase in gas mileage. Would recommend to a friend. (Posted on 3/22/2021)

Works Great

Review by

Bedbug


Installed this kit on my 2017 Heritage. Install was easy, all parts needed were there. I noticed a little more get up and go when I hit the throttle, even the ol'lady noticed it. I ordered the braided line with it, looks great. Thanks DK. (Posted on 3/1/2021)

Easy install

Review by

Jim S.


The hardest part is deciding where to locate it and the easiest route for the tubing.
This is my 4th upgrade from DK Custom.
Looking forward to a few more.
Love DK Custom products. (Posted on 2/17/2021)

Trike breathing Clean

Review by

James


No more recycled oil going into My Carb. The kit has everything you need to make that happen. Great guys to support. Pretty easy to hook up if you're at all handy.
Happy all said.... (Posted on 2/3/2021)

Makes perfect sense!

Review by

Bikenbanker


Nice to have all the pieces to do the job. Several options for install. I've put one on my 110" Slim, next one will be on the M8 R-K.
Good products and videos-thanks guys! (Posted on 1/29/2021)

Great price easy install

Review by

Clean air


Only makes sense to eleminate all the oil mist, and putting in pure air to burn. No Dyno runs to back it up but the motor sounds stronger and crisper once the Rs come up. Side note my 5.7 Hemi as an oil air separating tank before pumping air back into the intake. (Posted on 1/25/2021)

Good easy install

Review by

Warren


Good easy install.like the product little disappointed coupon code they sent me didn't work. (Posted on 12/14/2020)

Great Product

Review by

Moe


Easy install can hardly see tube or filter plus air filter is oil free. (Posted on 12/7/2020)

Very good product

Review by

Ken


Highly recommend the DK Customs EBS. Good value and easy installation. (Posted on 12/1/2020)

Well worth the price.

Review by

Mark D.


Used the stock bolt, drilled a hole in the bottom of the stock air box and ran the hose down the front and attached it near the floor board.
So far so good. Getting the dirty oily air out of the engine instead of back is much better.
Excellent idea. Shipping FAST!!!!
Will order the tank lift and trike lift next!!!
Works as described.
Thank you DK!!
Mark D.
17 Tri Glide. (Posted on 11/15/2020)

Air filter should stay cleaner

Review by

Jaybo


Last stock air filter was caked with oil and debris to where it had to be replaced. I can see this system helping alleviate this problem. Like other reviews most time is deciding where to install. (Posted on 11/10/2020)

DK twin Cam breather

Review by

Ken


I could have gone around and found things, but it was all there, ready to go in a simple click. Works good, (FLHX) routed breather under frame between engine and transmission. It's out of sight and works great! (Posted on 10/19/2020)

Quality product

Review by

Craig F


I got this crank case breather and a2.5 Tank Lift Kit with thunder torque inserts every thing went on very easy and my Dyna fat bob never looked so good.Bike runs better and sounds great I can't thank DK customs enough. (Posted on 9/30/2020)

A Must have for your M8

Review by

Laurence Parker - Jersey CI


I have a 2020 low rider S and often got an oil smell from the intake after a ride - reading up (and as a happy customer of DK) I knew this breather kit was what I needed.
When I got this breather Kit and installed it I was amazed at how much oilY residue was already smeared over the inlet - so glad I got this kit - runs better and gives peace of mind. Well done guys - great products and awesome service yet again - L (Posted on 9/8/2020)

Great product

Review by

Denis


Product was as described,real easy to install,the most complicated task is to decide where you install the filter,routed it to under the oil tank on my heritage,you hardly notice it. (Posted on 8/4/2020)

Perfect

Review by

Aaron


My air filter was getting drenched with engine oil and this completely solved the problem. Customer service was outstanding! (Posted on 7/7/2020)

Updating my review from earlier

Review by

ZooMan55


So after running this setup for a while, I was getting some dripping oil escaping from the front breather bolt to tube connection. It was messing up the right side of my engine and exhaust. When I requested help, Dwayne sent a helpful tip to make sure the tube was very square cut and zip tie it to the breather bolt. When I went to do that, I remembered that I had left the original equipment tubes to the two breather bolts and just hooked on to the "T connector. THIS IS A MISTAKE FOLKS! DON'T DO IT!!!.

The molded factory tube can't be zip tied, and it doesn't fit tight enough to force the oily air through the long tube up and over the engine and down to the new filter under the bike.

I removed the factory tube, used the supplied tubes and "T" connector and zip tied every joint. It is all tight and the only place for that air to go now is up and over and out the bottom.

Thanks to Dwayne for the good tip and to the rest of you . . . use all the fittings they give you and enjoy a cleaner installation. (Posted on 5/15/2020)

Does what it says

Review by

PigDog


Excellent customer service from DK. Keeps the engine breathing clean cool air - makes a big difference when you ride around on a high comp engine with warm ambient temperatures. (Posted on 5/3/2020)

good

Review by

SWC


Not sure how the stock bolts would work, I already had the L-bolts. Would recommend using the L-bolts. very happy with the quality.
very easy to install (Posted on 3/9/2020)

Perfect kit

Review by

Greg G.


Reasonable price for everything needed. I used theT and sent both breather lines through a hole I drilled the the back of the air cleaner to another hose . Ran that hose back to my oil dipstick area. Works perfectly! No more dirty air or oil in my air cleaner. (Posted on 12/27/2019)

Great addition to my trike to eliminate an oily mess

Review by

ZooMan55


This is a very good quality kit. I didn't totally understand what it did and why until I took it all apart. The inside of the air box was full of oil! This is gonna be a great change and I understand helps power.
I wound up only using the small tube of the whole kit. I drilled a hole through the back of the air cleaner base and turned the stock T fitting pointing straight toward the engine. Ran the tube forward up along the fuel lines, down along the downtime with two other lines already there, behind the oil cooler and under the engine. There is a recess there and I zip tied it to the side pipe. In the end, I did install the filter on that tube, but you wouldn't have to. Bottom line is, one six foot piece of tubing will do the same job. That said, the kit is very complete and not that expensive, so no real down side other than paying a little more than i would have to if I'd understood the concept before I started. (Posted on 11/29/2019)

Good product, better customer service.

Review by

Gene S


Their product was delivered fast and was exactly as shown in the photos. Installation was easy. I had two separate questions, called twice and both times the phones were answered in a timely manner and the concerns were handled quickly. (Posted on 10/7/2019)

Nice kit

Review by

Tony


This kit is nice, good quality stuff. You might be able to piece a kit together to save a few bucks but you're going to be back and forth from the auto parts and hardware store several times and spend more in gas money than you will save. Easy install with factory breather bolts and plenty of tube to put it wherever you want it. (Posted on 9/11/2019)

External breather system

Review by

Ken Ryan


Installed this product after my Harley service adviser told me it is within spec to eat up to a quart every 1000 miles. My 2019 trike was a dog after it warmed up and riding in 95+ degree weather. I have a stage one and two with a low torque cam. After I installed the kit I get better fuel mileage and the bike is no longer a dog once it gets hot. And the best thing of all I don't have oil on the side of my bike or on my pant leg. Thank you DK for all your help. (Posted on 7/29/2019)

External breather kit

Review by

Toolman


DK Customs is the best. I placed an order online and recurved a call from them making sure that what I ordered would fit my application. Good thing,cuz I ordered wrong kit but they got me squared away and shipped quick. Kit is awesome. Easy to install. Quality product from a great company (Posted on 7/15/2019)

Awesome little kit

Review by

Downshifter


Easy to install and works great! (Posted on 6/13/2019)

Easy Breathin

Review by

Ironhead Spence


Great kit. I reroute every head breather I own and friends/family bikes that I work on. This kit has everything you need! Great stuff, thanks DK (Posted on 4/10/2019)

Easy made simple

Review by

Thumper


Pretty simple setup and assembly and hardest part was deciding where to put the filter
quality parts and easy instructions
(Posted on 3/30/2019)

DK makes it easy for you...

Review by

solattttttt


The eaxact parts I looked so long and hard for but never found.
Maybe I din't know where to look for them. So I gave up and DK hooked me up with what I knew would work and for a price I could live with.
Parts are best quality. So no need to worry about that.
Easy to follow instruction are always packaged with priducts and pdf on line too
Thanks DK (Posted on 2/2/2019)
Product Tags
Use spaces to separate tags. Use single quotes (') for phrases.